Don't be scared by the word "complication." The ones you find on the Apple Watch can make your life much simpler, as they're basically bite-sized versions of the full apps you normally open through the home screen grid.
You can have anywhere from one to eight complications on the tiny screen depending on the watch face (or watch), which makes it easy for you to figure out what the weather's like outside, when your next appointment is, or even translate a question into another language. A good Apple Watch app doesn't necessarily have a good complication, although there's a lot of overlap.
A good complication relays enough information that you won't even need to open the app. If you do, it'll get right to business without requiring any other steps. These are the complications that have the best chance of making your Apple Watch experience less, well, complicated.
Dark Sky ($3.99)
Apple's native Weather app kind of sucks, so you should use a good third-party alternative like Dark Sky Remove non-product link. It's beautiful, it's eerily precise about predictions, and it's got a fantastic Apple Watch compilation. In its large form, it tells you the current temperature, today's highs and lows, and when the sun will set.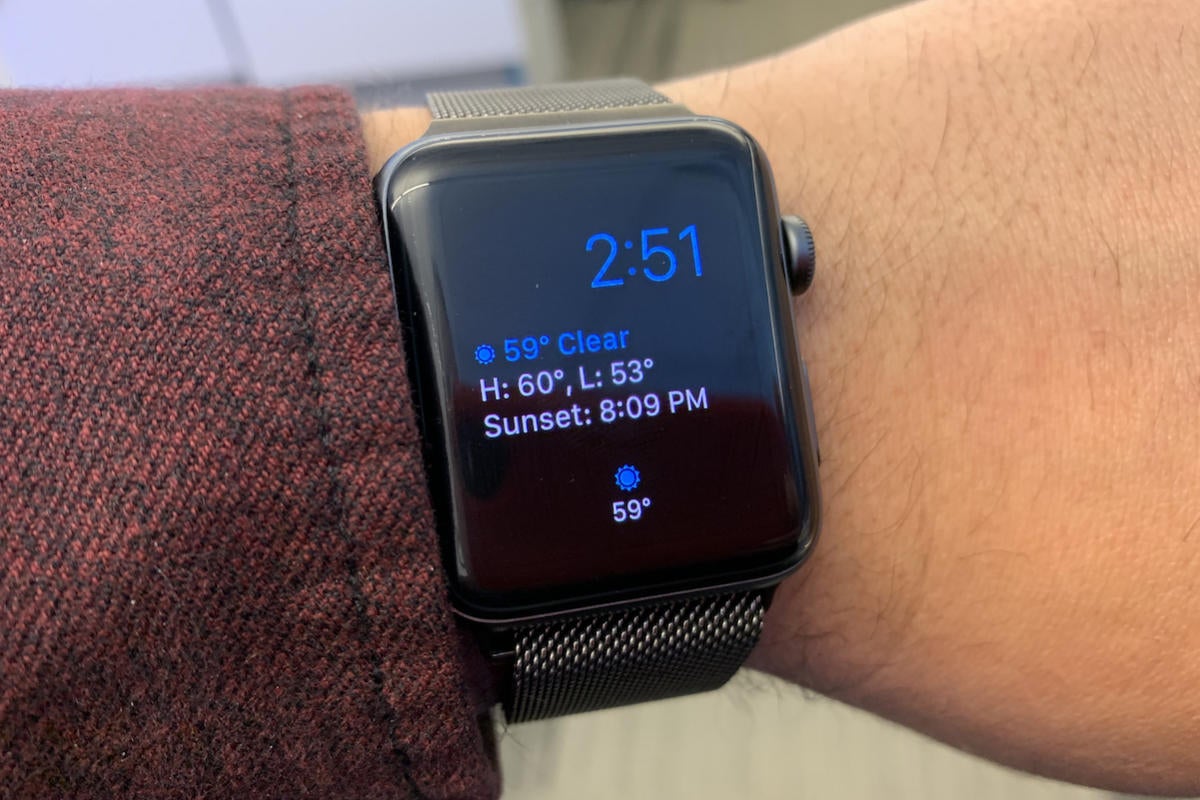 In its smaller form, it shows you an icon for the weather and the current temperature. And you get all this with a single purchase. Carrot Weather does a good job, too (especially if you like some humor), but you'll have to pay extra for the Apple Watch complication.
iTranslate ($4.99 subscription)
Traveling to a foreign country? Having the wonderful iTranslate on your wrist feels a bit like having one of the universal translators from Star Trek. It recommends a language based on your location as well as useful simple phrases that show up on the large complication, but you can also press it and ask for specific translations.
After that, the new phrase will stay visible for a bit. In the smaller version, it merely gives you quick access to the app, but it will at least tell you which language it's set to. There's a large array of languages to choose from, too, ranging from French to Afrikaans.
BatteryPhone (Free)
You'll find several good apps for checking your iPhone's battery like on your Apple Watch, but my favorite is BatteryPhone. It tells you the status of your iPhone's battery, yes, but it also tells you how much battery life your Apple Watch has left—and it does this for both the large and small versions of the complication. To my knowledge, no other battery life app on the App Store does this.
In addition, it'll notify you when your iPhone is fully charged (and vice versa on the iPhone with the Apple Watch). The catch is that the interface is kind of ugly and that—thanks to limitations from Apple—you can't get updates more than every 30 minutes. If you want a good subscription-based alternative, check out Remote Battery.
Citymapper (Free)
Citymapper Transit Navigation is an invaluable navigation app if you rely on public transportation in a major city, and its Apple Watch complication is almost as essential for getting you where you need to go. The smaller complication lets you know when you'll arrive at your destination, while the larger one lets you know the next step you'll need to take on your journey (such as a transfer for a different train).
Citymapper works great for car trips, too, but its Apple Watch support keeps you from constantly dragging out your phone when you're heading somewhere on foot.
Just Press Record ($4.99)
At the moment watchOS doesn't have a dedicated Voice Memos app—although one is reportedly on the way—so Just Press Record Remove non-product link is easily one of your best alternatives. The complication in particular makes it more useful than it is on the iPhone.
You can use it for quick reminders or notes—particularly if you're worried iOS's dictation won't accurately capture it with a traditional note taking app—and I personally use it to "jot down" story ideas that hit me while I'm on my train commute. Once you're done, just press the big red button to stop. You can access the recorded snippets from either your Apple Watch or your iPhone (where you'll also find a transcription).
Shazam (Free)
Shazam tells you which song you're listening to when it's able to hear a few seconds of audio, and its complication lets you turn it on within seconds.
Good thing, too, as I hate it when a song ends by the time I find my Shazam app on my iPhone or Apple Watch. With this complication, it's always in reach (although it's only available in the small "corner" format with the logo).
Things 3 ($9.99)
Things 3 Remove non-product link is the best to-do-list app across the iPhone, iPad, and Mac, and that quality generally extends to its helpful complication. The large version is the most useful, as it'll tell you the next tasks you need to finish on your "Today" list, and then you can tap on it to open the watch app and mark the task as complete.
The smaller complication is more abstract, as it merely has Things' checkmark logo and an "activity ring" showing how close you are to completing the day's tasks. That's nice, but I'd be happier if Things replaced the logo with the actual number of tasks remaining.
Fantastical 2 ($4.99)
Fantastical 2 Remove non-product link is a, well, fantastic calendar app, and frankly you should be using it. On the face of things, though, its complication isn't all that different from the one for Apple's own Calendar app, although it's notable for letting you know how much longer an event you're attending is going to last (provided you entered that information).
On the smaller complication, it uses an "activity ring" to give you a rough visual idea of how long you have until an event ends as well. It's not the most original complication, perhaps, but it's certainly one of the most useful.
Pokémon Go (Free)
Pokémon Go's complication reminds us that Niantic's popular augmented reality game doubles as a decent exercise app. In both the large and small versions, the complication shows how much farther you need to walk before your next Pokémon egg hatches.
The bigger version gives you specifics, while the short version shows an Activity app-style ring that slowly completes the closer you get to your goal. Glancing down at it sometimes inspires me to "go" the extra mile (or at least the long way) when I'm heading somewhere.
Spotify (Free)
I'm reluctant to put Spotify's newish complication on here because there's not much to it. The smallest one only shows the logo and acts as a springboard to the app, while the larger one just says, "Tap to play music." Unlike its counterpart for Apple Music, it won't even tell you which song is playing.
But if you're heavily invested in Spotify, this may be all you need. The shortcut quickly opens the app, giving you immediate access to your playlists and the typical playback controls. Considering how often I use Spotify, this convenience outweighs any coolness factor (although I recommend only using the small version).