At a Glance
Expert's Rating
Pros
Works largely on its own
Running a manual scan is simple and straightforward
Cons
Takes a non-standard approach to malware detection
Detected some standard malware after infection, not before
Our Verdict
Malwarebytes Premium is a no frills, anti-malware security program that is meant to be your full-time security suite. Its approach to detecting malware may not sit well with some, and its greatest strength continues to be finding and removing malicious code after it's been installed.
Price When Reviewed
US$43 for the first year
Best Prices Today: Malwarebytes Premium
Malwarebytes began life as a complement to antivirus suites. It was a backstop to catch and remove particularly troublesome malware that your primary security program couldn't. That all changed in December 2016 when the company announced its paid version, Malwarebytes Premium, was capable enough to be your primary security program. "With the launch of Malwarebytes 3.0, we are confident that you can finally replace your traditional antivirus," the company said in a blog post.
Malwarebytes comes in two flavors. The first is the free version that is only capable of removing malware infections during a scan. Upgrade to Malwarebytes Premium at an annual cost of $40 for a single device or $60 for 10 devices, and it adds real-time protection, adware and unwanted program blocking, automatic updates, and scan scheduling.
Malwarebytes isn't like your usual security suite. The company's been a trusted name in malware removal for years, but it didn't perform as well as other antivirus suites when we put it up against samples in the ObjectiveSee malware library. That is by design, according to the company, but it leaves us in a difficult spot to make a judgement.
The spot checks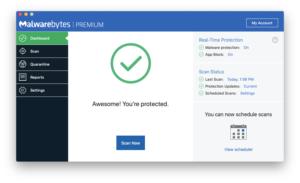 Malwarebytes did fine with a number of well-known bits of malware. It had no trouble detecting Calisto malware, for example. When it came to Ocean Lotus it was hit or miss. Apple's own security detected a few variants, while others were not detected at all by macOS or Malwarebytes. On the plus side, Malwarebytes did find Ocean Lotus during a scan after infection, which has always been the strength of the product.
Finally, I decided to see how it would stand up against a piece of ransomware and chose the MacRansom sample. Malwarebytes didn't detect it while it was downloading, installing, or active. But as I mentioned earlier, that is by design.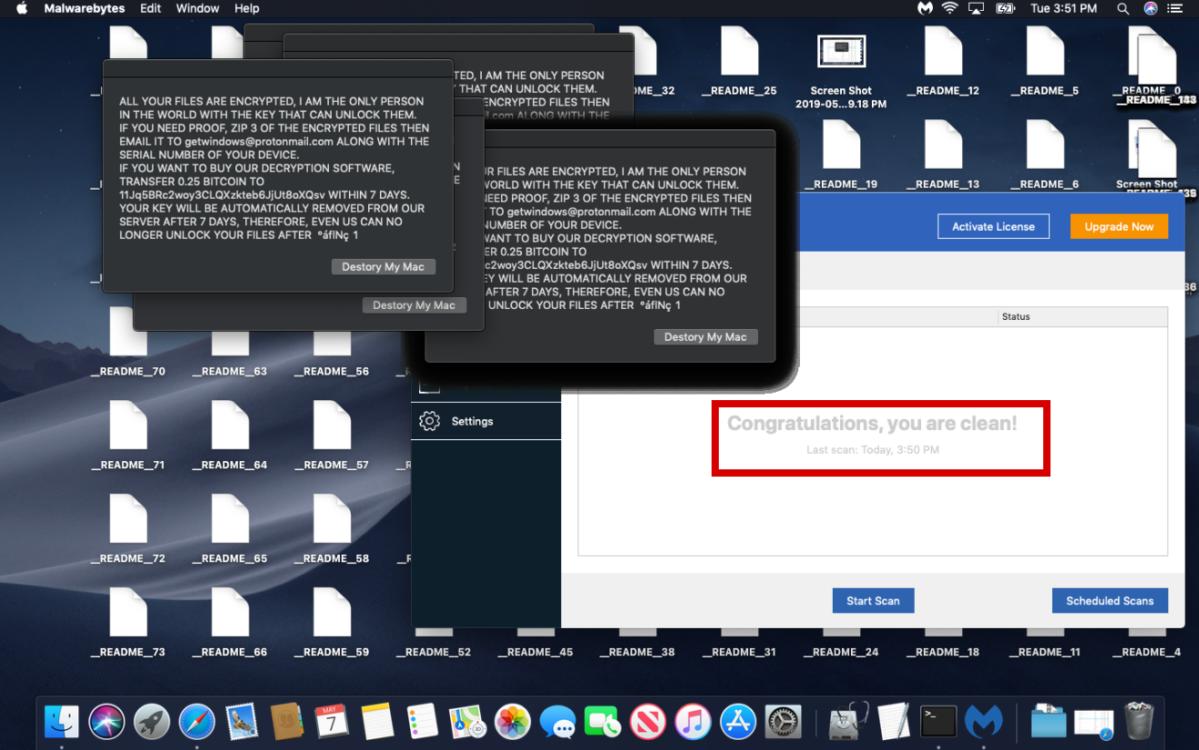 When I asked Malwarebytes about its failure to detect MacRansom the company said that it was guarding against MacRansom in 2017, but a year later it had stopped. "In summer of 2018, we saw that we had not detected even a single sample of MacRansom in the wild. Because of that, we culled those rules from the database," said Thomas Reed, Director of Mac & Mobile for Malwarebytes. "We don't believe in continuing to detect extinct malware, because that simply causes extended scan times without any actual benefit to the customer."
As Reed told us, this is not a common approach in the industry, but Malwarebytes believes it's more practical.
Ransomware in 2019 is an odd issue. If a home user gets infected it is without a doubt one of the most damaging pieces of malware to come up against. It's designed to encrypt all of your files, and then demand a ransom (usually in the form of pseudonymous Bitcoin) to decrypt your files. To make matters worse, sometimes the bad guys won't even decrypt your stuff after you pay. These days ransomware is a bigger issue for businesses than people at home, which is in part why Malwarebytes felt comfortable pruning certain kinds of it from its active database.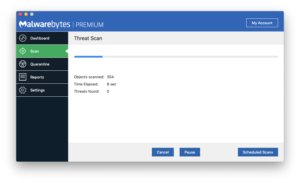 It's true that Malwarebytes scans more quickly than other security suites, and that likely means faster remediation for more common threats. But to me that sounds like something you want in a secondary defense, not a primary one. That is my opinion, however, and I'm sure there are Mac users who would disagree.
On Windows, Malwarebytes is very highly rated. AV-Test gave it a 99.2 percent protection rating in March 2019, and a 100 percent protection rating in April 2019 on its 0-day malware attacks and web and e-mail threats test. In AV-Test's widespread and prevalent malware test it earned a 99.5 percent rating in both March and April.
Interface and features
The overall look of Malwarebytes is basic and functional. Navigation happens from the left side rail with options for the primary dashboard, which indicates whether you're protected or not, as well as a button to start a scan. There are also sections for scans, managing the quarantine for infected files, reports, and settings.
For features there isn't much here. Malwarebytes Premium monitors your computer for threats and removes them. That's pretty much it.
Bottom line
So here we are with a highly respected suite from a highly respected security company, but one that doesn't quite fit into our testing method. That means it's hard to make a call. There's no doubt that Malwarebytes is excellent as a secondary defense, but can it be your primary one? If you leave your Mac's default settings as-is, then probably. MacOS has a number of built-in security defenses that make it much harder to get hit with malware in the first place and a backstop may be just what's needed. But if the unique approach of Malwarebytes gives you pause, then I'd advise looking elsewhere.
Best Prices Today: Malwarebytes Premium