Apple iPhone users generally love their devices for ready access to apps, content, and more. But when it comes to functions such as backup and restore, document and photo storage, or managing music purchases, users can often become frustrated by an overload of apps and processes.
Why, you may wonder, isn't there a better way to manage this stuff? Well, there is. DearMob iPhone Manager allows users to simply back up and restore iPhones and iPads to their own PC or Mac hard drives without iTunes.
For most users, Apple's iTunes has long been the control point for backing up and restoring iOS content such as music and video, along with crucial system information on iPhones and iPads. At least until iCloud came along.
Do you know what's being backed up to iTunes and what's going to iCloud, or how to coordinate the two? Are you overrunning your current iCloud storage limitation? Can you store the content you purchased on one iDevice to another iDevice or your Mac? Have you seen scary warnings about erasing photos when you're trying to sync multiple photo libraries?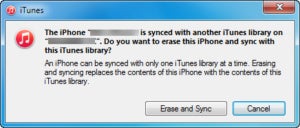 Many iOS users have little or no visibility into what is actually going on when they transfer or sync their devices. That can make dealing with iTunes and iCloud stressful and intimidating. In fact, 60 percent of surveyed DearMob iPhone Manager users say that "no iTunes needed" was a key factor in why they chose an alternative, according to DearMob. Plus, iTunes can be agonizingly slow or fickle during backup and restore.
Backup your iPhone files without iTunes
DearMob iPhone Manager reviews praise it as a single, easy-to-use application that can handle all your iOS transfer, backup, and restore needs. Check out this guide to learn how.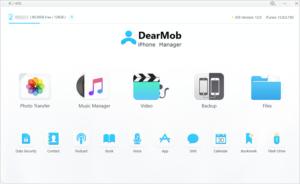 Now you can be sure that all of your photos, music, contacts, and SMS are transferred and can be synced to a safe place with just one click. Instead of worrying about going over your iCloud limit, you can fully back up your encrypted data to your Mac.
It's so easy and safe to use you may not fully realize the power that DearMob iPhone Manager puts at your control. You'll able to do the following and more:
Two-way data sync between computer and iOS device
Selectively back up iPhone files you want.
Manage photos in albums like Camera Roll, Selfies, Live Photo, Panoramas, Instagram, Snapchat, etc.
Import and export photos easily
Transfer 100 4K photos in original quality in just 8 seconds
Manage and delete pictures without fear
More than a file manager
DearMob iPhone Manager goes beyond file management to give iOS device users full management control not just over their music, but also videos. You can transfer videos to iPhone or iPad for offline enjoyment, export 4K videos to free up space, and compress large videos up to 50 percent.
Your iPhone and/or iPad is your precious possession and so is the data you've stored on it. Learn how you can take full control and take advantage of a free download by visiting the DearMob Official Page.