The Channels feature in the redesigned Apple TV app is cool because it lets you sign up for services like HBO without using another app, and it also lets you download movies and TV episodes for offline viewing on your iPhone or iPad. This has long been a feature on dedicated apps for services such as Showtime and Stars, but it's remarkable in this case because HBO has never allowed it for HBO Go or HBO Now.
Here's how to download Apple TV app videos to your iPhone or iPad.
How to sign up for a service through Apple TV
First, let's do a quick rundown on how to subscribe to these services in the first place. If you're already subscribed to an external service like HBO Now, keep in mind that you'll have to sign up separately for it through the Apple TV app if you want to download episodes. You can try it out for a week to see if you like it, and then you need to decide if you should cancel your regular HBO Now subscription or stick with Apple TV.
Just to emphasize: Your Apple TV subscription for HBO is separate from HBO Now or HBO Go. You can't tie them together. Indeed, one big drawback of sticking with HBO on the Apple TV app is that you won't be able to access your Apple TV version of the subscription through the HBO Now app on other devices, so you'll have to watch it on iOS devices, the Apple TV proper, and recent Samsung TVs. (A Mac version of the app is expected sometime later in the year.)
Here's how to sign up:
Once you've upgraded your device to iOS 12.3, open the Apple TV app. You should be in the Watch Now section by default. If you not, press Watch Now in the lower left.

Scroll down to the section that says Subscribe to Apple TV Channels.

You'll see a selection of circular icons representing various services. At the time of writing, there are 15 in the U.S. Since we're focusing on HBO, let's press HBO.

A new page for HBO will open. Press the big button that says Try It Free.

The Apple Pay prompt will pop up, so use Face ID, Touch ID, or your passcode to approve the purchase. The fee varies depending on the service.

Agree to the Apple Media Terms & Conditions.

You're in! If you need to know how to cancel your subscription before the trial ends, check out our dedicated how-to.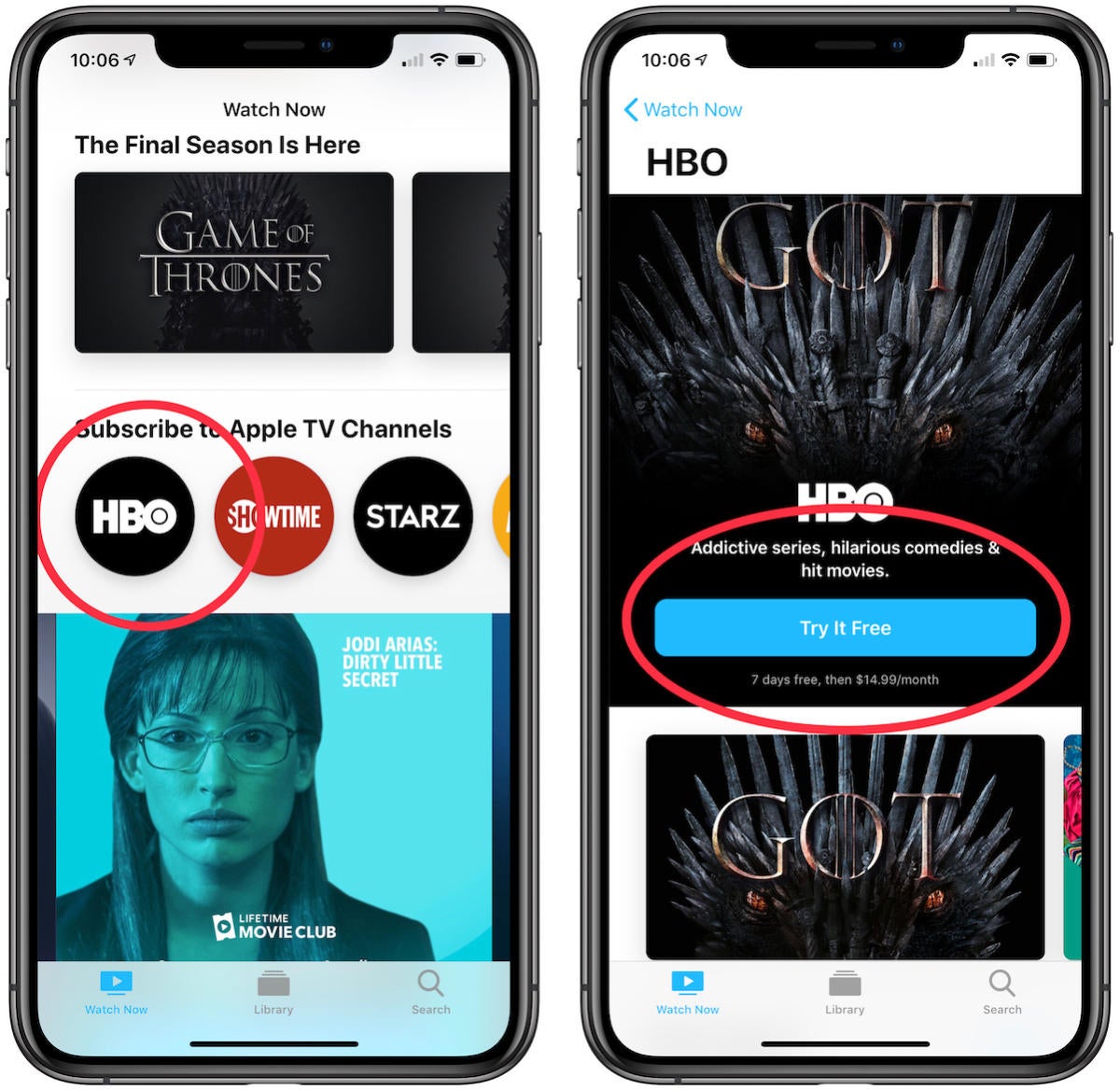 How to download episodes and movies for offline viewing through the Apple TV app
You can find the show you're looking for by opening the Apple TV app and pressing Watch Now in the lower left of the interface. This is handy if you want to browse for episodes within the Channel you're subscribed to.
In the case of Game of Thrones, you would scroll down to Available Apple TV Channels, press HBO, and then press GoT (which is prominently featured at the time of writing). You'll then see all the seasons, and you can download episodes individually from there.
But there's a more direct method by using the Search tool, so that's what we'll use for our detailed description.
Open the Apple TV app.

Press the Search icon in the lower right.

Enter the name of the series or movie you're looking for, such as "Game of Thrones". (Unfortunately, you can't search for individual episodes.)

A thumbnail for the series or movie should pop up. Press it.

In the new screen, you'll see episodes categorized by seasons. Find the episode you want, and then press the Download icon that's right underneath it. (It looks like a cloud with a downward-pointing arrow.)

The episode will start downloading. These files can be huge—and Apple doesn't let you know how huge—so it might take a while, depending on your connection.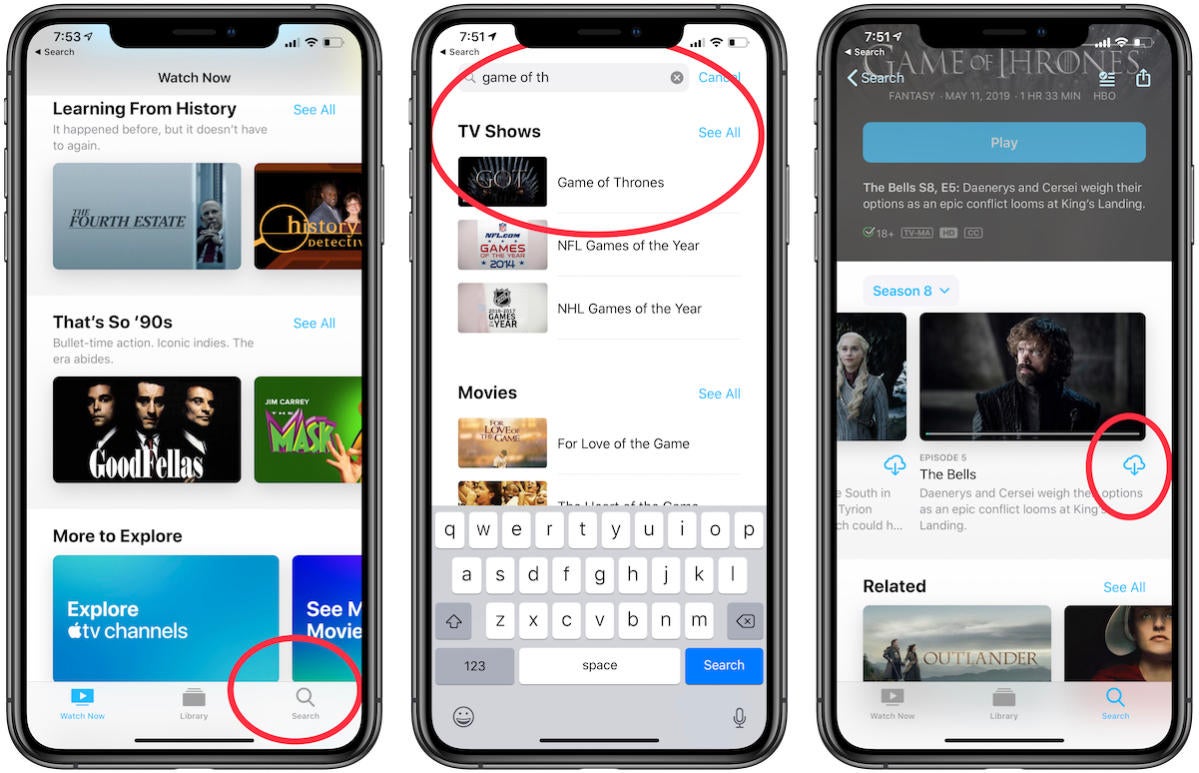 How to play episodes you downloaded through the Apple TV app while offline
It's time consuming, but you could just follow the steps above and then play the episode by pressing the thumbnail image. (The download icon will no longer be visible.) But there's an easier way:
Open the Apple TV app.

Press Library at the bottom middle of the screen.

Press Downloaded.

You'll then see the names of the series with downloaded episodes. Press the one you want.

Here you'll see the episodes for that show listed individually. Press the thumbnail for the one you want and it will start playing.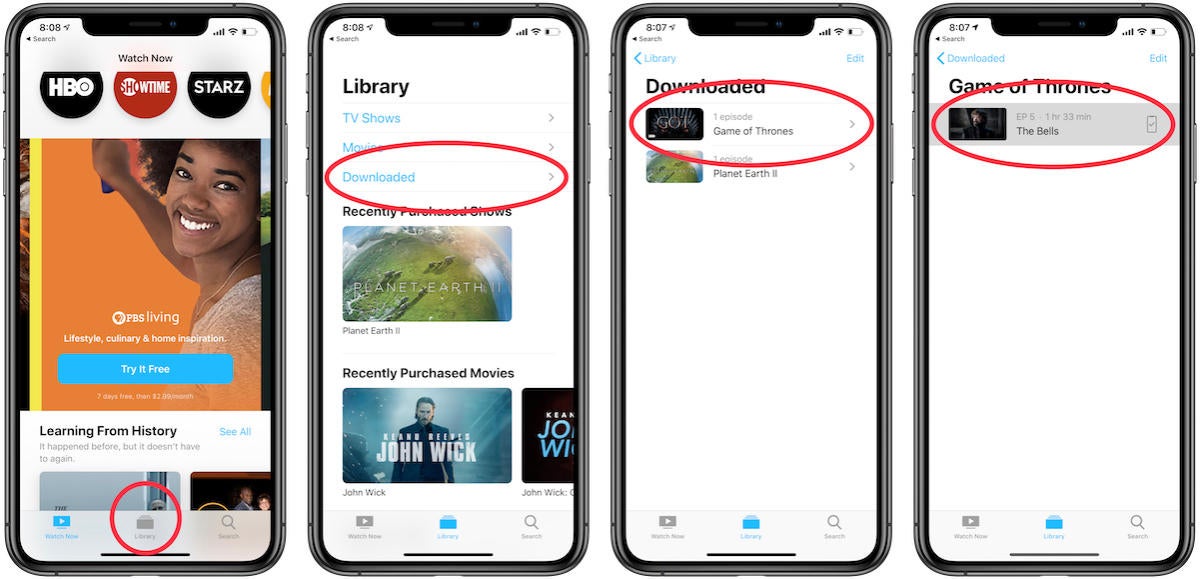 How to delete downloaded episodes from the Apple TV app
Episodes and movies from Channels like HBO are usually huge, so it's probably a good thing that Apple makes them automatically delete after 48 hours. (Unfortunately, it doesn't look like you can disable this, which could be sad news on an overseas trip.)
If you really need more space before then, Apple lets you delete them ahead of time. Here's how.
Open the Apple TV app.

Press Library at the bottom middle of the screen.

Press Downloaded.

You'll then see the names of the series with downloaded episodes. Press the one you want.

You'll then see the individual episodes. Swipe left on the episode you want to remove to make the big, red Delete option appear. Press it. (You can also do this from the previous step, if you want to delete all episodes from a show.)

The episode will vanish from your device.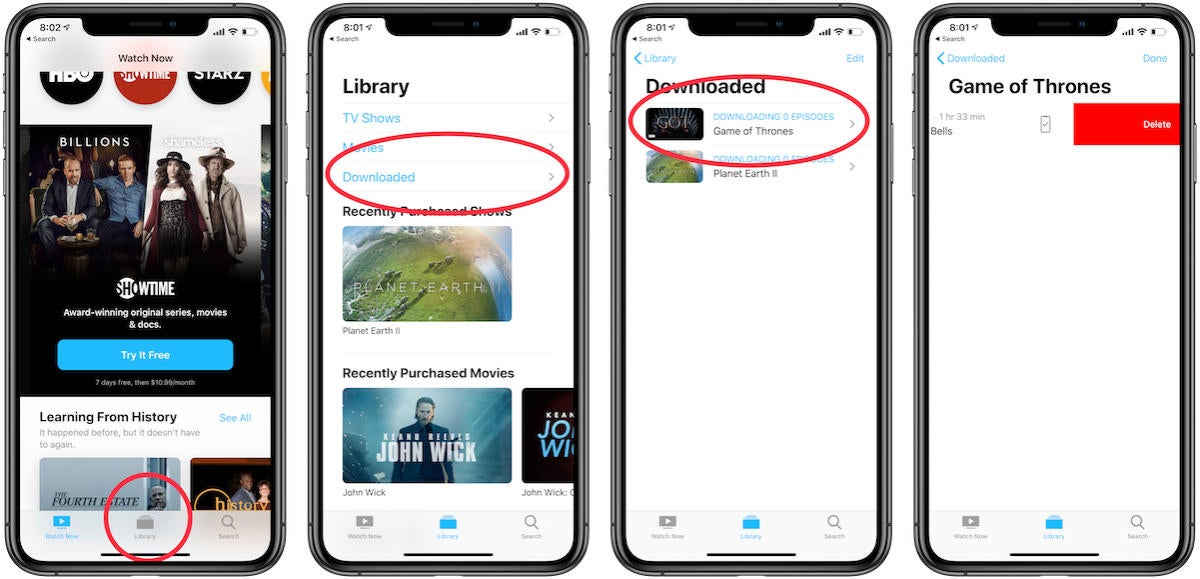 Note: When you purchase something after clicking links in our articles, we may earn a small commission. Read our affiliate link policy for more details.
Leif is a San Francisco-based tech journalist. He's a big fan of fantasy RPGs, and you can find his previous work on IGN, Rolling Stone, VICE, PC Gamer, Playboy, Mac|Life, TechRadar, and numerous other publications.