At a Glance
Expert's Rating
Pros
Assistant Viewer is helpful, particularly when retouching images
Picktorial's own index improves search capabilities over the Finder's Spotlight search
Browse Aperture libraries natively
Cons
Search system feels too reliant on the underlying text commands
Assistant Viewer not synced to editing pane, which is confusing when switching images
Lag when opening raw files
Our Verdict
Best Prices Today: Picktorial 4.0
When I reviewed Picktorial 3.0, I noted how the software took a few unconventional approaches to photo editing and employed a clever way to save non-destructive edits. The new Picktorial 4.0 adds some new editing features, but mostly focuses on the organizing side of working with your library of images.
An editing assistant
When you're making adjustments to a photo—retouching in particular—you want to view the image at actual size to see how the edits are affecting the pixels. The new Assistant Viewer splits the editing area so you can view the full image in one pane while you're applying corrections at 100 percent in the other pane. It's a simple and effective alternative to zooming in and out repeatedly to see how the edits look.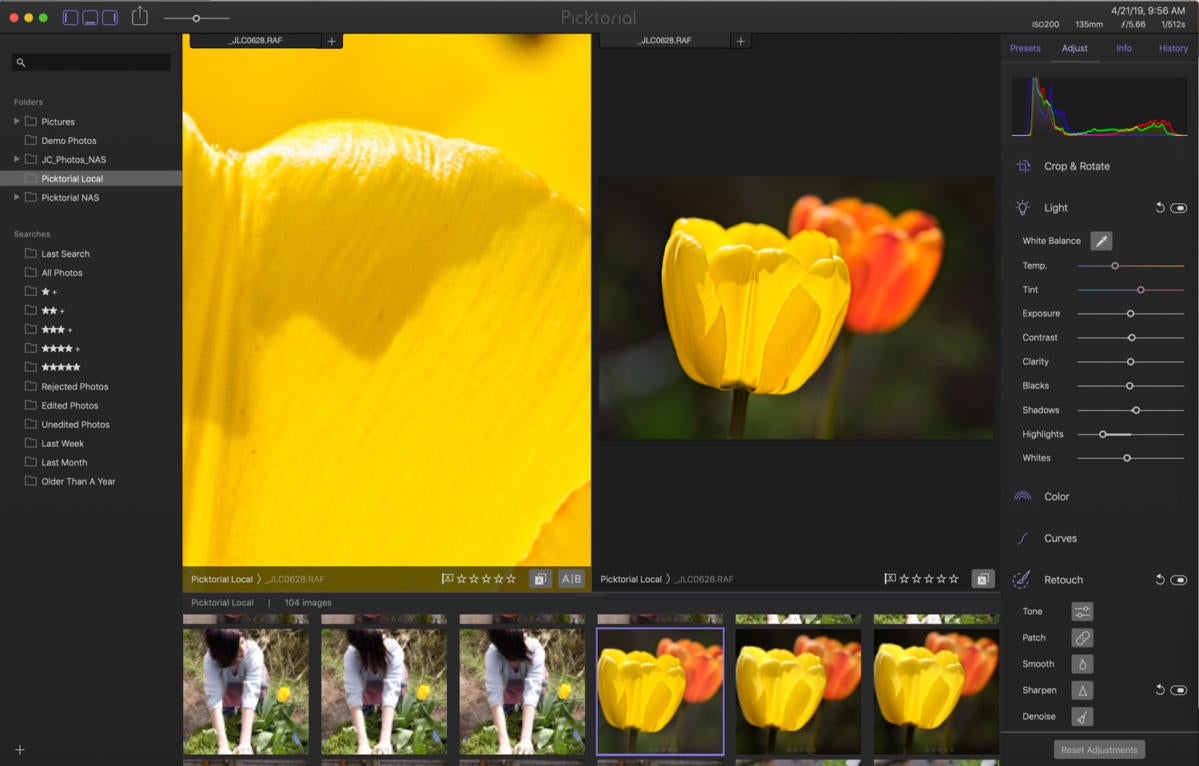 However, the panes are not automatically synced. When you select another image to edit, the Assistant Viewer continues to show the previous image. You must click the new pane to activate it, and then select the image you want in the browser. It would be better to be able to switch to another image and have it load into both panes, or include this behavior as a preference.
Picktorial 4.0 also adds the ability to batch-apply edits to multiple photos by copying adjustments from one image and pasting them to one or more other shots. You can also batch-export images and create presets for specifying parameters such as filename, size, format, and quality levels.
Picktorial's developers tout increased performance, especially when working with files exceeding 50 megapixels that are produced by high-resolution cameras. I did notice an improvement, but there's still lag whenever you load a Raw image while the software interprets it. Don't expect to shuttle quickly through a folder of Raw images, though the lag is much shorter or imperceptible when opening JPEG images, depending on the size of the file. (I ran Picktorial on a late-2016 MacBook Pro with Touch Bar and a discrete Radeon Pro 460 graphics processor. Not the latest and greatest hardware, but it's also not outdated.)
Search and albums
The photo organizing side of Picktorial gets the most attention in this release. Whereas some applications track everything—from file locations to edits—in a central catalog (such as Apple Photos and Adobe Lightroom), others rely on the Finder to do the organizing. Picktorial takes the latter approach, reading data directly from the files on disk, and writing the edit information back to JPEGs or, with Raw images, to .xmp text files on the side.
However, for search in Picktorial 4.0, the developers don't lean on macOS's Spotlight. Picktorial builds its own index, which results in faster search and the ability to do more with the data, such as create smart albums and sort photos using multiple criteria, without maintaining a central catalog file. The Library sidebar includes several pre-made searches, such as All Photos, star rating levels (such as 2 stars and higher), All Edited photos, and the like. There's also a Search field for typing keywords and other queries.
That field presents a lot of possibilities, as Picktorial takes a text-based approach to searching. If you know the language, you can type it into the Search field. For example, let's say you want to locate all the photos with the keyword "flower" rated two stars or higher. You have two options: click the pre-made 2-star-plus search item and then type "flower" into the Search field; or, type "flower rating>=2" in the field. One annoyance: if your query exceeds more than a couple of terms, the Search field doesn't expand or wrap down to another line, so you won't see characters that run longer than the visible area. According to the application's documentation, specific attributes are limited to text contained in the photo name, keyword, camera name, camera maker and rating. The available syntax isn't spelled out, and my attempts to search for, say, all images captured at f/2.8 proved unsuccessful. The search implementation has the potential to be powerful, but it's not at all intuitive.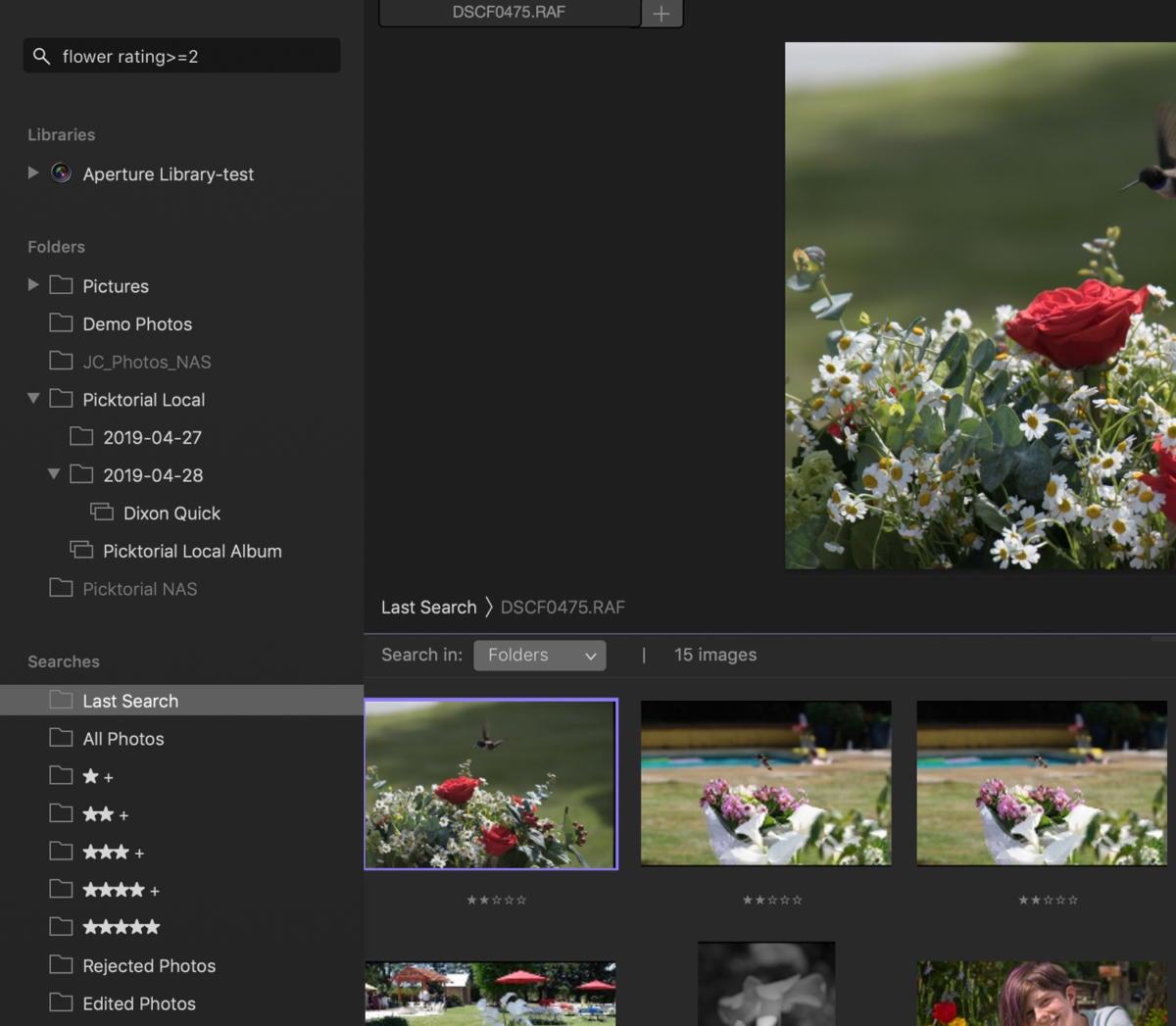 The Smart Album feature follows the same pattern. In most applications, a smart album is a collection of results based on a set of search queries. You could create a smart album that shows only the photos captured within the past 30 days ranked three stars or higher, for example. But there's no actual Smart Album command in Picktorial; you perform a search, right-click Last Search in the Library panel, choose Duplicate, and rename the saved search. If you want to change the parameters of that smart album, you need to adjust the terms in the Search field and re-save it as a new search. The capability is there, but you wouldn't know it unless you're looking for it; at the time of this review, there's no mention of the feature in the application's documentation.
Other aspects of searching can be frustrating. You can search only one folder at a time, and the location is defined separately from the Search field. For example, I'm not able to find all 3-star photos in my "Picktorial Local" and "Picktorial NAS" test folders. The alternative in that case is to perform the search in all of my folders, but that would include too many sources.
I'd also like the ability to remove the default Pictures folder in my home directory (~/Pictures) from the Folders list, since that's such a catch-all for other images that aren't part of my photo library (especially if you have photo libraries for several applications, as I do). I suspect Pictures is there to ensure that Picktorial has a starting place to build, but with its flexibility to include other folders, even on NAS devices, it should be possible to remove or hide the Pictures folder contents.
While we're on the topic of folders, I desperately want Pictorial to be able to display the photos from all nested folders. As it is now, if my photos are organized in the Finder by a date hierarchy, I click a "2019" folder and see only more folders for "2019-01-01," "2019-01-02," and so on. This isn't an issue if you dump all your images into one folder, but it's more common to have some sort of organizing structure in the Finder. To add extra annoyance, you can't simply double-click the subfolders that appear in the browser; to open one, you must click the expansion triangle in the Library panel to expose them, then select the one—just one—you want. That's at least three clicks in this example to get to the images. Picktorial is a photo application—why would I want to view more folders, or the contents of just one folder at a time? I can do that in the Finder.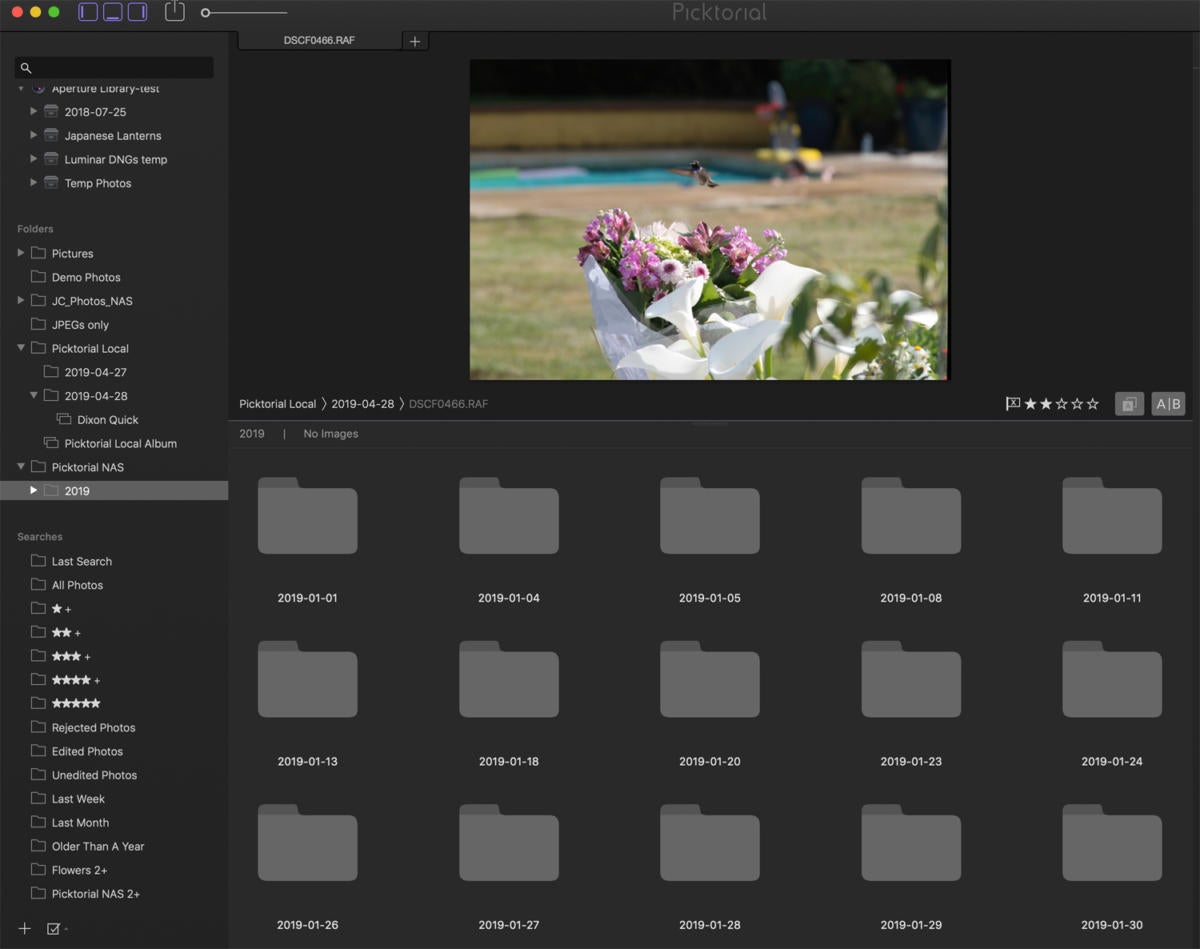 Lest I'm dwelling too much on annoyances, I'll counter by pointing out that Picktorial now includes a Quick Album feature that lets you specify a target album and add any image to it by selecting the shot and pressing the B key. I also appreciate that the application properly treats Raw+JPEG pairs as a single image, with the option to choose which version you want to edit.
Picktorial also does a fine job supporting external drives and NAS (network-attached storage) devices on your network. If a volume you've added to Picktorial isn't already connected, the application will mount it automatically when you're on the local network. If you're working remotely, you need to mount the volume manually in the Finder; once you do, Picktorial sees it, but keep in mind you'll be at the mercy of your current internet connection in terms of performance working with those images.
And if you're one of the folks who've been hanging onto Aperture since Apple discontinued it—and now face the reality that it will stop working altogether starting with the next major macOS release—Picktorial can browse Aperture libraries natively, no conversion needed. However, there are caveats. When All Photos is selected, Picktorial doesn't keep that parsed structure in mind, so you see not only the library images, but also the low-resolution thumbnails that Aperture created for its internal use. Also, Picktorial doesn't recognize edits that were made in Aperture, only the original images.
Pricing
Adobe has shown that a subscription model works, and as a result, Picktorial includes it as one of three pricing options.
Picktorial 4.0 can be downloaded and used for free, which includes the photo organization features, support for applying up to two local adjustments per JPEG, the ability to view raw files, and unlimited undo steps.
A one-time purchase of $69.99 unlocks raw editing, unlimited local adjustments, batch editing, TIFF and batch export, the ability to run the software on up to five Macs, and priority support. This option includes maintenance updates to that version only.
The subscription option is priced at $9.99 a month, or $4.99 a month when bought as a yearly purchase, and includes the features above plus ongoing future updates.
Bottom line
It's good that Picktorial 4.0 has enhanced its photo organizing features, but several aspects introduce hiccups in the photography workflow. The search features feel like they're ambitious but not quite baked, and I wonder how many photographers will want to dig into the technicals of which text strings to use for the best search results. The Assistant Viewer is a good idea that needs more follow-through to be truly useful. At the same time, features such as batch processing and solid NAS support show that the developers are listening to the needs of its customers.
Best Prices Today: Picktorial 4.0