At a Glance
Expert's Rating
Pros
Solid, heavy-duty, water-resistant leather construction
Generous divider can hold a 13-inch MacBook Pro and small iPad
Handy rear sleeve for quick access
Minimalist yet spacious
Cons
Heavily prone to scuffing
Slightly heavy: weighs 7.3 pounds with a 13-inch MacBook Pro inside
Pricey
Our Verdict
The Thirteener Thin Leather Briefcase isn't exactly "light," but it's pleasantly carryable compared to most of Saddleback Leather Co.'s other full-grain leather briefcases. It can hold a 13-inch MacBook Pro or the new MacBook Air and still have a good amount of room left over. Unfortunately, the finish seems particularly prone to scuffing, even by the standards of Saddleback's other bags.
Best Prices Today: Thirteener Thin Leather Briefcase
The new Thirteener Thin Leather Briefcase from Saddleback Leather Co. looks a little, well, like a saddlebag. (I was a cowboy for years, so I don't say this lightly.) And much like a saddlebag, this 14.25 x 10-inch briefcase is big enough to hold necessities without being a burden, which makes it a perfect (if heavy duty) companion for Apple's 13-inch MacBook Pro or the new MacBook Air. So long as you don't try to take the whole ranch along on your commute and can deal with some scuffing, it should serve you well.
The $349 Thirteener also reminds me of a good saddlebag because there's little reason to worry about it falling apart over the next five years—or maybe even the next 50. Saddleback always uses heavy full-grain leather for its leather bags, which means they're highly water-resistant without any treatment. You also won't find any snaggable zippers, as it closes with Saddleback's signature front buckle. With enough practice, it's only slightly slower than opening a zipper.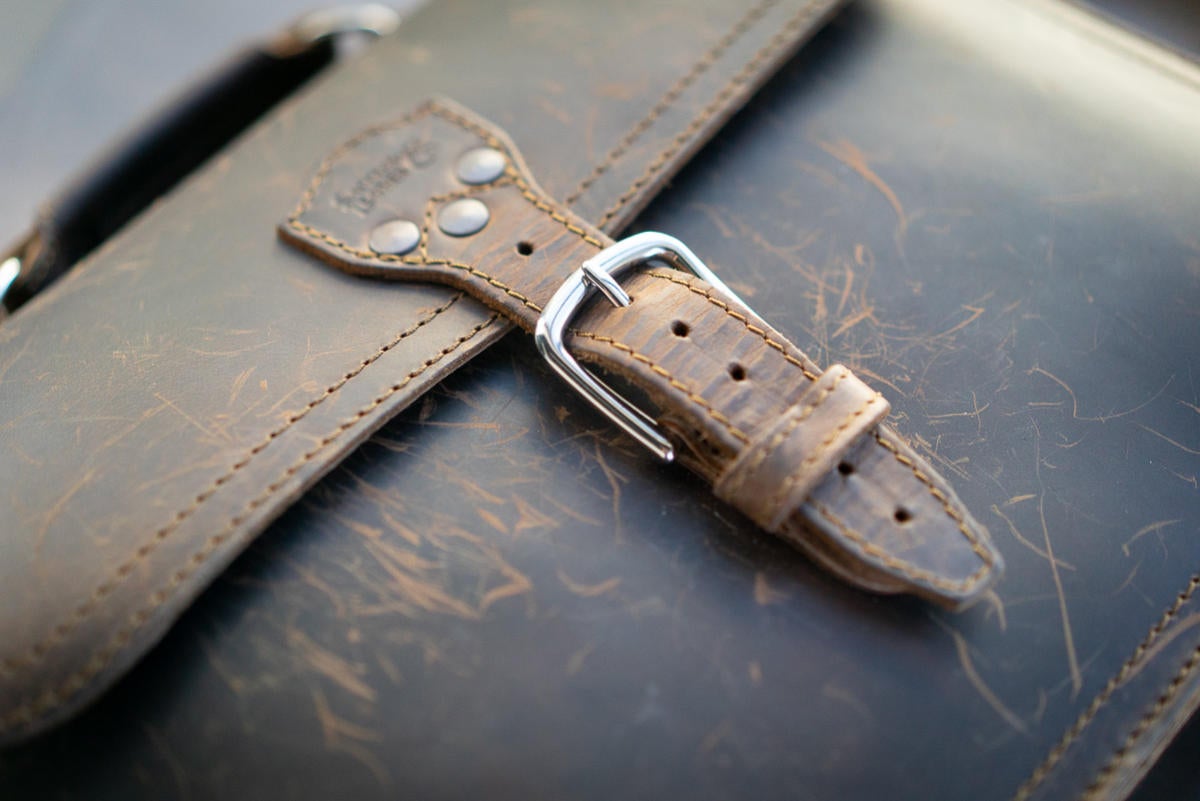 Most features reveal an almost ridiculous attention to detail, whether it's the polyester threading—chosen because it doesn't slowly rot in the sun like nylon—or the nearly indestructible 316 stainless steel Saddleback uses for the buckles and D-rings. It's a small wonder that Saddleback gives these things a 100-year warranty. If you find yourself disliking the Thirteener, it almost certainly won't be for the quality of the construction.
Aside, that is, from the heavy scuffing on the finish. Like many of the Saddleback's bags, the Thirteener comes in Dark Coffee Brown, Chestnut, and Black, but the finish on the dark coffee brown version I received proved ridiculously prone to scuffing during the roughly two weeks I used it on my daily San Francisco commute. I've previously received Saddleback bags in chestnut and saw nothing so extreme as this, and looking closely, nothing appears to be wrong with the actual leather.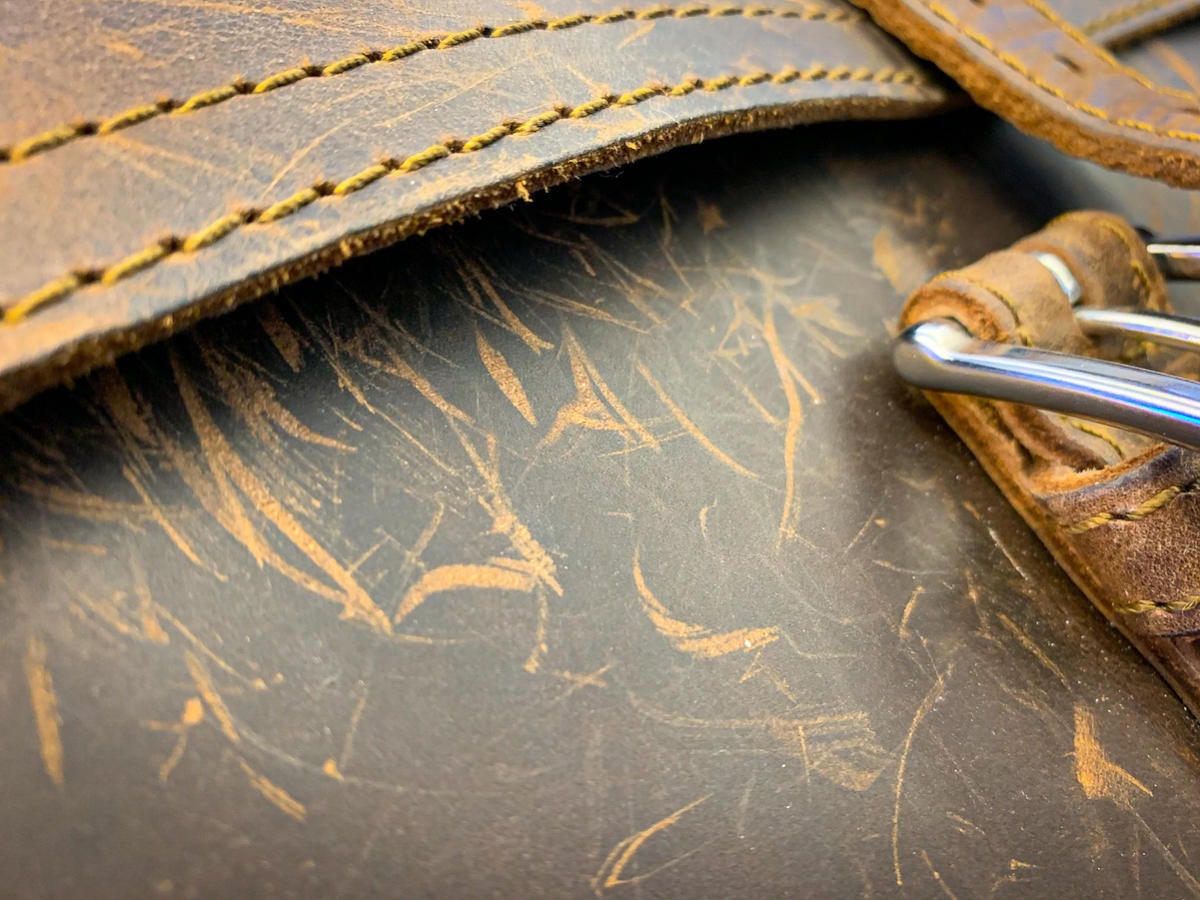 I suspect it's related to the finish for the dark coffee brown model, so I'd keep this in mind when buying the brown version unless you don't mind your new bag looking like it's five years old before the month is out. Normally, I'm open to the idea that this kind of wear enhances the "rugged" aesthetic, and some scuffing is common with Saddleback's full-grain bags. But this degree of scuffing seems excessive for a mere 14 days, considering the price.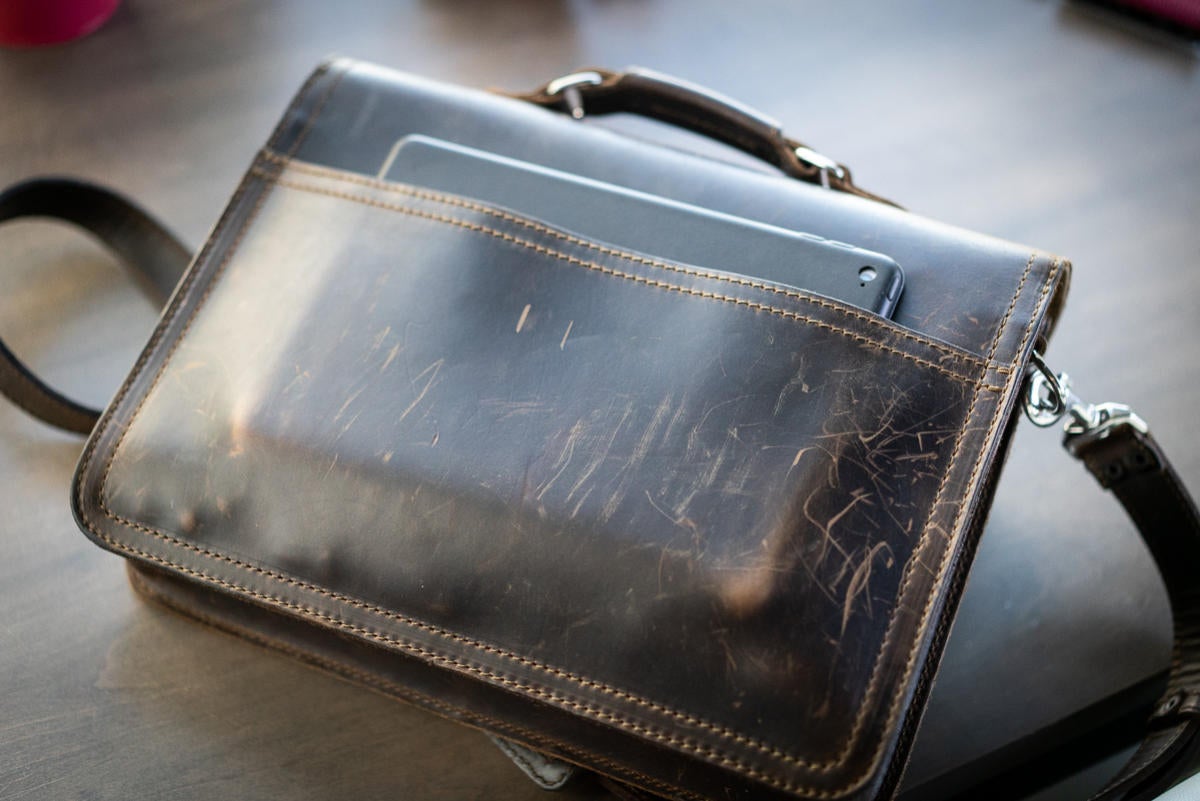 Watch your weight
This is more subjective, but you also might have a problem with the weight. That's hardly a surprise: Saddleback's leather messenger and shoulder bags tend to be easy on the eyes but hard on the shoulder. This is a valiant effort at minimalism, though, considering its three-inch width. It occupies a welcome middle ground between bags like the overly tiny Front Pocket Leather Satchel and the gargantuan 7-pound Classic Leather Briefcase. But it's also a hefty boy. Empty, it weighs 3.6 pounds, and with the added padded strap it weighs in at 4.3 pounds. Toss in a 13-inch MacBook Pro into the loose pigskin divider along the back of the interior—if you're like me, you'll almost always have one in there—and it suddenly balloons to a base of 7.3 pounds.
By the time I'd try to cram in everything from an umbrella and a water bottle to the case for my Bose QuietComfort 35 headphones—all of which did fit in the main compartment, by the way—I could joke to myself that it was called the "Thirteener" because it weighed 13 pounds. As a result, my time with the Thirteener encouraged me to learn to keep my loads to a minimum. I consider that a good thing. That's also probably why Saddleback is careful to call it a "briefcase" rather than a messenger bag, as you can easily tote it around with the handle if you feel the strap is too hard on your back with heavy loads. So long as you learn to stick to the basics, this won't be a big deal.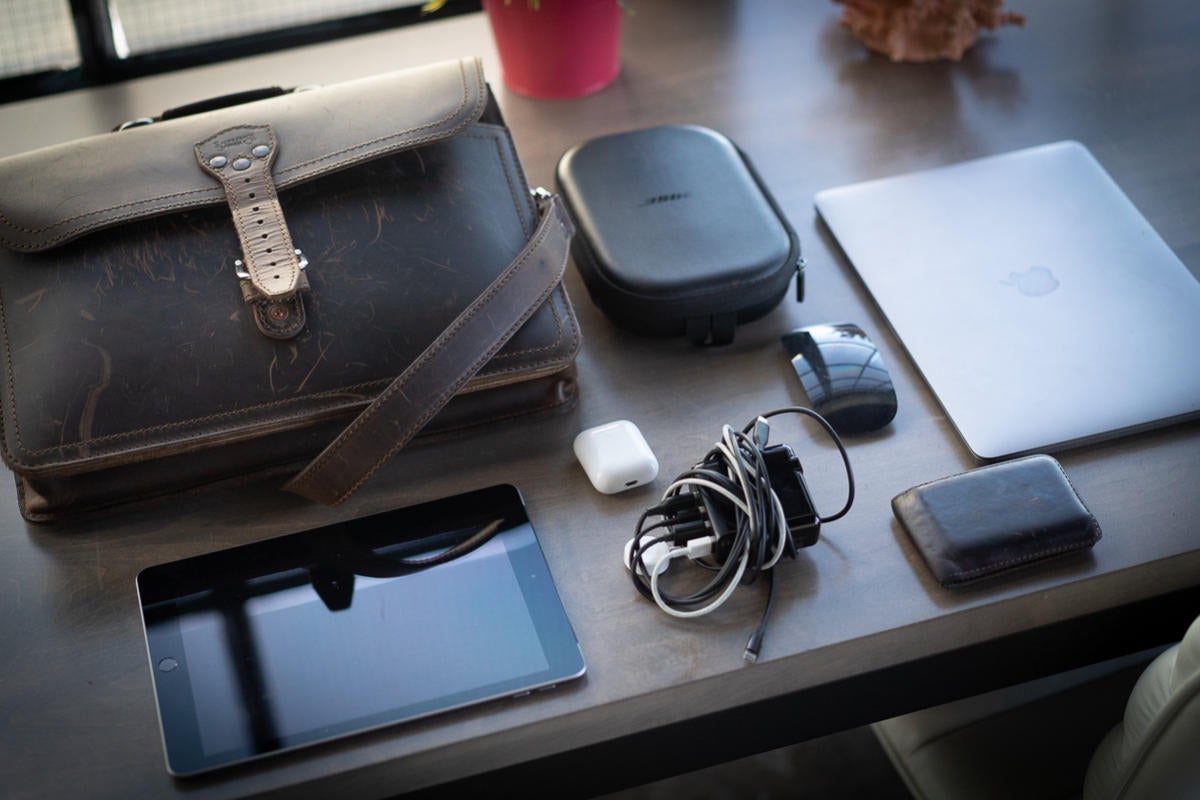 For such a "thin" bag, there's a decent amount of room. You have the pigskin-lined main compartment—measuring roughly 9.5 inches deep and 2.5 inches wide—and then you have a thin front compartment that's big enough to hold an 9.7-inch iPad. You'll also find two thin pockets on the inside of this larger front compartment that are good for stashing items like passports or plane tickets, and there's enough room to stuff AirPods and a Magic Mouse in there as well (although this causes them to bulge out and take up precious room in the larger pocket). The only outer "pocket" is a 6-inch-deep sleeve along the back that's handy for quick access to notebooks or similar items. Like so much about the Thirteener, it's just enough.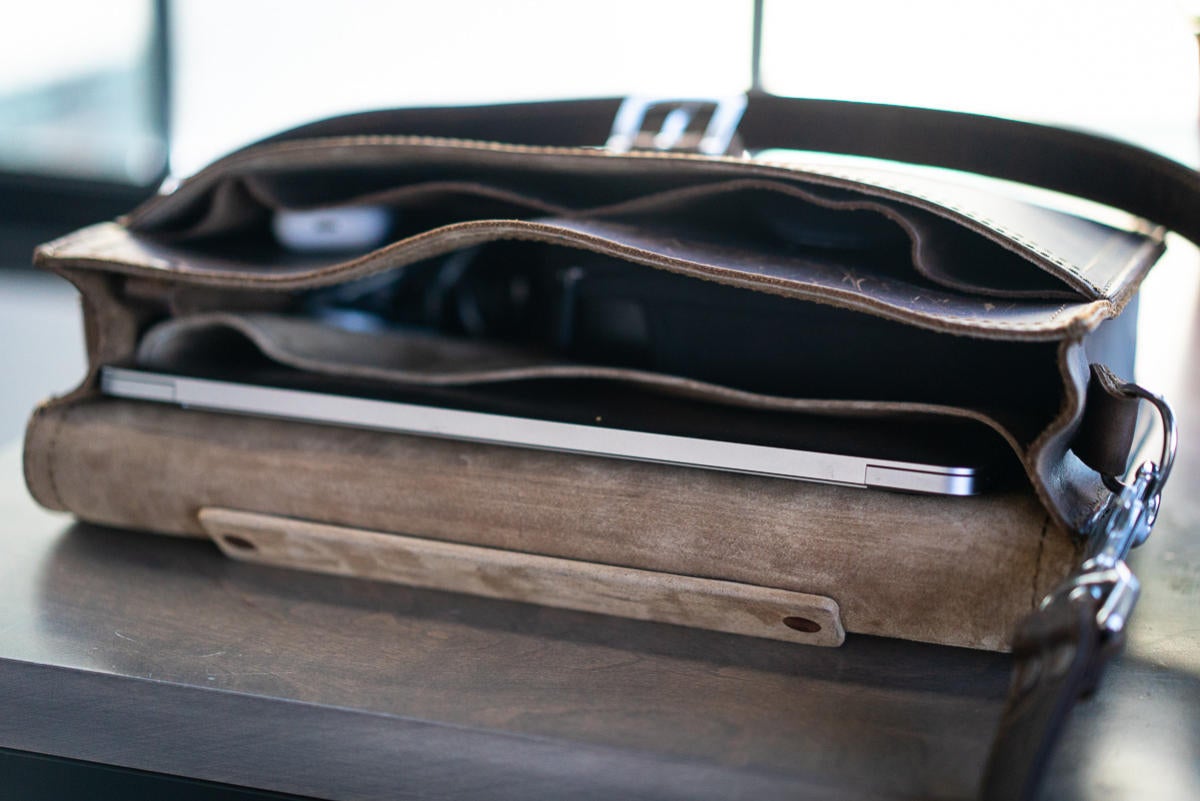 Bottom line
The Thirteener Thin Leather Briefcase is a dependable bag bag for anyone who prefers the 13-inch MacBook Pro or the new MacBook Air, and that's not just because these devices fit inside. Much like those laptops, it's a good bag for folks who seek both portability and resilience—although unfortunately that resilience doesn't extend to the scuff-prone finish. It's best used in situations where you won't be hauling it for most of the day, such as walks to work from your car or public transportation. If you like Saddleback but plan using one of its bags for most of the day, though, I suggest getting a backpack like the Thin Front Pocket Backpack instead.
Best Prices Today: Thirteener Thin Leather Briefcase