More and more people are using iPhones, iPads, cameras, drones, and other devices to shoot exciting video. But the thought of sitting down to edit raw footage into content you're proud to share can be daunting. Whether you're a novice or a pro, VideoProc provides an easier and faster way to process various media files on your Mac, taking advantage of full hardware acceleration to process and touch up your footage.
Lots of video, much of it raw
Consumers have ready access to a wide variety of devices to shoot video. But raw footage is called that for a reason—nobody really wants to view unedited, shaky video. VideoProc is one-stop video editing software that makes it easy to edit, convert, resize, and adjust 4K ultra high-definition (UHD) videos, DVDs, and music to produce a polished video you'd be happy to share.
VideoProc combines DVD and video conversion with essential tools and simple linear editing to make the most of any video shot with iPhone, GoPro, DJI, Android, camcorders, or other 4k cameras. The results can easily be played with various iDevices and imported to post-editing apps.
What your Mac can do with VideoProc
For a quick overview, you may watch the video below:
If you want toshorten a video, delete unwanted segments, or rearrange clips in any sequence before uploading, you should try this software.You'll see how easy it is to stabilize shaky video, remove noise, and correct fisheye lens distortion. Before you know it, you'll be able to convert downloaded videos and merge your selected footage with other content. Trim, split, and flip the video with a full set of easy-to-use editing tools.
Simply click the Settings icon to get more options to change settings, such as video/DVD output folder, snapshot folder, default language, downloader video output folder, music output folder, default resolution, default format, and concurrent thread. You can directly drag video files into the Video Processing window or click the Video Folder icon to load a video folder.
Confidently produce polished video
With the ability to take advantage of full GPU hardware acceleration, VideoProc can take advantage of the full capabilities of your Mac to ensure smooth video editing and transcoding without compromising quality. You can move a slider to select the optimal output, choosing between higher image quality and the fastest transcoding speed.
Full GPU hardware acceleration enhances your ability to easily and more quickly edit, convert, resize, and adjust 4K UHD videos, DVDs, and music. VideoProc is able to process videos and video folders in bulk, including 4K UHD/8K clips. You can resize large video footage with a better than 90% compression ratio.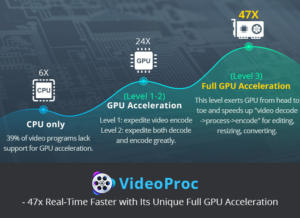 With VideoProc you can confidently output high-quality video and music, even adjusting song quality, audio codec, channel, sample rate, and bit rate. VideoProc also works as a DVD conversion tool, enabling you to convert and back up home DVDs and commercial DVDs speedily.
Take advantage of the free VideoProc download and find out how peak Level-3 Hardware Acceleration fully powered by Intel®, AMD®, and NVIDIA® GPUs can help you deliver high-quality videos you'll be proud to share.