Maybe you don't think Apple Maps is as good as Google Maps. Honestly, it's probably not. But it's already on your iPhone, it gets better with every update, and it does a better job of protecting your privacy. As the new Apple Maps data starts rolling out across the country, it's going to be worth getting to know.
With these tips, you may find using Apple Maps more palatable, even enjoyable.
Tweak your driving options
If you use your iPhone for directions while driving (or have it hooked to a CarPlay compatible car), you should tweak the way it operates. Open the Settings app, then tap Maps, then tap on Driving & Navigation.
You'll see options to avoid toll roads, avoid highways (if you prefer the scenic route), and show a compass or speed limit signs during driving navigation.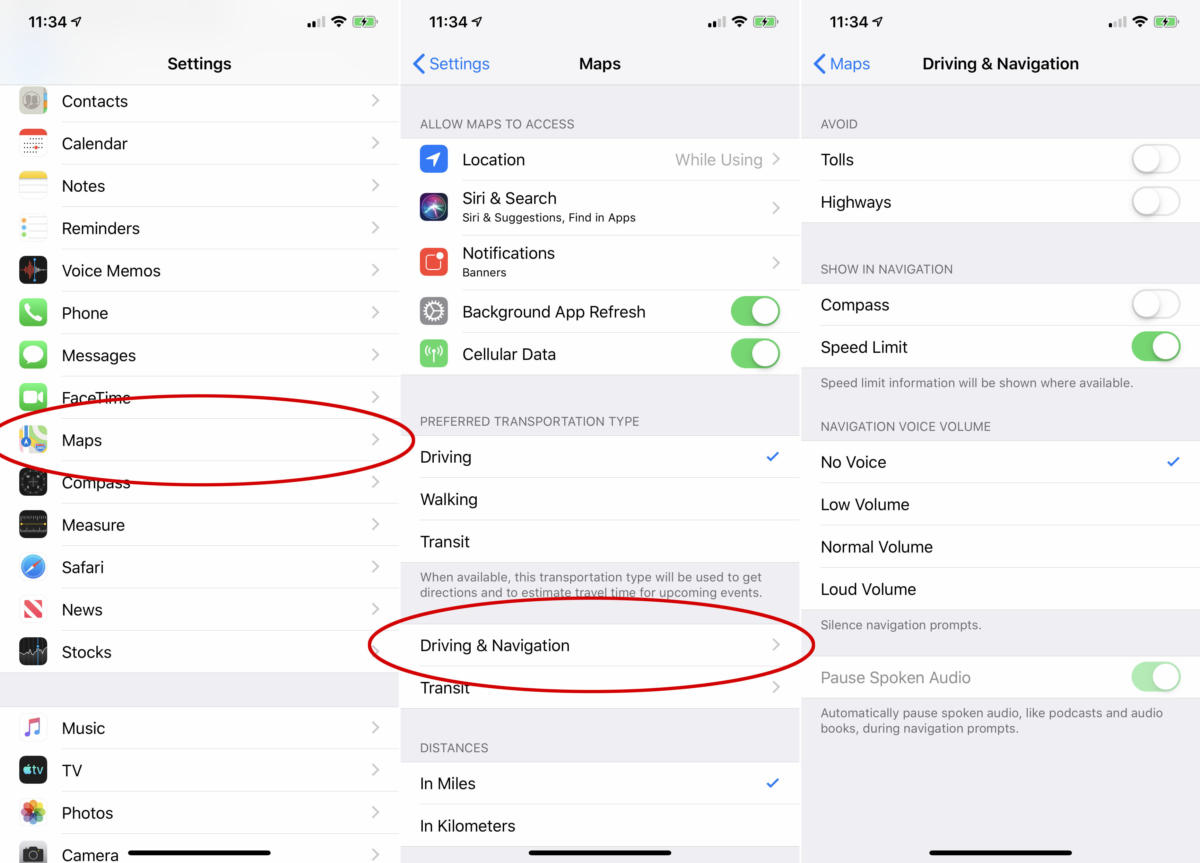 Perhaps the most useful settings here is the ability to control the voice navigation volume. If you can never hear it over your music (or kids), this is the place to raise it. I prefer to never get any voice prompts, since I glance at the map frequently.
Find gas, food, or coffee along the way
Speaking of navigation, if you're on the road and need to make a pit stop for food, gas, or a coffee pick-me-up, Apple Maps makes it easy.
During navigation, just swipe up on the little info panel at the bottom of the screen.
You'll see buttons for gas, fast food, and coffee along with a few common controls.
Tapping any of these will show nearby gas stations, restaurants, or cafes that are close to your route.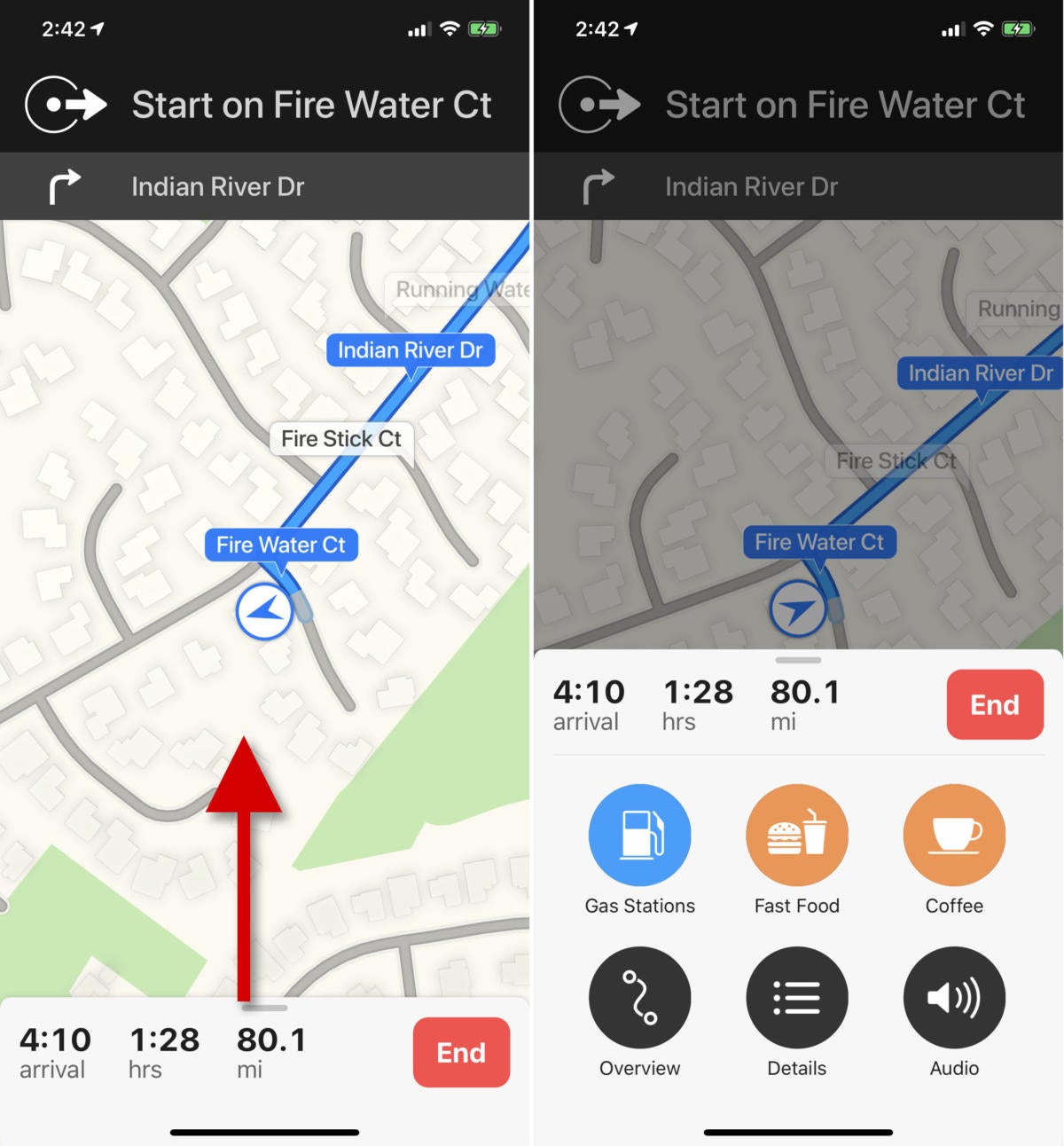 Don't interrupt that podcast
If you look in your Settings app, tap on Maps, then tap Driving & Navigation, you'll see a toggle at the bottom for Pause Spoken Audio. With this enabled, your iPhone will pause playback of podcasts and audio books when the navigation voice speaks. Some apps even back up the playback by a few seconds when it resumes.
This option will be greyed out if the Navigation Voice Volume is set to No Voice or Low Volume. If you want to change it, you may need to change your voice volume first.
Quickly find nearby stuff
When you first open Maps, you'll see a tab along the lower third of the screen with a search bar and some recent searches beneath it.
Tap that search bar as if you were to start typing, and the tab will extend upward.
A new top section offers eight categories to quickly find nearby stuff: Food, Drinks, Shopping, Travel, Services, Fun, Health, and Transportation.
Tap on any one of these to get sub-categories and a list of popular nearby locations. Food, for example, splits into Restaurants, Groceries, Fast Food, and more.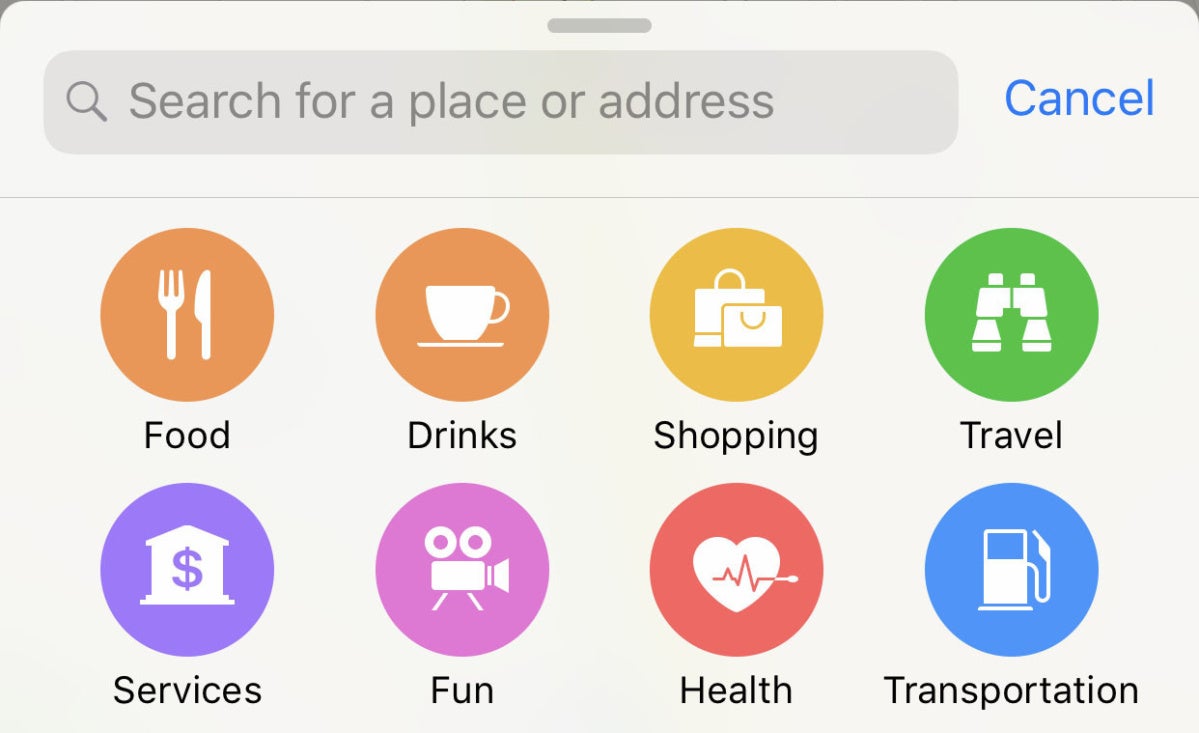 Tapping any one of these sub-categories returns to the map with popular nearby locations highlighted.
If you're in a new area and don't know what's nearby, or if you just want to find some new places to try in your own neighborhood, you're just a few taps away.
Enable extensions for your apps
Some apps work right within Apple Maps via special extensions. Ride hailing apps like Uber, and reservations apps like OpenTable or Yelp allow you to quickly do what you need to without jumping back and forth between apps.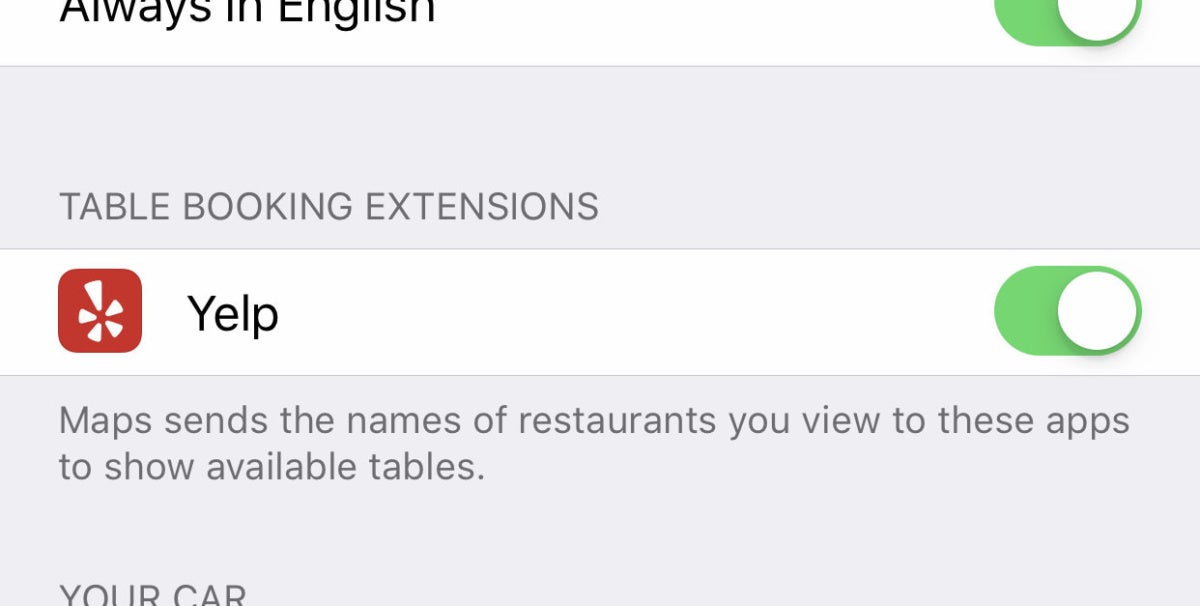 Open your Settings app, then tap on Maps, and scroll down to see which extensions you can enable.
Send maps from your Mac to your iPhone
In Maps on your Mac, click the share button up by the search bar. The top option in that list will be to send the map to your iPhone logged in with the same Apple ID. If Maps is open on your iPhone, it'll change right away. If not, you'll get a notification—tap on that to open the map.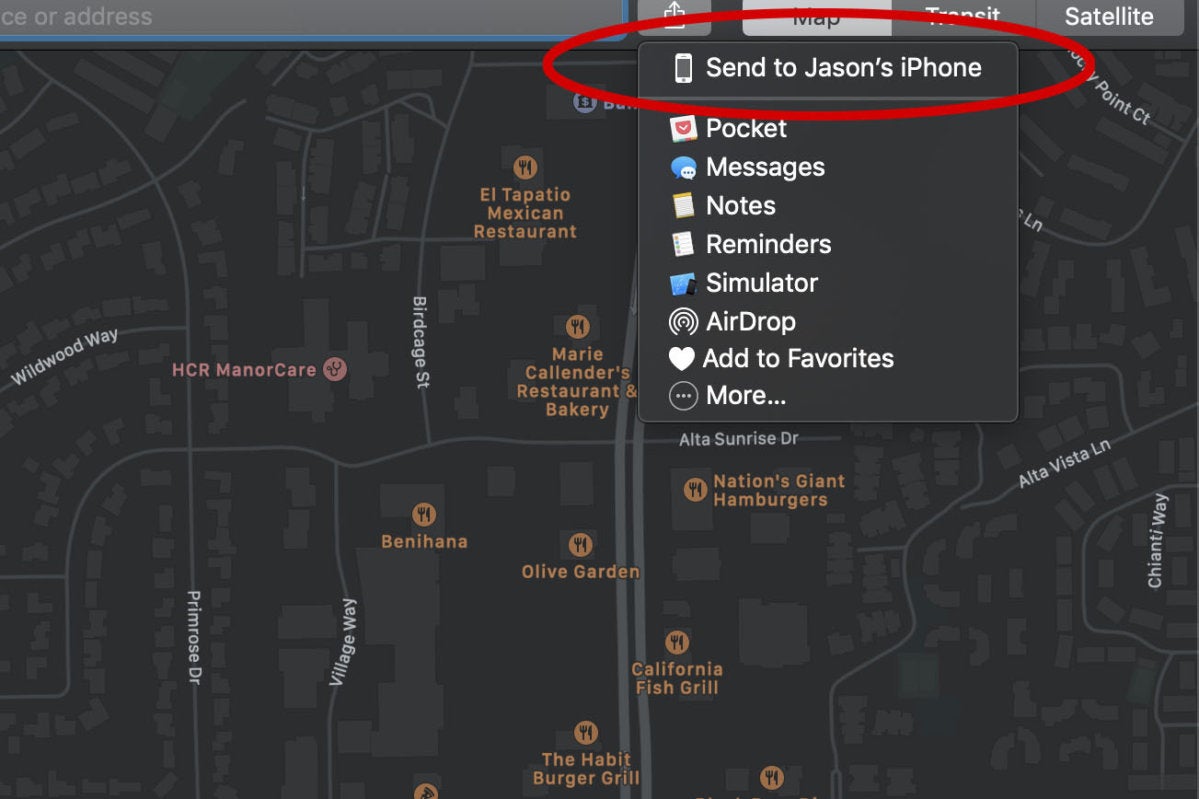 You can send a map view, or a specific location, or even a set of directions straight to your iPhone this way.
Export a map as PDF
While we're talking about Maps on the Mac, did you know you can make PDFs of any map view? It can be just the thing if you need to include it in a document or email to someone who may not be able to open a map link.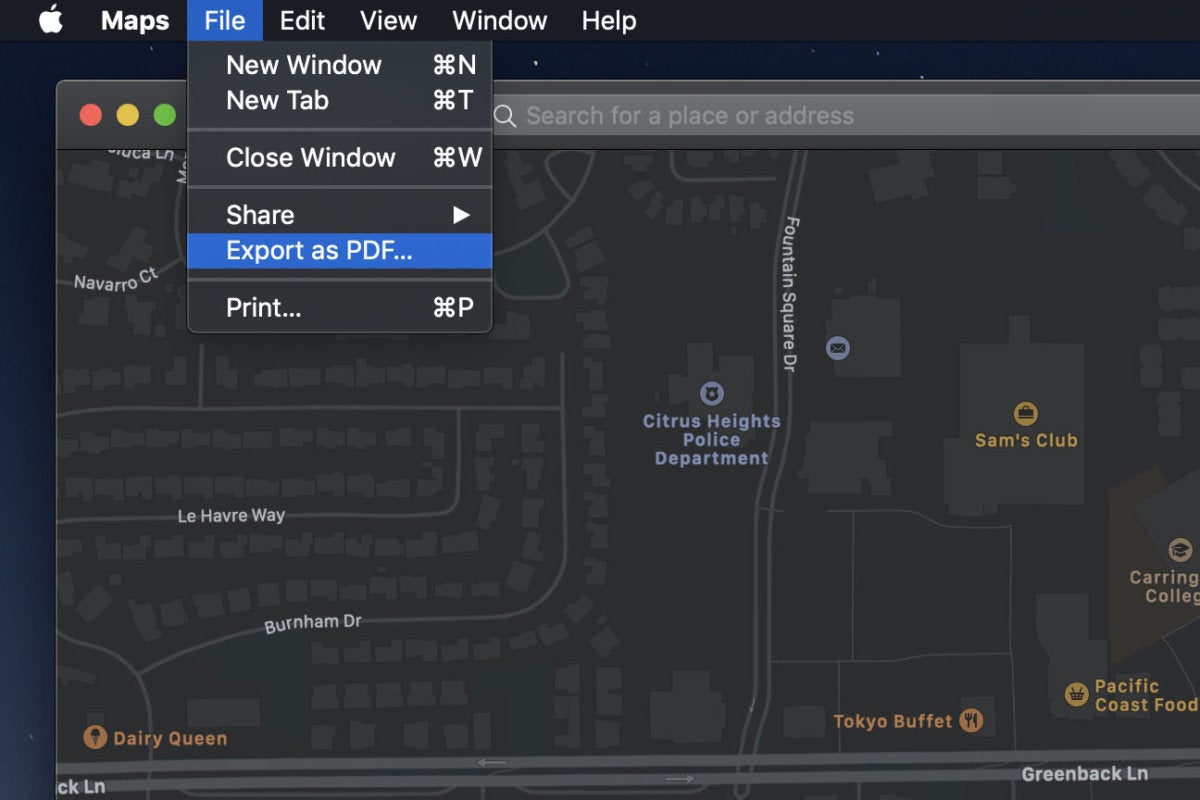 Just center and zoom the map to show the area you want to, then up in the menu bar, open the File menu and choose Export as PDF…
Clear your Significant Locations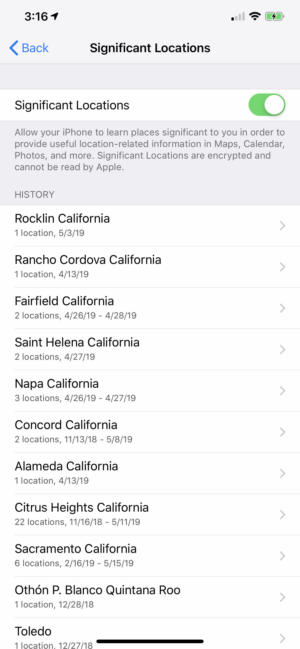 Your iPhone keeps track of places you frequently visit and stores them to provide better maps and routing information and suggestions. For example, if you always go to the gym on Thursday afternoons, the maps app will suggest directions there when you open it at that time. It's also used in apps like Photos and Calendar.
These are encrypted and stored only on your device—Apple couldn't read them if they wanted to.
But if you still want to clear out the list (or just see which locations your iPhone considers significant), open Settings > Privacy > Location Services. Scroll all the way to the bottom and open System Services. If you tap Significant Locations (you'll have to enter your passcode or Touch ID/Face ID), you can turn the feature off and see the current list of locations.
The Clear History option at the bottom of the list will wipe out everything.
Try Compass mode
By default, the little blue dot signifying your location has a little blue arrow showing the direction your iPhone is facing.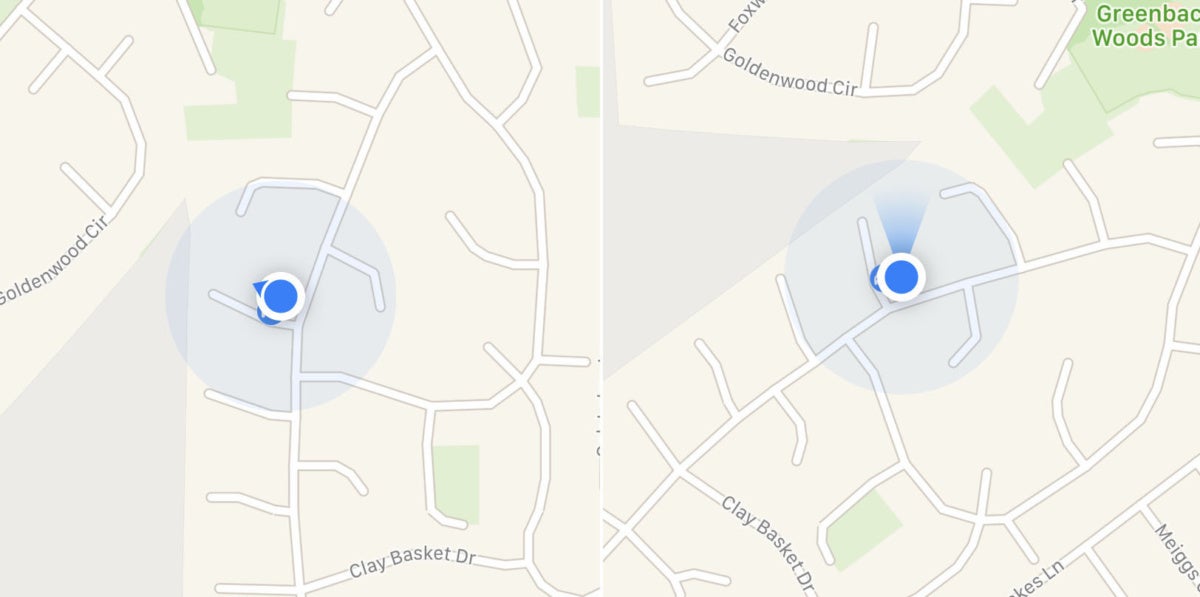 Tap the location arrow once to center the map on yourself, then again to enter a Compass mode that rotates the map to the direction you're facing. A small blue wedge in front of your location dot will show how confident your iPhone is in its direction—a wider wedge means less certain, a narrower wedge means more certain.
Soar like an eagle in Flyover mode
Search for a major city, and you might see a "Flyover" button on its info card. Tap it and you'll be transported to a surprisingly slick 3D bird's eye view of the city. Move your phone around to look in any direction, even straight down, and slide your finger over the screen to fly.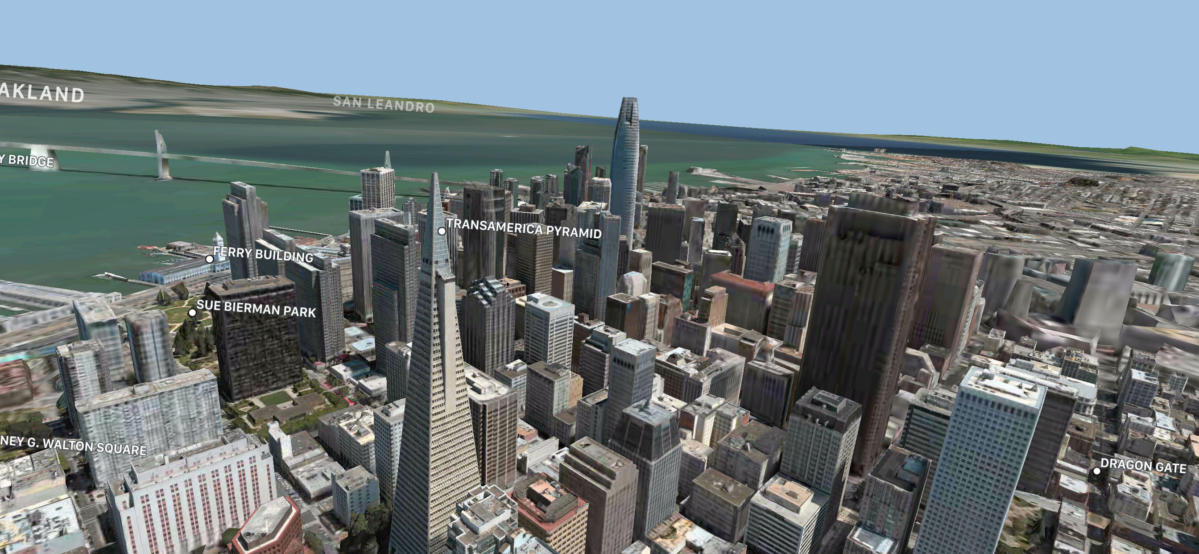 All those 3D graphics take a while to load in, so parts of your view will be blocky or missing for a few seconds. But it's a surprisingly slick feature.