At a Glance
Expert's Rating
Pros
Roomy 24-liter main compartment
Plushly padded back sleeve that can hold a 15-inch MacBook Pro
Two side pockets for umbrellas or water bottles
Comfortable to wear even when fully loaded
Large bottom zippered pouch for easy access
Cons
Top easy-access pouch has no zipper, opens too easily
Our Verdict
WaterField Design's Tech Rolltop Bag is generally an excellent bag: It's made from great materials, it's got a roomy main compartment, a handy magnetic buckle accessing that compartment, a spacious bottom pouch for easy access, as well as two sleeves for devices as big as the 15-inch MacBook Pro or 12.9-inch iPad. Unfortunately, the top convenience pouch isn't zippered, which causes it to open unintentionally when you've filled the main space.
Best Prices Today: WaterField Designs Tech Rolltop Backpack
How can a bag feel so perfect yet so flawed? That's what I kept asking myself during my time with WaterField Designs' new full-sized Tech Rolltop Backpack, which is made from solid materials and holds a ton of stuff but sports a ill-designed "convenience" pocket that threatens to undermine the excellence of the bag as a whole. It's not a bad bag, but it's certainly a puzzling one.
WaterField's signature thoughtful design reveals itself in every other feature. There's its water-resistant waxed canvas, for one, which also now comes in a less rugged-looking shade of blue. (If you're looking for something better suited to the boardroom than the backwoods, you can also get it in a "black ballistic" nylon fabric.) It's attractive for a rolltop bag, although I miss the heavy leather accents WaterField tends to use for its bags. Here, you'll only find them on the leather handle and the strip for the logo.
Nor does it lack spaces to put your stuff. There's the padded, zippered sleeve along the back, for instance, which lets you slip out a device as big as the 15-inch MacBook Pro in TSA lanes or the coffee shop without bothering to open the main rolltop compartment. (If you only need to carry a 13-inch MacBook Pro, WaterField also makes a "compact" version of this bag, but I'd stick with the full-sized if you want to get the most out of the rolltop design.)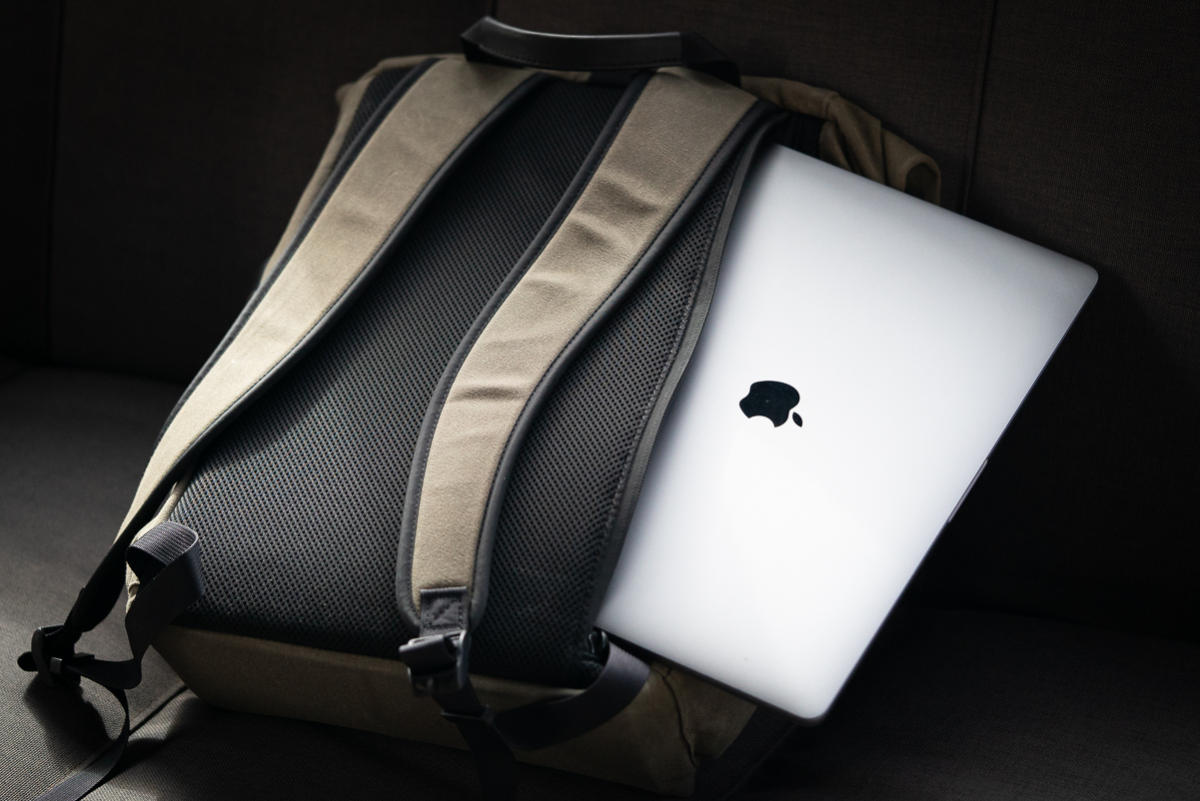 Along the sides, you'll find two open pockets, each big enough to hold a water bottle or travel umbrella. Along the bottom front, you'll find a zippered pouch that's large enough to hold all kinds of junk at once, which in my case means everything from charging cables and mice to playing cards and power banks. It also has a key fob inside and a canvas flap that covers the zipper for protection from the rain. It's the pouch I use the most—although, as we'll see soon, I wish that honor went to another.
Into the depths
The star here is the main rolltop compartment itself—a cavernous 18- to 24-liter space capable of holding everything I want while managing to keep a slim profile on crowded rush-hour trains. I've managed to toss all my groceries in there without needing another bag, and I once managed to fit an old pair of shoes in there (sans box), when I bought a new pair on a rainy day. Somehow WaterField managed to keep the Tech Rolltop Backpack comfortable even when it's burdened with this bulk, as I'd barely notice it while taking the hilly 200-foot ascent from the grocery store to my apartment.
I typically dislike the hassle of getting into rolltops, but the magnetic Fidlock buckle here keeps entry simple and quick. No other bag I've handled from WaterField better illustrates why the company uses a golden honeycomb fabric for its interiors. The Tech Rolltop Backpack is so deep that darker items might get lost against the dark fabric you tend to find in other bags, but here they stand out like blots of ink on bright paper.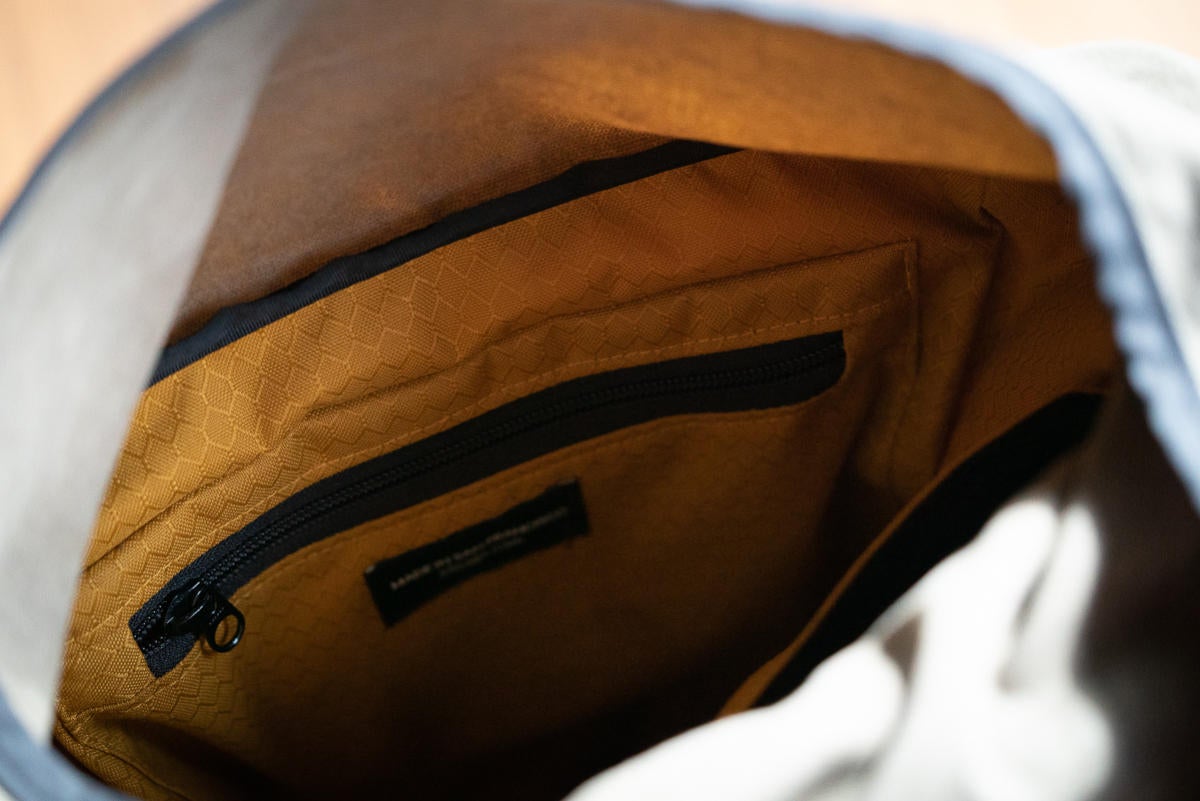 Nor is the central compartment just a huge hole. Along the back, you'll find a sleeve for stowing another 15-inch MacBook Pro or a 12.9-inch iPad Pro, and a velcro clasp keeps these valuables in place. The other side of the compartment features a small zippered pouch that's big enough to hold a small Moleskine notebook and little else, and that's where I've taken to keeping small, expensive valuables.
Grab bag
It's too bad I don't feel safe keeping these things somewhere outside the main compartment. The bottom pouch technically suffices, but the bigger items I keep stuffed in there make finding smaller items a hassle. No, I'd prefer to keep such things in the top "easy-access pouch," which perches right below the rolltop opening.
It's by far the most convenient pocket to get to, which means it should be the holy of holies: the pocket you use to grab your AirPods when you've got the bag in front of you while seated on the bus. Alas, WaterField made it a little too easy to access. You'll find no zipper here—instead, it opens with a magnetic clamp. This clamp stays closed more often than not when the bag is empty or lightly packed, but the lack of a zipper means a moderately heavy load in the main compartment can force the clamp apart.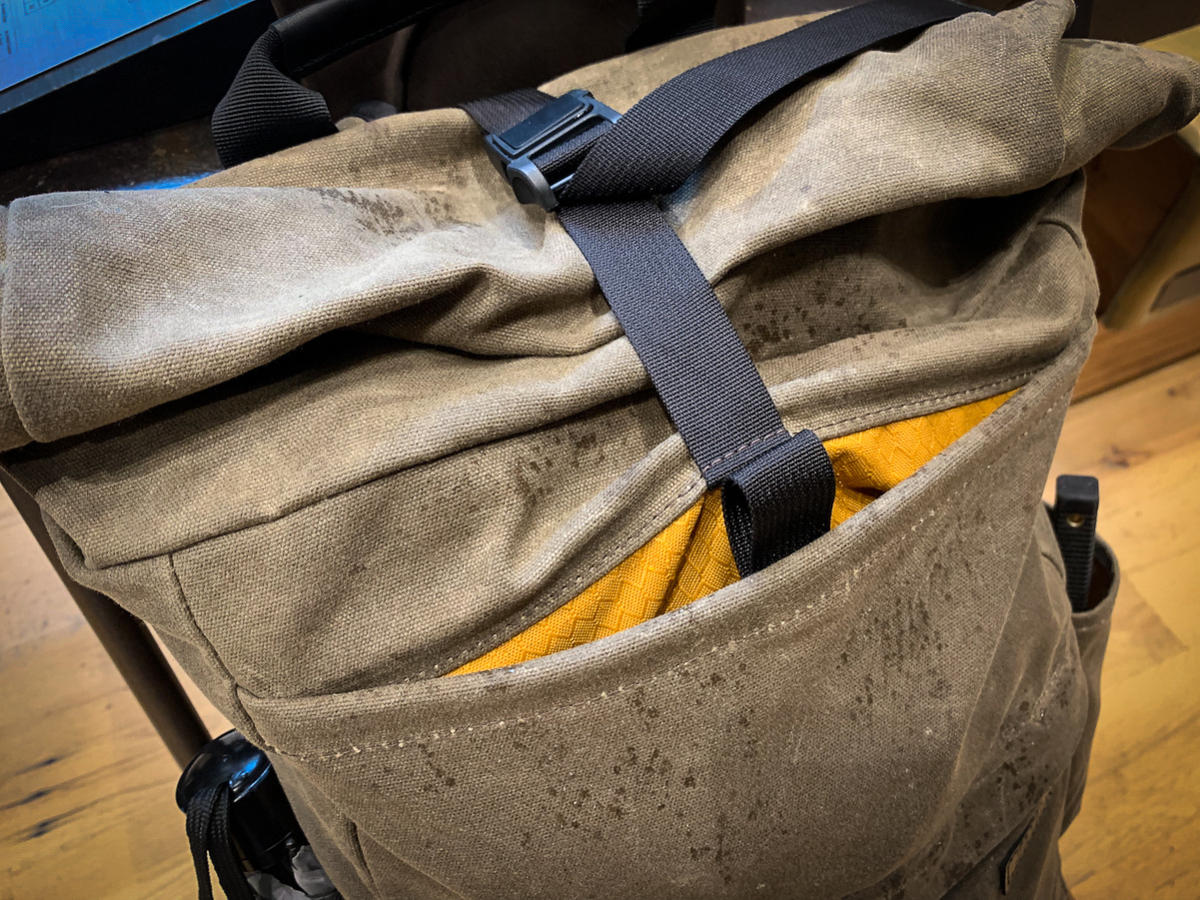 This means you could end up walking around with the pouch gaping open. That's convenient, all right—convenient for anyone wanting to take part in a bit of illegal trick-or-treating when you're wearing the Tech Rolltop Backpack on your back. It can let the rain drop right in (which I find funny, considering the attention given to the rain flap on the bottom pocket). Worst of all—and this happened to me—the pouch's contents can tumble out when you bend over to pick up something.
The obvious solution would have been to make it a zippered pouch. After all, WaterField's Sutter Slim Backpack has such a zippered pouch, and I love that bag so much that I gave it a rare five-mouse rating. Thanks to the water-resistant rubbery coating WaterField laid over the teeth, it barely looks as though a pocket's there at all. It takes but a second to open, it keeps items inside dry and relatively safe, and all of these are reasons why I still reach for the Sutter Slim on a near-daily basis. If the Tech Rolltop Backpack's "hidden" pouch is what innovation looks like, we need to see less of it.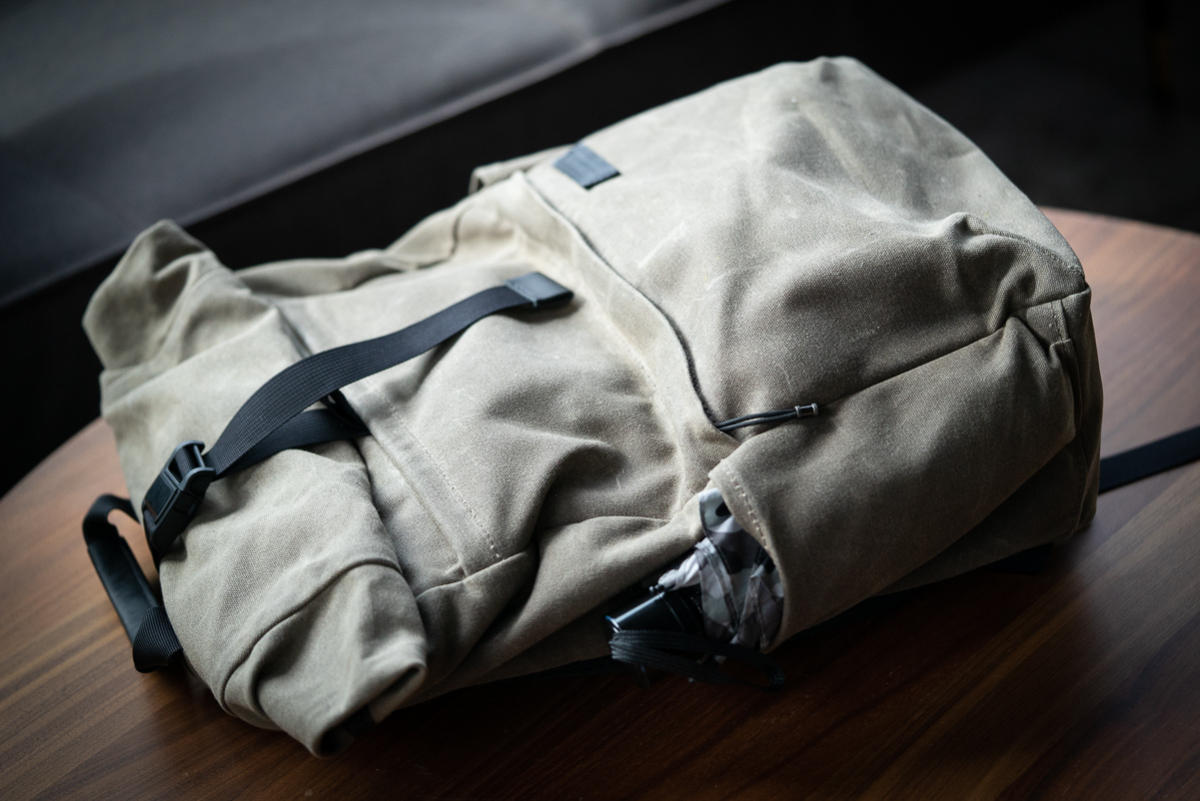 This isn't such a bad design that it utterly ruins the Tech Rolltop Backpack: Again, the pouch won't open if the bag's almost empty, and even when it doesn't, I don't mind keeping a few pens and pencils in there. Indeed, I'm rapidly getting to the point where I prefer carrying the Tech Rolltop Backpack over the Sutter Slim, mainly because of how much I can carry. Even so, it's a rare and puzzling misstep for a MacBook-championing company whose design often strikes me as impressive as Apple's own.
Best Prices Today: WaterField Designs Tech Rolltop Backpack