At a Glance
Expert's Rating
Pros
Close to 3GBps burst performance
Small and light
Cons
Runs hot to the touch under heavy loads
Pricey
Our Verdict
Small but mighty, this Thunderbolt 3 enclosure lets you install your own M.2 NVMe SSD for scintiallatingly fast external storage. But the unit runs very hot and like the competition, it's quite pricey. Compare to Samsung's X5.
There's nothing like generic when it comes to saving money, be it prescription medicines or the Shell Thunderbolt 3. The Shell, a svelte $165 unpopulated (no drive) enclosure from Fledging offers about the same performance as Samsung's X5, but for quite a bit less, depending on which M.2 NVMe SSD you install in it.
As of February 2020, Fledging has updated the design of this product to make it wider and include a fan. This alleviates the heat issues discussed below. Performance is on a par.
Design and features
The Shell Thunderbolt is considerably smaller than the Samsung X5: 3.75 inches long, by 1.85 inches wide, by a mere 0.4 inches thick. It's rendered in solid metal which is better for shedding heat, a good thing. At least until you pick the Shell up after heavy use. It can run startlingly hot under heavy load.
Fledging's Shell USB 3.1 sports a fan that keeps it very cool. Why the company didn't provide one for the higher-voltage Shell Thunderbolt I can't say. Perhaps it's about form and aesthetics. Or maybe it was the only design available. I'd rather have the drive a bit larger that can stay cool.
Bear in mind that the excessive heat I experienced occurred after about 20 minutes of constant testing. Normal, light use leaves the drive only warm to the touch.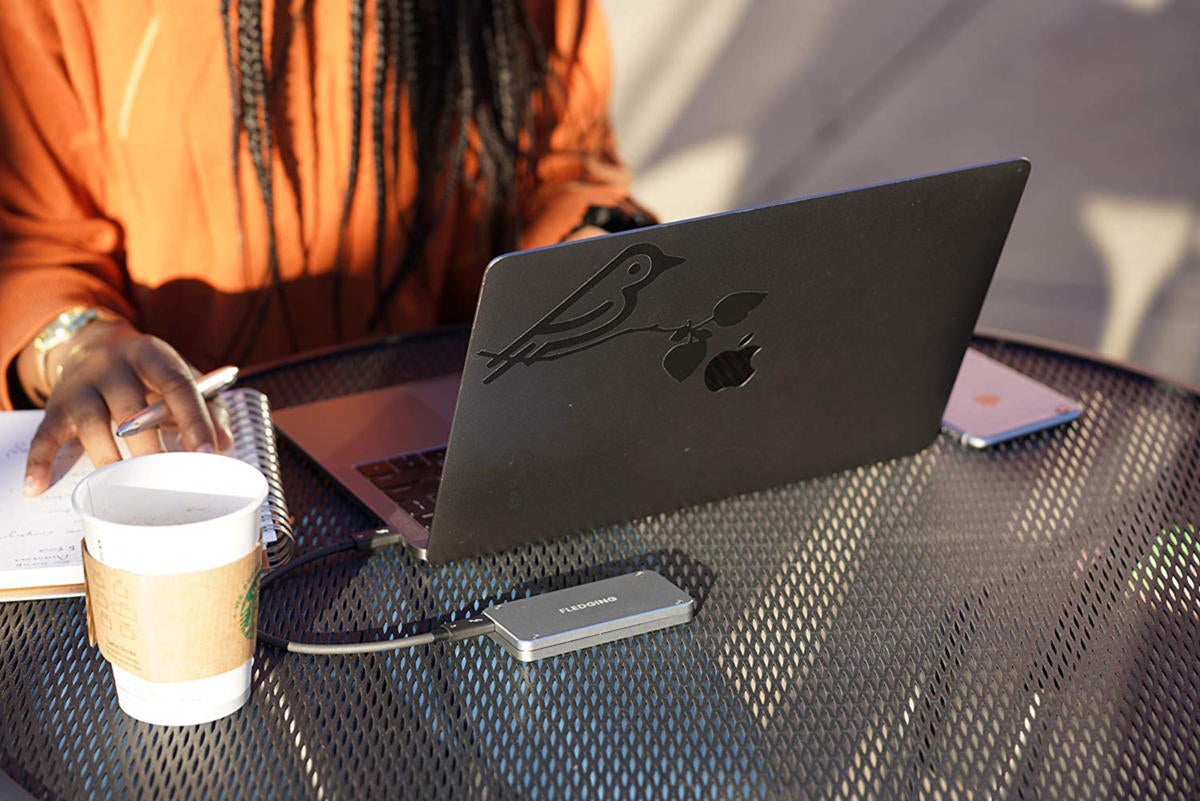 Fledging supplies a screwdriver to remove the four screws securing the top of the case. Inside you'll find a single 2280 M.2 slot and a small screw to secure your NVMe SSD in the slot. There's a Type-C port for connecting the Shell to your recent vintage Mac, however, there's no AC jack or adapter. That means you can't use the bus-powered Shell with older Thunderbolt 1 or 2 Macs using the Apple adapter, which doesn't pass through device power.
Performance
The Fledging Shell Thunderbolt 3's performance can vary wildly depending on the NVMe SSD you populate it with, but testing proved that the enclosure itself is not a bottleneck. I tested the Shell with a Samsung 970 EVO and the results were very similar to the Samsung X5—the one exception being the 48GB copy test. I had on hand only a 500GB 970 EVO, while the X5 was 1TB. The 500GB model runs out of secondary cache and dips in performance much earlier.
Otherwise, the Shell performed almost identically to the X5. Note that the benchmarks, other than BlackMagic's Disk Speed, were run under Windows with Core i7-5820. The Akitio Node Lite is a full-sized Thunderbolt 3 enclosure designed for PCIe cards which in this case housed an Intel Optane 905P.
The Disk Speed test is indicative of the speed you'll get during normal operations with the Fledging Shell Thunderbolt 3 with a 970 EVO on board.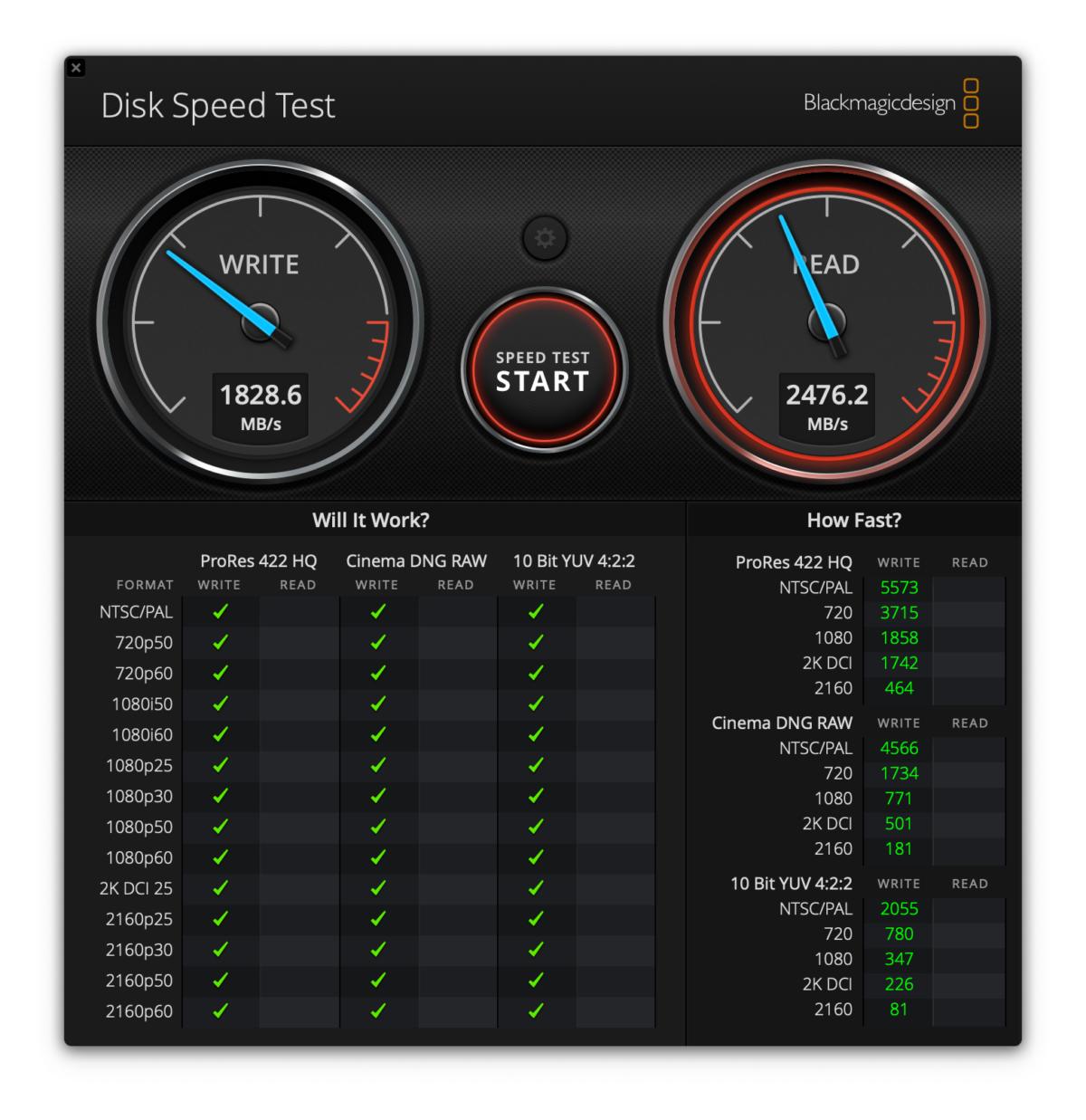 The following tests were run on IDG's storage testbed under Windows 10. Note that the Fledging/970 EVO combo was fastest in several tests, including CrystalDiskMark 6, shown below.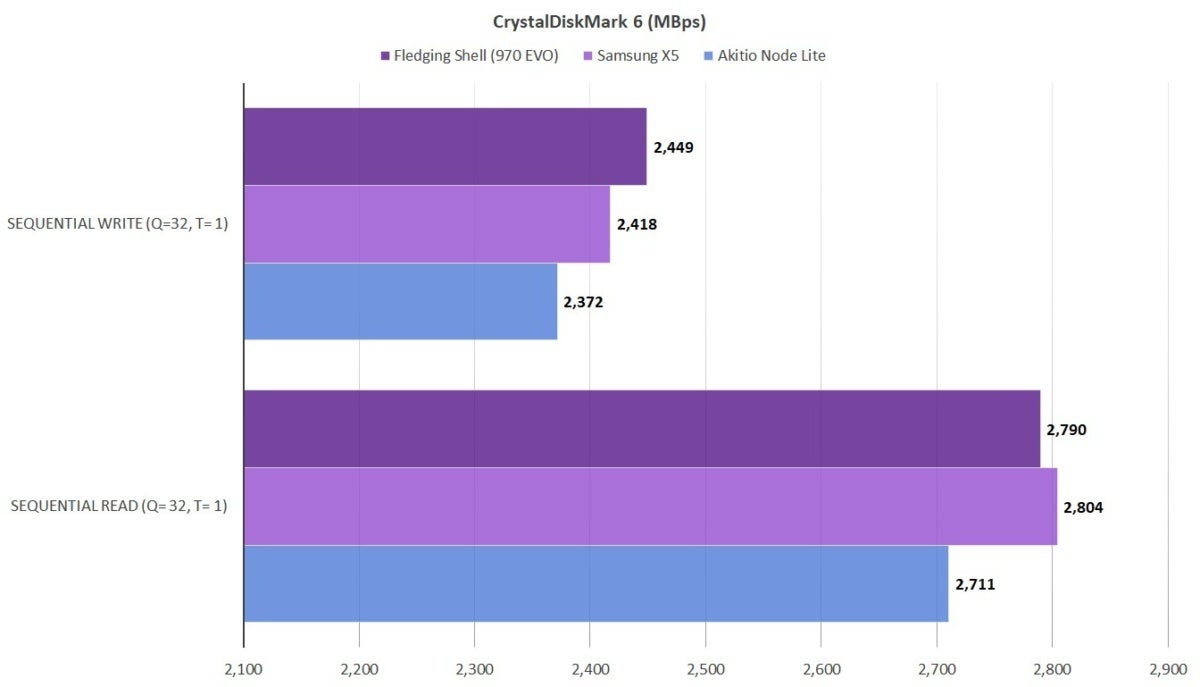 As you can see below, you get those highly desirable, super quick NVMe seek times, though for some reason, most likely a testing aberration, the 970 EVO was a tad slow with the reads. Another Shell test with the WD Black SN750 showed a 0.031 millisecond seek—twice as quick and par for the course.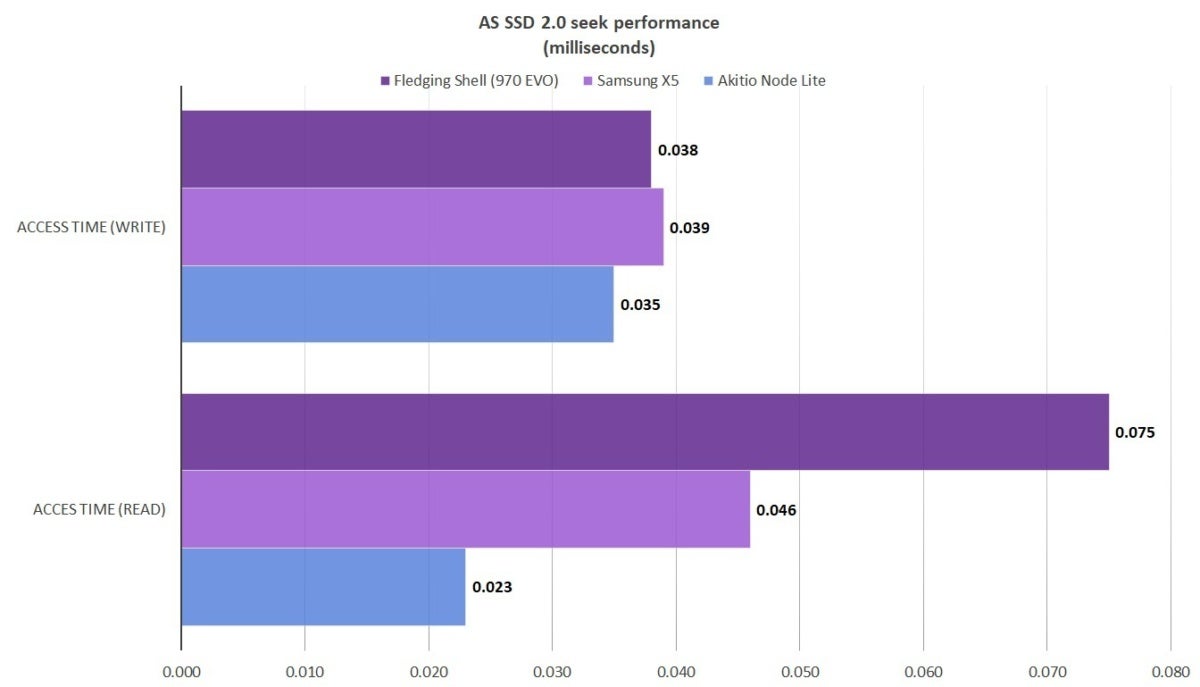 As I explained, the 48GB copy tests shown below weren't completely fair, as the 970 EVO I employed in the Shell was only 500GB, while the X5's was 1TB. The EVO slows to below 1GBps when it runs out of secondary cache, which is provided in proportion to capacity, so the X5 ran out later and turned in a quicker time. Same with the Intel 905P in the Akitio Node Lite.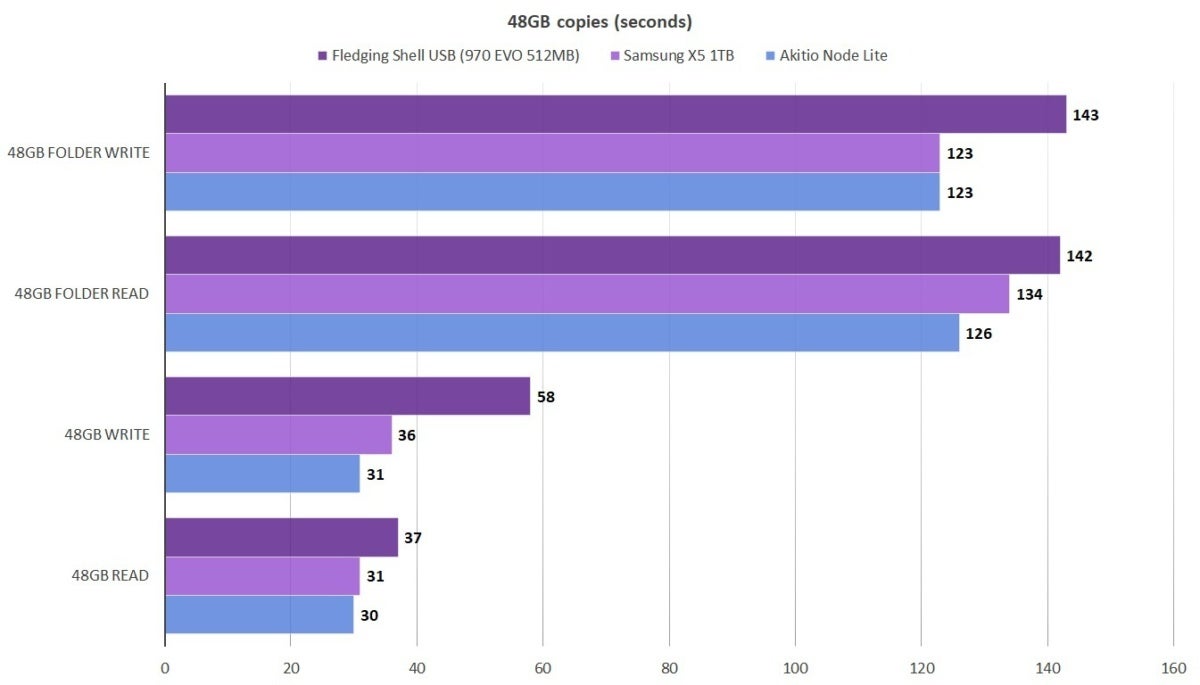 As to that heat, the Shell has an advantage over the X5 in that it can shed it faster through its all-metal shell and will likely throttle (reduce speed to avoid overheating) later. That means external cooling (blowing air on it) will be more effective, but also means, as I said earlier, that the Shell can be hot to the touch. Not burn-you hot, but close enough to cause a self-preservation, i.e., hot potato reaction.
Great for light use
The Shell Thunderbolt is marvelous for light use. It's as fast as the Samsung X5 and saves you money—about $100 with a similar capacity and quality drive. And while $165 may seem like a lot for a tiny enclosure with a bridge board, all the similar devices I found on Amazon were even more expensive. Hey, it's not as expensive as an Apple Pro Display stand!
For heavy duty use such as video editing or running your OS, I'd skip the Shell and the X5 because of the thermal issues. If portability is not a concern, opt for an external enclosure such as the Node Lite or the Highpoint R6661A. These will keep the drive cool, eliminate thermal throttling, as well as work with older Macs via Apple's adapter.