As recently as last week we could still look at the iPad and smirk at Apple's dogged insistence that its tablet works as a laptop replacement—one that will even leave us asking questions like, "What's a computer?" The power was certainly there—especially in latter-day models—but not the freedom.
I know this all too well. For over a year I used an iPad as my main work device, but I crawled back to the Mac after enduring months of unusable thumb drives at press junkets and frustrations springing from actions as simple as selecting text. This week, though, Apple dashed away most of my concerns with a masterstroke that it's calling iPadOS.
Currently, the Mac Pro is stealing much of iPadOS' thunder, but months from now I believe we'll find that Apple's "new" operating system left the bigger impact. Granted, I haven't had a chance to handle iPadOS just yet, but everything I've seen so far suggests it'll transform the iPad into the laptop replacement Apple's always wanted it to be, even while retaining—no, improving—the features that set it apart from devices like Microsoft's Surface tablet.
I'm willing to entertain the idea that these changes make it a better buy than a MacBook for some professionals. Oh, you can find some people who claim they already feel that way—that it's just suited to a different type of workflow—but their defenses tend to sag under the weight of excuses. With the changes, though, even I'm looking forward to leaving my heavy MacBook Pro behind for a change in favor of taking just my tablet, its keyboard case, and the ever-so-portable Magic Mouse.
Free from its bonds
With iPadOS, there's far less of a need to make excuses. Apple eliminated many of the frustrations that have dogged the tablet's standing as a true work device for years. The biggest one wasn't even mentioned in Apple's keynote: Instead, it was found lurking under Accessibility in the Settings app by developer Steve Troughton-Smith. At last, he found, the iPad Pro now comes with mouse support with a feature Apple is calling "Assistive Touch." You'll have to deal with a hideous cursor, but hey, you can use both USB and Bluetooth mice ranging from the Magic Mouse and Magic Trackpad to fancier peripherals such as the Logitech G502.
That alone is enough to make it a laptop replacement for many. Nothing slowed down my old iPad workflow quite so much as the need to hold my finger down on text to select it. The process takes a heck of a lot longer than it would with a mouse, and even Apple's Toby Paterson inadvertently demonstrated its fiddly nature when he struggled to select a word on an iPad for several seconds during Monday's keynote. At the very least, it allows us to work without our hands or arms blocking the screen.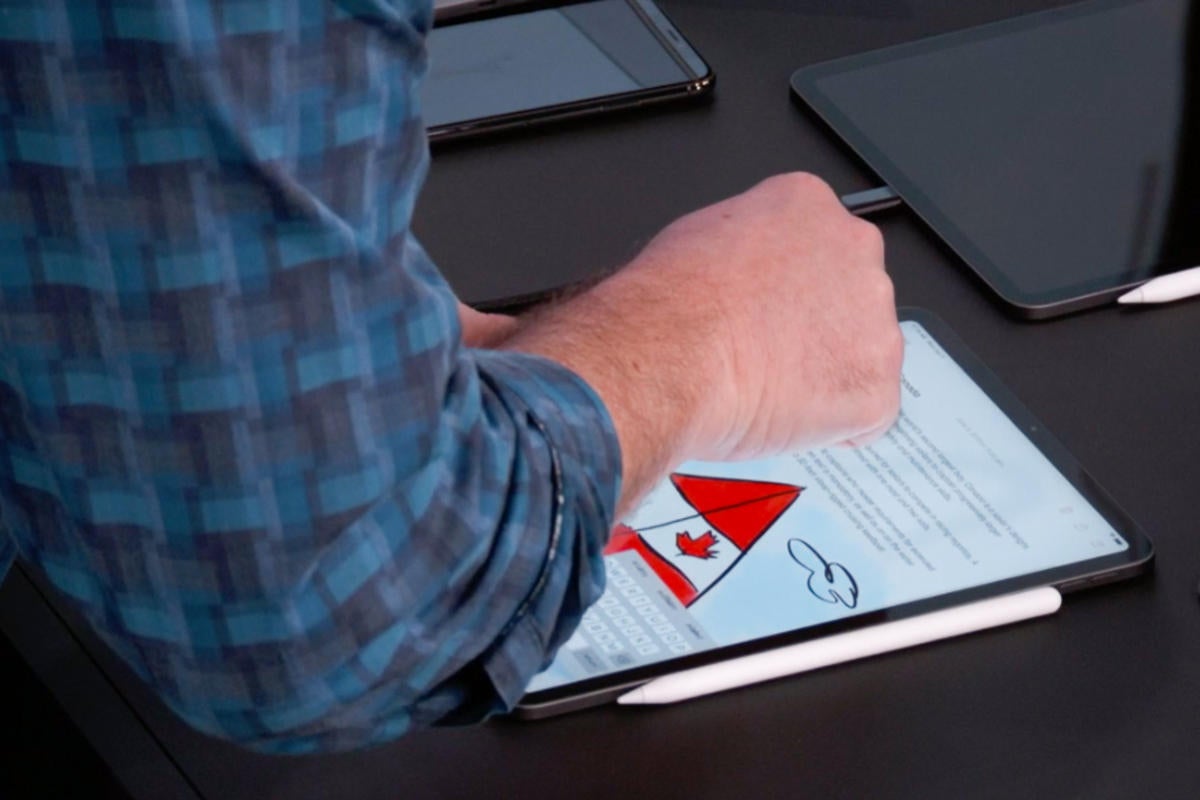 It's enough to make the iPad feel more like a Mac. I've often wondered if Apple didn't bring features such as mouse support to the iPad because it was worried about killing off the non-professional MacBook user base. If so, actions like this prove that it's no longer worried or that it feels these concerns are no longer relevant.
Take the new home screen interface, which now looks a lot more like a traditional desktop. Apple squished all those huge spaces in between apps, for one, which means you'll be able to cram all of your essential apps on the new screen. But Apple also lets you keep widgets in view on the home screen as well, and so allows you to see what's next on your calendar without swiping over to a different screen.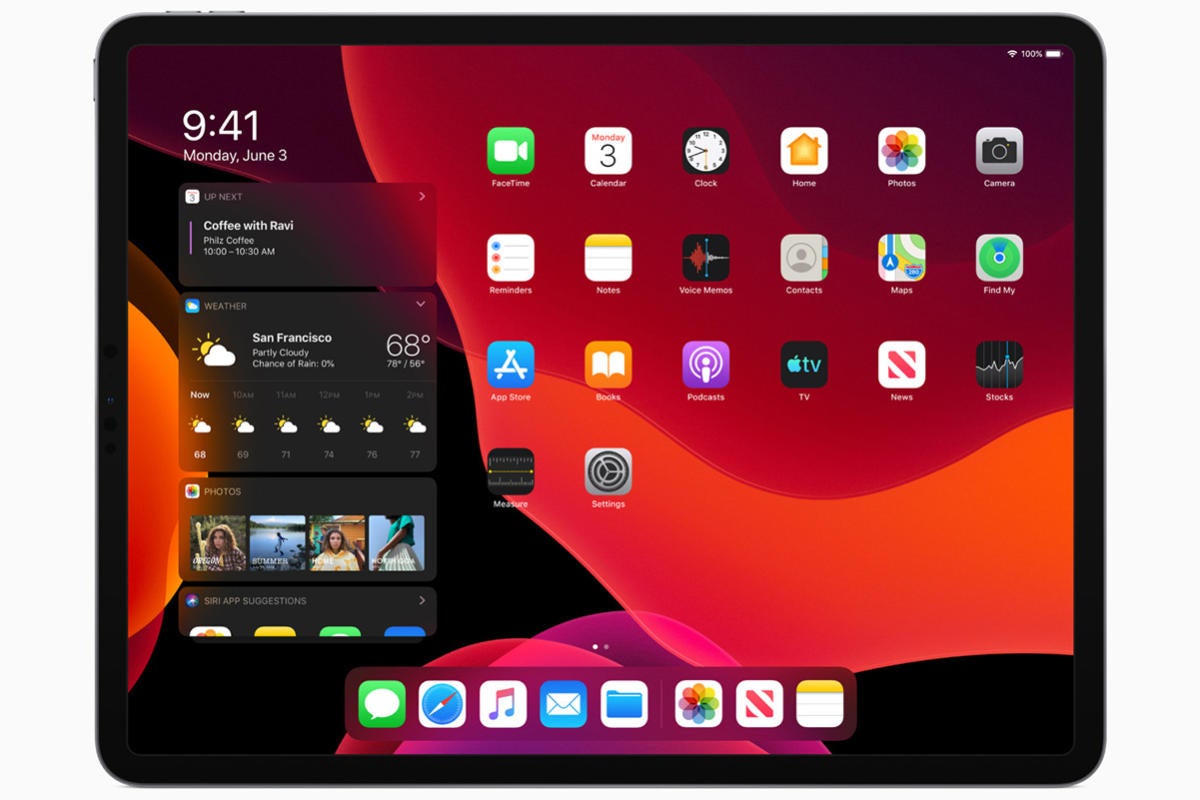 It also acts a lot more like a traditional laptop. You can now use USB memory sticks with an iPad, and you can import data from those drives directly into the Files app. It's the logical extension of the new iPads Pros' ability to import data directly from digital cameras through their USB-C port, although with iOS 12 you can only import photos (and then you could only import them to the Photos app). Now, though, you can use these files with all kinds of apps.
Apple even paid attention to the little details, as it improved the Files app so that it now supports a Column view with detailed information about specific files. You'll also get options for sharing files or saving them as PDFs, and you can share entire folders with both other iOS users and even PC users. We can also finally use Safari on the iPad exclusively in "desktop" mode, which eliminates frustrations while trying to work with interfaces that hide key elements when working on the mobile version of a site. According to Apple, this will even work with the highly complex, multi-featured web versions of services like Google Docs.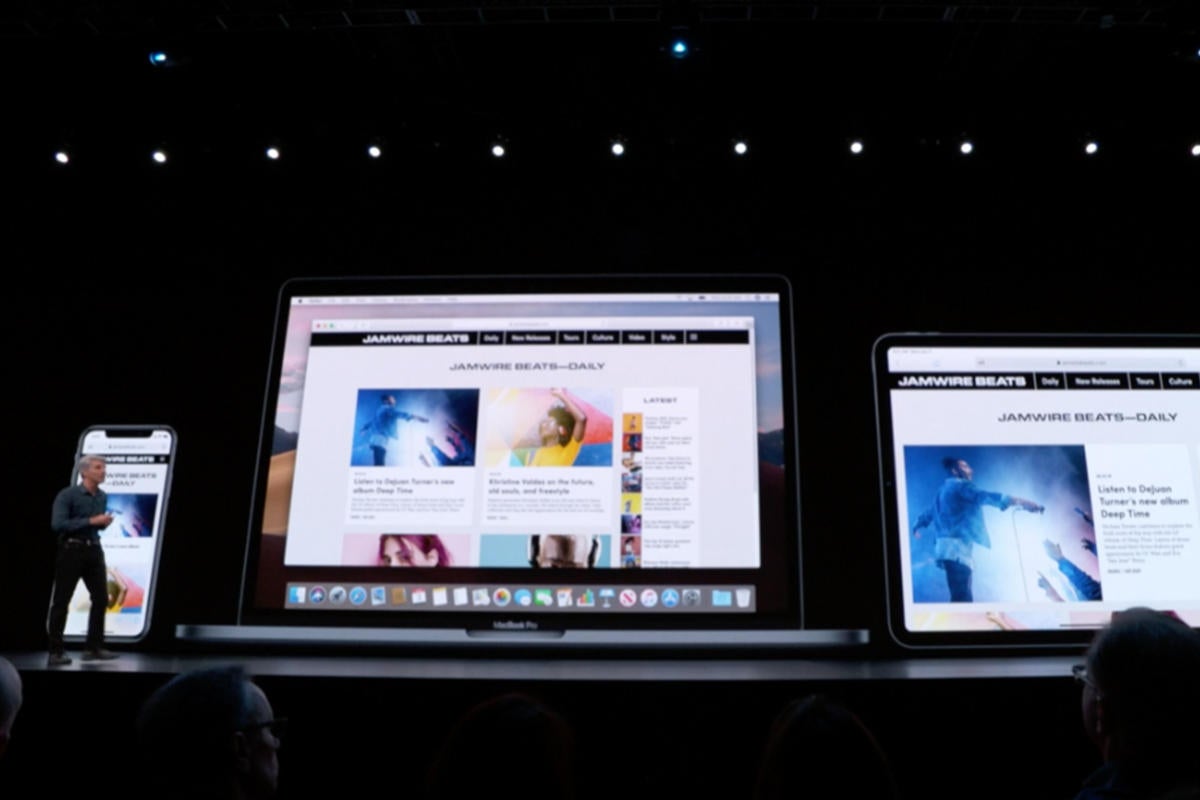 As nice extra touch that shows that Apple is committed to helping its users get the most out of their devices, you'll also be able to use your iPad as a second display for your Mac and as a stand-in Wacom tablet once macOS Catalina drops.
Making good things better
Most of those features have been on the Mac for years, but it'd be a gross oversimplification to dismiss iPadOS as a way of porting macOS to a tablet. iPadOS greatly improves the iPad without sacrificing its identity. Even though Apple removed a lot of the iPad's frustrations by giving them Mac-like designs, it also strengthened some of its tablet's signature features.
We can especially see this in the changes to Split-View multitasking. As a journalist, I've long found Split View helpful because it lets me keep my draft open in one window while I keep my reference document open in another. Unfortunately, I always had to effectively redo the Split View setup when I wanted to look at something from another doc or app.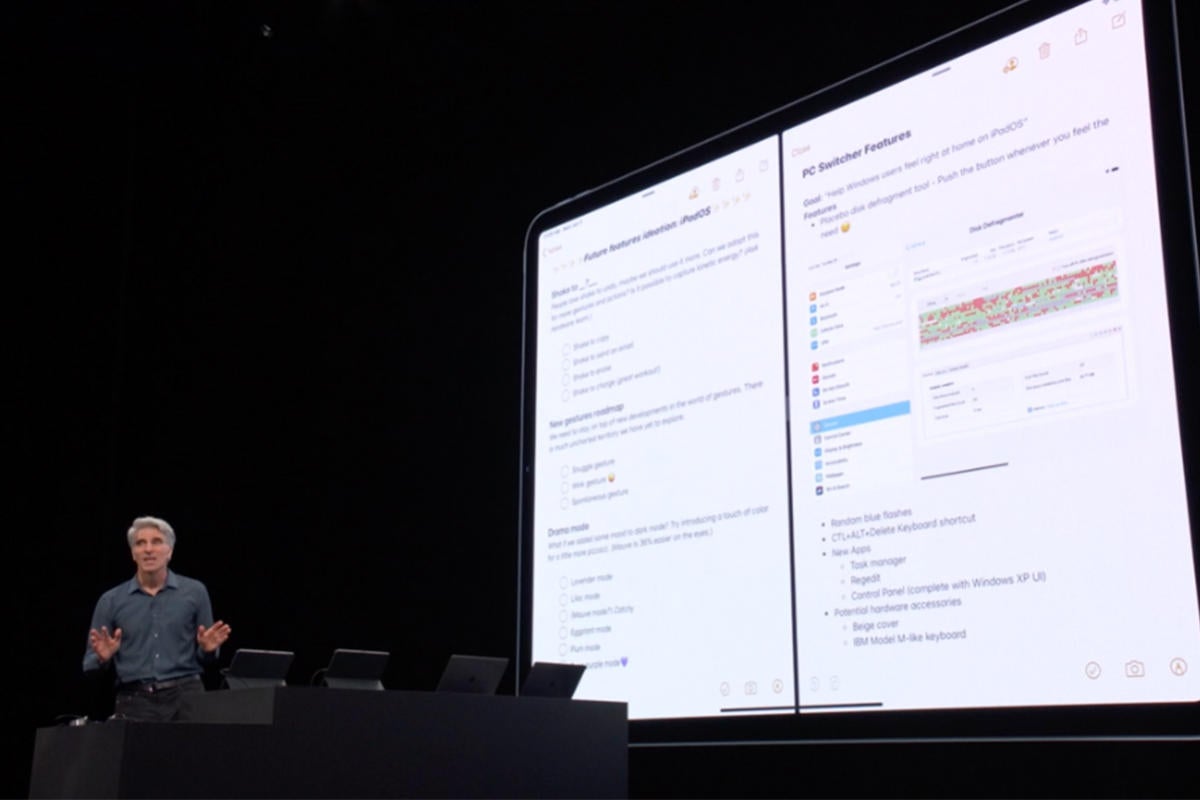 Now, though, Apple lets us have multiple Split View windows, all of which are browsable through Exposé. To expand on my example, that means I could open one Split View window in which I pair a writing app like iA Writer with Safari while opening another in which I pair iA Writer with a PDF document. This particular setup also works because Apple finally lets us use documents from the same app for both windows.
Similar changes appear in the iPad's related Slide Over windows, which hover on the right or left sides of the screen when you don't want to force the display into Split View. With iPadOS, you can access multiple Slide Over windows through an interface that's reminiscent of the app switcher on the iPhone, and you easily swipe between them with the help of a bar along the bottom of their windows.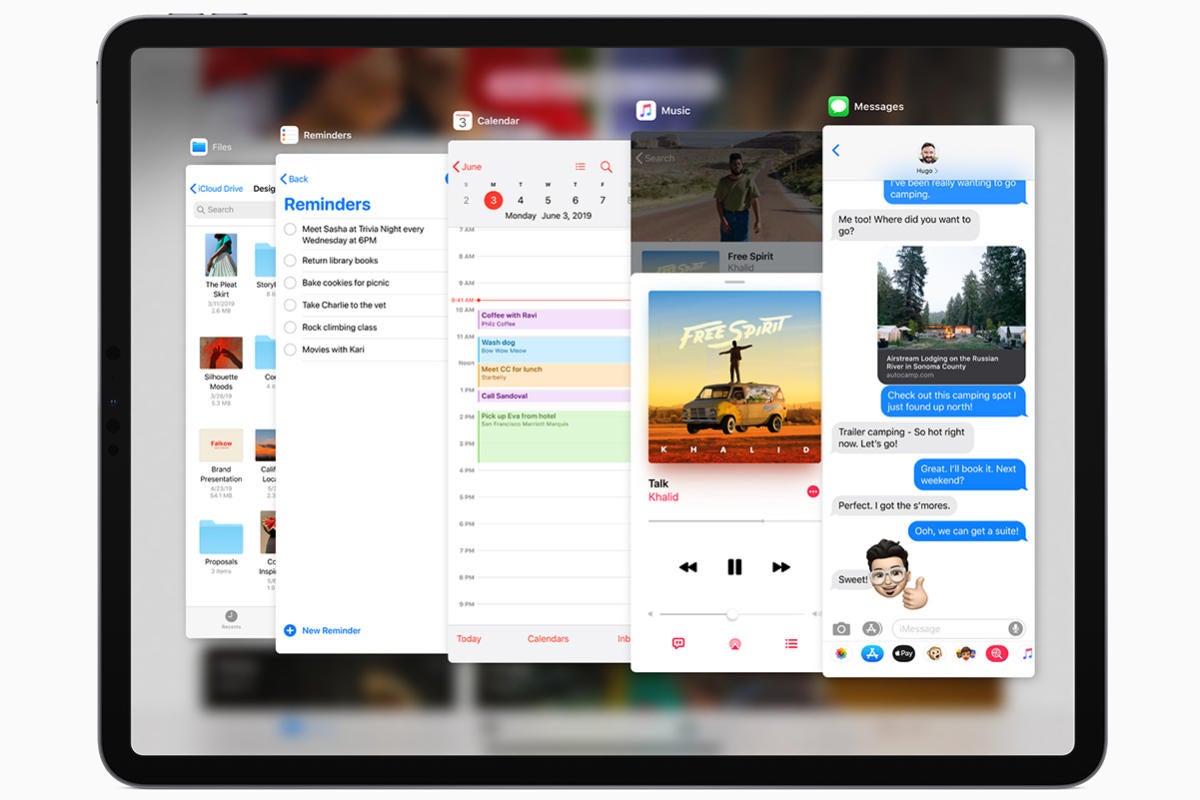 Here's a caveat: A lot of its effectiveness will depend on support from third-party developers. Plenty of apps support Split View, of course, but the widely used Google Docs infamously didn't add the feature for months after it had already appeared on virtually every other writing app on the App Store.
Apple also maintains the iPad's identity by making improvements to interactions when you're holding it like a legal pad. At the simplest, it lets you access a small sidescreen keyboard that works a lot like the one-handed keyboards on devices like the iPhone XS Max. It's a good workaround for the common long-existing problem of having too big of a keyboard to type on when your other hand is busy holding the tablet itself.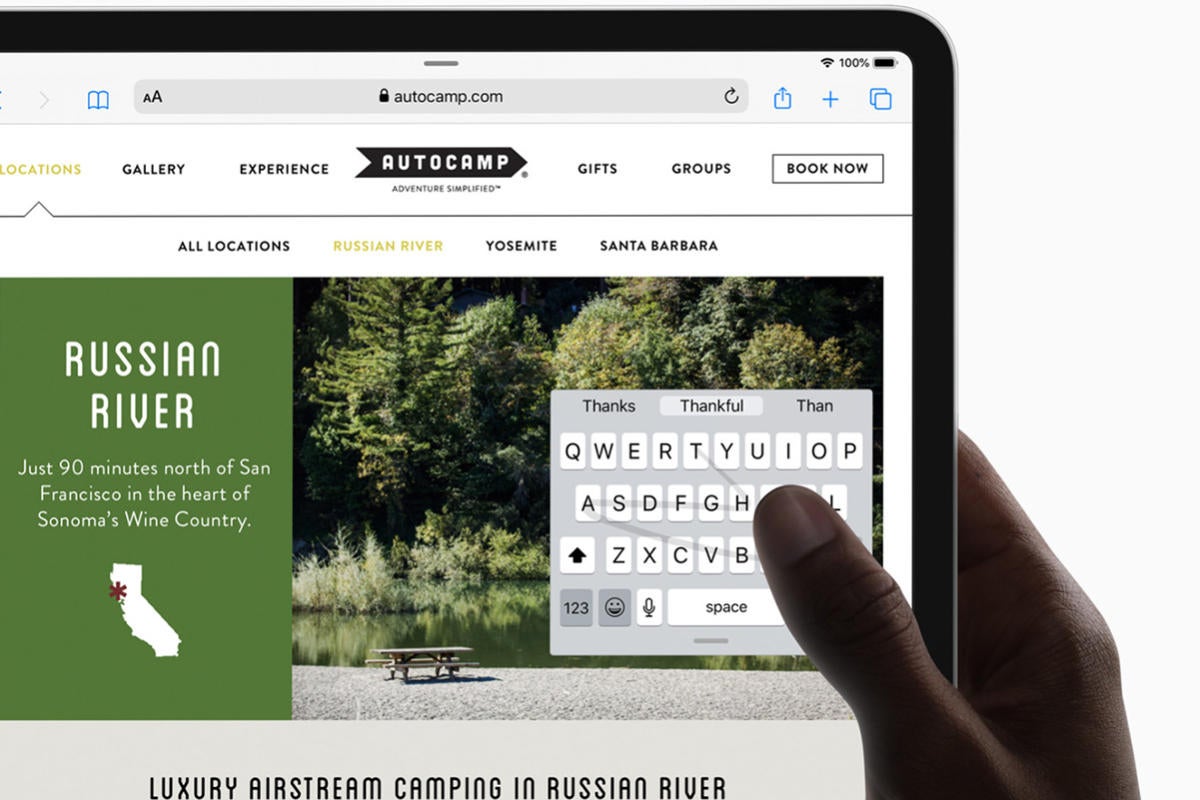 Apple also announced improvements for the Apple Pencil that emphasize its utility outside the usual focus on drawing. For instance, you can trigger Markup at any time by swiping up with the Pencil from a corner of the display, which will then produce an editable screenshot. That makes it even more useful for adding annotations to photos, emails, or even webpages, especially now that Markup can capture a webpage's or document's entire content rather than just the immediately visible screen. Convenience informs many of the new changes, right down to the ability to move the color palette for the Pencil around on the Notes screen.
The Pencil will probably even write better, as Apple improved the latency from 20ms all the way down to 9ms. Hopefully that will make it write more like a regular pen or pencil, which should improve the likelihood that professionals will use the Pencils for taking handwritten notes rather than simple tasks like highlighting.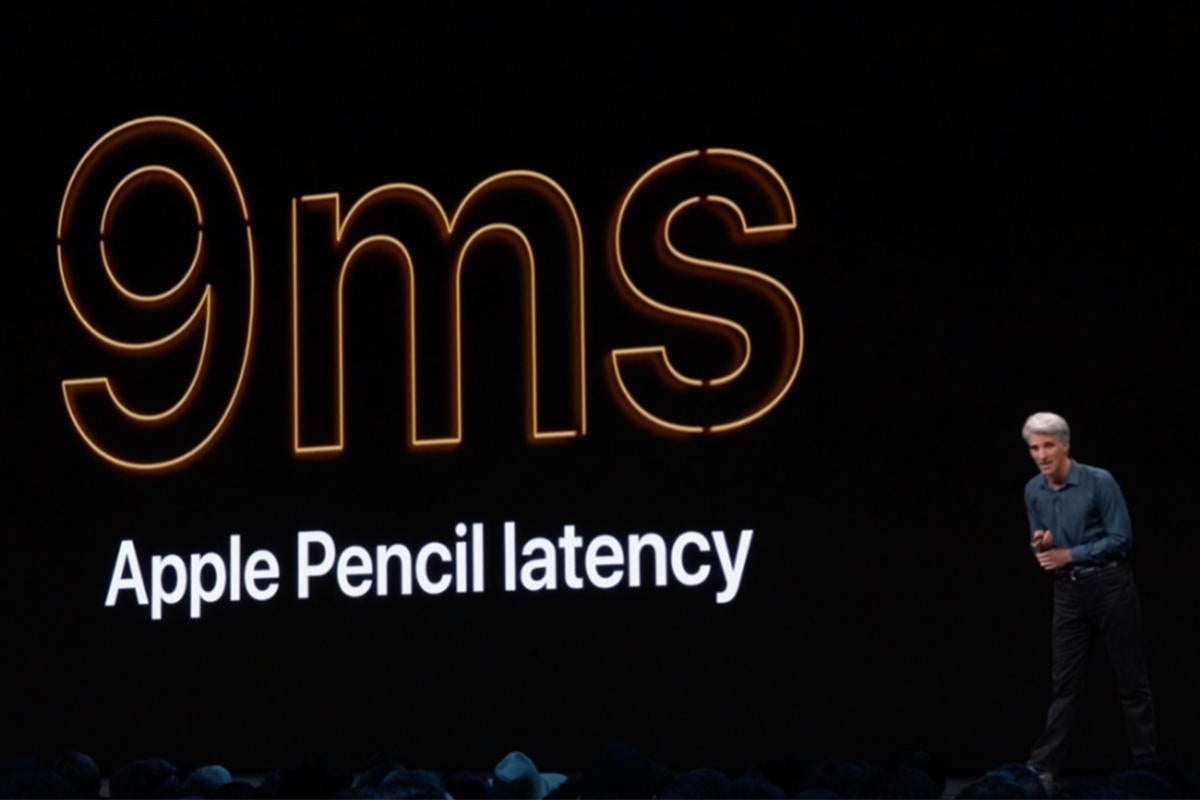 Finally, for all my excitement about the hush-hush mouse support, I'm happy to report that Apple also didn't neglect the touch controls. With iPadOS, you can select whole swaths of text just by swiping your finger over them, which would have been a godsend for my workflow a few years ago. Moving the cursor works much the same, and additional three-finger gestures allow you to cut and paste. Federighi made it look easy (by showing the feature through a video on stage), but Toby Paterson's struggle with word selection a few minutes later makes me wonder how well it will work in practice.
More than padding
The upshot of all this is that iPadOS will significantly change how we use our iPads in the coming years. It's now got the interface as well as the power to support people who want to use it with "pro" apps like the upcoming full release of Adobe Photoshop. It's a massive leap forward, and it came faster than I expected, especially considering the minimal improvements Apple was making over the last couple of iOS releases.
It's the biggest change to the iPad experience ever, and it'll be a winner for users who like to use the same device for working at a desk and reading through content while lazing on a couch. It's still not perfect: I suspect I'll still prefer even the typing experience of the MacBook's "butterfly" keyboards over the stiff typing I endure with the iPad Pro's Smart Keyboard Folio. For that reason alone, it's far too early to see iPadOS as some kind of death knell for the MacBook.
iPadOS feels as though it's part of a wider shift at Apple—one in which Apple is finally giving serious thought to the frustrations and workflows of people who use their devices on a daily basis. Both iPadOS and the Mac Pro are far more robust releases that I would have expected even a year ago. It shows us an Apple that's willing to move away from its own little oddities and embrace the demands needed to meet an increasingly competitive market. At the very least, it's a sign that Apple is making sure its "pro" products live up to that name.
We're impressed, Apple. But c'mon, with all those other improvements to the iPad, you seriously couldn't have added a built-in Calculator app?