Reports about what will be in the 2020 iPhones are hitting the wire. We've compiled the most notable ones here, but take these with a big grain of salt. Even if these reports are accurate representations of what suppliers are saying, or come from moles within Apple itself, the company's plans can and do change. There's still plenty of time before the design and features have to be totally set in stone.
Update 10/9/20: Weibo leaker Kang, who has been very accurate in the past, has leaked pricing, color, and shipping information for the iPhone 12.
Colors, capacities, and prices leak
With just a few days to go before the big event, some of the gaps that have been missing are starting to get filled in. Weibo leaker Kang, who has been accurate in the past, has spilled a few details that were previously unclear. First, the iPhone 12 will reportedly come in five colors, the usual black, white and red, along with new blue and green hues. The iPhone 12 Pro will also pick up a new Midnight Blue color as well as graphite to replace Space Gray (like the Apple Watch Series 6), to go along with silver and gold. He also expects the base capacities for the Pro phone to jump to 128GB, while the non-Pro iPhones stay at 64GB,
Kang also predicts that the iPhone mini will start at $699 like the current iPhone 11, while the 6.1-inch iPhone 12 will jump to $799. Then the Pros will reportedly retain their $999 and $1099 price tags. That matches up with recent rumors, though some have suggested the iPhone mini could start as low as $649.
iPhone 12 ship dates and storage capacities
Jon Prosser, who has a fairly good record with iPhone leaks, has tweeted out a few new details of the upcoming iPhones. According to the tweets, the regular iPhones will carry the name "iPhone 12 mini" (for the 5.4-inch model) and "iPhone 12" (for the 6.1-inch model). They will come in capacities of 64/128/256GB and start heading out to distributors on October 5.
Prosser says the iPhone 12 event will be held on October 13, which means that orders will probably open up right afterward with deliveries starting that Friday, October 16, similar to the timeframe of the new Apple Watch series 6.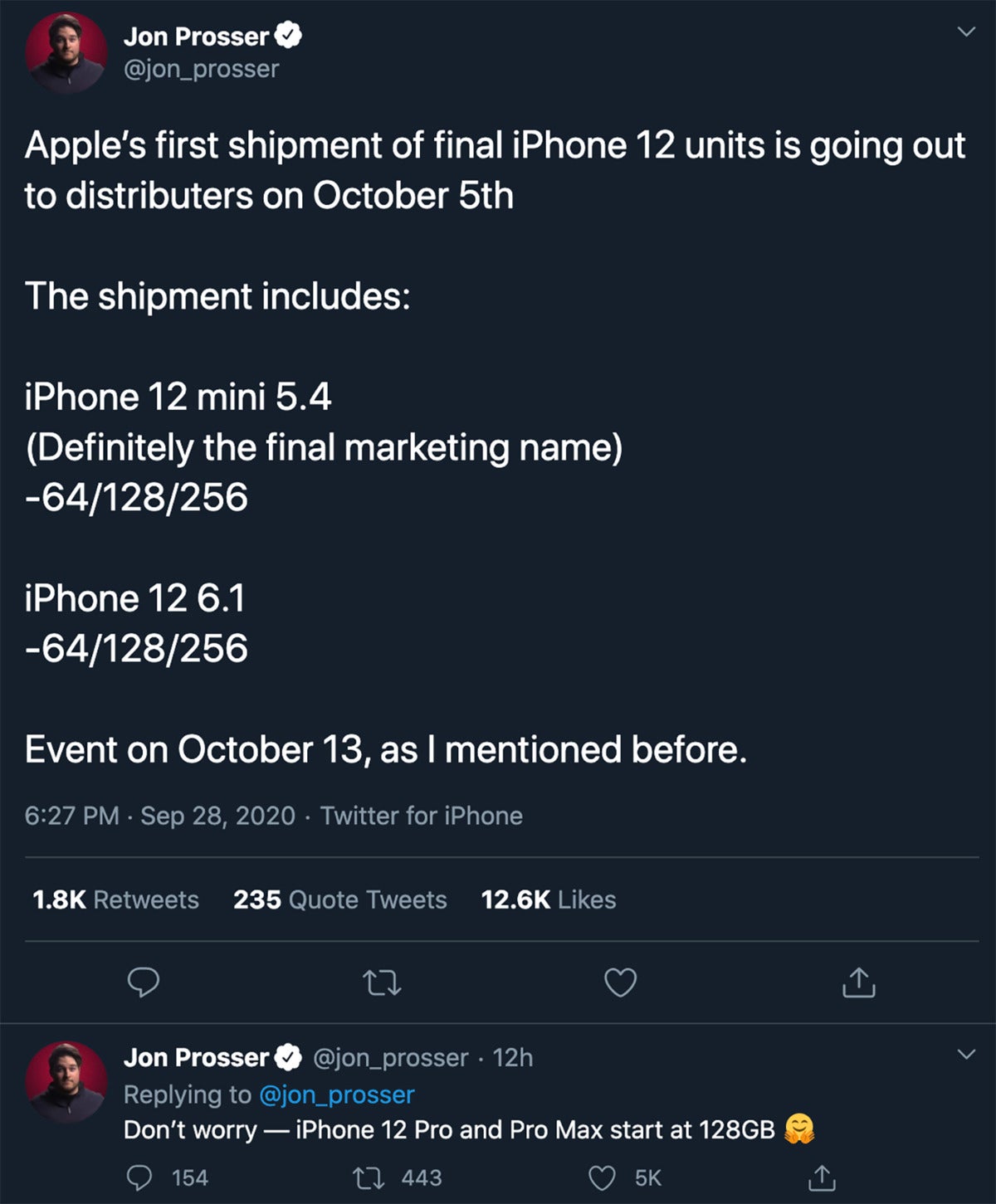 A follow-up tweet mentions that the higher-end models, called iPhone 12 Pro and iPhone 12 Pro Max, will start with capacities of 128GB. That's a welcome improvement over the iPhone 11 Pro. Prosser notes that the shipping dates he has are only for the iPhone 12 (non-Pro), so the Pro models are probably going to ship at a later date.
No 120Hz display, smaller notch on 5.4-inch iPhone 12
Well-regarded analyst Ming-Chi Kuo is frequently accurate in leaks about upcoming iPhones, particularly once they reach the stage where Apple's supply chain begins making parts for it. According to MacRumors, Kuo has issued a new report stating that none of this year's iPhone 12 models will feature 120Hz displays. The issue is apparently concern over battery life—we may see 120Hz displays on iPhones in 2021 when Apple moves to a more power-efficient display technology.
Kuo also notes that the iPhone 12 models will have a notch the same size as those on the iPhone 11, with one exception: the smallest iPhone 12, with a 5.4-inch display, will have a slightly smaller notch. This is necessary to leave enough display room on either side of it for the usual information (time, signal strength, battery, etc.).
mmWave 5G only on the iPhone 12 Pro Max
A new report from Fast Company, citing "a wireless industry source," says that only the largest and most expensive iPhone 12 model—the 6.7-inch iPhone 12 Pro Max—will support millimeter-wave 5G. All the iPhone 12 models will support 5G in the sub-6GHz spectrum. The source says only the largest phone has the size necessary for the antenna array used in mmWave and the larger battery necessary to offset the increased power draw it requires.
What's more, only the U.S., Korea, and Japan versions of the iPhone 12 Pro Max will have mmWave 5G support. In other territories, it will support the sub-6GHz spectrum only.
5G technology broadly comes in two variants: millimeter-wave radio frequencies over 24GHz, and the same sub-6GHz frequency bands used in today's 4G LTE networks. The mmWave stuff gives you extremely fast speeds, but has extremely short range, with cellular radios required every few blocks. What's more, mmWave does not penetrate objects well and are easily blocked by windows, doors, walls, trees, etc.
So while mmWave 5G technology delivers impressive bandwidth numbers, it is currently only useful in limited circumstances. Most users, most of the time, will use 5G networks in the same frequencies in which their 4G LTE phones operate. These signals travel much further and penetrate buildings better, providing much better coverage. Speeds are expected to be anywhere from 50-300% better, rather than the 10x improvement you might see from mmWave.
For more on 5G technology, see our 5G FAQ.
120Hz display and new camera features
Jon Prosser, who has accurately leaked several Apple devices and features in the past, tweeted screenshots of some test settings pages for PVTs (product validation devices).
The first screenshot shows several advanced camera features, including LiDAR-assisted autofocus, advanced video modes like 4K at 120fps and 240fps slo-mo, enhanced long-exposure night mode (suitable for tripods and the like), enhanced noise reduction, bit depth video, and zoom capabilities.
The other screenshot toggles high refresh rate and adaptive refresh rate (which automatically switches between 60Hz and 120Hz as needed). The fine print seems to suggest that Apple is still testing devices with and without 120Hz displays, and test devices with different camera hardware.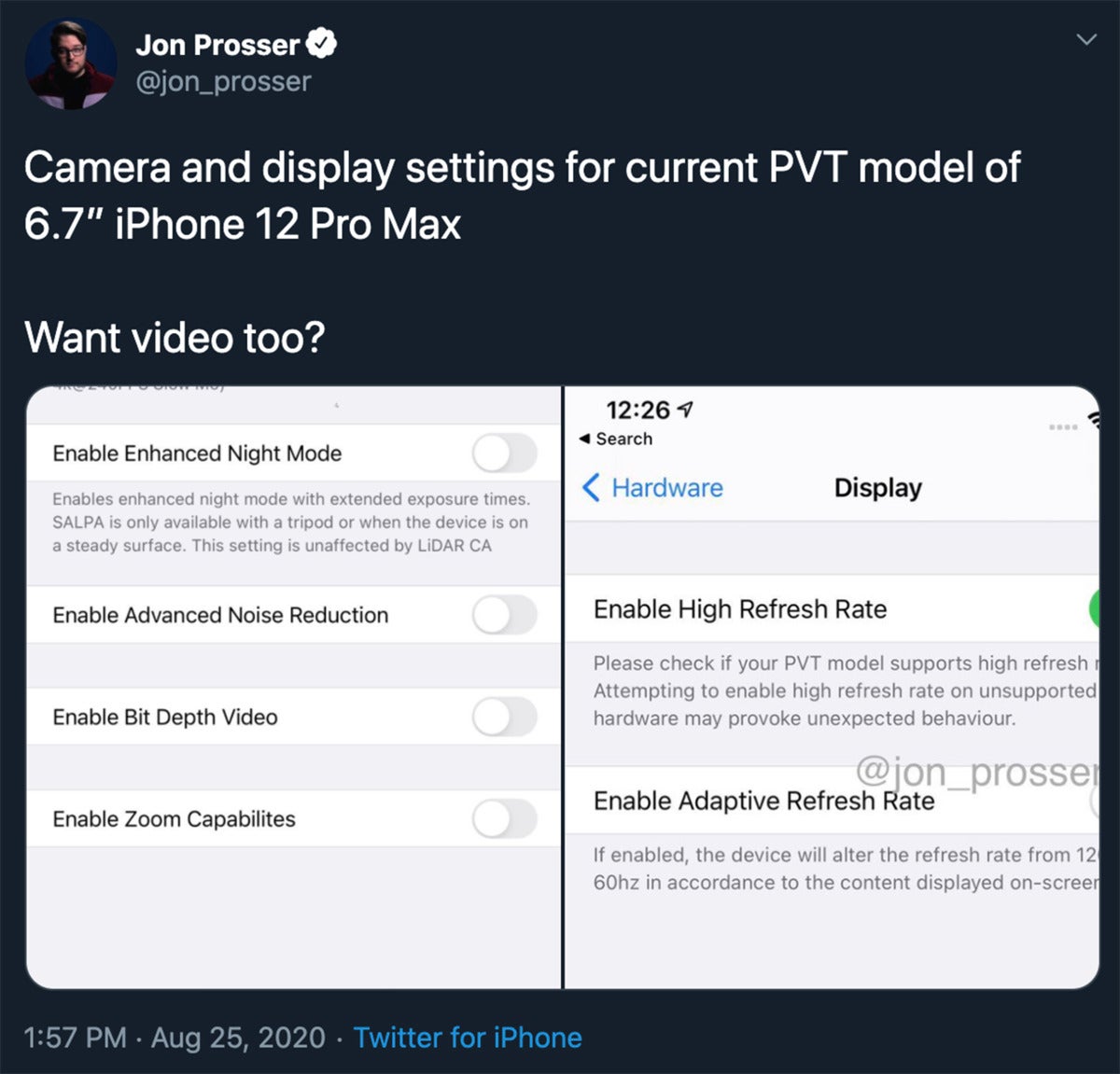 A possible October launch
During the announcement of its third-quarter 2020 financial results, Apple said that the iPhone release this year will occur later than usual. In the past, Apple shipped new iPhone models in late September, but this year, Apple COO Luca Maestri said that the phone shipment will occur "a few weeks" later. That probably means an October ship date, but let's not rule out a possible November date.
Earlier in April of this year, The Wall Street Journal reported that the iPhone 12 will arrive later than usual this year. Sources told the publication that the pandemic has weakened global consumer demand and disrupted manufacturing across Asia, which should delay the new phone by "about a month," bringing it into October rather than its usual September timeslot. However, Apple has previously delayed iPhone on-sale dates due to production issues, most recently with the iPhone XR releasing in late October.
The pandemic has already shifted Apple's spring release plans, with a purported March event being canceled and the iPad Pro and iPhone SE receiving quite unveilings. Apple's WWDC is still due to be held in June but will have "an all-new online format." The Journal confirmed reports that Apple will be launching four new iPhone models this year with 5G support.
A later report in Bloomberg features quotes from Broadcom, which supplies wireless technology for iPhones. Broadcom's CEO Hock Tan is quotes as saying he expects a "major product cycle delay" at a "large North American mobile phone" customer (this is how the company typically refers to Apple). The delay is just from Q3 to Q4, which neatly fits into the previous rumors of a push back from September to October.
No charger or earbuds in 'exquisite' box
If there's one thing we can count on with a new iPhone, it's that it will include a pair of Lightning EarPods and a charger in the box. That likely won't be the case with the iPhone 12. According to Ming-Chi Kuo, Apple will be dumping both accessories from its next iPhone to cut costs. And a follow-up report from mysterious but often-accurate l0vetodream on Twitter reports that "the new packaging box (will) become thinner and exquisite." Apple might offer discounts on AirPods for anyone who needs earbuds or cut the price of its existing chargers, but whatever tha case it looks like you'll be paying extra if you want one.
No USB-C for this year's lineup
Ever since Apple introduced a USB-C port with the 2018 iPad Pro refresh, we're been waiting for the iPhone to follow suit, eliminating the proprietary and somewhat limiting Lightning port once and for all. According to Twitter user @choco_bit, who previously leaked details about a smaller notch and LiDAR sensor in the iPhone 12, that won't be the case. As they write: "Shame the USB-c prototype iPhone 12's arent making it to production. 1 more year of lightning [sic]." So it seems that while Apple has explored USB-C, it will be sticking with the same connector it's used since the iPhone 5.
Possible specifications for the iPhone 12 lineup
The iPhone 12 rumor mill is heating up. Front Page Tech's Jon Prosser released a video on Monday morning with specifications on the upcoming iPhones. There are four models that will use Apple's A14 processor and support 5G. Here are the specs Prosser is reporting.
| | iPhone 12 | iPhone 12 Max |
| --- | --- | --- |
| Prices | $649, $749 | $749, $849 |
| Display size | 5.4-inches | 6.1-inches |
| Display tech | OLED Super Retina | OLED Super Retina |
| Storage | 128GB, 256GB | 128GB, 256GB |
| Rear camera | dual camera | dual camera |
| RAM | 4GB | 4GB |
| Body | aluminum | aluminum |
iPhone 12 Pro
iPhone 12 Pro Max
Prices
$999, $1,099, $1,299
$1,099, $1,199, $1,399
Display size
6.1-inches
6.7-inches
Display tech
OLED Super Retina XDR
ProMotion
10-bit color
OLED Super Retina XDR
ProMotion
10-bit color
Storage
128GB, 256GB, 512GB
128GB, 256GB, 512GB
Rear camera
triple camera and LiDAR
triple camera and LiDAR
RAM
6GB
6GB
Body
stainless steel
stainless steel
As for that ProMotion display on the high-end iPhones listed above, EverythingApplePro posted a video on Sunday with a report from Max Weinbach that said that the 120Hz refresh rate is coming this year. The displays could have the ability to switch down to 60Hz when the display isn't very active in order to save battery life. The report also says the battery will be bigger on the Pro models. The front notch will be smaller, with Face ID supporting a wider angle.
EverythingApplePro also says that the Pro cameras will still be at 12 megapixels, but have a bunch of improvements, including faster autofocus, improved low-light performance, more accurate portait mode, 3x optical zoom on the telephoto lens, and more. The phone's microphone will have improved audio zoom and more precise beam forming.
Smaller notch
Jon Prosser, who has leaked information about the recent iPad Pro and MacBook Air releases, is back with rumors about the iPhone 12. This past weekend, Prosser posted images of the notch that could be on the next iPhone. The notch is much smaller than what it is now.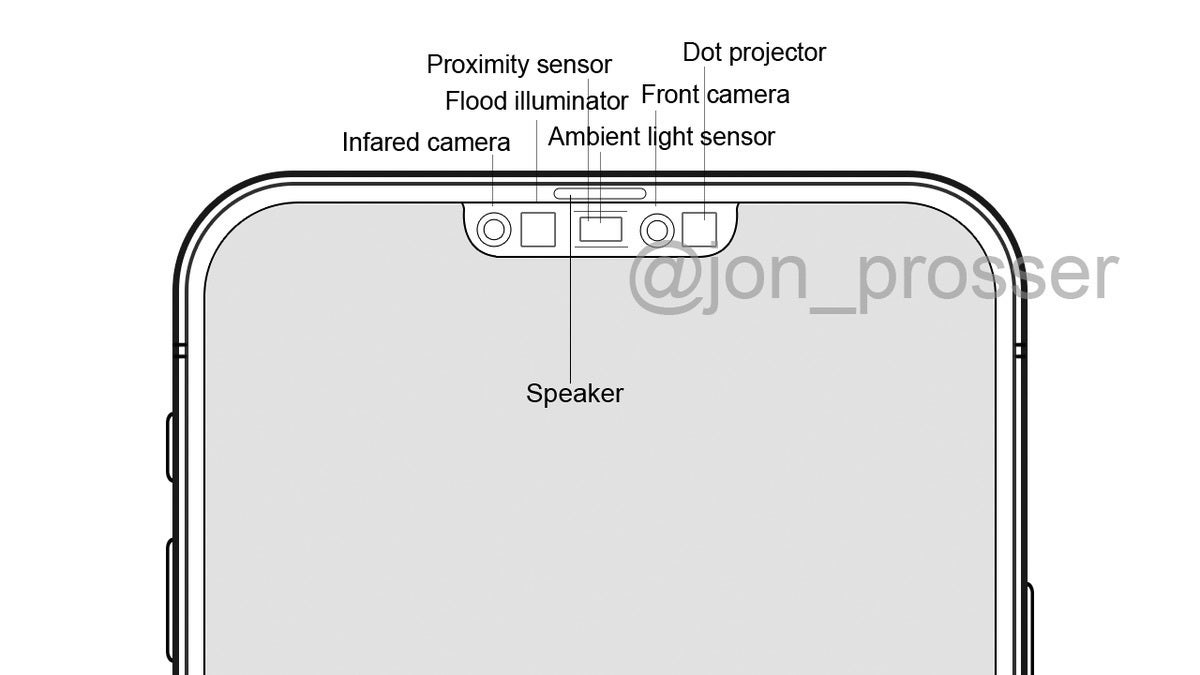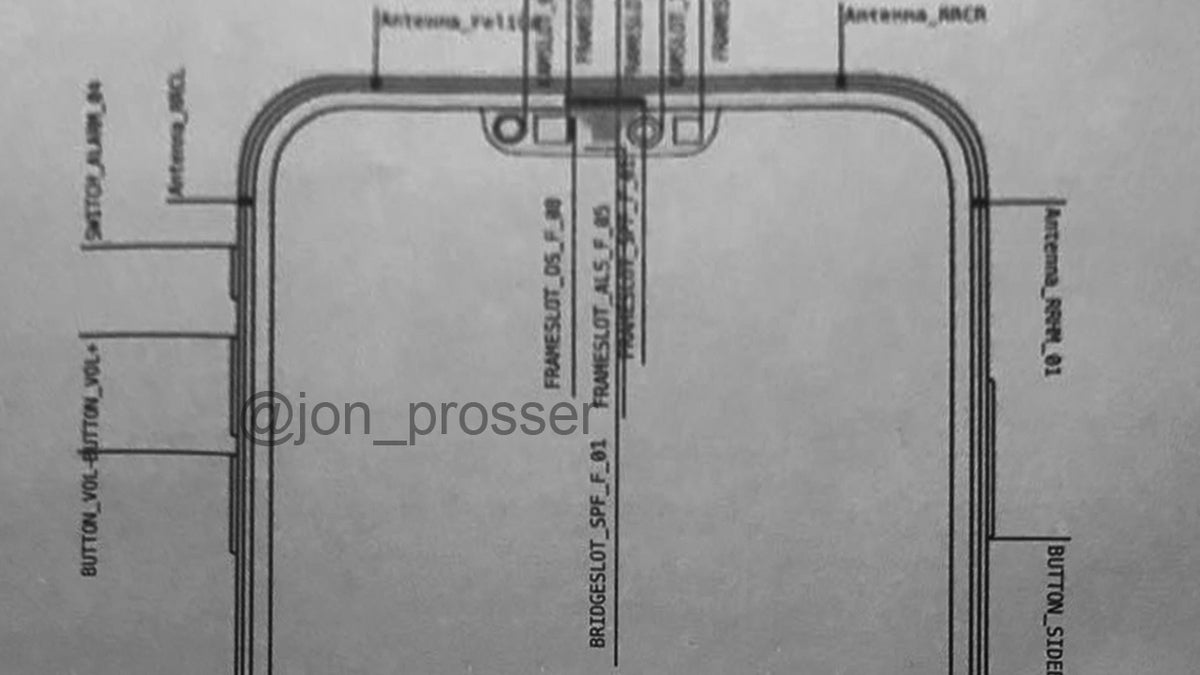 Prosser also tweeted that the iPhone 12 will not have a smart conenctor and will (still) not have Apple Pencil support. Prosser also clarifies that there is no USB-C on the iPhone 12.
Another look at the camera array
Instagram account Concepts iPhone has what is purported to be an image of the camera array for the iPhone 12, reportedly taken from iOS 14 (judging by the diagram style, either a repair guide or user guide).
It shows the same square cutout as on the iPhone 11, but with the three cameras arranged differently, with a fourth area for the LiDAR sensor—the same sensor Apple just released on the 2020 iPad Pro. The iPad Pro has just two cameras plus the LiDAR sensor, so this diagram clearly depicts new hardware.
Coronavirus fallout could delay the iPhone 12 launch by months
Even if the coronavirus pandemic has ended by September, the launch of Apple's iPhone 12 might still be affected. While reports out of China are that manufacturing plants are beginning to return to normal, a source told the Nikkei Asian Review review that "Apple is concerned that the current situation would significantly lower consumer appetite to upgrade their phones, which could lead to a tame reception of the first 5G iPhone." That could have disastrous results for Apple's roadmap, as both 5G and, obviously, the iPhone key heavily into whatever future products may be on the way. Nikkei says Apple will make a final decision about the phone's launch in May and "the fall launch is not completely off the table," but it's possible that we don't get a new iPhone until 2021.
iPhone 12 Pro Max to receive "sensor-shift image stabilization"
It's all but certain that the iPhone 12 Pro Max's screen will grow from 6.5 inches to 6.7 inches this year, but now we're starting to learn a bit more about it. As reported by Macrumors, Analyst Ming-Chi Kuo is predicting that Apple's flagship will include sensor-shift image stabilization, which could be a solution for the ultra-wide camera.
According to What Digital Camera, sensor-shift image stabilization in a DSLR camera "works by moving the camera's sensor around the image plane using electrical actuators. If any shake motion is detected by the camera's accelerometers, it calculates in real-time the direction and speed to move the sensor, so that it remains stationary in relation to the image being projected onto it by the lens." On the iPhone 11 Pro's triple-camera system, only the wide and telephoto cameras have optical image stabilization, so sensor-shift image stabilization could be a way to stabilize all three cameras.
Kuo notes that Apple would look to bring the feature to other iPhone models in 2021. It's not clear why Apple would limit the feature to the Max phone and not include it on both Pro models, though Apple could be trying to give buyers an additional reason to move to the higher tier.
Production on track for September
Despite earlier reports that the iPhone 12 could see delays that push the release into October or even 2021, a new Bloomberg report says that the struggles Apple and the rest of the world is facing due to the coronavirus "have yet to severely derail the 5G iPhone launch in the fall." As Mark Gurman and Debby Wu explain, Apple generally shores up its next iPhone design shortly after the release of the current model and eyes April as a start date for mass production of the new cases. The report notes that Apple has already built "a limited number of test versions of the new models." However, with so much uncertainly, it's still possible that the timeline "could slip," Bloomberg cautions.
3D Time-of-Flight rear camera
A report in Fast Company says Apple will incorporate a 3D depth-sensing camera in the iPhone 12, citing "a source with knowledge."
We've heard this rumor before, both from Bloomberg's Mark Gurman and Debby Wu, and in a research note from analyst Ming-Chi Kuo.
VCSEL stands for Vertical-Cavity Surface-Emitting Laser. It's a type of semiconductor that emits a low-power laser (usually infrared, so humans can't see it). It's used in a lot of consumer devices today for simple range-finding; to assist in augmented reality, Apple would use a more complex chip that fires a big grid of lasers, then measures the time-of-flight for that light to determine distance. Effectively, this would produce a low-res "image" where each pixel has depth info rather than color.
It's an efficient way to get a much more accurate 3D representation of the scene in front of the camera, which is useful in computational photography and especially in augmented reality.
Delayed ship date
2020 is the year of the coronavirus and how it is affecting everything, including the shipment of the new iPhone. DigiTimes reports that the next iPhone could see a ship date in October, about a month later than the usual September time frame. Apple recently put travel restrictions on its employees, which in turn affects production schedules. A report from Bloomberg states that a Bank of America analyst also believes the iPhone will be delayed.
Given the circumstances, a delay seems totally plausible, though a Reuters report says that there's still time for Apple to get back on track with its iPhone schedule.
Refreshed Face ID
CNBC has a summary of a new report from a Barlcays analyst that corroborates some of the rumors we've already heard about the iPhone 12. But there's one sort-of-new nugget in there: The analyst says the iPhone 12 will feature a "refreshed" Face ID system, but offers no clues on what that might mean.
The Face ID system has gone through a few minor upgrades already—with iOS 13 it got a little faster, and the iPhone 11's TrueDepth module has an improved standard color camera, but not an improved depth-sensing system. The faster processor in the iPhone 11 helps make Face ID unlocking faster, too.
The report also says the high-end "Pro" models will feature a time-of-flight depth sensor on the rear camera array, which we've heard several times before. Finally, it furthers the claim that Apple might ditch the Lightning connector on the 2021 iPhone in favor of exclusively wireless charging. That idea seems a little dubious, to us: It would nearly kill the entire CarPlay market, as very few vehicles support wireless CarPlay and even if support for that feature improved dramatically, people don't upgrade their cars that often. Apple would have to ship wireless chargers in the box, and let's face it, as convenient as wireless charging is, it's still too slow to be the only means of charging one's phone. Apple would have to make wireless charging a lot faster.
New A14 processor
All models of the iPhone 12 are all but certain to have a new application processor, which Apple will likely call the A14. It is well-known that this processor is being produced by TSMC on its new bleeding-edge 5nm EUV manufacturing process.
We've done some of our own analysis on Apple's recent A-series processors and the capabilities afforded by the new manufacturing process to predict what we might expect from the A14.
Disputed 5G iPhone release schedule
If there's one thing we're certain of with the iPhone 12, it's that it will be packing a 5G modem. The next-gen network will be much more robust than it was at the end of 2019, and the next iPhone will be ready for it.
Just how ready is up for debate, however. While previous rumors have suggested that 5G might be limited to the "pro" models, a new report says that the 5G iPhones will launch in phases. As reported by MacRumors, Susquehanna analyst Mehdi Hosseini "expects 5G-enabled iPhones to launch in two phases, including sub-6GHz models in September 2020 and mmWave models in December 2020 or January 2021." That means people who want the best possible iPhone 12 might have to wait months to get it.
Analyst Ming-Chi Kuo, on the other hand, expects there to be four 5G models, all with both sub-6GHz and mmWave support, all launching at essentially the same time: late 2020. He said as much in a research note in December, and followed up with another note in January to say they're still on track.
Kuo expects 5G support in iPhone models to vary by region/country. Some would get only sub-6GHz support, others sub-6GHz and mmWave, and some countries where carriers don't offer significant 5G support might see the feature disabled entirely.
While millimeter-wave networks are significantly faster than their sub-6GHz counterparts, mmWave is also extremely limited in scope. Verizon is leading the way with some two dozen cities, but the coverage is extremely limited, with some areas barely extending past a block or two.
As it stands, 5G has had a very confusing rollout, and it would be up to Apple to simplify things for consumers. Selling a 5G iPhone but promising an iPhone with better 5G a few months later won't do that. If mmWave isn't going to available at launch, it might be better to just cut it completely from the iPhone 12 and stick to sub-6GHz rather than give consumers a choice they don't understand.
Thinner, more efficient OLED
A report from Korean publication The Elec states that LG is upgrading its OLED production lines at the E6 facility where the displays for the current iPhone 11 Pro are made, and from which we assume the iPhone 12's high-end models will get their OLED displays.
The upgrades we can expect are twofold. First, the touch sensors will be integrated into the display itself, rather than requiring a separate touch layer. This makes the entire display-and-touch assembly in the phone thinner, and less expensive to manufacture.
Second, the backplane responsible for turning the individual OLED subpixels on or off is said to be switching to low-temperature polycrystalline oxide (LTPO) technology. This uses a little less power (about 15 percent less) than the LPTS technology currently used on iPhones. Apple recently switched to OLED displays with LTPO technology in the Apple Watch in order to help prolong battery life.
Sensor-shift image stabilization
A new report from DigiTimes (which has a spotty record on future iPhone predictions) says that the 5G iPhones due in 2020 will implement image stabilization via sensor-shift technology.
Current optical image stabilization in iPhones uses a gyroscope to move an entire camera array—sensor and lenses—in order to reduce small shakes and vibrations. In addition iPhones employ electronics image stabilization when recording video, using the phone's motion sensors to shift the recorded area on the sensor in order to counteract vibrations.
Some sites are reporting that sensor-shift stabilization would bring image stabilization to the ultrawide camera on the iPhone, where it does not currently exist in the iPhone 11. This is not necessarily the case; the "lenses" the back of the iPhone (Wide, Ultrawide, and Telephoto) are not merely lens arrays that point at a single sensor. They are entire camera modules, with their own independent sensors and lens arrays.
For sensor-shift technology to apply to the ultrawide camera on an iPhone, it would need to be independently applied to that camera's sensor, just as the current optical image stabilization and could have been, if Apple chose to.
The main benefits of a sensor-shift technology for image stabilization is that a fixed nonmoving lens array is subject to fewer compromises and could be of higher quality, and that the iPhone could make deliberate sup-pixel shifts to the sensor to take multiple exposures that are combined to provide higher resolution photos.
Sensor-shift technology is fairly common in higher-end mirrorless and DSLR cameras.
Larger batteries due to new circuitry
After rumors of a new design, new models, and new displays, this rumor is decidedly ho-hum: The 2020 iPhones are tipped to have bigger batteries due to new battery protection circuits. According to the Korean publication The Elec, the iPhone 12 will use customized Protection Module Packages circuits instead of the Protection Circuit Modules used in the iPhone 11. That will reportedly free up more space inside the phone, which could be used to make the battery bigger. With the presumed launch of a 5G modem inside all 2020 models, the iPhone will need as much battery life as it can get, as those modems generally use more power than LTE ones.
The Elec reports that supplier ITM Semiconductor is building two new plants to handle the capacity, which is expected to reach 110 million per month. Officials say work on the plants should be completed by the end of the year. ITM also supplies battery protection circuits for the AirPods Pro.
5 new iPhone models in 2020
Analyst Ming-Chi Kuo issued a research note where he predicts that Apple will release five new iPhones in 2020: 5.4- and 6.1-inch models each with a dual-lens camera; 6.1- and 6.7-inch models with triple-lens cameras and "time of flight sensors"; and a 4.7-inch model. (Kuo also has thoughts on the 2021 iPhones.)
All of the 2020 iPhones will have OLEDs, except for the 4.7-inch model, which will have an LCD. Also, the OLED-based phones will ship in the fall, while the 4.7-inch phone could be available earlier in the year.
Kuo also said that the four fall-release phones will have 5G support, with mmWave available in the markets where it can be used.
The 4.7-inch phone (considered a follow-up to the iPhone SE) will be modeled after the iPhone 8. It will have a Home button, an A13 processor, and a single-lens camera.
This follows a J.P. Morgan analyst report that says that Apple could release four new iPhone models in the fall of 2020.
The J.P. Morgan report says that the new iPhones will support 5G, with two high-end models (one 6.1-inch and one 6.7-inch) with support for mmWave, as well as a triple-lens camera and "World facing 3D sensing." Two low-end models (one 6.1-inch, one 5.4-inch) will not have mmWave or World facing 3D sensing, and will have a dual-lens camera.
All four iPhone models will have OLEDs. In late November, ETNews reported that Apple will be using OLED displays from Samsung that are thinner than the displays currently being used. How that will affect the overall thickness of the iPhone remains to be seen. While Apple could make the iPhone itself thinner, it's also possible that Apple could use the newfound space to be able to implement some other new technology, or to increase the size of the battery.
The J.P. Morgan report also says that in 2021, Apple could change how it releases iPhones. The company could decide to release phones twice a year, instead of the single release in the fall.
Say goodbye to the notch
Just a day after Ming-Chi Kuo teased an iPhone 4-style look for the next handset, Twitter leakster Ben Geskin, who has a solid track record for rumors, has posted an image of what he claims is "one of the 2020 iPhone prototypes." The post doesn't have a ton of information, but Geskin says the image is of a phone with a "6.7-inch display with Face ID and TrueDepth camera system housed in the top bezel."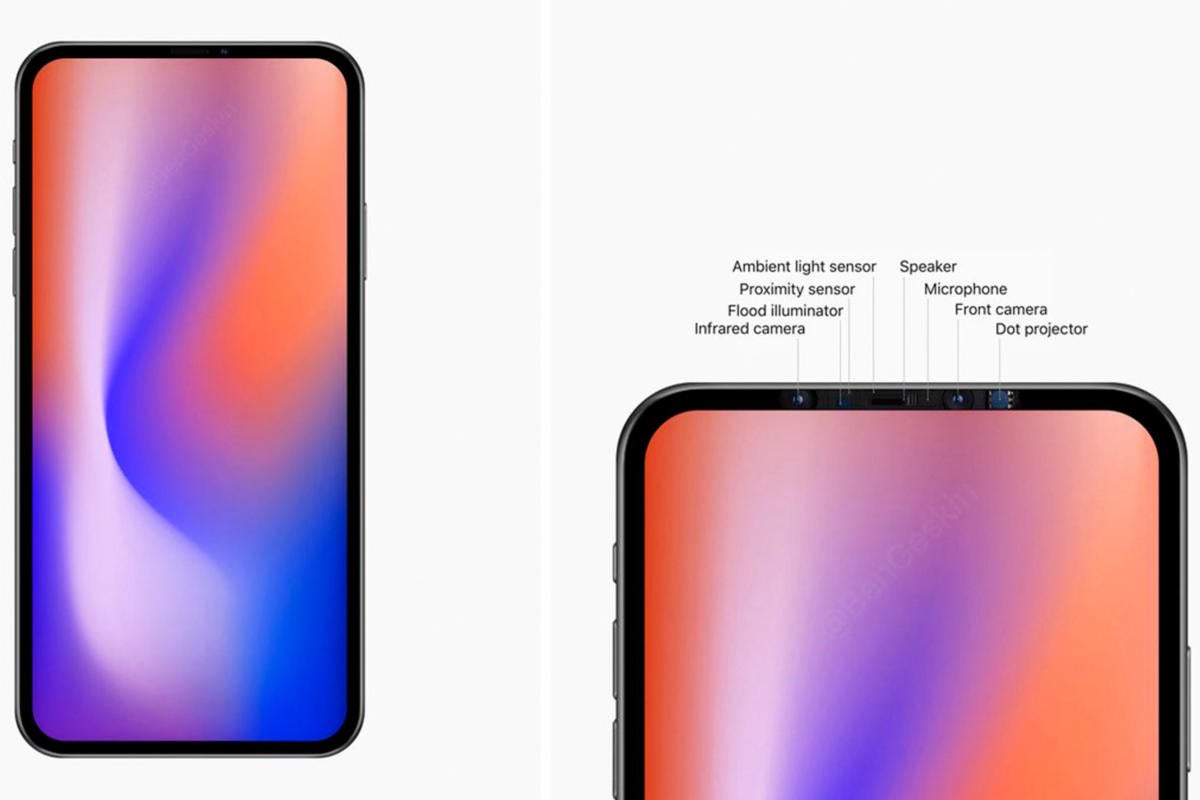 The size of the phone matches up with a previous Kuo rumor, but that's not what caught our eye. You don't need to look closely to see that there's no notch on this render, meaning Apple would need to shrink the TrueDepth camera system into the bezel at the top of the screen. That's not implausible—especially if the bezels are slightly thicker than they are now. Plus, that would certainly qualify as a "significant" design overhaul as Kuo has said is coming. Granted, Geskin says the image is "one of the 2020 iPhone prototypes," which means this one might never see the light of day, but color us intrigued.
iPhone 4-style redesign incoming
We've still got a long way to go until the iPhone 12 makes its debut, but there's already a reason to be excited. Analyst Ming Chi-Kuo says that whole next year's iPhone will be getting a serious design overhaul. He's light on specifics, but he compares it to the iPhone 4, which just so happens to be one of the best iPhone designs of all time. Specifically, Kuo says "the front and rear 2/2.5D glass are still used, but the metal frame surface will be changed to a similar design to the iPhone 4, replacing the current surface design."
That means the 2020 iPhone could look like a tiny iPad Pro, which would be quite a change from the current curved look. Kuo doesn't say whether the notch would be going away, but we have to assume it will at least be getting smaller, especially since he notes that the "2H20 (second half of 2020) iPhone design will change significantly." So if you were bummed that the iPhone 11 looked a bit too much like the XR, you might want to wait another… checks calendar… 11 months.
5G for all
While 5G is practically a certainty for the 2020 iPhone, the first round of rumors claimed that the next-generation modem would be limited to the flagship models, meaning the XR (or whatever it's called by then) would still slum it with LTE. Following the acquisition of Intel's smartphone modem team for a cool billion dollars, those expectations have changed. Now, Ming-Chi Kuo believes that all three models will have a 5G modem on board.
The reason is simple: Apple doesn't want to miss the boat. While 5G is limited to a few models of high-end Android phones this year, Kuo sees 5G becoming much more commonplace among Apple's peers, leading the company to ramp up development of 5G. Specifically, he sees the prices of 5G Android smartphones "will decline to $249-349 USD in 2H20," which will put pressure on Apple to deliver support for the speedy network in all three of next year's iPhones. Kuo also feels that the new team of some 2,000 members of Intel's smartphone modem division will facilitate Apple's development of 5G.
For more on 5G and what it means for you, check out our 5G FAQ.
But it won't come cheap. While most Android phones will feature support for so "sub-6Ghz" 5G, many will lack support for the higher bandwidth mmWave, meaning you'd need to buy a new phone when your network supports it. Apple's iPhone modem will reportedly support both frequencies, essentially future-proofing it for the 5G rollout. But that likely means the iPhone will cost even more. Whether that means it'll have a higher starting point or the 5G option will simply be another tier, isn't clear, but you should definitely expect to pay more for 5G inside your iPhone.
ProMotion comes to iPhone
Apple's iPad Pro models have had 'ProMotion' displays for a couple years now. It's a special LCD with a refresh rate of up to 120Hz, along with adaptive refresh rate scaling. Thus far, the feature has not come to iPhone: All iPhones feature displays locked at a 60Hz refresh rate.
A well-known leaker of Samsung news on Twitter, Ice Universe, claims that Apple is in talks with Samsung and LG to provide a switchable 60Hz/120Hz display for the 2020 iPhones. One would assume that these would be OLED displays, as there's nothing particularly groundbreaking about variable refresh rate or high refresh rate LCDs.
It's also unclear if this display would have true adaptive refresh rates as the ProMotion displays on iPad Pros do, or if it would simply switch between 60Hz and 120Hz modes.
Three models, new sizes, all OLED
As reported by MacRumors, oft-accurate analyst Ming-Chi Kuo reports that Apple will be sticking with the three-model lineup it introduced with the iPhone XS, XS Max, and XR last September, but the sizes may be changing. According to Kuo, the new models will have 5.4-, 6.1-, and 6.7-inch screens, with all models getting the OLED treatment. That would bring the iPhone XR (or whatever it's called by then) up to speed with the other models.
Along with the XR's OLED upgrade, the other two iPhone models will also be getting new screens. The iPhone XS Max will be increasing from 6.5 inches to 6.7 inches, which is to be expected in the wake of the Samsung S10 5G, but the iPhone XS will actually be getting smaller. According to Kuo, the 5.8-inch iPhone XS will be going down to 5.4 inches, a significant downgrade from its current size. Kuo doesn't offer an explanation for Apple's decision, but presumably it would be to create even more space between the XS and the 6.1-inch XR. And it would throw a bone to people pining for the return of the iPhone SE.
5G modems on the way
As has been previously rumored, Apple will likely be adding 5G modems to the 2020 iPhone, though Kuo says the faster connectivity will be limited to the XS and XS Max, with the XR retaining LTE 4G for at least a year. He also notes that Apple is working on its own 5G modem, which the company hopes will be ready by 2022 or 2023.
Now that Apple has settled it's long-running feud with Qualcomm, it should be back on track to use the company's second-generation 5G modem in 2020 iPhones. When Apple was exclusively using Intel modems, its 5G future was in doubt, as Intel reportedly kept missing important 5G development milestones.