Apple has a bad reputation with maps. Seven years ago, Apple replaced Google Maps with its own Apple Maps service in iOS 6, and the rollout was nothing short of disastrous. Apple Maps was inferior to Google Maps in every way: features, stability, accuracy, performance—you name it. It took two years to really clear out the bugs, and Apple has spent the last several years languishing behind Google with a dated, less-detailed data set and a dearth of features. About the only thing Apple Maps has going for it is that it respects your privacy.
With iOS 13, Apple Maps may finally turn the corner. Whether it will be a superior mapping solution to Google Maps remains to be seen, but the beleaguered service may finally close the gap enough that you won't need to bother with installing the Google Maps app anymore. Here's what you can expect from Apple Maps with the rollout of iOS 13 and iPadOS 13 this fall.
Vastly improved map data
About a year ago, Apple outlined a drastic overhaul of its mapping data. Where once it relied on cobbling together data from a host of third-party sources, Apple embarked on a big project to own all the data used for its maps. Based on millions of miles driving in cars equipped with cameras and LIDAR, new high-res satellite images, and tons of aerial photography from planes, the new maps would be far more detailed and accurate.
Perhaps more importantly, it would all be under Apple's control, so updating map data could happen much more quickly than ever before.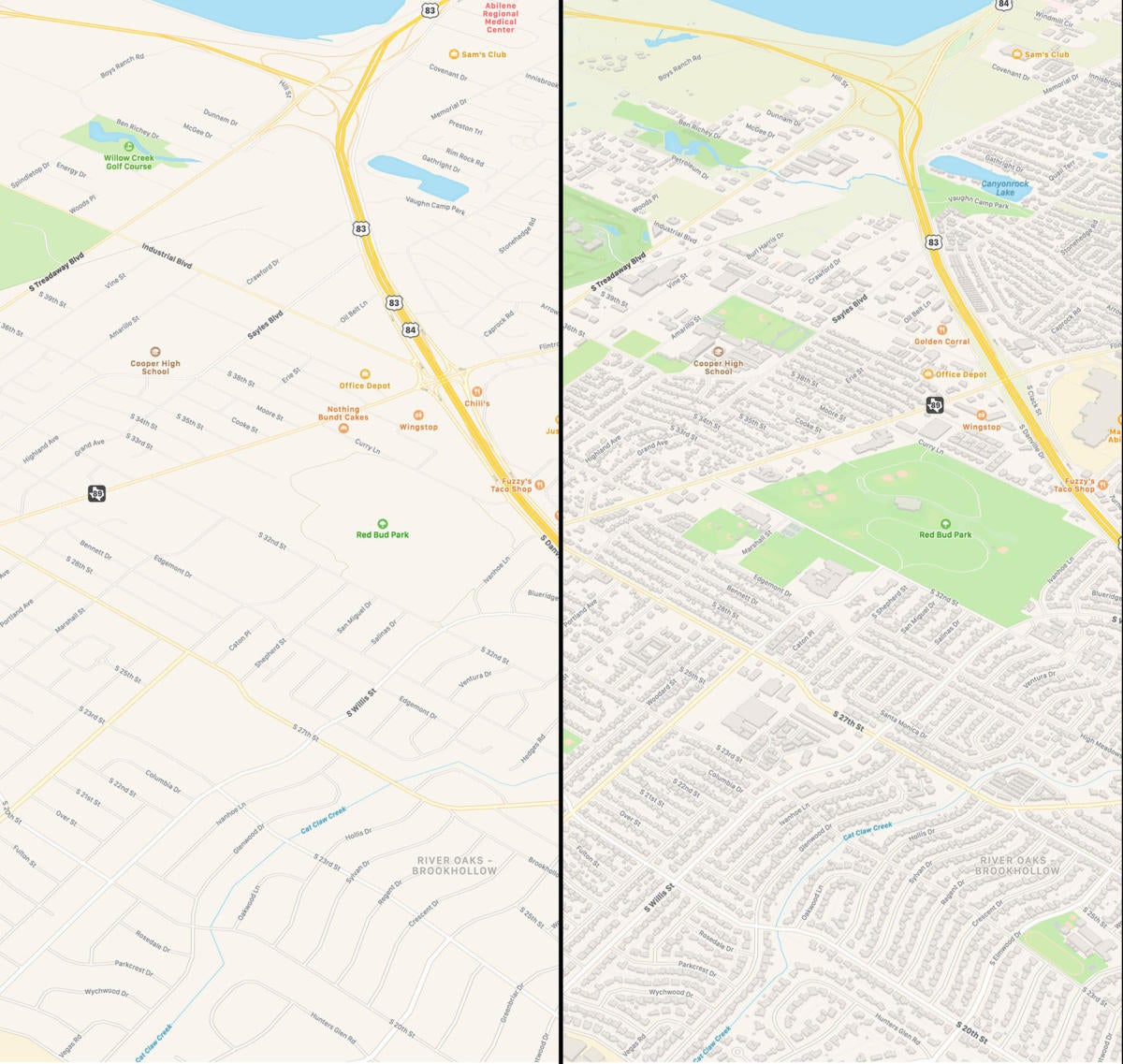 Those new maps rolled out to northern California with iOS 12, but iOS 13 will bring it to the rest of the U.S. by the end of 2019, with additional countries seeing the rollout in 2020.
Having tested the new maps in multiple different cities in Northern California, I can say it's a massive improvement in detail and accuracy.
Look around
Apple's answer to Google's Street View—which is now more than a decade old—is Look Around. When you're looking at a map and see a pair of binoculars, tap it to enter Look Around mode. You'll see a 360-degree panorama of that location on the map, complete with labels on buildings and a beautiful smooth-scrolling effect as you virtually travel around.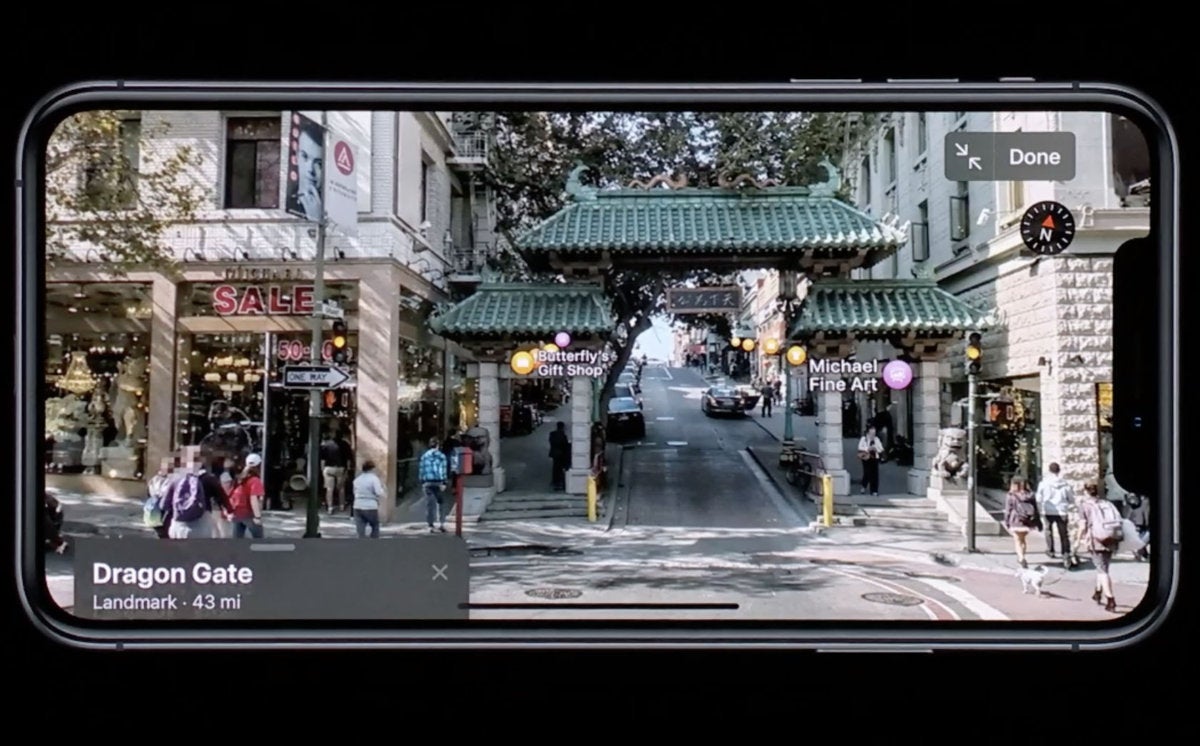 It's prettier than Google Street View, but available in far fewer locations. Apple is expanding Look Around locations over time, but it still has a long way to go.
Favorites and Collections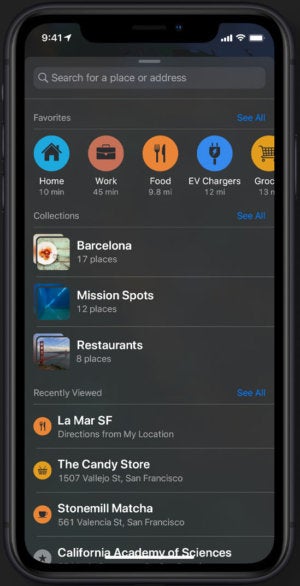 You've been able to mark a favorite location on Apple Maps for years now by tapping the little heart icon on the location card. But Apple is making Favorites an actual useful feature in iOS 13. You can create a list of favorite locations—home, work, the train stop, the gym, whatever—and see a horizontally-scrolling list of them right when you open the Maps app. You're never more than a couple taps away from navigating to the places you visit most.
Beneath the Favorites list on the main Maps screen, you'll find Collections. These are lists of locations you create around whatever theme you want: restaurants to try, points of interest in a town you plan to visit, or whatever. As with Favorites, these are encrypted and stored on your device. But Collections are made to be shared, so, for example, you can put together a list for your vacation itinerary and easily share it with your group.
Share ETA
Speaking of sharing with the group, when you're navigating to a location with turn-by-turn directions, you can easily share your ETA to your favorite contacts with just a couple of taps. They'll get a map with your location, route, and time of arrival.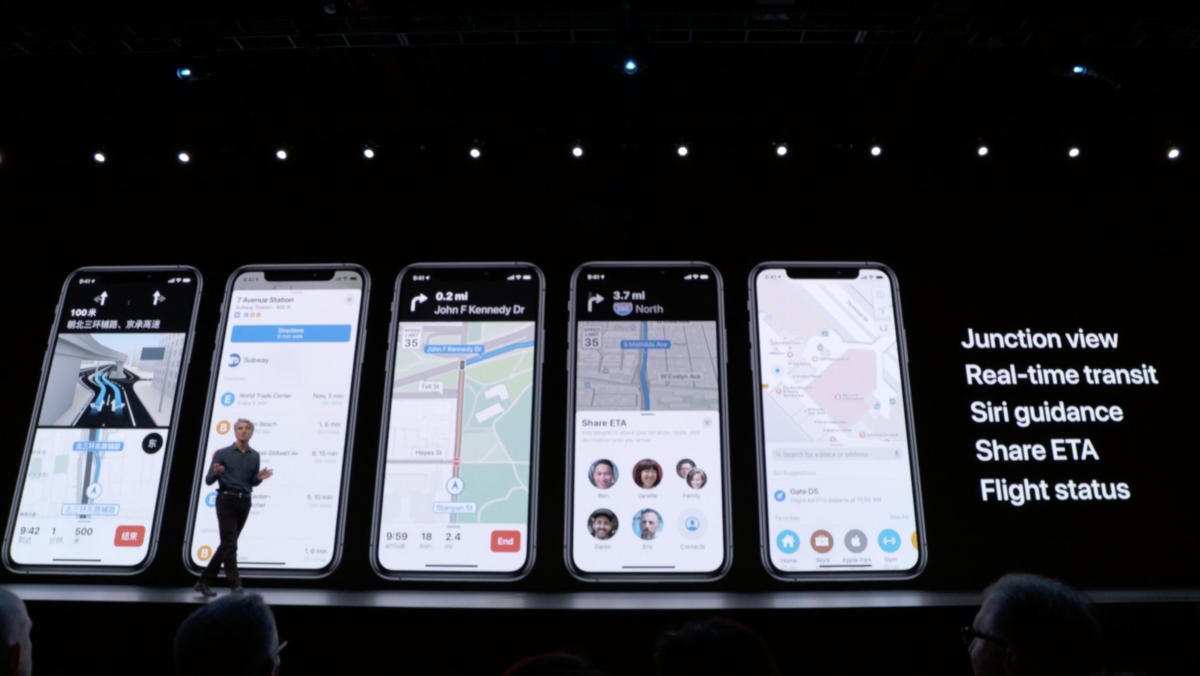 Real-time transit and flight info
Maps will now show real-time transit info for supported mass transit systems, so you'll know whether your train is still 20 minutes away or if you need to hustle to the subway station.
Trying to catch a flight? Maps can now give you your terminal info, gate info, and departure times.
Interface tuning
Beyond cramming in all these new features, Apple is continuing to make small improvements to the basic Maps interface. The badge showing the weather and air quality index is cleaned up a little, and you'll see traffic information all the time rather than only when using turn-by-turn directions as in iOS 12. Of course, as with all of Apple's apps, it has been themed to look great with Dark Mode on, too.
With a tuned interface and more realistic, detailed, and accurate map data (not to mention a wealth of new and useful features), the Maps app in iOS 13 essentially seems all-new. If you've been using Google Maps for years because Apple Maps just doesn't get the job done, then you might find that iOS 13 represents something of a reboot of the entire service and a reason to try it again—at least, once the new map data is available in your area.