Since the iPad was introduced in 2010, users have endured the same Safari experience they knew from the iPhone, which fueled jabs that Apple's tablet was little more than a gigantic version of the iPhone. Interfaces for commonly used sites like WordPress wouldn't load properly. Google Docs forced you to a dedicated app that lacked features of both the desktop and mobile versions. Sometimes you simply couldn't see key interface elements that you'd get on the desktop version of a site.
Apple has finally given us a Safari browsing experience that makes it easier to take the iPad seriously as a laptop alternative or replacement. With iPadOS 13, here are some of the treats you can expect.
Desktop-class browsing
All the other changes essentially build off this one. The app's "user agent" now tells a website that the iPad's owner is using the macOS version of Safari, and so (for the most part), you'll see the same thing you'll see if you visited a certain webpage on a Mac. (It also means some interface options have flipped: Instead of seeing "Request Desktop Website," you'll now see "Request Mobile Website.")
Apple optimized all inputs for touch, so you should be able to interact with screen elements with your finger as easily as you might with a mouse. You can even use USB or Bluetooth mice on iPads now through an Accessibility setting called "Assistive Touch," but Apple isn't doing much to advertise the feature.
Desktop-class browsing on the iPad eliminates many of the core frustrations of using the iPad as a "laptop." The web interfaces for Gmail, Google Calendar, Facebook, Squarespace, and YouTube now work the same way they do on a Mac, and The Verge recently showed how Google Docs now works so well in Safari that it boasts features you won't even find in Google's dedicated app.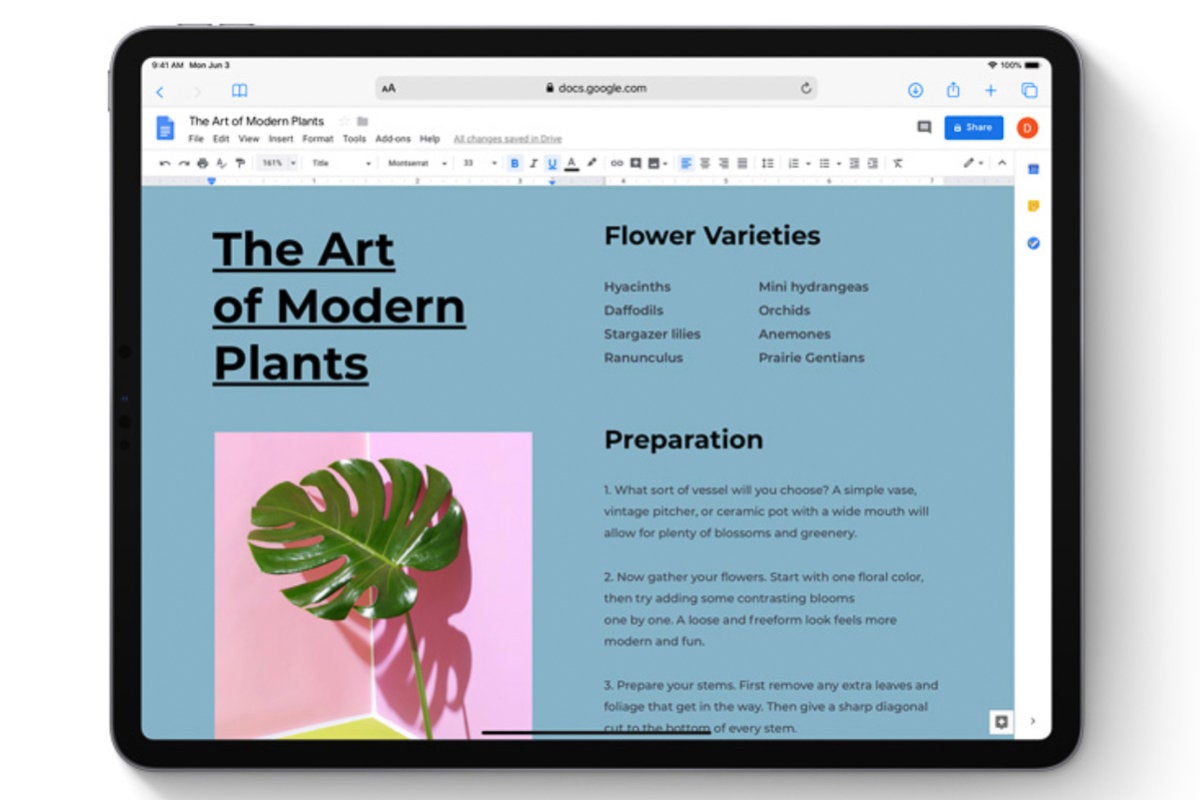 This is all good news for reasons that go beyond convenience. Google in particular always took its sweet time introducing and updating features such as Split-View multitasking for its iPad app, to the point that it was hard to shake the impression that it was delaying the updates out of spite. Since the web-based version of Google Docs now works fine on Safari on iPadOS, there's probably no more reason to worry about Google's feet-dragging if you're an iPad user working in an industry that relies heavily on Google's word processing app.
Keep in mind that you won't be getting exactly the same experience you'll get on a desktop compuer. Safari on iPadOS still doesn't support Adobe Flash, for instance, likely owing to the same concerns Steve Jobs voiced almost a decade ago—and that's highly unlikely to change.
Finally, a Download Manager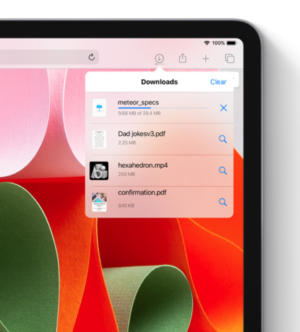 Making Safari on iPad look like its Mac counterpart is one thing, but making it act like it is equally impressive. iPadOS mainly accomplishes this with the help of a new Download Manager, which you'll find on the new Safari toolbar in the form of an icon that looks like a downward-facing arrow within a circle.
It's basically a twin of its macOS counterpart. You can click on the icon to see a list of your current downloads, and you can cancel downloads in progress by clicking the "X" icon next to them. If you want to resume them later, you can press the refresh icon that replaces the X. If you want to see the files in the Downloads folder, just press the magnifying glass icon next to the file's name.
By default, pressing that icon takes you to the Downloads section of iCloud Drive, but—wonder of wonders—it's now possible to change the preferred folder for downloads by venturing into Settings > Safari and then selecting Downloads. From here you'll see an option to save the files on your iPad or to create a special folder with a name and location of your choosing.
If you visit that folder through the Files app, you'll easily be able to share downloaded files with friends or with colleagues on a shared network. Along with iPadOS's new support for USB thumb drives, the new Desktop Manager goes a long way toward transforming the iPad into a productivity beast.
A pile of new keyboard shortcuts
One of the best reasons for preferring macOS over iOS has long been Apple's extensive support for keyboard shortcuts. With iPadOS, though, Apple is giving us a Mac-like shortcut experience on Safari when we're using either Apple's own Smart Keyboards or third-party Bluetooth peripherals like the Satechi Aluminum Bluetooth Keyboard. Apple says we'll have more than 30 new shortcuts to choose from, and it highlighted many of these in a slide during its WWDC keynote. Here's what Apple showed off at the time:

Use default font size in Reader (⌘-0)
Open link in background (⌘-tap)
Toggle downloads (⌘-Option)
Open link in new window (⌘-Option-tap)
Use selection for Find (⌘-E)
Email this page (⌘-I)
Open link in new tab (⌘-Shift-tap)
Decrease Reader text size (⌘—)
Zoom in (⌘-+)
Zoom out (⌘—)
Save webpage (⌘-S)
Change focused element (Option-Tab)
Focus Smart Search field (⌘-Option -F)
Dismiss web view in app (⌘-W)
Increase Reader text size (⌘-+)
Download linked file (Option-tap)
Add link to Reading List (Shift-tap)
Close other tabs (⌘-Option-W)
Scroll around screen (arrow keys)
Paste without formatting (⌘-Shift-Option-V)
New Private tab (⌘-Shift-N)
Actual size (⌘-0)
Open search result (⌘-Return)
Toggle bookmarks (⌘-Alt-1)
Better multitasking
One of iPadOS's best new features is that it now lets you use two versions of the same app in Split View—and you can have multiple Split View windows with the same app. That'll be particularly useful with Safari's new "desktop-class browsing." If a writer has one Safari webpage open on the left side of the Split View screen, she can open another Safari webpage on the right side with Google Docs, either for writing a draft or compiling notes.
Similarly, she'll be able to pair Safari pages with other apps such as Notes or iA Writer in multiple Split View windows, all of which will be easily visible through Exposé. Impressively, Safari in iPadOS 13 also grants access to the full range of toolbar options while in Split-View mode, which should remove some of the productivity speed bumps that formerly tarnished the experience.
Better toolbar options
In addition to the Download Manager, iPadOS 13 introduces some other improvements to the toolbar. For instance, you'll see an "AA" icon that, when pressed, gives you options for changing the text size of a website, an option to see the mobile version of a site (as mentioned above), or a handy toggle for switching to Reader View. You'll also be able to hide the toolbar itself.
Resize photos for uploads
For years we've been able to resize photos that we upload to the Mail app, either to Small, Medium, Large or Actual Size. It's a handy way of making sure you don't unnecessarily cause someone to reach their cellular data cap or don't go overboard when you just want to show someone a simple photo.
With iPadOS, Safari will have the same feature, which will be great for uploading images to social media.