Your Mac needs to trust your iPhone or iPad—and vice-versa. Apple added a Trust button to iOS years ago that appears when a device is connected to a computer, requiring a phone or tablet be unlocked and the connection confirmed. This was another layer in attempting to ensure that a device's owner really wanted that computer to have access.
However, you can run afoul of this provision. My dad wrote to me from a small island on Greece recently after he'd swapped in a Greek carrier's SIM for his unlocked AT&T iPhone. While voice, text, and data worked fine, whenever he plugged his iPhone into his laptop, he neither received a Trust dialog nor could get his phone's images to appear as available with iTunes, Photos, or Image Capture.
Apple suggests that for a trust problem, you perform a focused reset via Settings > General > Reset > Reset Location & Privacy. However, this changes all your location and privacy setting back to iOS defaults! Hardly ideal!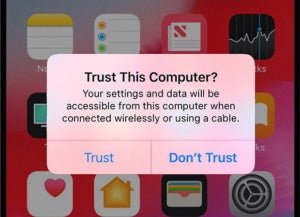 With a little digging, I found a less invasive method that. The trust system involves a little handshaking between the iOS device and a Mac. When a user taps the Trust button, macOS stores a file in a special privileged location that contains a variety of digital certificate and encryption key information. The next time the iOS device is plugged in, macOS apparently uses this to send a message back, proving it was trusted previously. Secure terminal connections can be made (for command-line access) in much the same way.
However, the SIM change out—while unrelated to a phone being unlocked for use with a computer—may have changed some state on the phone so that it no longer could validate the proof of trust that my dad's Mac sent back. There was no error: he just couldn't access data from the phone. Other folks at online forums have reported a similar situation over several years.
Whatever the precise cause, it turns out that for most people is quite straightforward.
Warning! As always with Terminal commands, there's a risk of significant problems if you mis-enter a command, which could include deleting files you didn't intend to. Make a full clone or backup first. Be sure and copy or type exactly as the command as shown below, spaces and all.
1. Disconnect your iOS device from your Mac.
2. Launch Terminal from an account with administrator privileges. (Check the User & Groups preference pane if you're not sure which accounts have this privilege.)
3. Type exactly (that's a hyphen on the end):
sudo su -
and then press Return. This puts you "superuser" mode, necessary to delete trust files.
4. A prompt appears to enter your account password. macOS shows a key icon, and characters will not appear as you type them. Enter your password and press turn.
5. If you entered the password correctly, you will see a line that says at the end root#. At that prompt, enter exactly:
rm /var/db/lockdown/*plist
and press Return.
6. With the the files in the lockdown directory removed, the next time you attach your iOS device via USB, it should prompt you again to trust the computer. Tap Trust.
7. Type Control-D to exit the superuser mode.
Now you should be back to the previous status quo, and be able to access data, particularly photos, from your iPhone or iPad, as was true for my father.
This Mac 911 article is in response to a question submitted by Macworld reader Charlie.
Ask Mac 911
We've compiled a list of the questions we get asked most frequently along with answers and links to columns: read our super FAQ to see if your question is covered. If not, we're always looking for new problems to solve! Email yours to mac911@macworld.com including screen captures as appropriate, and whether you want your full name used. Every question won't be answered, we don't reply to email, and we cannot provide direct troubleshooting advice.