With the public beta out for macOS 10.15 Catalina, you might be a thrill seeker and want to test out the in-progress version. But maybe you'd like to hedge your bets. In the past, you'd need to partition your startup drive, which could turn into a lot of effort, or get an external drive—preferably SSD—and install and boot from that.
However, there's a better way to have your Catalina and boot it, too. It's even a path Apple documents and recommends.
With Apple's not-quite-so-new APFS filesystem that replaces the long-running HFS+, drives are no longer organized into partitions, but volumes and containers. A container gets a pool of a fixed amount of storage on a drive when it's configured, but containers can have multiple volumes. Volumes share all available free space within the container without requiring any other rejiggering—they grow and shrink automatically.
(Think of this like having a measuring cup with a quart of water in it and a set of one-quart jars. You can divide that measuring cup's water in any way among the cups, including putting all the water into just one cup or pouring it from any cup back into the measuring container.)
The way this works to your advantage with Catalina is that if you have enough spare in your main container to handle Catalina—a few tens of gigabytes, but preferably more—you use Disk Utility to add a value into your main container, then install Catalina into that volume. You can then use the Startup Disk preference pane to swap among your volumes without involving an external drive at all.
This can continue to be useful after Catalina is released if you want to keep a Mojave volume active for 32-bit apps that no longer run in Catalina. I'll describe a strategy below for that.
Add a Catalina volume to your main container
Warning! Any time you make changes via Disk Utility, bad things can happen unintentionally. Make sure and have an up-to-date clone or back up your drive before proceeding.
Launch Disk Utility.

Make sure View > Show All Devices is selected.

Select your startup drive's main container in the drive list at left. It may be named something like "Container disk2."

Click the + (plus) sign above the Volume button at the top of the screen.

Name the volume something descriptive, leave other options alone, and click Add. This should take just a moment to complete.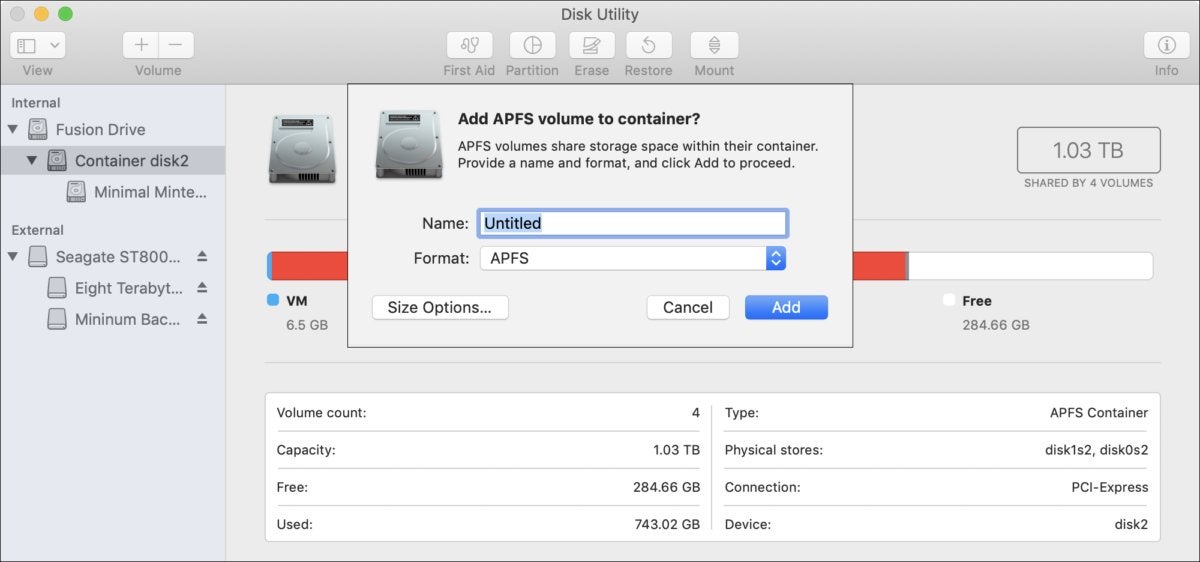 Now you can go through through our steps for installing the public beta of Catalina. When you get to the drive selection stage, it's absolutely critical you are sure you are selecting the new volume just created. When I tried this the first time, that volume didn't immediately appear. I needed to click Show All Disks, but also retry the installation a few times before I could pick my new volume. It's unclear why, but it worked in the end.
After Catalina has installed and you've set it up with a new account, you should return to your previous macOS installation, as you will want to unenroll that system from the public beta so it's doesn't try to install Catalina updates!
Open the Startup Disk preference pane.

Select your previous macOS startup volume. (You may need to click the lock at the lower-left corner and enter your password.)

Restart.

In your older system, open the Software Update preference pane.

Under note at left that say your Mac is enrolled in the public beta, click the Details button.

Click Restore Defaults and follow prompts.
Keep Mojave active after Catalina's released
Normally, when a new OS comes out, you run the update process, and it upgrades system files in place. When it finally restarts, the older version of macOS has been wiped away.
With the container and volume approach, however, you can migrate within the container, and have the advantage of retaining your old Mojave installation for backwards compatibility with older apps. (Some people used to rely on virtual machine software to run old versions of macOS, and that's still a viable option, especially if you see yourself needing to run the older version for several years.)
This approach benefits from how the container shares free space among its volumes. When Catalina is released, you update your Catalina volume, and then migrate Mojave-associated applications, files, and settings from the Mojave volume to the Catalina one.
Then you can delete all the Mojave apps, files, libraries (like Photos, iTunes, and iMovie), and other settings you no longer need there. That space then becomes freed up in the container, and available to your Catalina installation. But you can still boot into Mojave as needed, and use apps not compatible with Catalina.
If you have enough storage to duplicate everything through migration, you can just start up with Catalina, run Migration Assistant, and use the Mojave volume as the origin. Delete unneeded files in Mojave when you're done.
If you don't have enough storage to duplicate all your Mojave files and the like, you need to first make a Time Machine backup or clone of the Mojave installation to an external drive, then delete the files you no longer will need in Mojave to free up space for the migration to Catalina, and finally use Migration Assistant in Catalina to pull from the Mojave external drive.
Ask Mac 911
We've compiled a list of the questions we get asked most frequently along with answers and links to columns: read our super FAQ to see if your question is covered. If not, we're always looking for new problems to solve! Email yours to mac911@macworld.com including screen captures as appropriate, and whether you want your full name used. Every question won't be answered, we don't reply to email, and we cannot provide direct troubleshooting advice.