If your Mac is running macOS Catalina, you can now use your iPad as a secondary monitor with the new "Sidecar" feature. It's ridiculously easy to set up wirelessly through AirPlay.
First, a few notes. Unlike with some existing third-party screen-sharing apps such as Air Display 3, you can really only use your fingers on the display for simple actions such as scrolling through text.
The Apple Pencil works as a "mouse," though—and that includes using it to alter and create images through the full version of Adobe Photoshop while we're waiting on the proper iPad version to appear. Apart from the Apple Pencil, interaction involves a number of shortcuts on the borders of the interface—and you can press these with your fingers. Notably, Apple also includes relevant Touch Bar actions when someone is using an app on the iPad through Sidecar, so in Safari, for instance, you'll see the visual toggle for the different tabs.
We'll map all that out in a bit. First, here's how to set it up.
How to set up Sidecar through AirPlay
Make sure your Mac is running macOS Catalina and that your iPad is running iPadOS. You do not need to unlock the iPad for Sidecar to work.
Select the AirPlay icon on your Mac's Menu Bar. It looks like a rectangle with a solid triangle pointing upward at the bottom.

Find the iPad you want to use as a secondary monitor and select it. In the example here, it's "Leif's iPad."

Your iPad should immediately start working as a secondary display. You'll see an empty desktop pop up on your iPad, and the AirPlay icon on your Mac's main menu bar will turn into a light blue rectangle.
You can also send an app to Sidecar at any time (even if it's not turned on yet) by holding your mouse over the green expansion button that you find on the top bar of a Mac app. A menu will pop up, and and pressing Move to [iPad] will immediately send it over to the iPad and activate Sidecar.

To stop using your iPad as a secondary display, press the blue rectangle again. You'll see a menu pop up. Press Disconnect and the iPad will go back to being a normal iPad.
You can also mirror your Mac's display instead of using the iPad as a secondary monitor by pressing AirPlay icon—the blue rectangle—and selecting "Mirror Display."
How to customize your iPad's Sidecar interface
By default, your iPad running Sidecar has a two-bar interface border around the display area that you can interact with using your fingers. If you find these bars distracting, you can turn off both of them by clicking AirPlay's blue rectangle in the Mac's menu bar and clicking Open Sidecar Preferences at the bottom. (You can also access this by going to your Mac's System Preferences and selecting Sidecar.) In the menu that pops up, you can disable the left sidebar and the Touch Bar interface (or change their positions). You'll also see options to enable double taps when using your Apple Pencil or whether you see a pointer when using the Pencil.
But you also might find these shortcuts useful. Here's a description of everything you'll find.
Dock alignment. Press one of these to easily bring your macOS dock over from the Mac itself (and tap it again to send it back).

Command (Hold down to set the modifier key, such as Command-K to open a new window. You can also double-tap it to lock it in place.)

Option

Control

Shift

Undo

Show keyboard

Disconnect Sidecar

Touch Bar. Much like the Touch Bar on your MacBook, this interface changes depending on which app you have open.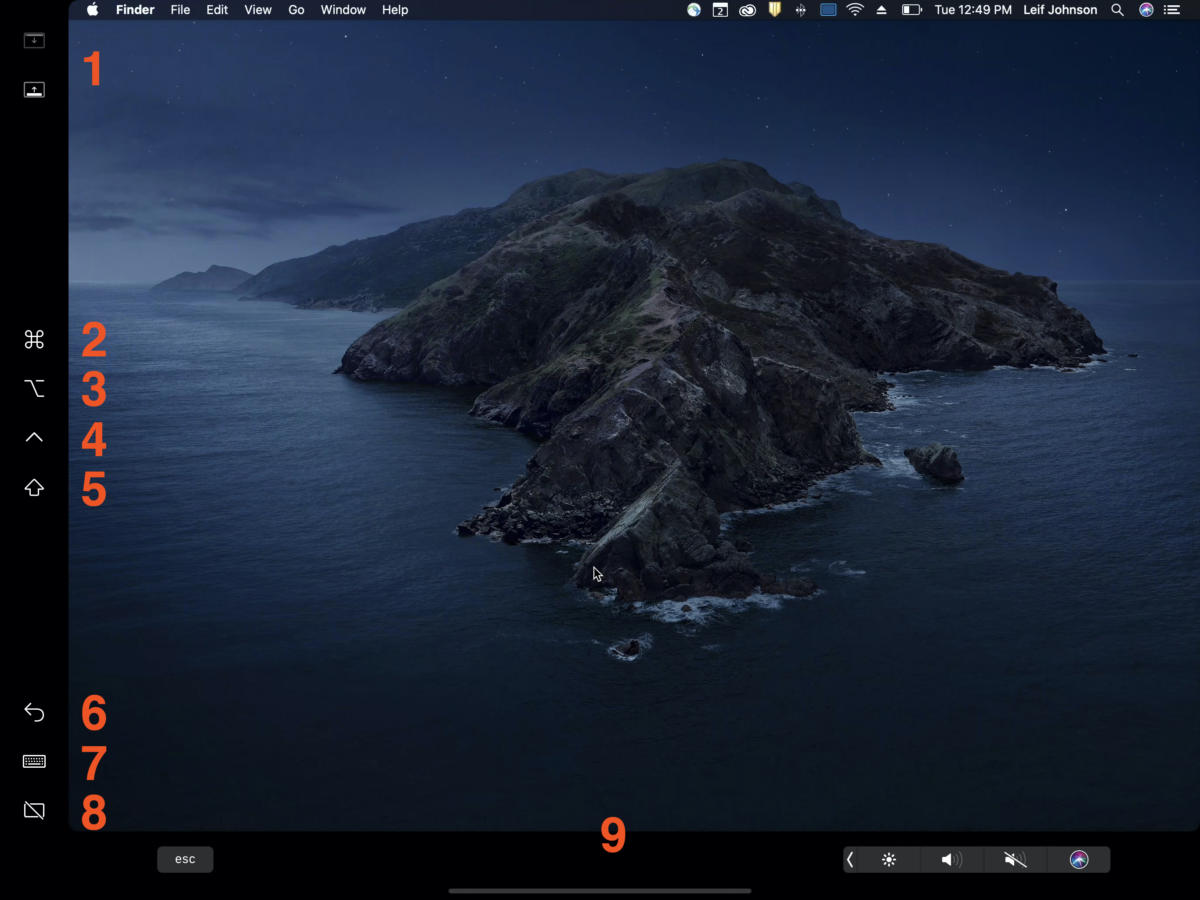 How to arrange your iPad's display in relation to your Mac's display
The easiest way to arrange your displays is to click on the blue rectangle in your Mac's menu bar once your iPad is connected and then clicking Open Display Preferences in the menu that pops up. You'll then want to go to Arrangement in the menu that appears.
You can also do this the long way:
Open your Mac's System Preferences.

Press Displays.

In the menu that pops up, select the heading that says Arrangement.
From here you can arrange your displays as needed. If you want to be able to access your iPad's display by moving your cursor off the left of the Mac's screen, for instance, arrange the blue screen representing your iPad so it's to the left of the Mac's icon in the interface. (By default, the Mac's interface should have a white bar across the top.)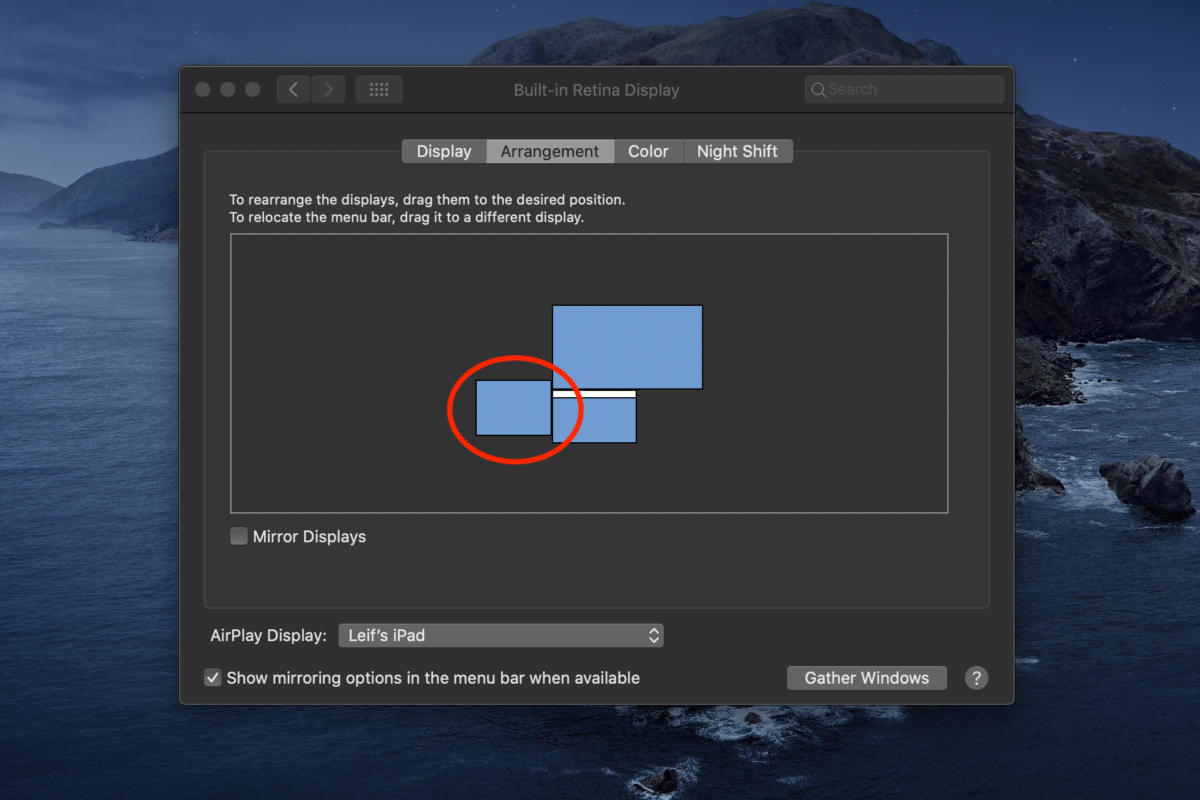 When you move the icon representing the display, the actual display should light up with a red outline that lets you know you've selected the right one. Once you're done, simply close System Preferences and get to work.
Note: Apple will even let you use your iPad as a tertiary display if you've already got a second monitor hooked up. You can also keep it connected to your Mac with a cable for charging, although you'll need the proper cable. In the case of the 2018 iPad Pro and a MacBook, for instance, this requires a USB-C to USB-C cable.
Which Apple devices can use Sidecar?
We currently have no concrete information regarding which Macs can support Sidecar, but developer Steve Troughton-Smith found code suggesting that the feature is roughly limited to Macs made since 2016. (One exception is the 2015 27-inch iMac.)
As for the iPad, you can safely assume that Sidecar will work on any iPad that can run iPadOS 13. We tested it with three different models, and they all worked fine. The following devices are capable of running iPadOS 13:
iPad Pro (all generations)

iPad (5th and 6th generation)

iPad mini (4th and 5th generation)

iPad Air (3rd generation)

iPad Air 2