At a Glance
Expert's Rating
Pros
Fast access to system audio settings from menu bar
Magic Boost button improves audio levels in one click
Per-application audio controls with built-in EQ, support for AU plugins
Cons
Play-thru functionality dropped from previous version
Can't adjust output sample rate for dedicated video hardware
Super Volume Keys setting doesn't work with Thunderbolt-to-HDMI converters
Our Verdict
SoundSource 4 is a menu bar utility for changing the volume, output, and audio device settings for individual apps, with support for adding built-in or third-party audio effects in real time.
Best Prices Today: SoundSource 4
For all the advancements Apple has made over two decades with the Mac operating system, it's surprising how little attention core features like menu bar audio control have received. Traditionally little more than a convenient way to adjust volume without opening System Preferences, beginning with macOS 10.12 Sierra the basic slider was embued with the ability to also switch between output devices—and inputs too, by first holding down the Option key.
If you're thinking, "there must be a better way," you'd be right. Rogue Amoeba, the creators of awesome audio solutions like Audio Hijack and Fission, have taken the wraps off SoundSource 4, a more powerful way to control sound coming and going from your Mac, no matter which application you're using.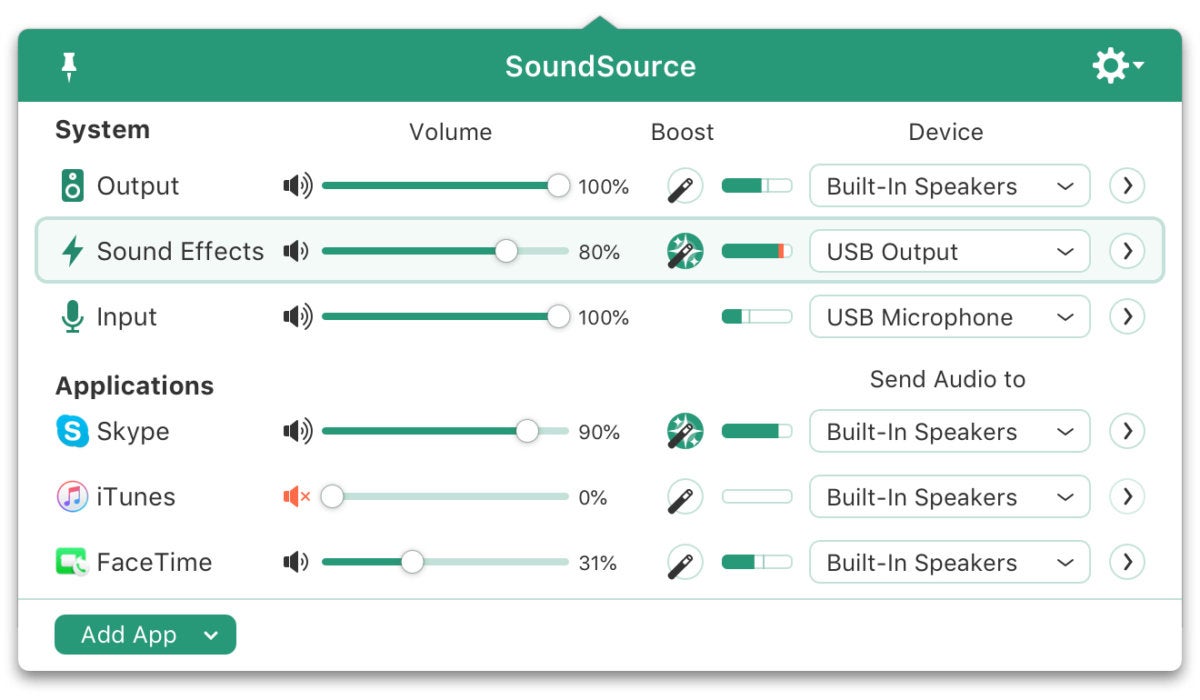 Superior control
SoundSource resides in the menu bar, summoned via mouse click or global hotkey of your choosing. From this window, you have fast access to the Output, Input, and Sound Effects of your system devices, each with its own volume slider and pulldown menu.
In addition to a more elegant UI, SoundSource provides audio meters for each item, plus a Magic Boost button to help level out the sound being output from your Mac. This feature works exceptionally well with small MacBook speakers, but the sound from a connected home theatre receiver also benefitted while playing music and especially movies, where dialogue was clearer and easier to hear.
By default, SoundSource tethers to the menu bar, but clicking the pin icon in the upper left corner conveniently detaches the window so it floats over whatever else you're doing. Aside from choosing a different system sound effect, you'll never have to open Sound Preferences again, but the settings gear includes convenient shortcuts to those options as well as Audio MIDI Setup, should you need it.
Sweeter sound
If that's all SoundSource did, it would still be worth the money, but version 4.0 kicks things up a notch with per-application audio controls. This allows users to raise, lower, or mute the output of individual apps, enable Magic Boost only for specific software, or redirect apps to a different output altogether. This amazingly powerful addition comes configured with a selection of sound-producing apps when you install SoundSource, but others can easily be added, with drag-and-drop support for arranging icons in any order you like.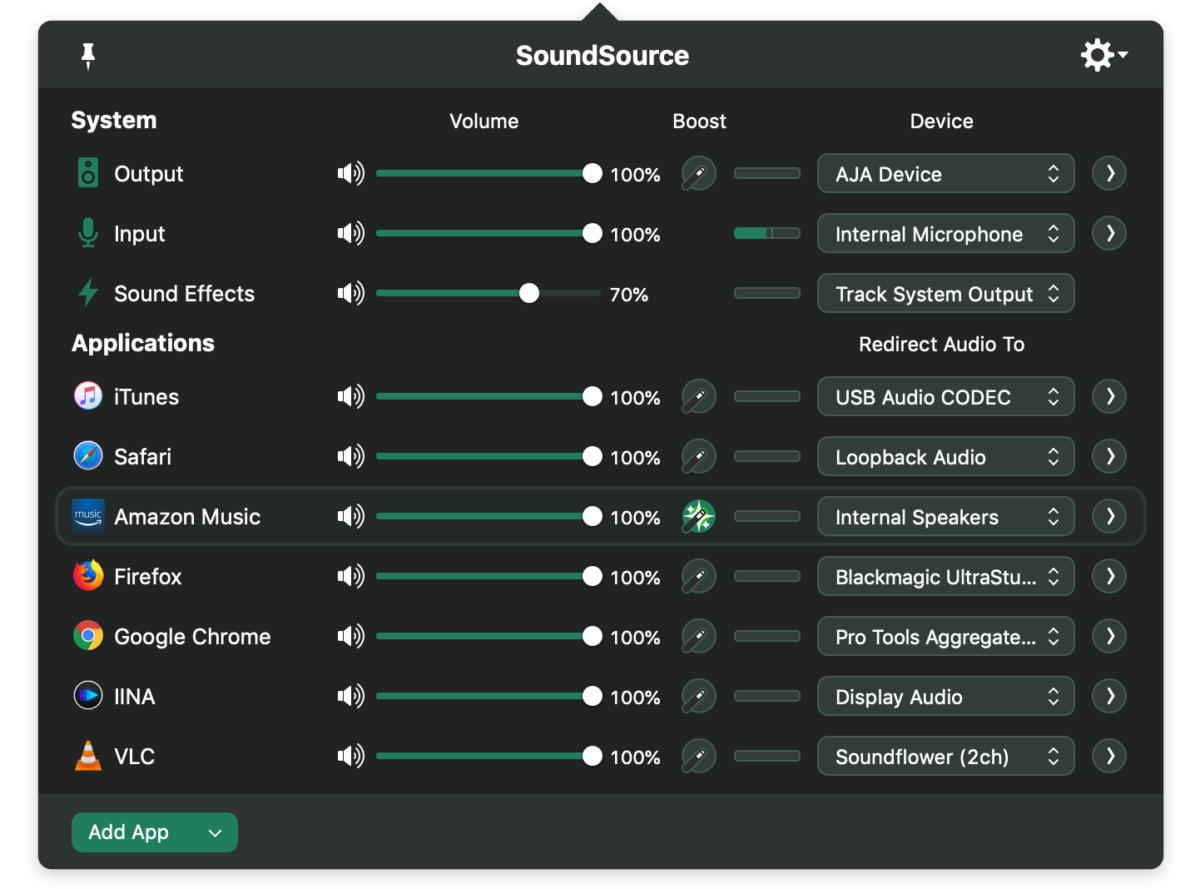 Even more cool, each output comes equipped with a 10-band Lagutin equalizer, balance slider, and the ability to apply Audio Unit effects. That's right—if you already have AU plug-ins installed on your system, they'll now work directly in SoundSource 4 straight away, while the equalizer includes over 20 presets with the ability to create and save your own. These advanced options are tucked away out of sight, accessible by clicking the right-facing arrows next to each device or application. The software makes it easy to switch between input or output sample rates—that is, unless you have dedicated video hardware which locks the output sample rate at 48Hz.
SoundSource 4 supports macOS Dark Mode and includes an option to display the output volume indicator on the menu bar just like the current Sound preference setting. That may seem trivial, but I toggled this option on, disabled Apple's "Show volume in menu bar" option, then moved SoundSource 4 to the same position on the menu bar using the Option key and haven't looked back.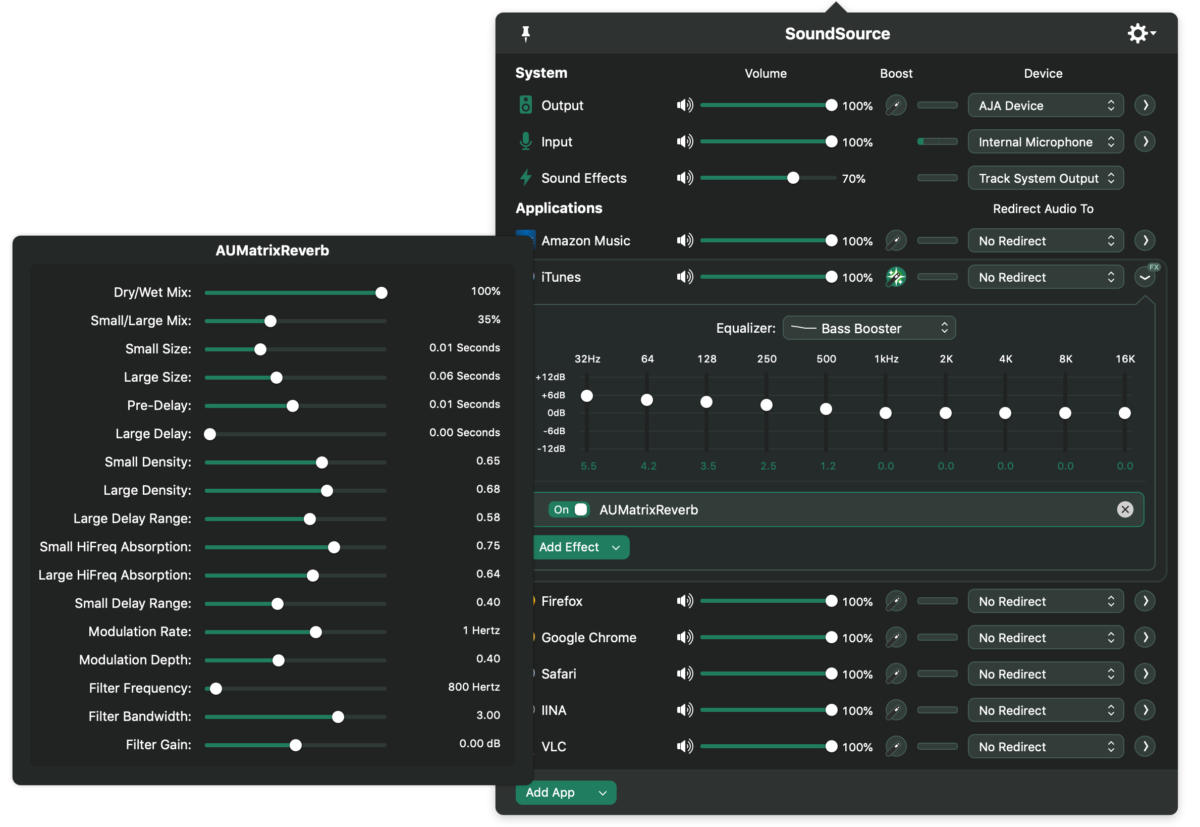 Finally, there's a clever Super Volume Keys option, which enables keyboard volume control for external HDMI devices and DisplayPort monitors that don't natively support it. We couldn't get this to work with our AJA T-Tap connected to a Yamaha receiver, but that had more to do with the hardware conversion from Thunderbolt to HDMI output than a limitation of the software itself.
The news isn't all rosy for longtime SoundSource users, however. Version 4.0 drops support for audio play-thru of input devices. The developer explains this feature, which monitored incoming audio through the Mac, was only used by "a small group of users" and "no longer a good fit" with SoundSource. (Personally we don't miss it, but for those who do, check out the company's excellent Audio Hijack instead.)
Bottom line
SoundSource 4 is must-have utility for any Mac user who wants more control over audio input and output, and truly puts Apple to shame for how anemic the built-in macOS controls really are.
Best Prices Today: SoundSource 4