It only took 12 years, but Apple Maps will finally get a feature that resembles Google's Street View when iOS 13 and iPadOS 13 drop sometime later this year. (Unfortunately, it doesn't work with macOS.) Look Around works a lot like Street View, but it comes with some attractions of its own, including smoother transition animations and photos that use parallax in order deliver a 3D-like depth you don't find Google Maps.
It's also really easy to use, as you can see below.
One catch: Look Around is currently a very limited feature, as you'll only be able to use it in the United States, and even then you can only use it in places like the Hawaiian island of Oahu and California's San Francisco Bay Area. Apple is steadily collecting imagery for other locations, though, and you can get an idea of its progress through this page.
How to use Look Around with a specific address
Open the Maps app.

Enter the location or address you'd like to see Look Around for in the search bar that says, "Search for a place or address" toward the bottom.

Press the proper address from the available selections.

Once the map for the location opens, you have two options:

For a minimized Look Around view, press the icon with binoculars in the upper right-hand corner, which should be under the icons for Settings and pinpointing your location. If Look Around data is available, you'll see a Look Around image pop up. You can either press Done to exit or press the expand icon with two arrows in the upper-left of the preview if you want to see the imagery in fullscreen mode.

For a more immediate fullscreen view, should also see a preview of the Look Around view under the address once Apple Maps pulls it up. Press the preview image, and it should immediately expand to fullscreen mode. Once you're done, you can either use the minimize button in the upper left-hand corner or press Done.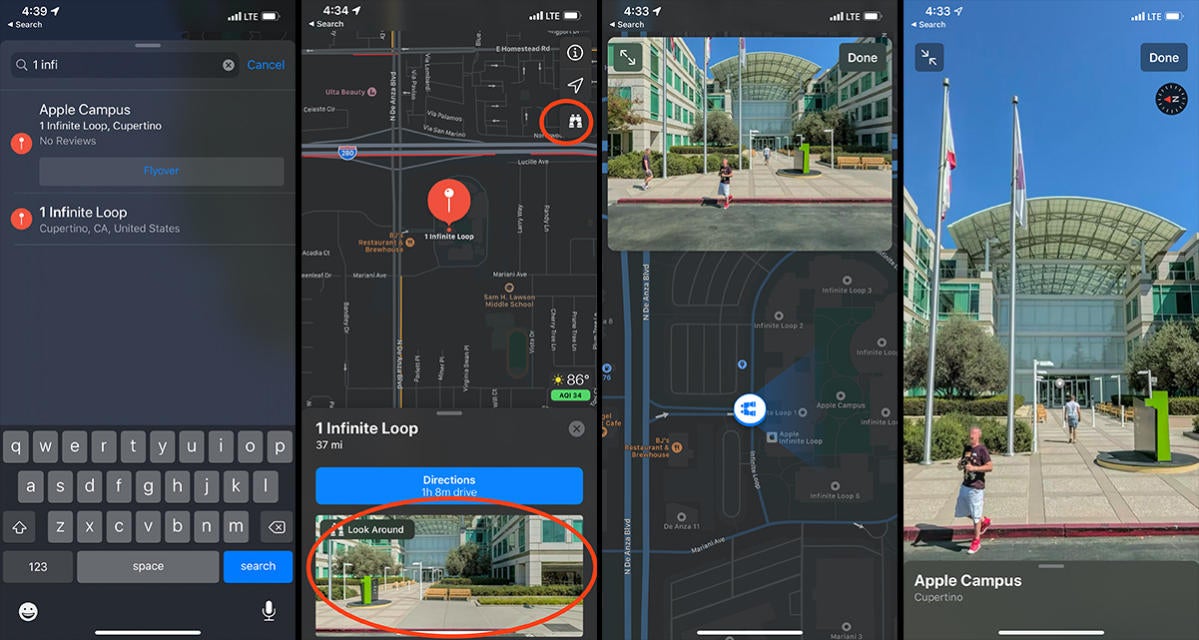 How to use Look Around without entering an address
I often like to use Google's Street View as a "virtual tourist" by dropping Google's little orange man in a spot that looks interesting. This sort of thing is possible with Look Around—so long as Look Around is supported in the area, that is—but it's comparatively awkward.
For one thing, the binoculars icon that announces if Look Around is supported only shows up if you've zoomed in close to the desired location. Like, really close. Sometimes you'll even have to zoom in if you used the search tool: If you look up the Golden Gate Bridge, for instance, you'll find that the span is so long that the Look Around icon won't show up in the upper right unless you zoom in further manually.
Open Maps.

Use your fingers to navigate to a general location.

Zoom in close until the binoculars icon appears in the upper right. Press it.

The Look Around feature will choose a spot around the middle of the map, and the Look Around preview for that spot will show up at the top. To look at other spots, simply pinch or swipe your fingers around to center the circular binocular icon on the map in a desired location. You can even zoom out during this process for a wider view, but if you go too far, you'll see warnings saying either, "Zoom in to see street imagery" or "Imagery is not available for this area." To get it to work, you'll have to zoom in again.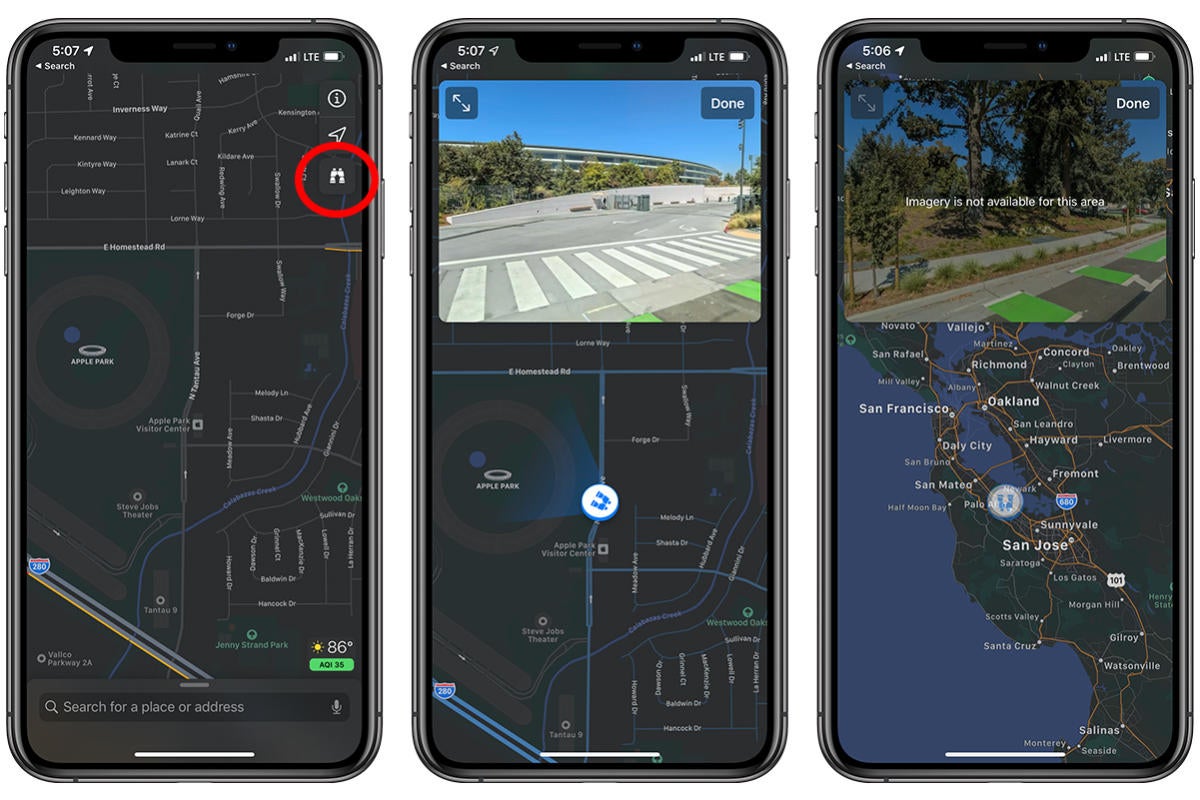 Considering how limited the rollout of Look Around currently is, you'll probably be seeing this error a lot. Hopefully many more locations will be available when iOS 13 drops in the fall.