At a Glance
Expert's Rating
Pros
Feature set for entry-level models now matches rest of the lineup
Boost in multi-core performance
Touch ID and T2 makes the laptop more secure
Cons
Only two Thunderbolt 3/USB-C ports
Keyboard is still noisy
Our Verdict
Best Prices Today
Apple's recent revamp of its MacBook lineup makes it a lot easier to understand the target audiences for Apple's laptops. And with the release of the new 13-inch 1.4GHz Core i5 MacBook Pro, Apple also made it easier to pick a 13-inch model.
It's easier now because you don't have to decide if you're willing to sacrifice any features when picking an entry-level model over the higher-end ones. Before the newly-updated base model was released, there was a division within the four 13-inch models. Apple offered two entry-level models without the Touch Bar, and two high-end models with it. (The entry-level models were missing some other features, as well, but the main missing feature was the Touch Bar). So when it came down to picking a 13-inch MacBook Pro, you had to consider whether you were willing to give up some features for the lower price.
The Touch Bar-less models are no more—they now have the Touch Bar and those other missing features at the same prices as before. Now, it basically comes down to processor speed, storage capacity, and price.
Apple last updated the entry-level 13-inch MacBook Pro in 2017. If you have an older MacBook and have been holding out on an upgrade because you've been waiting to see what Apple does with these models, you won't be disappointed—unless you really don't care for the Touch Bar. The new 13-inch 1.4GHz Core i5 MacBook Pro offers an attractive performance boost over its predecessor, especially with software that takes advantage of multiple processor cores. Combine the performance and the new features, and you have a laptop that now feels like a true member of the MacBook Pro family.
Introducing the Touch Bar
Apple introduced the world to the Touch Bar in the 2016 MacBook Pro, but left it off the two most affordable 13-inch models. In case you're not familiar with the Touch Bar, it's a strip of touchscreen that replaces the top row of Function keys you find on a typical keyboard.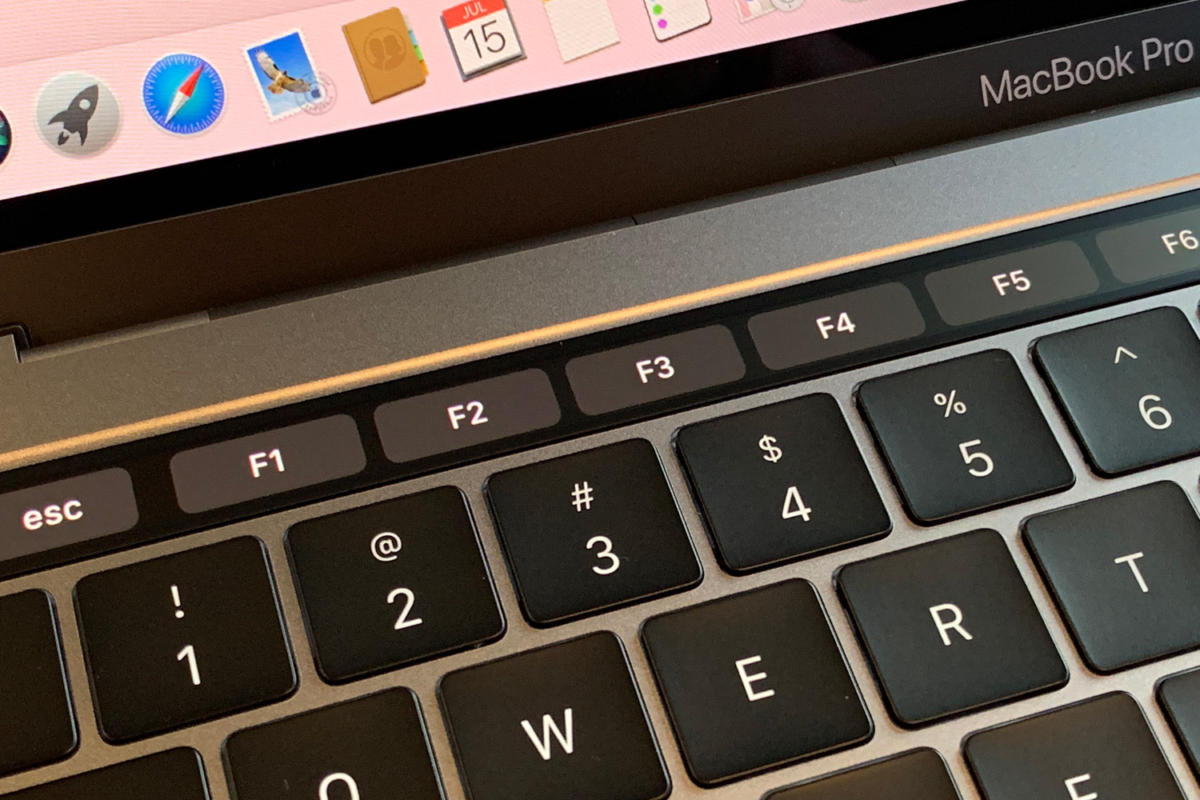 The interface options that appear on the Touch Bar change based on what you're using on your Mac. If you're in Safari, for example, you may see buttons of your Favorites, and pressing a button will take you to that particular website. If you have several Safari tabs open, they'll appear in the Touch Bar, and you can switch between them by pressing each one. The Finder, Mail, Maps, other Apple apps, and third-party apps show interface options on the Touch Bar. It can be a useful way to navigate your Mac.
Or you may find the Touch Bar excessive. Many users would rather have the Function keys than the Touch Bar, because those keys are important to their daily use. With this in mind, Apple made it so you can customize the Touch Bar so it shows the keys you want in the apps you use. You can also go into the Keyboard System Preferences and adjust the Touch Bar so that it always shows, for example, Function keys. Apple even has a support document to show you how you can customize the Touch Bar.
I hesitate to declare the Touch Bar either very useful or useless, because each person has a different way of using the Mac. I can say that it's not a part of my regular Mac usage, which involves touch typing while I look at the screen almost all the time. I can't make myself look down at the Touch Bar and use its interface when the same options are available through keyboard shortcuts or a few mouse clicks. Developers, in particular, lament that the esc key is a little out of place and has no tactile feel.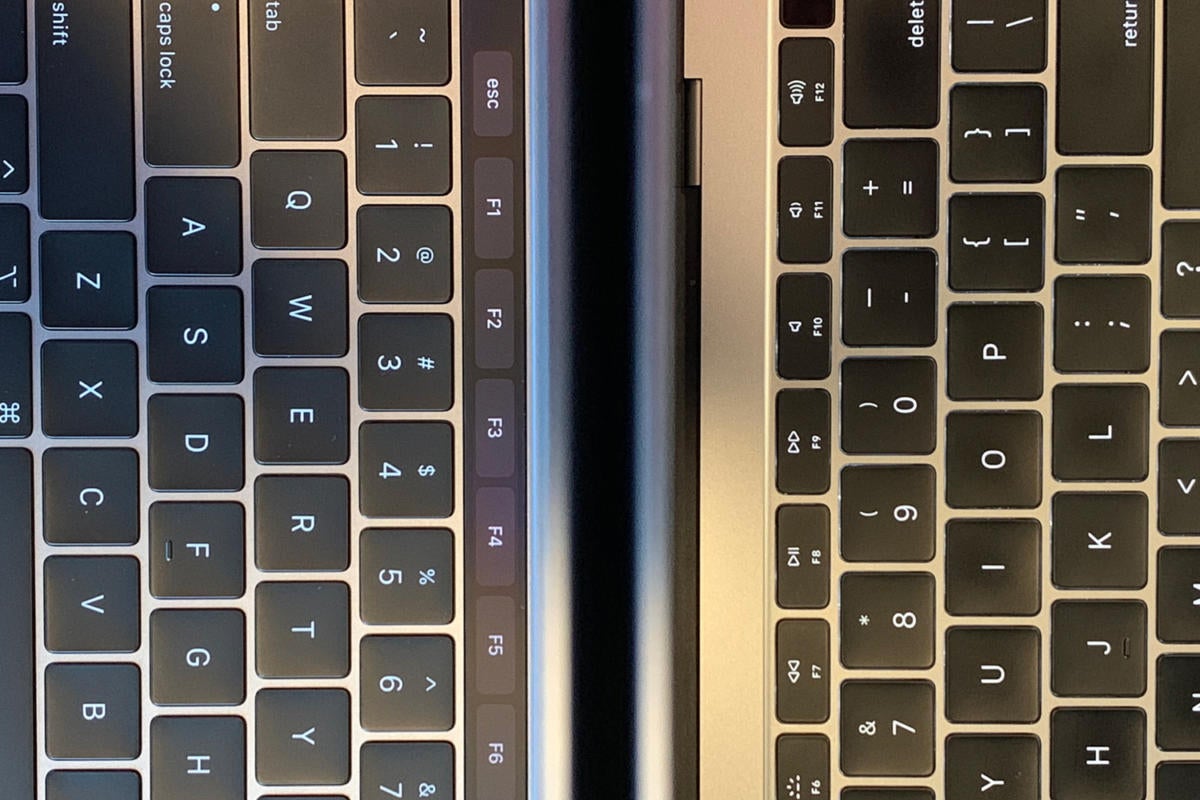 I don't find the Touch Bar to be the UI innovation it's touted to be. But perhaps the opposite is true for you; maybe you love it, or if you haven't used the Touch Bar before, will discover that your love it.
Touch ID and T2
Besides the Touch Bar, the entry-level 13-inch MacBook Pro now has Touch ID, a fingerprint sensor located on the right end of the Touch Bar. It was already available on the other MacBook Pro models, even the MacBook Air.
If you've used Touch ID on the iPhone or iPad, then you'll be right at home with Touch ID on the Mac. You can use it whenever you need to enter a password, like when you're logging back into your Mac after putting it to sleep, when you're shopping online, or when you Mac asks you to authorize a change. (When you first log into your Mac after turning it on, you're required to type in your password. After that, you can use Touch ID for the rest of that use cycle, until you shut down your Mac.)
When Touch ID first became available on the Mac, I didn't think much of it. I use a password manager and quickly access it though a menu bar icon. Most of the time, this is a fast, easy way to access and enter passwords when needed. But the more I used Touch ID on the Mac, the more I have come to appreciate it. For example, when logging into a website, clicking on the username box triggers a pop-up that shows the recorded user names that are logged into Keychain. If there's a fingerprint icon, you can use Touch ID. Press the Touch ID button, and you're in. It's a more efficient way than using my password manager—it's only saving a few seconds, sure, but it's very satisfying.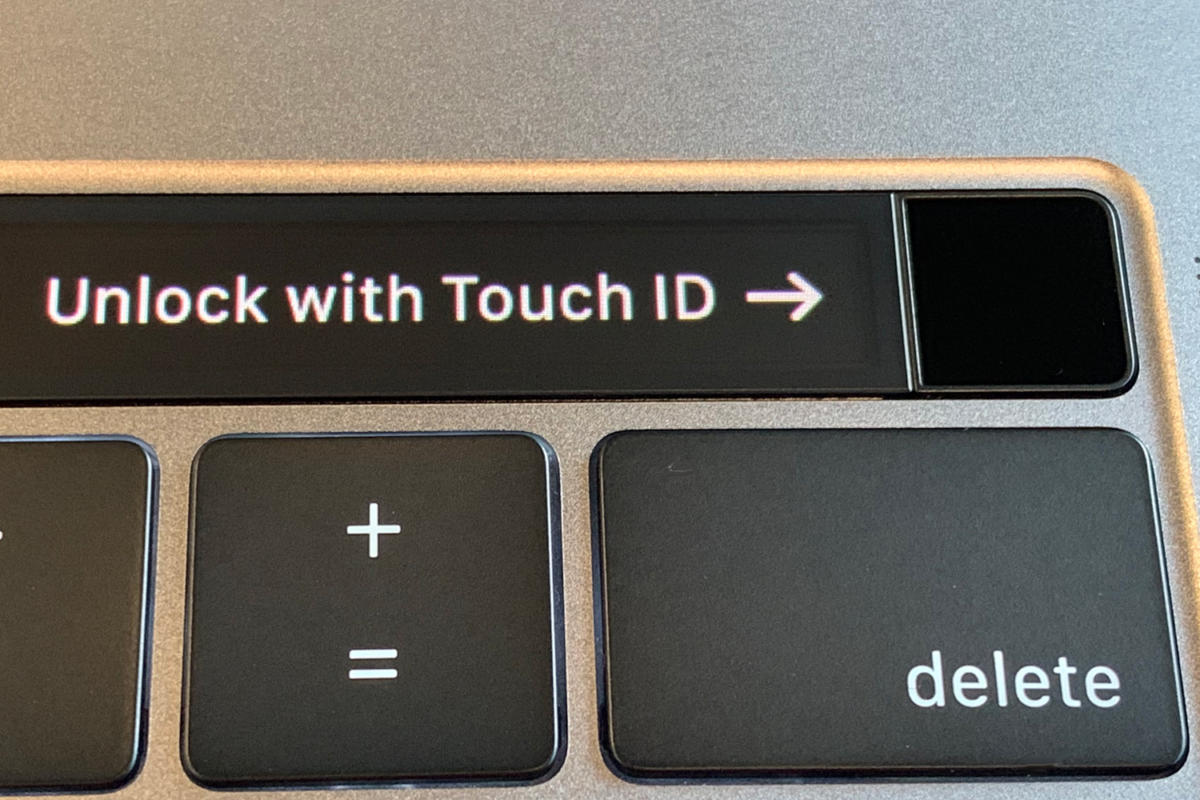 Touch ID is managed by the T2 coprocessor, which provides a secure enclave for your fingerprint data, and also handles several other security features. The T2 handles disk encryption, and support's Apple's Secure Boot feature, which checks to make sure you are running a legitimate, trusted Mac or Microsoft Windows operating system. The T2 also handles the image processing of the MacBook Pro's built-in FaceTime HD camera, which is still at a disappointing 720p resolution.
Keyboard and Thunderbolt 3
The new MacBook Pro sports the third-generation butterfly-switch keyboard that's found in the other MacBook Pros and the MacBook Air. This version of the keyboard has a silicone membrane to help keep dust out and to help dampen the sound the keys make as you type.
The third-generation version is an improvement, as least when it comes to noise suppression. It's not as loud as the previous keyboard—but it's still very loud, which tells you the previous keyboard was really loud. I never had mechanical problems with the previous keyboard, so I can't definitively say that the third-generation is better in this regard. But there have been numerous reports of keyboard problems, and while Apple has said that a vast majority of its customers enjoy the butterfly keyboard, the company does have a Keyboard Service Program that will replace the keyboard for free if a laptop is eligible. (Yes, the new 13-inch MacBook Pro is included in the eligibility list.)
My main problem with the keyboard (besides the noise) is that it's uncomfortable to type on. There's not enough key travel for my liking and it feels like I'm banging my fingers on a hard table. Sometimes my knuckles are a little sore after extended use. There's something about the key spacing that doesn't work for me, either. I make more typos using this keyboard than I do with other keyboards.
Rumors have been floating around that Apple may be developing a new scissor-switch keyboard for MacBooks in the near future. So if you want to take a wait-and-see approach towards a new laptop with a keyboard change, you'll have to wait a while.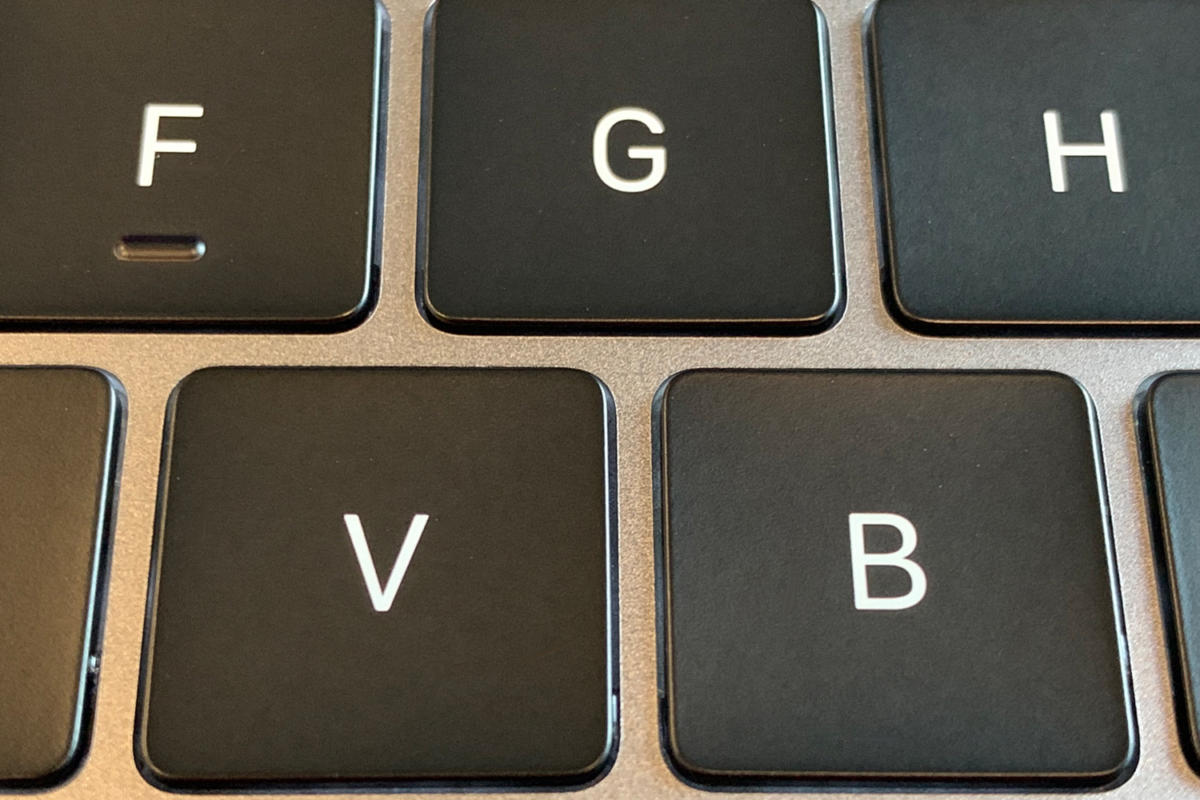 A key differentiator between the entry-level models and the two high-end 13-inch laptops is the number of ports. The $1,299 and $1,499 MacBook Pros have two Thunderbolt 3 ports on the same side, while the $1,799 and $1,999 models have four (two on each side). Having only two Thunderbolt 3 ports could be a problem if you're using the laptop in a production environment and you need to connect external storage, a display, a power cord, and other devices. The only other port on the laptop is a headphone jack.
If you think $1,799 is a steep price to pay just because you need the additional ports, remember that the $1,799 model also has a faster processor and a slightly better graphics processor. You could also consider buying a Thunderbolt 3 dock.
Inside the $1,499 13-inch MacBook Pro
The entry-level 13-inch MacBook Pro has an eighth-generation 1.4GHz Core i5 processor. Its predecessor has a 2.3GHz Core i5, but keep in mind that that is not only an older processor, it also had only two cores. The new 1.4GHz processor now offers four cores. And as we'll see in a bit, the lower base clock speed doesn't mean slower performance, as boost speeds are similar.
Apple also upgraded the graphics in the new laptop that drives the new True Tone display. Apple is going with an integrated Intel Iris Plus Graphics 645 subsystem, which replaces an Intel Iris Plus Graphics 640. The 645 uses a 128MB cache, a boost over its predecessor's 64MB, though that is shared with the main memory.
The model in this review is the laptop outfitted with a 256GB SSD, which sells for $1,499, $200 more than the baseline model that has the same processor but comes with a 128GB SSD. If you can afford the increase in storage, I recommend it. You can fill 128GB quickly, plus, a teardown of the laptop by the folks at iFixit shows that the storage module is fixed and can't be upgraded later.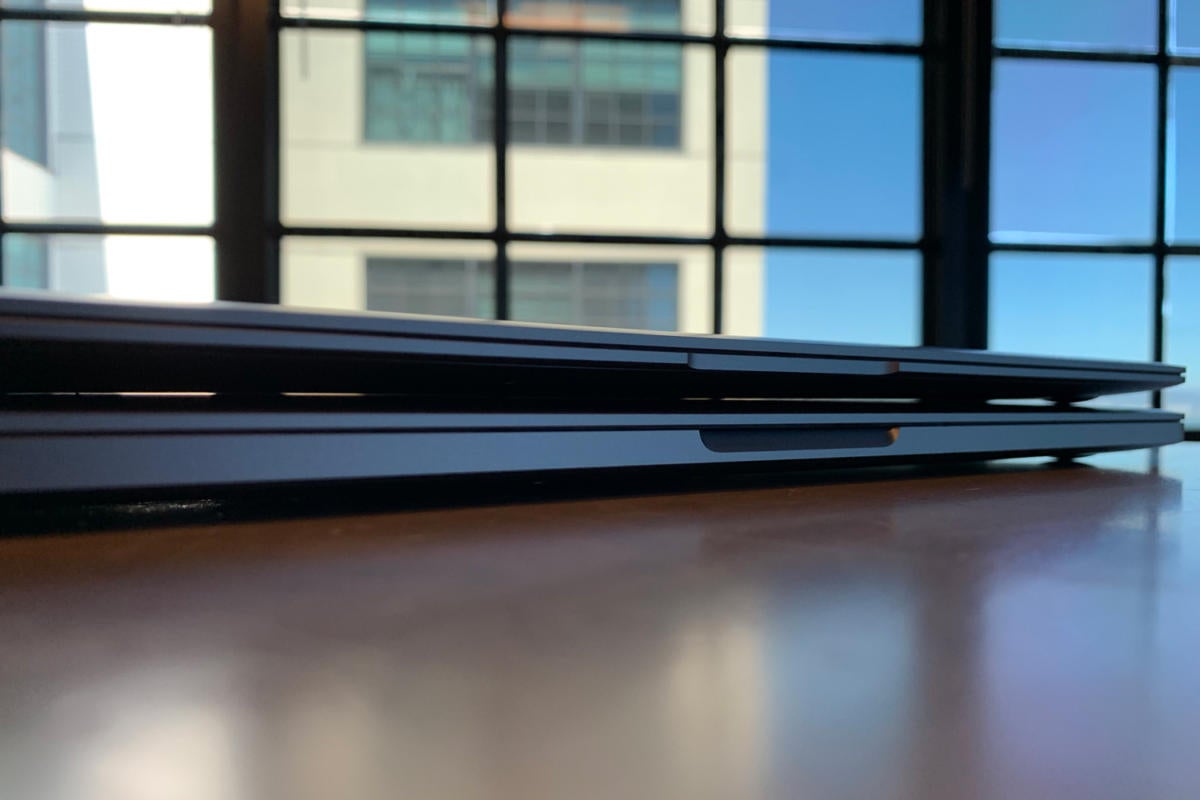 Another thing iFixit points out in its teardown is that Apple seems to have trimmed a heat pipe inside the new laptop in order to fit in the new Touch Bar and T2. Could there be issues with the new laptop running hotter than usual? During testing, I didn't encounter any heat-related performance issues and didn't notice anything unusual during regular daily use. But it's something to keep an eye on in the long term.
According to Apple's specifications, the battery in the new laptop is slightly bigger than the one in the $1,799 and $1,999 13-inch MacBook Pro. The battery in the $1,299 and $1,499 models is rated at 58.2 watt-hours, a 0.2 increase over its pricier brethren. Apple's runtime estimations for all of the 13-inch MacBook Pro models are the same, though: 10 hours of wireless web or iTunes movie playback, and 30 days of standby time.
Performance
The dual-core Core i5-7360U processor that was in the older entry-level 13-inch MacBook Pro has been replaced by the quad-core Core i5-8257U. For reference, the current MacBook Air uses a 1.6GHz dual-core Core i5-8210Y, and the now-discontinued $1,299 12-inch MacBook used a 1.2GHz dual-core Core m3-7Y32.
Geekbench 4 single-core results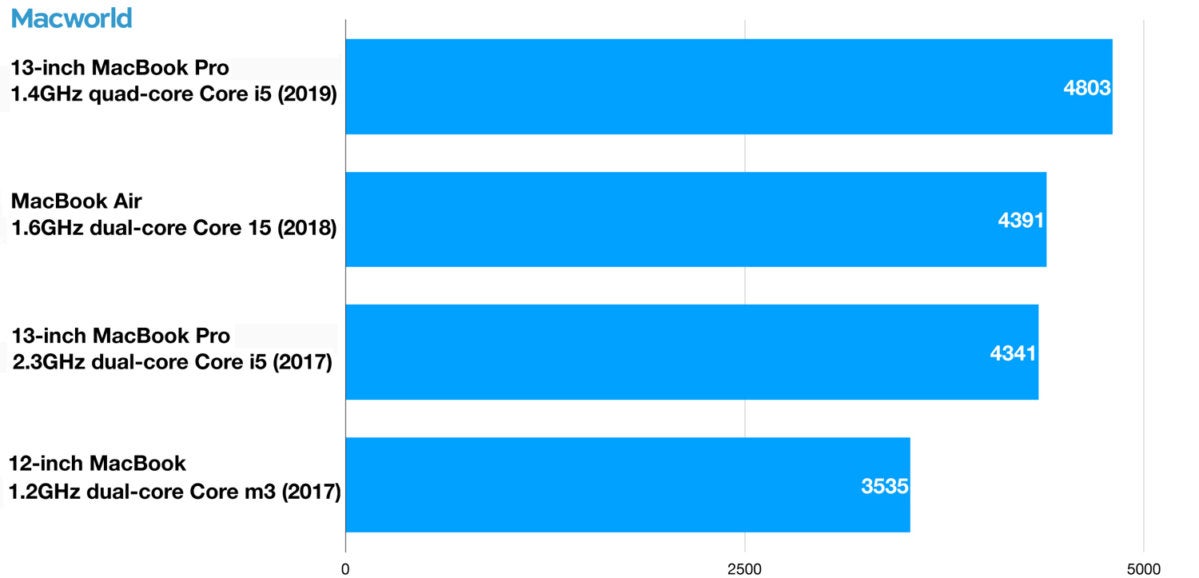 In single-core performance, the new MacBook Pro is about 10 percent faster than its predecessor. The results are similar when you compare the new MacBook Pro to the MacBook Air. One interesting note about the new MacBook's Core i5 processor: It has a 6MB cache, while the old MacBook and the current MacBook Air have a 4MB cache. That difference in cache could be part of the reason why the new MacBook Pro is faster.
The difference is much bigger when you compare the new MacBook Pro to the 12-inch MacBook, though the Core m3 in the MacBook was never known as a speedster, so the 30 percent difference isn't surprising.
Geekbench 4 multi-core results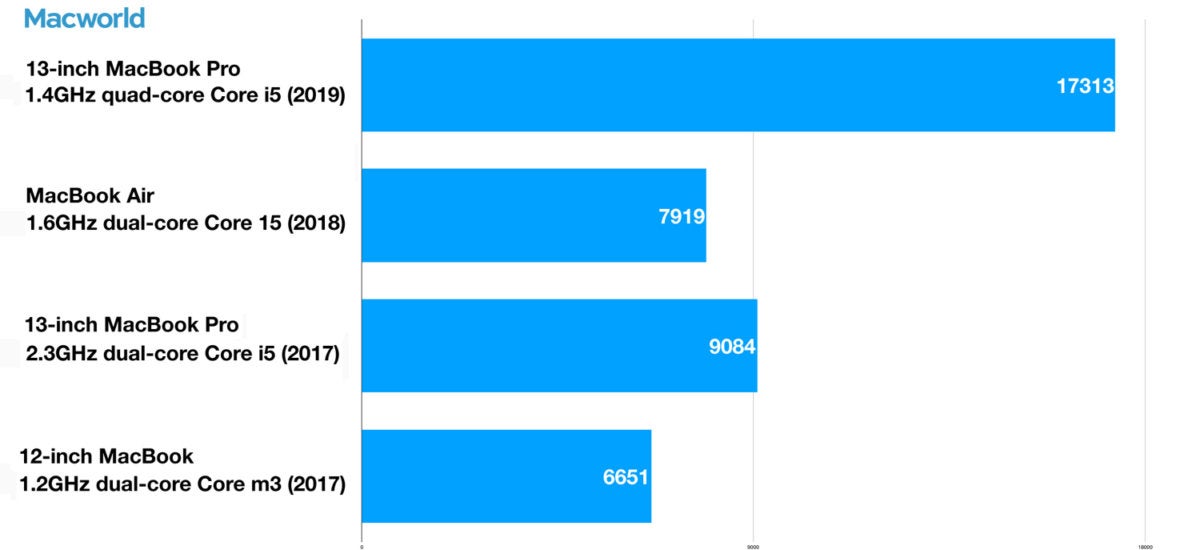 Multi-core performance is where the new 1.4GHz Core i5 MacBook Pro stands out. It has twice the processing cores of its predecessor, and so it's not surprising to find that it nearly doubles performance. The new MacBook Pro also offers more than double the performance of the current MacBook Air, which has a dual-core processor.
We ran several other benchmarks tests on the new MacBook Pro, and compared the results to the current MacBook Air. You can see those results below.
Bottom line
It's clear from the benchmark results that the people who will clearly benefit from the update to the entry-level 13-inch MacBook Pro are those in a production environment who rely on apps that take advantage of multiple processing cores. The jump from two to four cores without a jump in price is significant and makes the new laptop an attractive investment.
The modest increase in single-core performance might make owners of more recent vintage MacBooks decide to wait, especially if your daily use involves using productivity apps, internet access, and other office-type work.
Overall, it's good to see that the entry-level MacBook Pro now mirrors the features of the pricier models in the same line. It no longer feels like you're missing out on anything just because you need to save a few bucks.
More benchmark results
Geekbench 4 Compute OpenCL results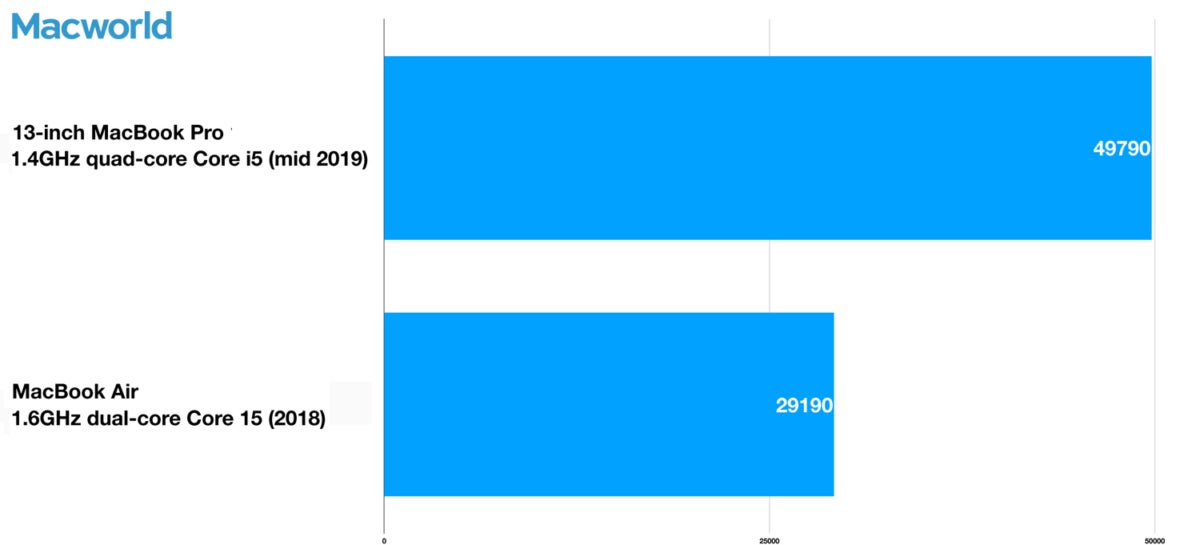 Geekbench 4 Compute Metal results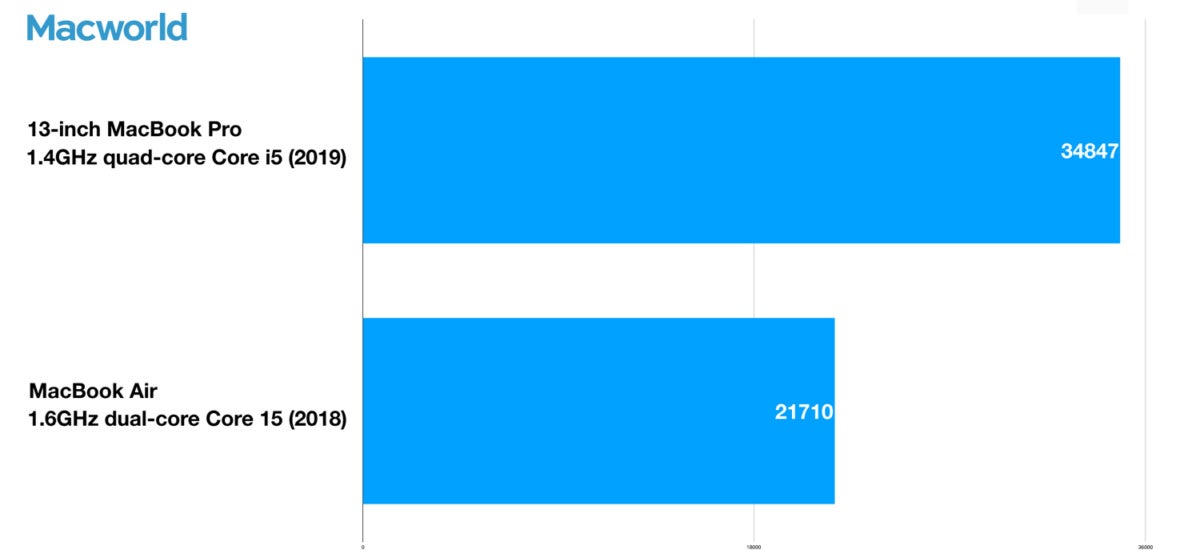 CInebench R20 CPU results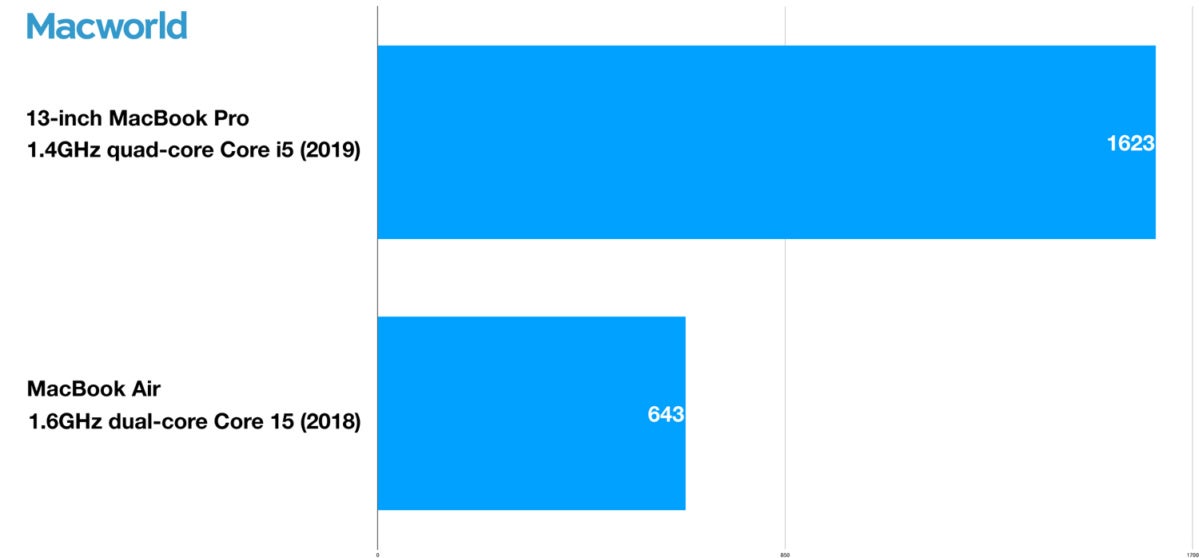 Best Prices Today
Note: When you purchase something after clicking links in our articles, we may earn a small commission. Read our affiliate link policy for more details.
Roman has covered technology since the early 1990s. His career started at MacUser, and he's worked for MacAddict, Mac|Life, and TechTV.