The most oft-used app on our iPhones is probably Safari. It is the default web browser, after all. But just behind that, and arguably more important, is the app we use to find, download, and update most of our other apps: the App Store.
Back in iOS 11, Apple gave the App Store its first big facelift in a years when it added its own editorial content in a new Today tab, split Games and Apps into their own tabs, and redesigned app pages. In iOS 13, the App Store is going through another significant revision. It's not quite as big a reorganization as in iOS 11, but it's a significant change to how you update and manage your apps.
Here's what's new in the iOS 13 App Store.
Dark Mode (naturally)
Of course, the App Store in iOS 13 supports Dark Mode, just as all of Apple's built-in apps do. You'll see white text on a black background throughout, with the light grey backgrounds of highlight boxes and cards replaced by dark grey.
Welcome, Apple Arcade
The biggest change to the App Store in iOS 13 is the replacement of the Updates tab at the bottom with Apple Arcade. (The Today, Games, Apps, and Search tabs remain unchanged.)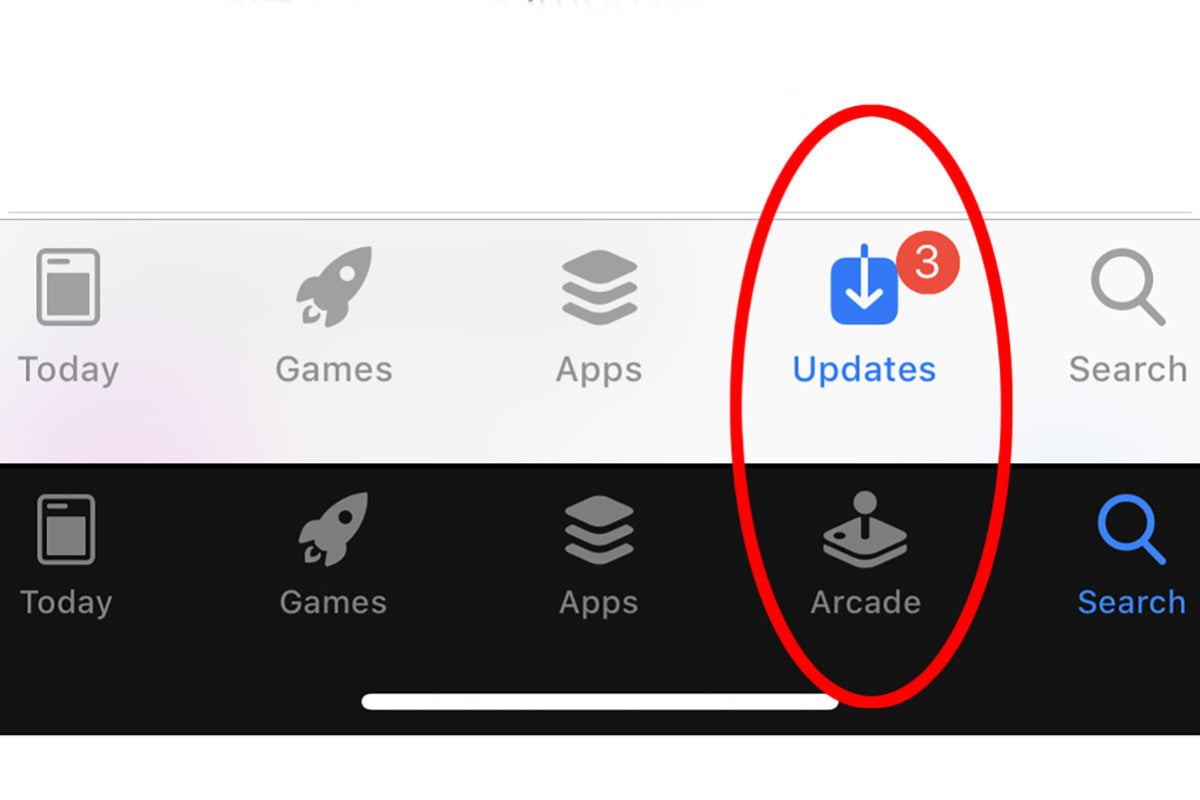 This subscription service will offer over 100 games with no in-app purchases, compatibility with iPhone, iPad, Mac, and Apple TV, and Family Sharing included.
We don't yet know what it will cost, but giving Apple Arcade its own tab in the App Store is a pretty big push.
App Updates have moved
If Arcade replaces the Updates tab, where do you go to update apps?
You'll now see your Apple ID profile picture in the upper right of every App Store tab. Tap on that to be taken to your Account page.
This is your one-stop shop for managing all your App Store…stuff. There's banner at the top to manage Apple ID settings, followed by links to all your Purchased content and Subscriptions. You can redeem or send gift cards or add funds to your Apple ID, and manage the settings for your personalized recommendations.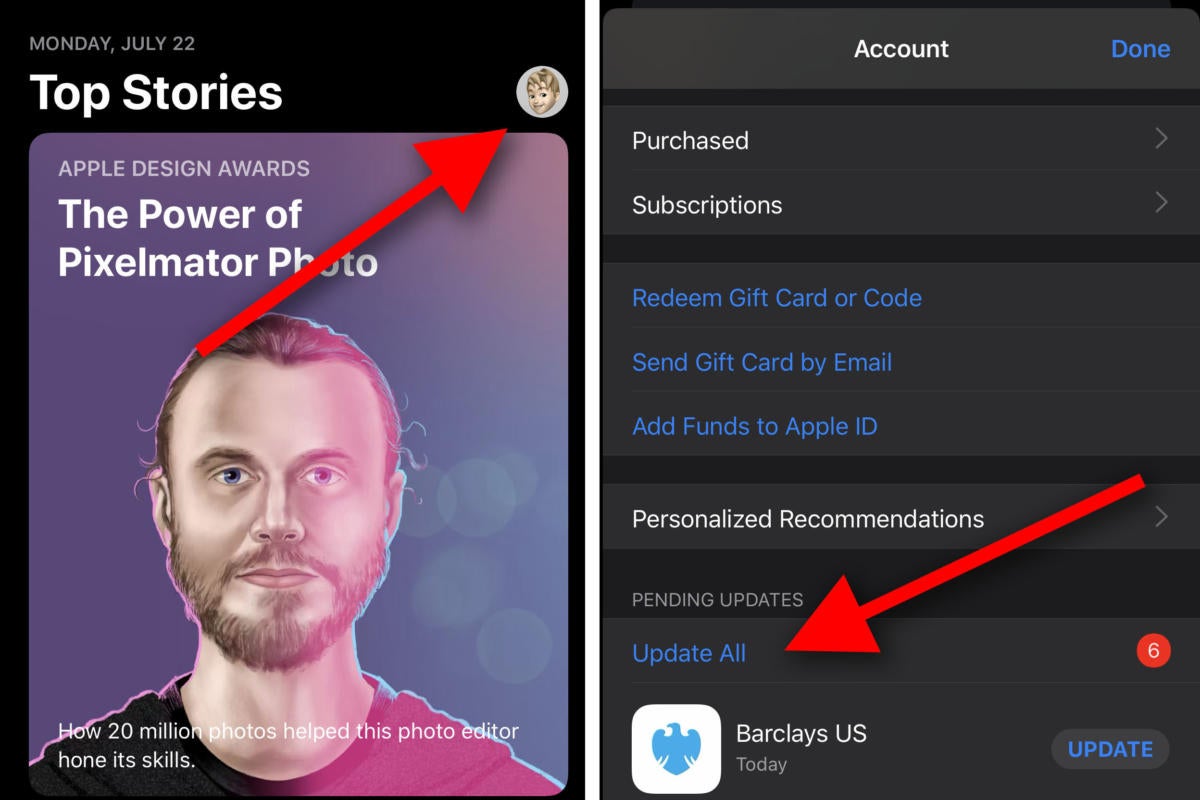 Following that, you'll see a list of all your installed apps. It starts with the apps that have an update available, followed by recently updated apps. You can update apps individually, or tap Update All.
Simply drag this screen downward to refresh the list, forcing the App Store to check for new updates.
Of course, you can still enable automatic downloads of app updates in Settings > iTunes and App Store.
Deleting apps
Until now, you had to delete apps with a tap-and-hold on the home screen or in Settings > General > iPhone Storage. In iOS 13, you can also do it from the App Store.
When looking at your list of installed apps on your Account page, whether they have an update available or not, drag the App's card to the left to show a Delete button.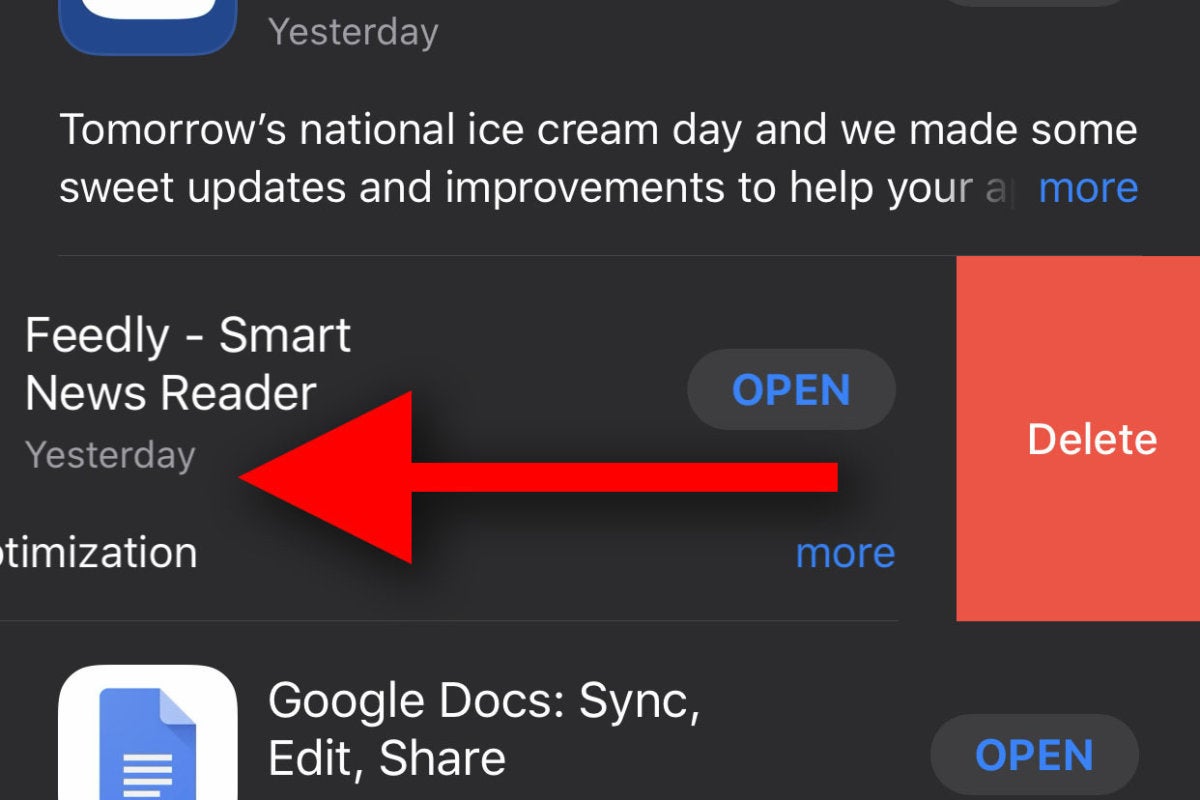 This is useful place to put app management. It's often when we see a list of apps for update that we ask ourselves why we're still downloading updates for an app we haven't used in months. Now, you can take action right away to remove an app you no longer want taking up precious iPhone storage space.