What could we see in the new iPhones next year? Will there also be new MacBooks? And your hot takes! That's all in this episode of the Macworld Podcast.
This is episode 660 with Jason Cross, Leif Johnson, and Roman Loyola.
Listen to episode 660
News
Here are articles for more information on the news we talked about on the show.
Feature discussion: Keeping iPhone users
Next week, Apple will reveal its third-quarter earnings for 2019, and the focus will be on iPhone sales, which many analysts believe will be down again. Apple's past results and surveys by non-Apple entities show that iPhone growth has stalled, and in some areas, users are leaving the iPhone. What can Apple do to turn this around? This is our main topic of discussion for the show.
For more information, click on the links below.
Two-minute tip
Now it's time for the Two-minute tip. On this part of the show, a Macworld staffer will present a quick tip for your Apple device. This week, Jason has a tip for your iPhone and iOS 13. Here are the details:
Your hot takes
We love hearing from you. Let us know what you're thinking via email at at podcast@macworld.com, or you can contact us through Twitter ( @macworld) or on Facebook.
Here are a few comments that caught our eye.
Is the higher cost of Macs (compared to PCs) worth it?: @ChrisC_NMsummer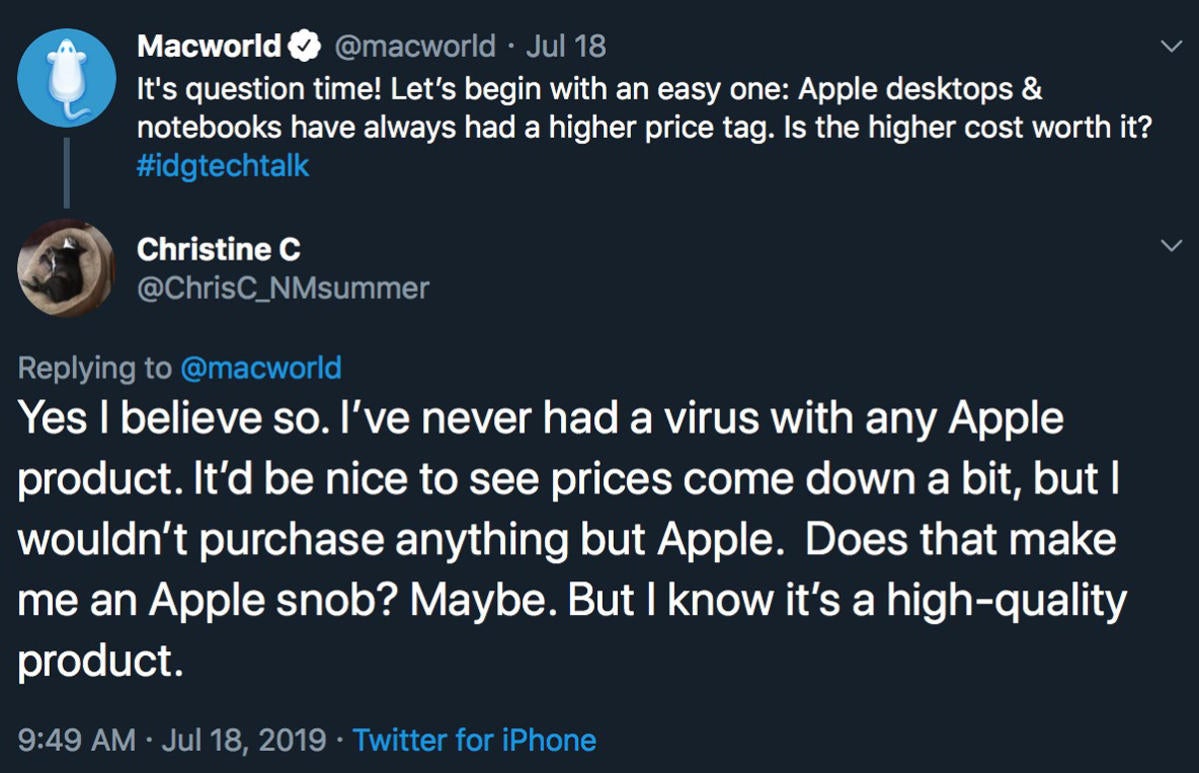 Recent MacBook lineup changes: @benrothke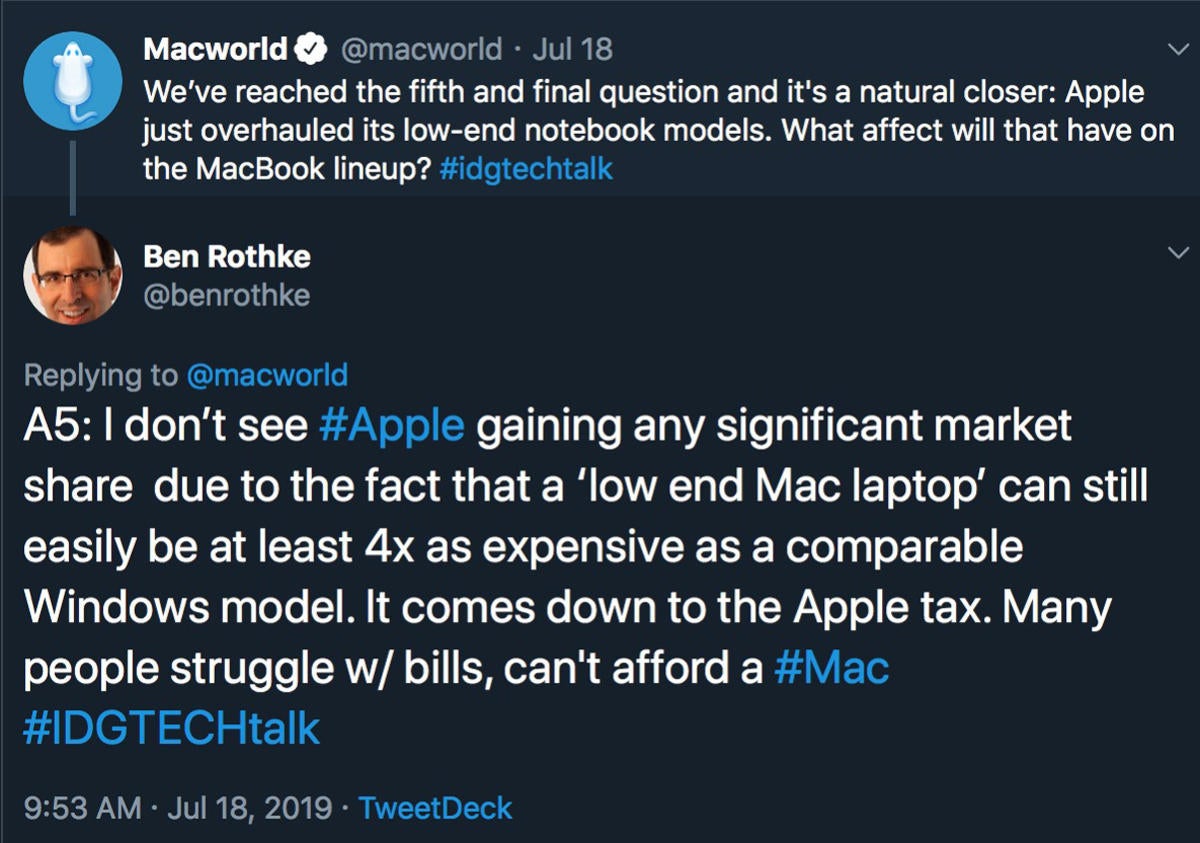 Recent MacBook lineup changes: @roodsmedia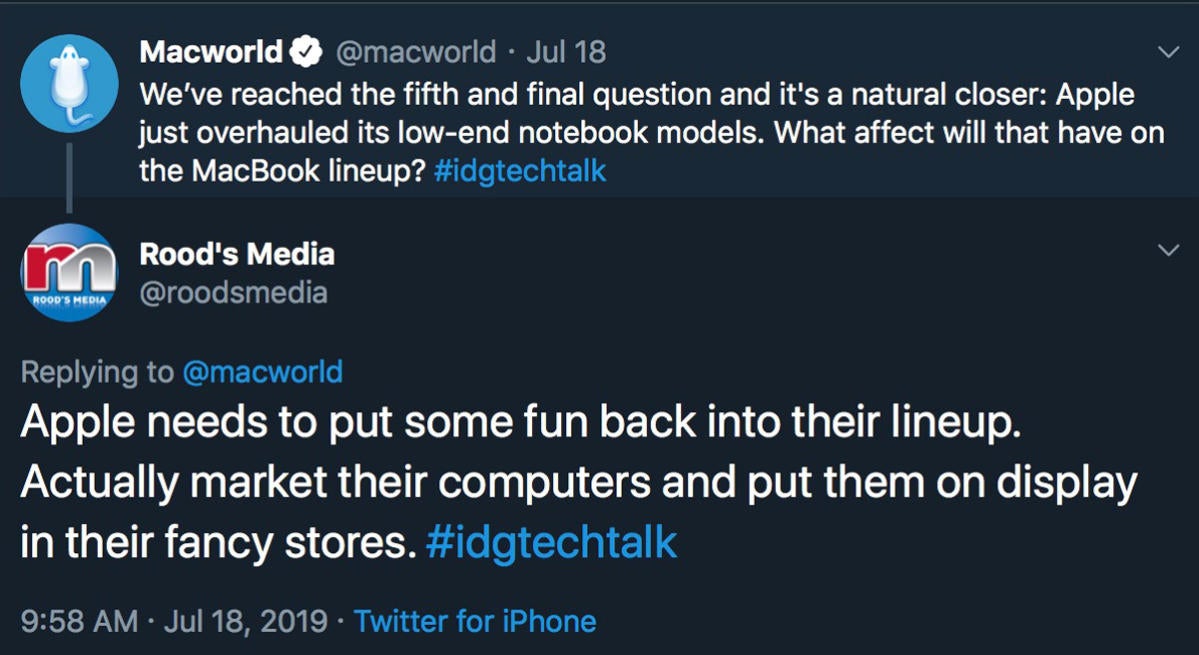 How to subscribe to the Macworld Podcast
You can subscribe to the Macworld Podcast—or leave us a review!— right here in iTunes. Or you can point your favorite podcast-savvy RSS reader at: http://feeds.soundcloud.com/users/58576458-macworld/tracks
The Macworld Podcast is also available on Spotify.
To find previous episodes, visit Macworld's podcast page or our home on Soundcloud.