iMovie lets you create movies from photos and videos, and while its interface is a little hard to understand in parts, you can overcome those limitations and master it to produce great results. But it has a few missing pieces that typically require you upgrade to something like Adobe Premiere Elements or even Final Cut Pro X or Adobe Premiere Pro CC.
One of those is adding text that overlays an image or video. Yes, iMovie has titles that you can add, but they are highly restrictive. Despite a large number of options, they're difficult to control, including where you place them on screen.
There's a low-tech/high-tech workaround that lets you use other Apple software to achieve titling results: Combine Keynote with iMovie and you can make your own text overlays, as well as intertitles and other titling cards. Why Keynote? Because it's designed to make individual slides in the same 16:9 widescreen proportion used by iMovie.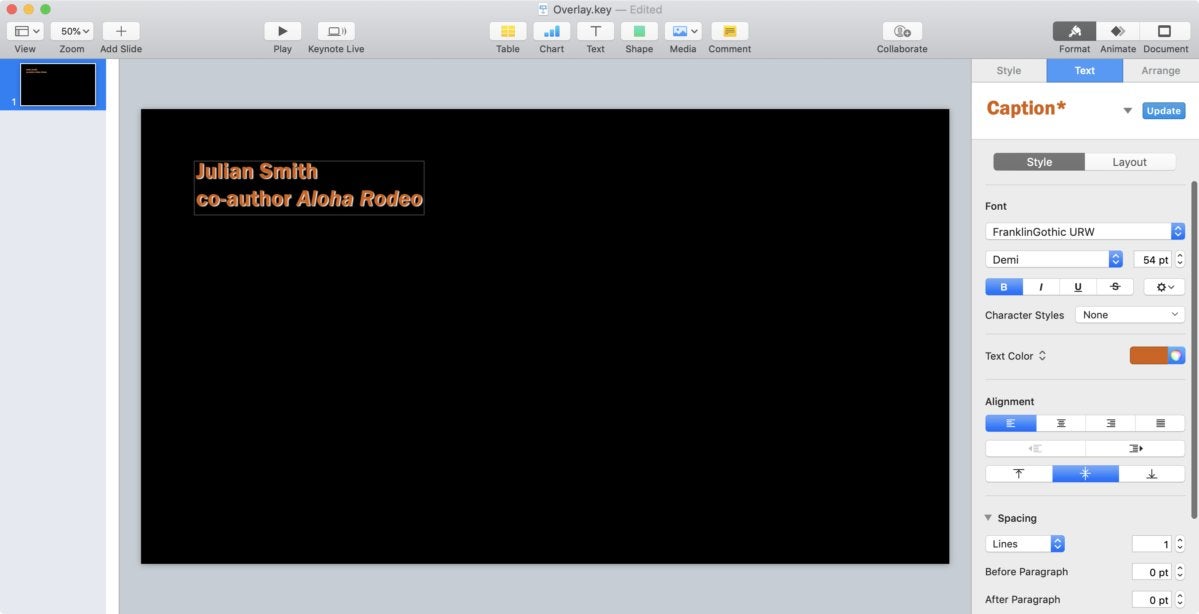 Try the following, starting with a single slide so you learn the workflow:
In Keynote, create a new presentation using the Wide format.

Select View > Edit Master Slides.

Select the Blank master (shown at bottom). You can later add master text to this if you want.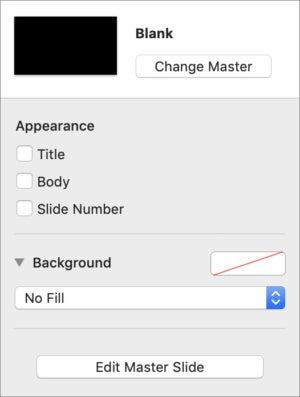 In the Format Inspector at right (View > Inspector > Format), choose No Fill from the Fill pop-up menu. (You can instead set the fill to green or blue if you want text choices to be easier to view; you can then use a color-removal option in iMovie described later in this article.)

Click Done at the bottom.

Click anywhere not on the slide and then click Change Master in the Format Inspector and choose Blank.

Click the Text button at top, type text in, and use the Text Inspector to set a contrasting color and other values.

Select File > Export To > Images and select PNG as the format and check the Export with Transparent Backgrounds box. (That box won't appear if you set the background to green or blue.) Click Next and choose a place to save the result image.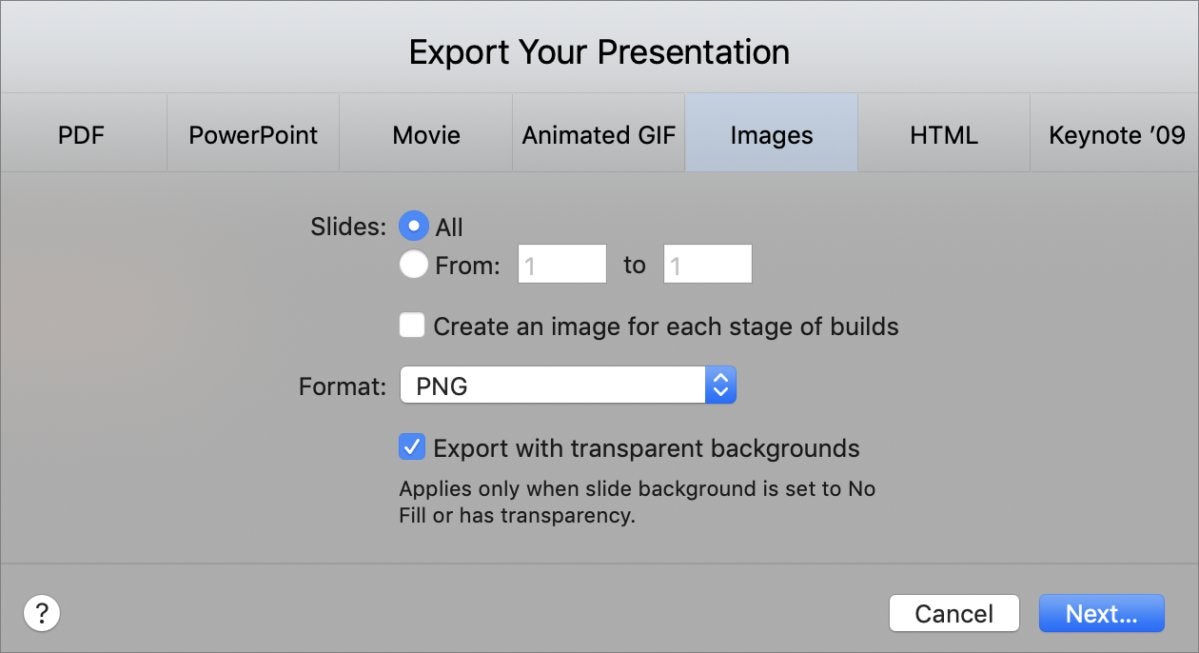 Now in your project in iMovie, drag the export image into the My Media area.

Drag the image from My Media to sit on top of the video or images that you want your Keynote slide to act as an overlay for.

Click the Crop button and choose Fit, otherwise the default Ken Burns Effect will move your overlay around. (If you want that, that's ok, too!)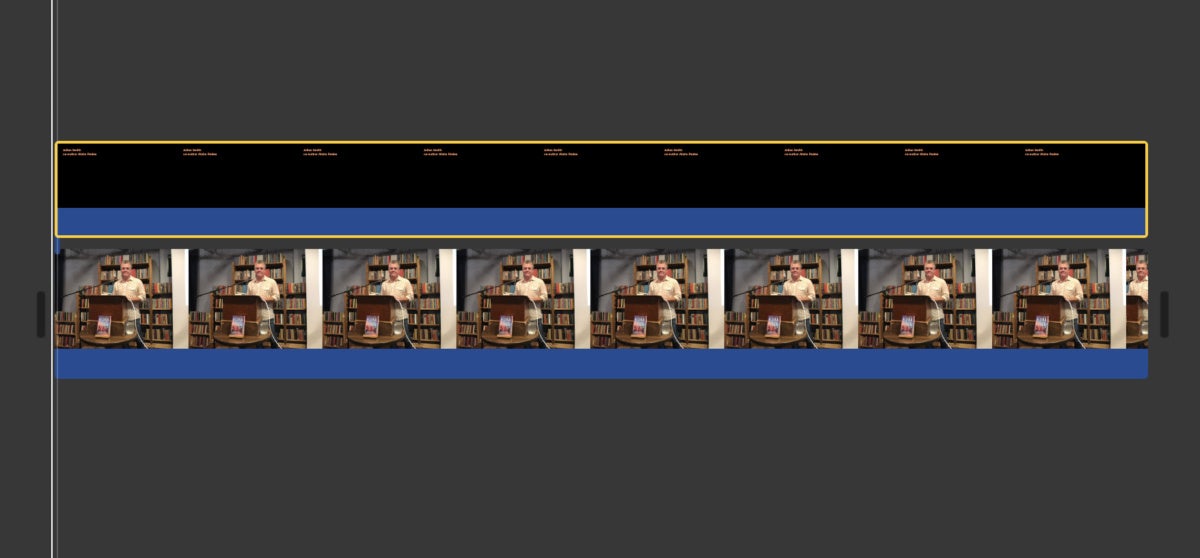 Now click play to preview. You'll see your overlay exactly placed. You can drag the Fade In/Fade Out handles on the clip corresponding to the overlay in the timeline to have it fade in and out, and you can apply other effects, too.
If you want to use the green/blue screen removal option in iMovie, potentially to combine with other effects that won't work with transparency, add these steps:
Select the overlay image, and then in the editor/preview in the upper-right corner, click the Video Overlay Settings button that looks like two overlapping rectangles.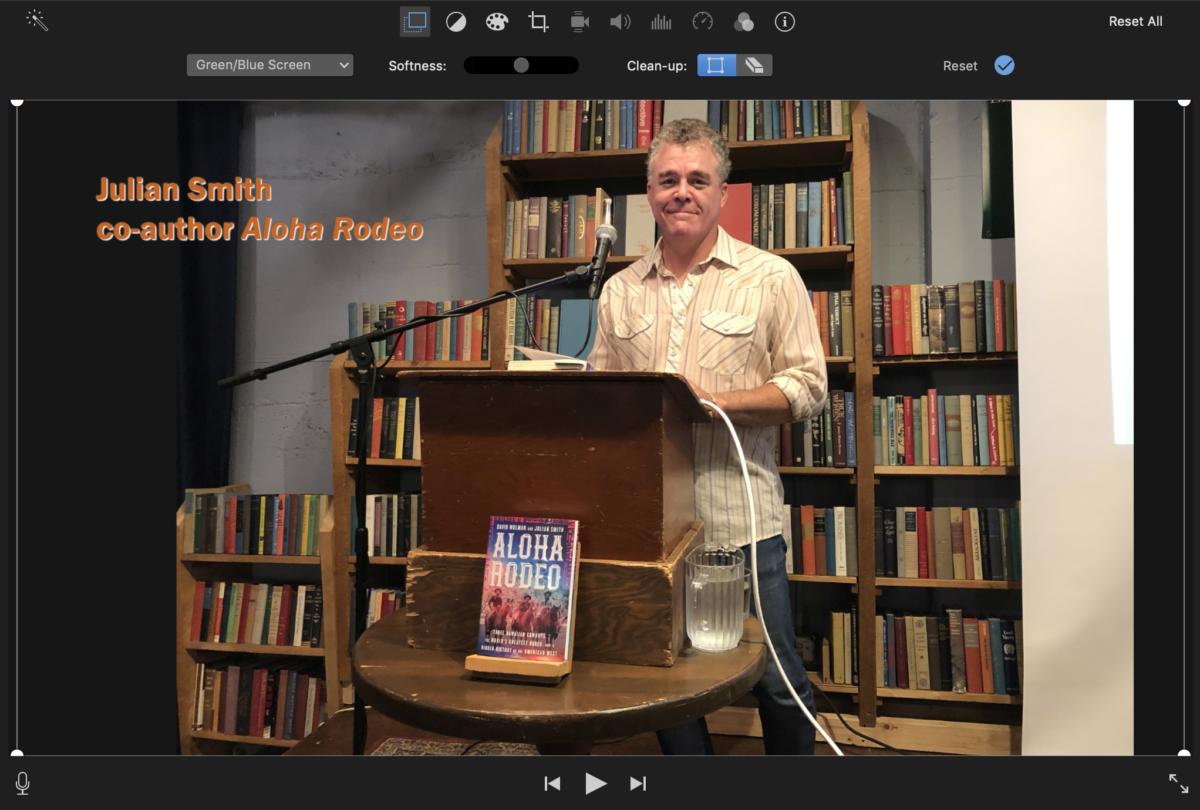 From the far-left pop-up menu, select Green/Blue Screen. You'll notice the background has disappeared and your type remains as an overlay.

Click the blue checkmark at the upper-right.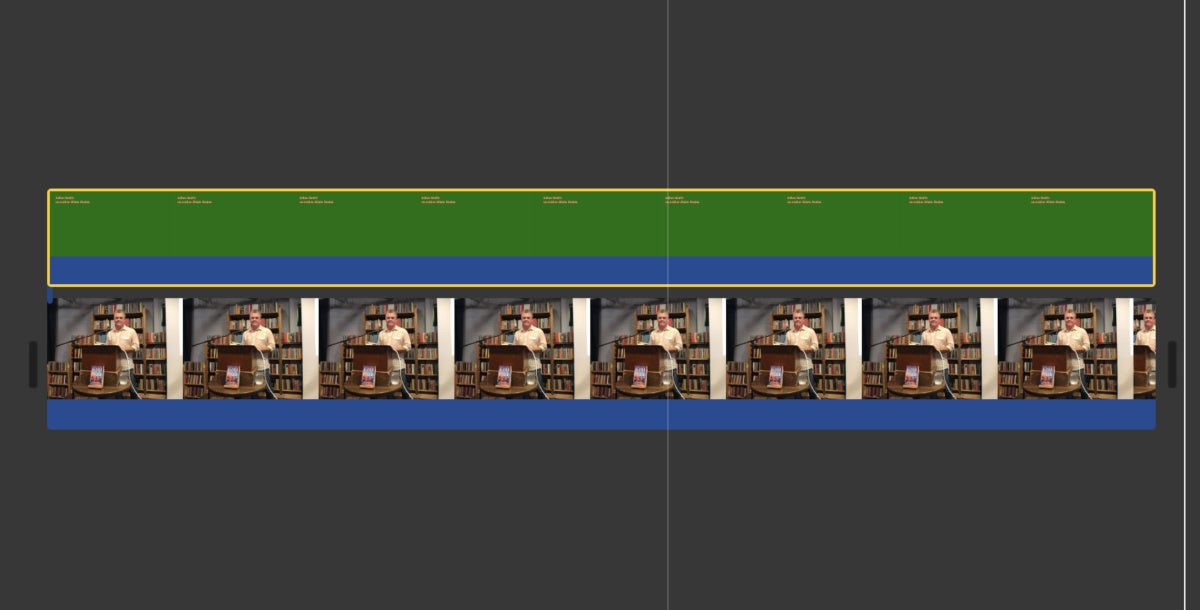 I recommend working iteratively with a single slide, testing type color, perhaps adding a shadow to the type, and working on position until you have the overlays just write. You can repeatedly export images from Keynote and then replace them in the iMovie project, but be careful to keep track. I like to remove the overlay from the timeline and delete it from My Movies before dragging in a replacement.
This takes a bit of effort until you get the hang of it, but it's a powerful way to add an effect without learning a new software package.
Thanks to Remi Boucher for the transparency tip!
This Mac 911 article is in response to a question submitted by Macworld reader Olga.
Ask Mac 911
We've compiled a list of the questions we get asked most frequently along with answers and links to columns: read our super FAQ to see if your question is covered. If not, we're always looking for new problems to solve! Email yours to mac911@macworld.com including screen captures as appropriate, and whether you want your full name used. Every question won't be answered, we don't reply to email, and we cannot provide direct troubleshooting advice.