At a Glance
Expert's Rating
Pros
Highly-rated protection
Easy-to-use interface
Cons
Activity log doesn't update in real time
Pro version doesn't offer better value for most users
Our Verdict
Avira Free Antivirus for Mac doesn't offer much in the way of features, but its antivirus protection is top notch. We'd argue it's the far better value than Avira Pro since there aren't a lot of extra features worth paying for compared to the free version.
Price When Reviewed
Free
Best Prices Today: Avira Free Antivirus for Mac
If you're the type of Mac user who hates the idea of running an anti-virus suite but recognizes its necessity then Avira Free Antivirus for Mac might be for you. For no money down, this suite offers real-time protection and a firewall. It doesn't include USB scanning, which is a special feature for the paid version.
What you do get is a solid anti-virus solution. AV-Comparatives gave Avira Pro for Mac a 99.8 percent protection rate from 585 malware samples. Avira Pro and Free use the same detection engine.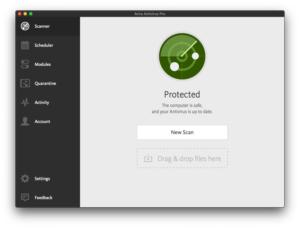 The organization also gave Avira Free a 100 percent detection rate for Windows malware on Mac using 500 "prevalent Windows samples." The latter is important since it prevents Macs from becoming "carriers" of Windows malware and infecting Windows systems through sharing infected files.
AV-Test had a similar finding with Avira Pro for Mac, giving it a 99.8 percent detection rate in June 2019 from 557 samples for widespread and prevalent malware (the industry average is 99.9 percent). AV-Test didn't see how well Avira for Mac did against Windows malware, but over on the Windows side Avira also did well, with similarly high detection ratings from AV-Test.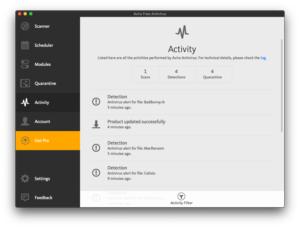 Our own malware spot tests using the Objective See archive and Wicar.org were pretty good. It detected a Trojan with no trouble as soon as we tried to unzip the folder, and the same went for Macransom ransomware. Over on Wicar there were about 11 "no results" from these tests, which means we tried to open a malicious web-based attack and we ended up with a blank page. Interestingly, when we installed Avira's free browser add-on Avira Browser Safety there were four additional detections. We'd advise users to install the add-on since the web is a primary vector for attacks.
Interface and features
Avira's interface is plain but effective. It uses the common left-rail and primary pane design. The first section is the Scanner area. This functions as a dashboard of sorts as well as the area to initiate a malware scan. At the top it shows whether your computer is currently protected or not, there is also a button to initiate a new scan with options to do a quick, full, or custom scan. You can also drag-and-drop files into this area to scan it for any potential malware.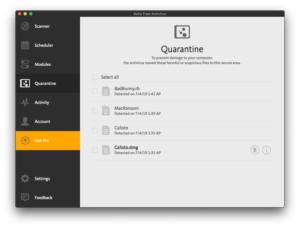 The rest of the items in the navigation pane are pretty straightforward. The only one worth pointing out would be the Modules section that allows you to turn on or off certain features including real-time protection, protection cloud (checking the "fingerprint" of suspicious files with Avira's cloud database), firewall, and the USB Scanner (not available in Avira Free).
Bottom line
If you don't want to pay for an anti-virus suite then Avira Free is a great option. It offers excellent security, and protection from viruses and the worst kinds of malware. Its no-nonsense approach for a free suite makes it easy to navigate and understand, and, most importantly, it gets of your way to do its job allowing you to do yours.
Best Prices Today: Avira Free Antivirus for Mac