The Apple Watch is a fantastic fitness tracker. Maybe too good, in fact. Between heart rate and variability, movement tracking, exercise tracking, walking, standing, calories, flights, steps…there's just so much to take in. The Health app on your iPhone is a treasure trove of fitness data, but it can be hard to get the big picture.
Apple's redesigned Summary page and Highlights in the Health app go a long way to addressing that, but the best way to get a clear, simple picture of whether or not you're making any progress in your fitness goals is to use the new Trends feature in the Activity app in iOS 13.
The Trends tab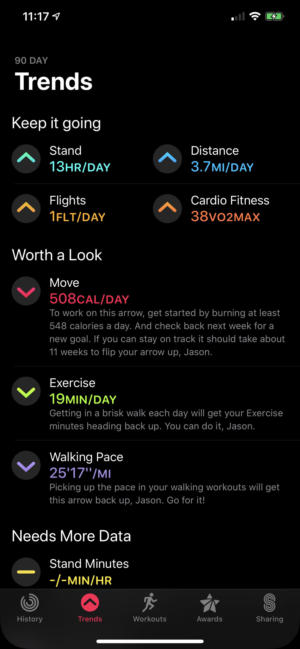 Open the Activity app on your iPhone and you'll get a window into all the fitness tracking data gathered from your Apple Watch. You can see the history of which days you've closed your rings, details of past workouts, and look at all the badges you've earned.
A new Trends tab in iOS 13 offers a particularly useful way to understand, at a glance, if you're making progress in your fitness goals or not.
This tab shows a handful of the most common activity measurements, each in its own color, along with an arrow pointing up or down.
That's it. Distance, up or down. Exercise minutes, up or down. Walking pace, up or down. It's incredibly simple, and that's the whole point.
What the trends mean
What do those up or down arrows mean, exactly? Your iPhone analyzes the last 90 days of a given activity and compares it to the entire past year. If the most recent 90 days averages more than the average of the past year, the arrow points up. If it's less, the arrow points down.
In other words, if you walked an average of 2.6 miles per day over the past year, but you walked an average of 2.8 miles per day in the last three months, the arrow points up.
This is important. It means that a single day spent cooped up on an airplane won't ruin your trends, and the one run you went on last week isn't going to turns them around. Improving your health is all about making consistent, long-term, sustainable progress, and Trends' 90-day versus 365-day comparison is a good way to measure that.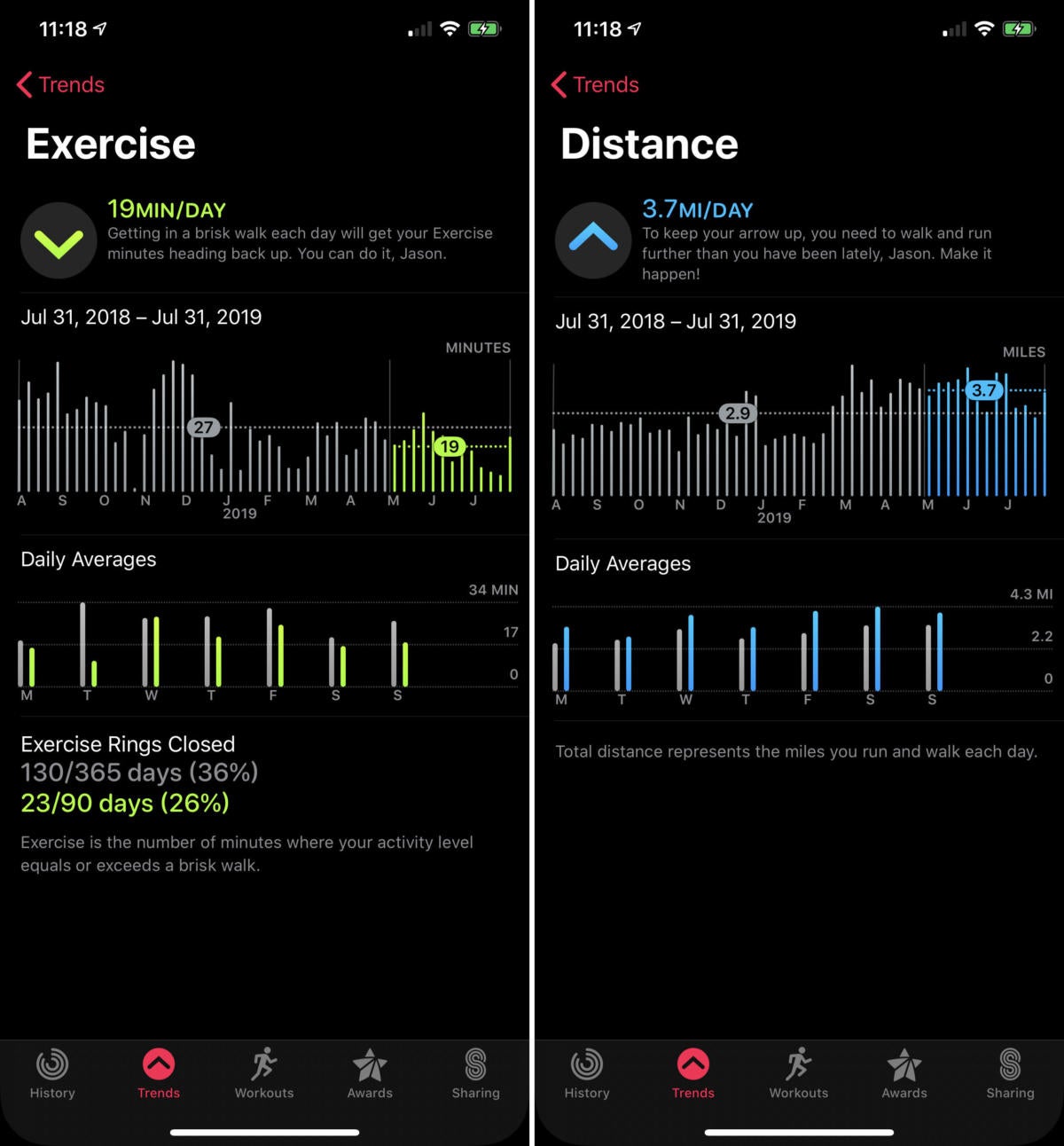 Apple divides the Trends tab into three sections. Keep it Going shows the activities in which you're improving. Worth a Look shows activities that have trended downward with brief tips to help turn them around. The Needs More Data category shows activities for which your Apple Watch has not collected enough information yet.
Tap on any one activity to see a detailed chart of the past year, with the past 90 days highlighted. You'll also see a comparison between your 90-day average and your yearly average for each day of the week. Maybe you're just slacking off on Mondays, right?