Woe to those who receive cryptic messages on their Macs. "Click accept on the account page to update this app" is one of them. Which apps? Which account page? AIEEEE! (Picture Cathy here with frizzy hair, tongue sticking out.)
Turns out that this is an easy problem to resolve, and it comes from a place of corporate generosity. Apple makes a number of apps free to macOS users, some of which were paid at one point. This typically affects iMovie, Garageband, Keynote, Numbers, and Pages.
MacOS still registers and downloads those apps via the Mac App Store, and ownership can apparently get muddled even if don't recall using multiple Apple IDs or copying the apps across computers. It can also occur if you Mac is serviced and the drive remains in place but the motherboard is swapped.
Start with adoption:
Open the Mac App Store and select View My Account.

At the top, it should tell you that there are apps to adopt; it may give you a reason as in this figure. Click Accept.

You should receive confirmation that the apps are now connected to your account.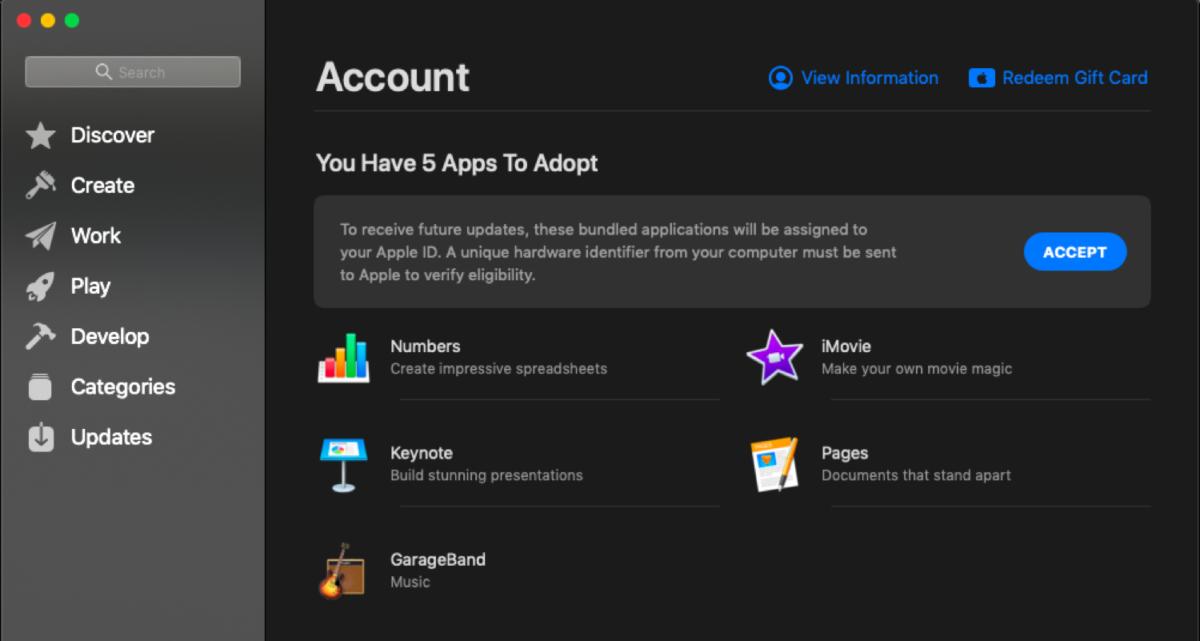 If you don't see an option to adopt or get an error in step 3:
Open the Applications folder on your Mac (in the Finder, Go > Applications is the fastest way to navigate there.)

Drag the five apps listed above or any that you can't launch or update to the Trash. You will be prompted for an administrative account and password. Enter that.

Empty the Trash.

Return to the Mac App Store and re-download the apps you deleted. These are now registered properly to your Mac.
This Mac 911 article is in response to a question submitted by Macworld reader Courtney.
Ask Mac 911
We've compiled a list of the questions we get asked most frequently along with answers and links to columns: read our super FAQ to see if your question is covered. If not, we're always looking for new problems to solve! Email yours to mac911@macworld.com including screen captures as appropriate, and whether you want your full name used. Every question won't be answered, we don't reply to email, and we cannot provide direct troubleshooting advice.