At first sight, it looks weird to use an Apple Pencil on an iPhone, but if we're looking at comparable dimensions, it's not all that different from writing in a Moleskine pocket notebook with a regular pen or pencil. Apple may have had a similar realization lately, as new rumors from Citi Research (via Business Insider) claim that the iPhone will finally get "support for [an] iPhone pencil/stylus" later this year. Not only have we been hearing variations on this rumor for months now, but it even makes some sense now that Apple has finally relented and rolled out Apple Pencil support to all current models of the iPad. At this point, what's another device?
But rather than focusing on if we'll be able to use the Apple Pencil with the iPad, I'd like to focus on why. Yes, yes, let's go ahead and get it out of the way: Steve Jobs famously said "yuck" when discussing styluses in the context of iPhones, but at the time he mainly meant using them as primary input devices.
The Apple Pencil has never been one of those. It's always been second fiddle to the touch controls in iOS, and its interface conveniences mainly exist to spare us the awkwardness of setting down the Pencil after we've been using it for writing, drawing, or highlighting. It's never been considered a must-have accessory, which is probably one reason why Apple has never bothered to put one in the box.
Calling the Apple Pencil a "stylus" feels like an insult. It's an elegantly balanced tool with stroke weight sensitivity that appeals to both calligraphers and artists. And while it may only be used on the iPhone by a small percentage of people who use the Apple Pencil on their iPads, that's no reason to exclude it from Apple's most iconic contemporary device.
The right time
There are also good practical reasons why it's a good time to introduce the Apple Pencil to the iPhone. iOS 13 will ditch 3D Touch, which was long considered a technology that would conflict with the Apple Pencil. Phones are also larger now, making them much better suited to a device like the Apple Pencil than the tiny device Apple showed off on stage at a Macworld event 12 years ago. It'll be awkward, but you'll probably be able to change the first-generation Pencil through the iPhone's Lightning port, and you might be able to use the iPhone XI to charge the second-generation if it supports reverse charging as rumored. The technology behind styluses have improved, the display refresh rates for iPhones have improved so much that Apple is rumored to be bringing its Apple Pencil-friendly ProMotion technology to the iPhone—it's a different world.
Not all screens are created equal, though, which is why the Apple Pencil will always be better suited to larger handsets like the iPhone XS Max. I've said that the iPhone XS Max is so big that it effectively doubles as an iPad mini, in fact, although you'd have to use the Pencil lengthways in order to get the best use out of it. Apple may even keep the feature limited to the larger devices, as dropping from a device like the iPhone XS Max to the iPhone 8 would feel a bit like dropping from a Moleskine notebook to a Post-It Note.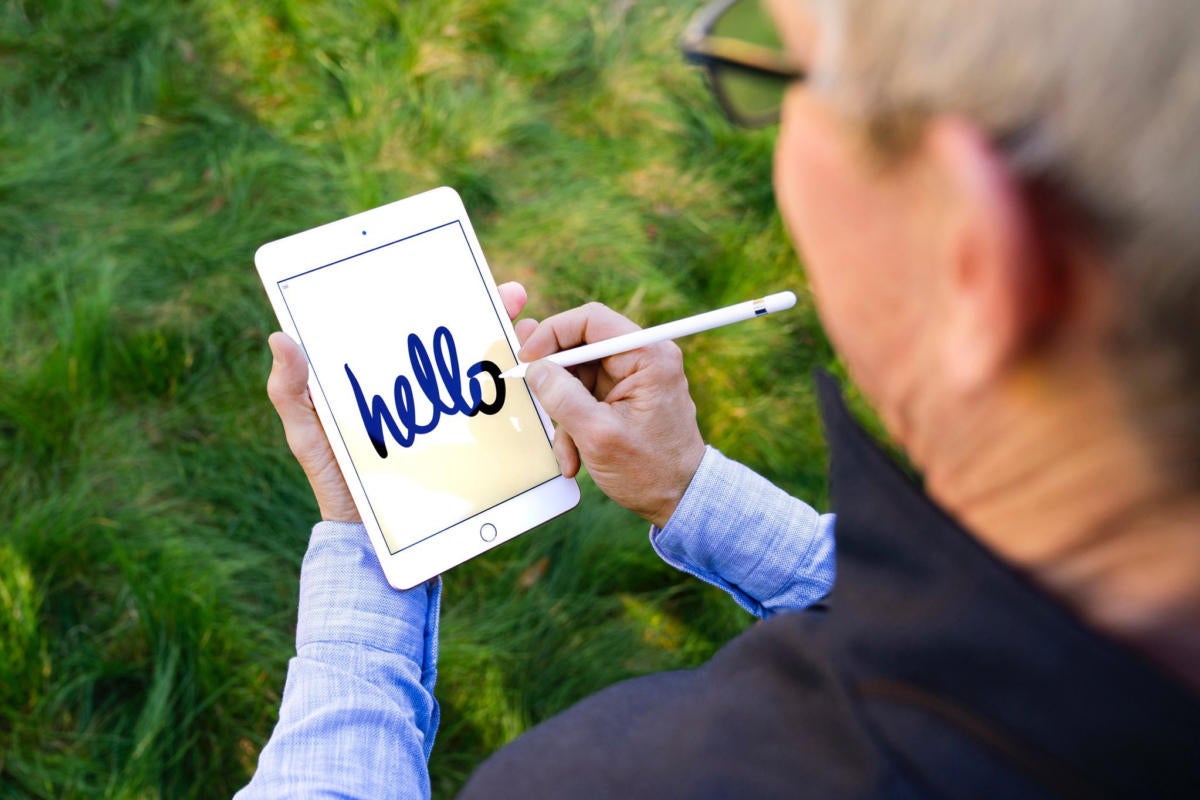 But why would you use an Apple Pencil on the iPhone? At the simplest and most obvious, we'd use it to sign documents, and we could use it to touch up photos with more precision in apps like Adobe Lightroom. We may even be able to use it with some games.
Let's get speculative, though. I see it as a useful note-taking tool, particularly if an app had a window that zoomed to a space with enough room for a couple of words so you could write continuously in landscape mode. When done, you could exit out and see the draft as one continuous block of copy. As an occasional longhand writer, I'd pay a lot for an app like that.
Apple could also introduce a feature like Sidecar but for the iPhone and iPad, and so allow the iPhone interface to act as a palette of sorts in an app like Procreate and thus grant as much screen space as possible to an artist working on the iPad.
Necessary changes
Of course, all of this would require some changes to how Apple Pencil works. At the moment the Apple Pencil stays tied to one device, so Apple would have to make with Pencil work with every device tied to an Apple ID at once—or, a tad more likely, make it so that a tap suffices to make move the Pencil between paired devices.
Alternatively, Apple could go the route of the Samsung Galaxy Note and simply make an Apple Pencil-like stylus for the Apple Pencil, which I'd be willing to be would be called the Apple Pencil mini. The vague wording of Citi Research's report suggests this might be the case, but I highly doubt that would happen. Apple has tried so hard to remove any holes, weak points, and breakable features from the iPhone, so I can't see them drilling in a slot to their oh-so-thin handset for a losable stylus. As Steve Jobs said in the full version of the quote, "You lose 'em, yuck." Indeed, I think Apple still has enough respect for Apple's complaints about styluses to keep it from ever selling an iPhone with one built-in.
And none of the use-cases for the Apple Pencil above are exactly game-changers. No one's going to rush to buy an iPhone just because they can use a $99 to $129 stylus with it. But it would be a welcome feature for those of us who already use Apple Pencils with our iPads (which is why I hope Apple will let us use both the first- and second-generation Apple Pencils with it). I already find myself trying to tap my iPhone with my Apple Pencil after I've been using it for a while. Apple would simply be granting reality to actions that have felt natural for a while now.
It won't be a major selling point, but it'll be a welcome option for folks who want it. Ideally, we wouldn't even have to buy a separate device. That approach is well in line with Apple's policy as of late, as it's less insistent on forcing us to use devices a certain way and more willing to, say, let us use mice on the iPad or play with Xbox One and PlayStation 4 controllers on our Apple TVs. They're useful features that not everyone will need, but which plenty of people would be grateful to have. And I like that about this new Apple.