We may not yet have support for multiple accounts on the iPad, but by gosh, we'll have it on the Apple TV once tvOS 13 drops. The new feature lets you easily switch between two or more Apple IDs on Apple's set-top box, which means it'll be easier to keep your recommendations from getting muddled with the viewing histories of family members and friends who share the device.
Yet, it's like not multiple accounts on the Mac. Every app you've downloaded stays in place when you switch between profiles, and you usually won't see any differences in the account management of apps like Netflix. (Fortunately, Netflix comes with its own support for multiple accounts.)
Instead, you'll see the differences in the libraries, recommendations, and purchase histories in the Movies, TV Shows, and Music apps. Meanwhile, services like iCloud, Game Center, and Home will each stay tied to a specific Apple ID regardless of which account is active.
You also can't restrict access to your account with a passcode, which means anyone else who uses the Apple TV will still be able to see your purchase histories and iCloud photos (if you've set up the latter as the device owner). Ah, well, it's a start. Here's what you need to do.
How to set up multiple accounts on Apple TV
Open the Settings app.

Press Users and Accounts.

Under Users, select "Add New User…"

You'll see a screen entitled Previously-Used Emails. Press Enter New.

For the next two steps, enter your Apple ID and password and then press Sign In. If you have two-factor authentication enabled (and you totally should), you'll need to have your iPhone or Mac handle so you can enter the code.

You're done!
How to switch between accounts on Apple TV
Apple makes it easy to switch between accounts if you're using the modern Siri remote with the touch surface. Once you've got the remote in your hand:
Hold down the Apple TV App button for around two seconds. (It's the one that looks like a stylized TV set.) This opens the Control Center, which will slide over from the right side of the screen and display circular icons for each registered user toward the top.

Using your thumb on the touch surface, select and press the account you'd like to activate. The Apple TV should immediately switch over to that account. A checkmark next to the right of the profile icon shows which one is active.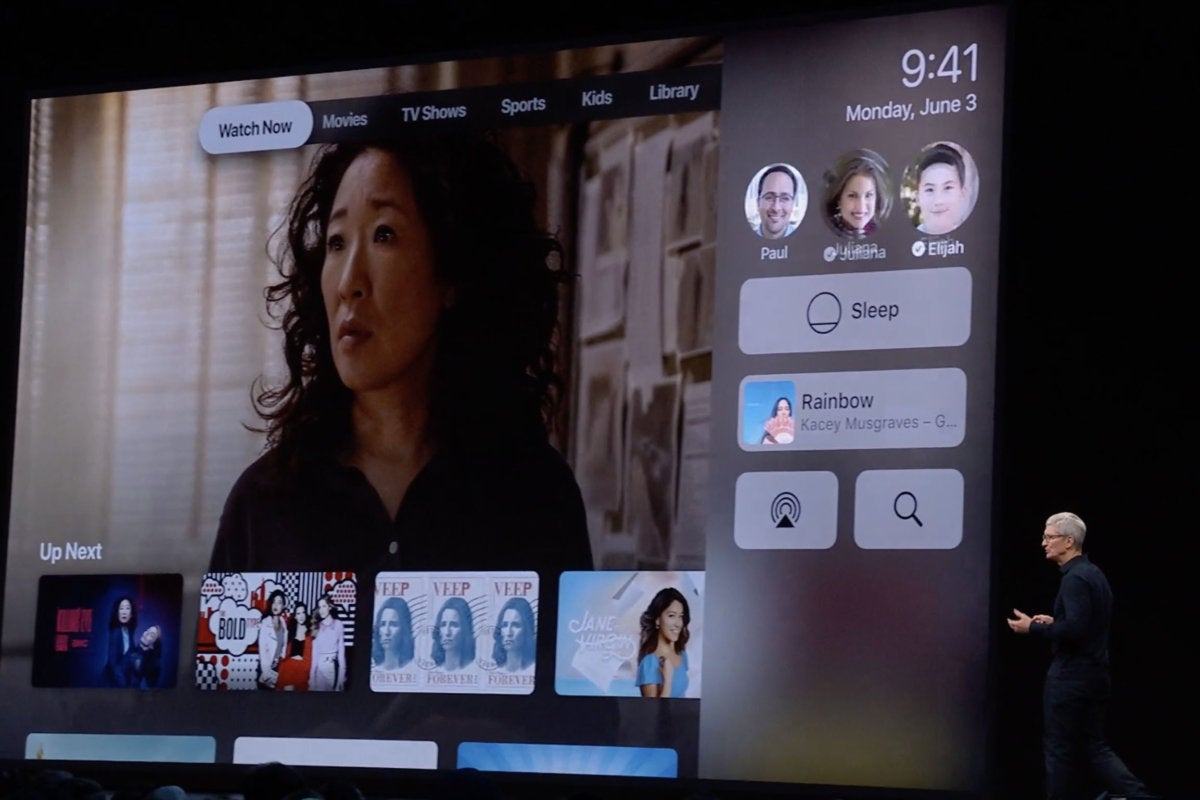 If you're using the earlier aluminum Apple TV remote—and I know some of you still prefer it—you'll have to switch accounts the long way.
To do this, go to Settings > Users and Accounts and then select Current User. You'll then see a list of available accounts. Press the one you want, and it will immediately switch over.