With iOS 13 and the new QuickPath feature, the iPhone finally has a native version of the "swipe" keyboards that have been popular on Android devices for almost a decade. You could previously use such keyboards on iOS if you installed a third-party keyboard such as Gboard, SwiftKey, or the discontinued Swype app, but now you no longer have to deal with the occasional hassle of switching keyboards. You can also use QuickPath on the iPad if you're using the miniature floating keyboard.
The idea behind a swipe keyboard that, instead of typing out words with an individual tap for each letter, you hold down your finger and slide over to each letter. I especially find QuickPath helpful when I'm using the one-handed keyboard while standing during subway rides.
Once you've got the hang of the QuickPath keyboard, you should try incorporating some of Apple's new gestures for cut, copy, paste, undo, and redo.
How to use the QuickPath keyboard
The QuickPath keyboard is available the second you upgrade to iOS 13. To use it, open any app that brings up the keyboard for text entry and make sure you're using the native iOS keyboard.
When you start typing a word, swipe your finger to each different letter without lifting your finger. Be careful not to press too hard, as you might accidentally activate the digital trackpad. If you were typing "Macworld," for instance, you'd start with your finger on the M and then swipe over to A, C, and so forth.
Once you're done with the word, lift your finger and iOS will leave a space so you can start typing the next word. There's no need to press the space bar. To start the next word, just repeat the process.
You won't even have to worry about double letters in common English words as iOS will usually do the work for you. If you swipe-type "bal," for instance, it will show up as "ball" when you lift your finger. You can see QuickPath in action below.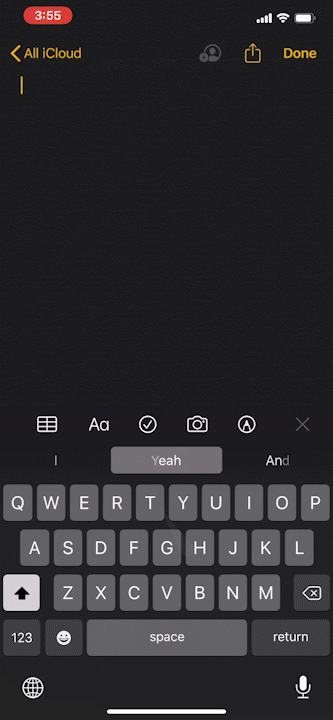 How to use QuickPath on an iPad
You can't use QuickPath on a normal iPad keyboard, but you can use it with the miniature floating version that appears when you pinch inward on the default widescreen digital keyboard in iPadOS 13.
To stop using the floating keyboard, pinch outward on the keyboard interface. Head to this page for a more detailed walkthrough.
How to disable QuickPath
There's a good chance you may not even realize QuickPath is active unless you actually try to use it. It doesn't affect normal keyboard typing. Even so, if you find it's getting in the way of your experience, here's how to turn it off.
Open the Settings app.

Press General.

Press Keyboard.

Toward the bottom, you'll see a toggle for Slide to Type. Turn it off, and you'll be done.