It's been over a year since Apple released the current 11- and 12.9-inch iPad Pros, so they're due for an update—which means the rumor mill for these products is going to start churning more frequently. We'll keep track of the latest rumors here, until the eventual release of the new iPads.
Update 3/10/2020: Added further information about the rumored triple-lens array
Latest rumor: Triple-lens cameras for the iPad Pro
OnLeaks (a.k.a Steve H. McFly) has created images based on information he received of what is thought to be the next 11- and 12.9 inch iPad Pros. The images, posted by iGeeksBlog, show the tablets with a triple-lens camera, similar to the camera found on the iPhone 11 Pro.
On February 24, Ben Geskin lent further credence to this rumor by posting photos of a purported case for the new iPad Pro with the square cutout familiar from the iPhone 11. On March 9, 9to5Mac reported it found code in an early build of iOS 14 that lent weight to the rumor, claiming that the triple-lens array would have a time-of-flight 3D sensor that would likely be aimed at virtual reality applications. In addition, this array would have a wide-angle lens, an ultra-wide lens, and a telephoto option.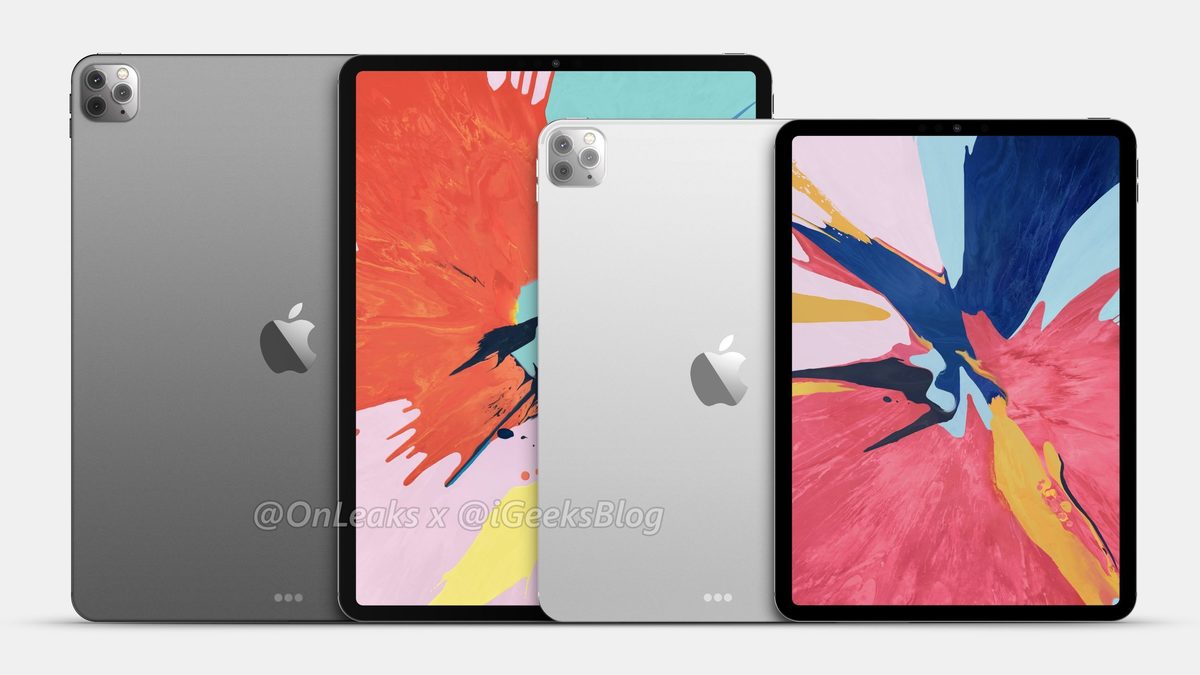 OnLeaks says that the dimensions of the 11-inch iPad Pro could be the same as the current model. No information was provided about the dimensions of the 12.9-inch iPad Pro. But since the iPads will have the triple-lens camera, it's possible that the tablets will be a bit thicker.
The "official looking" images depict the iPad with both an aluminum and glass back, because OnLeaks did not receive information about the case. So OnLeaks created renders showing both materials.
Improved mouse support
On March 9, 9to5Mac reported that it had seen code suggesting that the experience of using a mouse with an iPad would significantly improve in iPadOS 14 and iOS 14. In our recent wish list for iPadOS 14, better mouse support made the top of the list.
If the information is correct, the next version of iPadOS will let you use familiar Mac cursors when using a mouse with an iPad. At the moment, you're stuck using a big circle that's meant to resemble a fingerprint.
If you're not hovering over a link, you'll see a regular arrow pointer. If you are hovering over a link, you'll see a gloved hand with a pointing finger. The code also suggests the pointers will disappear after a few seconds of inactivity and reappear when you move the mouse again. Gestures may also better resemble what you find on a Mac.
The code also lent credence to rumors that Apple will release an iPad keyboard with a trackpad, and there will apparently be at least two different models (likely for the different varieties of the iPad). Our own Michael Simon has a few strong words about the idea of a trackpad on an iPad keyboard, and we spoke about it at length on a recent episode of the Macworld Podcast.
Trackpad keyboard for the iPad Pro
According to a February report from The Information, Apple is planning to release an iPad Pro keyboard with a built-in trackpad this year. The sources who spoke with the publication claim the keyboard will be made from the same materials we find in the current iPad Pro's Smart Keyboard Folio.
The new keyboard is reportedly in production now, and it's possible we'll see it at a widely expected Apple event in March.
The latest rumor doesn't do anything to lend credence to DigiTimes' January report that Apple is designing an iPad keyboard with backlit keys and scissor switches, but there's a slim chance this trackpad feature will have those features as well. The Information's report does claim, though, that some of the prototypes for the trackpad keyboard had capacitive keys, but it's not known if those made it to the model that's allegedly in production.
Backlit iPad Smart Keyboard with scissor switches
According to the Taiwanese publication DigiTimes (which has an uneven reputation for rumors), Apple might release a Smart Keyboard with a scissor-switch design for the upcoming iPad Pro. This new keyboard might also have backlit keys, the report claims. As reported by MacRumors, this conflicts with an earlier report from reliable analyst Ming-Chi Kuo, who claimed last July that the keys for the next iPad would still have a rubber dome design.
Scissor-switch keyboards are very much on Apple's mind lately. Last year, it updated the 16-inch MacBook Pro with a scissor-switch keyboard instead of the unpopular butterfly keyboards it'd stood by for years, and relatively recent rumors suggest the upcoming 13-inch model will get a scissor-switch keyboard, too.
It'd be interesting to see how a scissor-switch iPad Smart Keyboard would work. If Apple's rumored Smart Keyboard turns out to be anything like what we saw on the 16-inch MacBook Pro, it'll basically amount to the same thing. For many, that means a more pleasant typing experience.
Time-of-flight 3D
We've heard plenty of rumors that suggest the 2020 iPhone will have time-of-flight 3D sensors for its rear camera, but a new report from South Korea's The Elec (via MacRumors) suggests we'll soon see them in the 2020 iPad Pro, too. We may even see them sooner, as the report claims Apple plans to release the models in March of 2020.
Derkwoo Electronics of South Korea is rumored to start mass-producing some of the components for the time-of-flight sensors sometime later this year. If Apple does end up sticking with the March release date—which seems iffy considering previous iPad Pro release dates, but not implausible—that means we'd see the sensors on the iPad Pro around half a year before we see them on the iPhone.
Time-of-flight sensors measure the time it takes for LED beams to bounce off objects in front of them, which allows for much greater accuracy for augmented reality than what you'll get with the machine-learning methods employed by the rear cameras in current iPhones. The TrueDepth sensors on the front-facing cameras on current iPhones are wickedly accurate, but they use a different technology that isn't as effective past a few feet.
It may seem a little out of character for Apple to debut such important hardware on the iPad Pro rather than the iPhone, but the fact is that Apple tends to use its tablets over its phones when it demonstrates AR tech during keynote presentations. Apple seemingly sees the technology as better suited to the iPad, and it's possible it believes reliable sensors could make both the iPad and augmented reality grow in popularity.
Still, it's really hard to imagine Apple taking away some of the iPhone's thunder. For that matter, there are conflicting reports. The usually reliable Bloomberg claims that Apple will refresh the iPad Pro lineup later this year—the current models dropped last November—while Japanese site Mac Otakara recently claimed we'd see iPad Pros with triple lenses this October.
If there's any truth to The Elec's report, it could mean that Apple now plans to wait to release the new iPad Pro until next year.