Apple's phones are among the most expensive phones you can buy, especially for something that is ostensibly supposed to be a "mainstream" product. Apple, it could be argued, doesn't even attempt to make a mid-range iPhone.
Apple makes the best phones it can, prices them such that the company makes a healthy profit, and if that's too expensive, you can just buy last year's model…or the one before that.
There's a constant simmering furor from those who lament the passing of the iPhone SE. A large contingent of prospective iPhone buyers would be happy for a new SE, that follows the same formula: cram last-year's hardware into some old design, preferably as small as possible, and sell it at a discounted price. Some may argue that the iPhone XR (and whatever this year's replacement will be) makes the SE obsolete, but at a starting price of $749 and with a screen size over six inches, I think there's plenty of room in the lineup for a new iPhone that sits well beneath it.
Here's what I imagine a realistically-possible "mid-range" iPhone could be, if it were released in the spring of 2020 (midway between the this fall's iPhone 11 and the 2020 flagship models).
Why should Apple change course now?
Let's set some boundaries. This article is a fictional wishlist of sorts, but it's meant to be something that makes plausible sense for Apple to actually do. The company's just not going to bring back the headphone jack. It's not going to make a 4-inch phone with a 16:9 aspect ratio. It doesn't want to make phones with Touch ID anymore. No new iPhone is going to cost $299 without trade-ins and incentives.
That said, I don't think Apple has to follow the old iPhone SE playbook, stuffing a mishmash of new and old tech into a previous iPhone's body. The company could engineer a purpose-built mid-range iPhone, and if it would be as popular as I suspect, it probably should.
This new, more affordable iPhone should also forego Apple's usual steep margins in order to get the phone in more pockets. That's new for Apple—as successful as its products are, the company doesn't really chase marketshare for its own sake. It wants loyal and happy customers who stick within the ecosystem, not merely as many users as possible.
Why change that now? Apple has always relied on customers who become "Apple users" and eventually replace their Apple product with another Apple product. But now, Apple has far more ways to monetize an iPhone user than to get them to upgrade to a new iPhone. In this one year alone, Apple will have three major new services aimed at enhancing its ecosystem: Apple TV+, Apple Arcade, and Apple Card. There's also iCloud storage subscriptions, Apple News+, and Apple Music, and more services are probably on the way.
Then you've got the hardware that iPhone users buy, like AirPods and Apple Watch. And what percent of Apple TV or HomePod buyers don't have an iPhone to begin with? It's probably a rounding error.
Simply put, the potential value to Apple's bottom line of bringing new users to iPhone is much higher than it has ever been, and it is probably worth making significantly less money on each iPhone sold (at least on the cheapest model) in order to expand the reach of the ecosystem.
What's more, the competition is heating up. Android phones that cost $400 or less are getting quite good, and in many parts of the world, consumers simply don't see the value in paying 50 percemt more to get last-year's iPhone. Apple needs a new product that, while not necessarily as inexpensive as some Android competitors, at least feels within reach, and delivers on the core experience of the iPhone.
Price: Starting at $549
The iPhone SE started at only $399, but it also lacked a lot of the technology I think Apple would consider "table stakes" for a good iPhone experience these days. That price is probably never going to come around again.
A price of $549 is possible, given our hypothetical specs, so long as Apple is willing to shave a healthy chunk off its margins in order to expand iPhone market share understanding that it would make it back (and then some) over time on services and other hardware.
Some would balk at calling a phone that costs over $500 "mid-range" or "affordable," but a $200 discount over the price of the iPhone XR is huge. It's enough that carriers can offer it "free" with special promotions, or for just around $12 per month with a good trade-in. And it's far more palatable for more price-sensitive markets.
Processor: The all-new A13E
If Apple's going to make a new mid-range phone, it's going to need to be something that can be supported for years. It needs to have enough muscle to run all the hot new software features of iOS 13, 14, 15… and that means plenty of CPU and GPU power, the Neural Engine, and lots of RAM.
But building a mid-range iPhone around the new A13 chip (likely shipping in the iPhone 11 this fall) would probably cost too much. Apple could slap in the A12 (by then a year old) but I think a better solution would be to build a new variant of its latest chips.
In the same way that Apple has long made higher-performance "X" variants of its A-series processors for certain iPads, it could make an "E" variant for this mid-range iPhone. Our hypothetical A13E would have the same image processor, neural engine, and whatever the rumored "AMX" is, but fewer CPU and GPU cores. Perhaps only two high-efficiency cores instead of four, and only two graphics cores instead of four (with a lower resolution display, that would still be more than enough).
Maximum clock speeds could be a bit lower, saving battery life and further limiting performance while improving yields from TSMC, which further makes the chip more affordable. And somewhat slower RAM could save costs, too.
Ultimately the A13E would have perhaps 50 to 60 percent of the CPU and GPU performance of the A13 without sacrificing custom hardware like the Neural Engine and image signal processor that help enable core iPhone features. This would provide a best-in-class overall experience and lots of longevity, while managing costs and differentiating this mid-range iPhone from its more powerful siblings.
Display: 5.5-inch 750×1624 LCD
There is a small but very vocal community of iPhone users that desperately want a 4-inch iPhone like the iPhone SE. They make enough noise to give the impression that Apple could sell tens of millions of such a phone, but honestly, big phones are just far more popular.
Popular Chinese phones in the $500 to $600 price range like the Oppo Reno, Xiaomi Mi Mix 3, and Vivo X27 are the size of the iPhone XS Max.
Still, I think a more affordable iPhone should be smaller than the others; both to easily differentiate itself as "not top-of-the-line" and to reduce the price of the display. It should probably be a high-quality LCD for the same reason, rather than an OLED.
Developers address the iPhone display in "points," and I think we can make life easy for Apple and developers by sticking to some known quantities. The iPhone X and XS displays are 375×812 points, with each point rendered at 3x resolution. The iPhone XR is 414×896 points, rendered at 2x resolution.
Mashing those up, you could have a 375×812 point display rendered at 2x resolution, which gives us 750×1624 pixels. At the same 326 pixels-per-inch sharpness of the iPhone XR, that works out to a 5.5-inch display.
Apple would undoubtedly choose a high-quality display, but we wouldn't get HDR support. Oh, and we can forget about 3D Touch, too. It adds cost and isn't necessary, particularly as it's rumored to be gone from all the new 2019 iPhones.
Body: Plastic, smaller, and thicker
If Apple's going to make a phone that we can buy for $200 less than an iPhone XR, without really skimping on all the important features, it's probably going to have to be plastic.
That's okay. With the right finish and texture, plastic can be made to feel quite premium. The phone would have to have a metal frame inside for durability, but the body would be plastic. And it should avoid the glossy finish and bright colors of the iPhone 5C, which shouted "plastic!" so loudly that it seemed like a child's toy.
Of course, Apple wouldn't market this phone as "plastic." They'll go with "advanced thermoformed polycarbonate polymer" or some other highfalutin way of saying "plastic."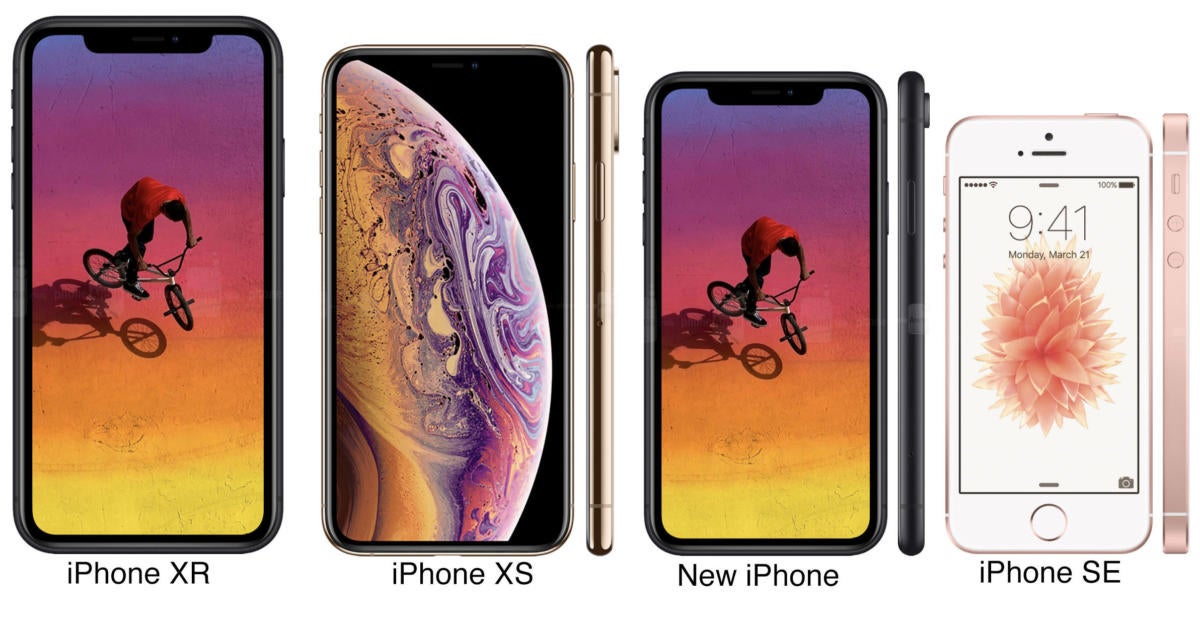 A 5.5-inch display is a lot bigger than the 4-inch iPhone SE, but thanks to the taller aspect ratio, the phone itself doesn't have to be that much bigger. It would still be significantly smaller than any modern iPhone, and likely small enough to appease those "bring back the iPhone SE" fans.
It should also be a little thicker than most modern iPhones, which will enable Apple to fit in all the necessary components together with a reasonable-capacity yet low-cost battery.
Features present
There are certain features that I believe Apple sees as core to the iPhone experience. Apple introduced the iPhone X as the beginning of the next chapter in the iPhone's history, and I think that signals what we can expect from the line going forward.
That means, however cost effective it may be, that Touch ID is out and Face ID is in. It means we can expect a taller aspect ratio and a notch for the TrueDepth module, with no "forehead and chin" above and below the display. It also means customers sill have Animoji and Memoji support, can log into websites and apps with just a look, and so on.
This "budget" iPhone would have a single camera on the rear, differentiating it from the rumored dual-camera setup on the new iPhone that will replace the iPhone XR. The camera sensor and lens would be identical to the standard-angle camera in this fall's new iPhones, giving users a top-quality photo experience, but without multiple rear cameras it would not have all the same features.
It would still be able to do portrait mode and run AR apps just as the iPhone XR can. I think Apple now considers both features core to the iPhone experience.
It would have all the other usual iPhone falderal: a power button, two volume buttons, a mute switch, and a Lightning port. It would have stereo sound similar to that on the iPhone XR (using the earpiece and a single speaker on the bottom edge).
Features missing
Naturally, a much lower price means that manufacturing costs have to come down. In addition to a smaller, lower-res display, plastic body, and a scaled-back processor, the mid-range iPhone would have to jettison a few other things.
3D Touch is an obvious candidate for the chopping block, as iOS 13 greatly expands Haptic Touch and even the high-end iPhones this year are said to drop the tech.
Wireless charging can go, too. It's a nice enough feature, but I don't know that it's so popular as to be considered a core part of the modern iPhone experience.
It could have less waterproofing that other iPhones, as the iPhone XR does, but I think it's expected that any $500-plus phone should be at least thoroughly splash-proof.
Apple would probably have to cut storage capacity to keep costs down, too. Instead of the iPhone XR's 64/128/256GB options, this new midrange iPhone would probably have 32/64/128GB options. Yeah, 32GB is not a lot for an iPhone launching in 2020, but remember, iOS 13 is going to help reduce app sizes.
Do I even have to mention (again) that there will be no headphone jack? Of course not. 5G? Forget about it.
A smaller, simpler, cheaper iPhone XR
A new mid-range iPhone would essentially be an iPhone XR shrunk down to a 5.5-inch size, with less storage, a cheaper body, no wireless charging, and a slightly improved camera.
That may sound like a tall order for Apple to sell at a starting price of $549, but I'm also assuming that it would launch in the spring of 2020—a year and a half after the iPhone XR. I'm also making the assumption that Apple would deliberately take a smaller margin on this model in order to bring more users into the Apple ecosystem where they will spend on adjacent products (Apple Watch, AirPods) and services (Apple TV+, Apple Arcade, Apple Music, iCloud).
Proposing that Apple would ever significantly lower its margin on hardware is a stretch at the best of times and nearly impossible in the middle of a tariff-laden trade war. Tariffs aside, I think Apple's business has never been better positioned to support such move. Apple will soon sell enough popular iPhone-adjacent hardware and services to make the value of simply adding a new iPhone user greater than any potential profit from that iPhone's sale. It's time to stop addressing the "more affordable iPhone" market by continuing to sell old models and instead design a first-class citizen to fill that gap.