At a Glance
Expert's Rating
Pros
Affordable $50 price tag (compared to the Apple Pencil)
Looks like a real pen from a distance
Supports palm rejection and one-tap pairing
Cons
Awkwardly placed power button constantly gets in the way
No tilt detection or pressure sensitivity
Our Verdict
The Adonit Note is a decent if flawed Apple Pencil alternative for folks who wish Apple's stylus didn't look like a big, white drumstick. Instead, the $50 Note looks more like a ballpoint pen you might have swiped from a swanky hotel. Better yet, it even writes like one, and I'd be eager to recommend it for anything apart from artwork were it not for the boggling and frustrating placement of its power button. It even pairs easily: Just tap the point on any modern iPad screen and you can use it within seconds.
The Note's chief draw is that both the black and gold models look a lot like regular metal-barreled pens. Were it not for the unsightly Micro USB port for charging on the top, I'd have a hard time picking it out from its inky cousins in a crowded pen holder. (It's also a shame that you can't use the iPad's Lightning or USB-C cable.) Both models come with a copper-colored power button and pocket clip, and I like how the latter feature lets me tote it around the office in my shirt without looking like a total dork.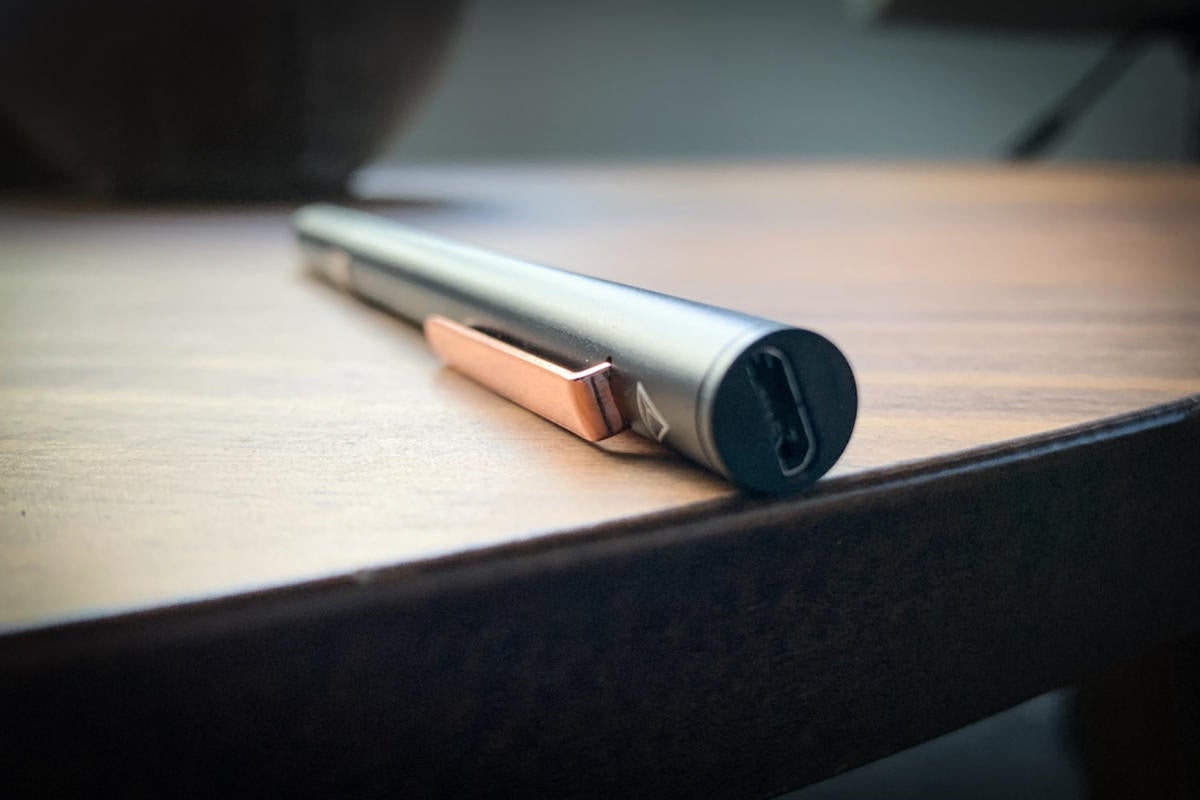 At six inches long, .37 inches thick, and weighing only half an ounce, it even feels like a real pen. For long writing sessions, that's a colossal improvement over the similarly affordable Logitech Pencil, which sports a roll-preventing design suggestive of a carpenter's pencil.
A little unfortunately (but not surprisingly), it also writes like the Crayon. That means you won't get the fancy pressure sensitivity or title detection that you'll get with the Pencil, although you will get palm rejection. So if you're a serious artist—sorry, this isn't for you. As its ballpoint-like design suggests, though, it's perfect for scribbling rough notes in your preferred note-taking apps or highlighting passages in a PDF. If the Apple Pencil is a fountain pen (or a brush), this gadget is a Bic.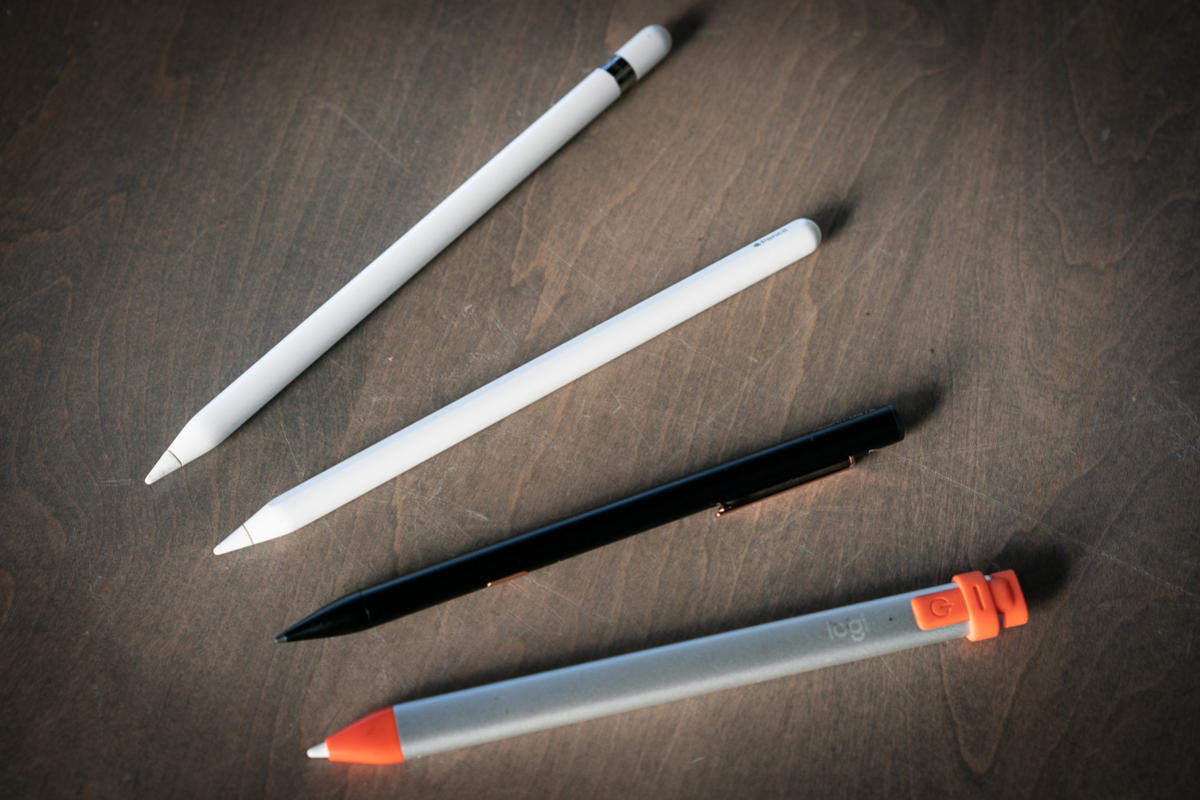 That'd be more than sufficient for me to recommend it as an "everyday" iPad stylus—were it not for that frustrating power button. The rectangle button sits around one-third of the way up the barrel, so I was constantly accidentally switching it on and off as I wrote. There's not even any realistic way to avoid the button because it's positioned in line with the shirt clip, which means you'll have the clip pinching or pressing against your hand in any other angle. It's possible to learn to live with it, but I frequently found it conflicting with my decades-old habit of twirling the pens and pencils I write with when I'm deep in thought. When I try that with the Note, off it goes.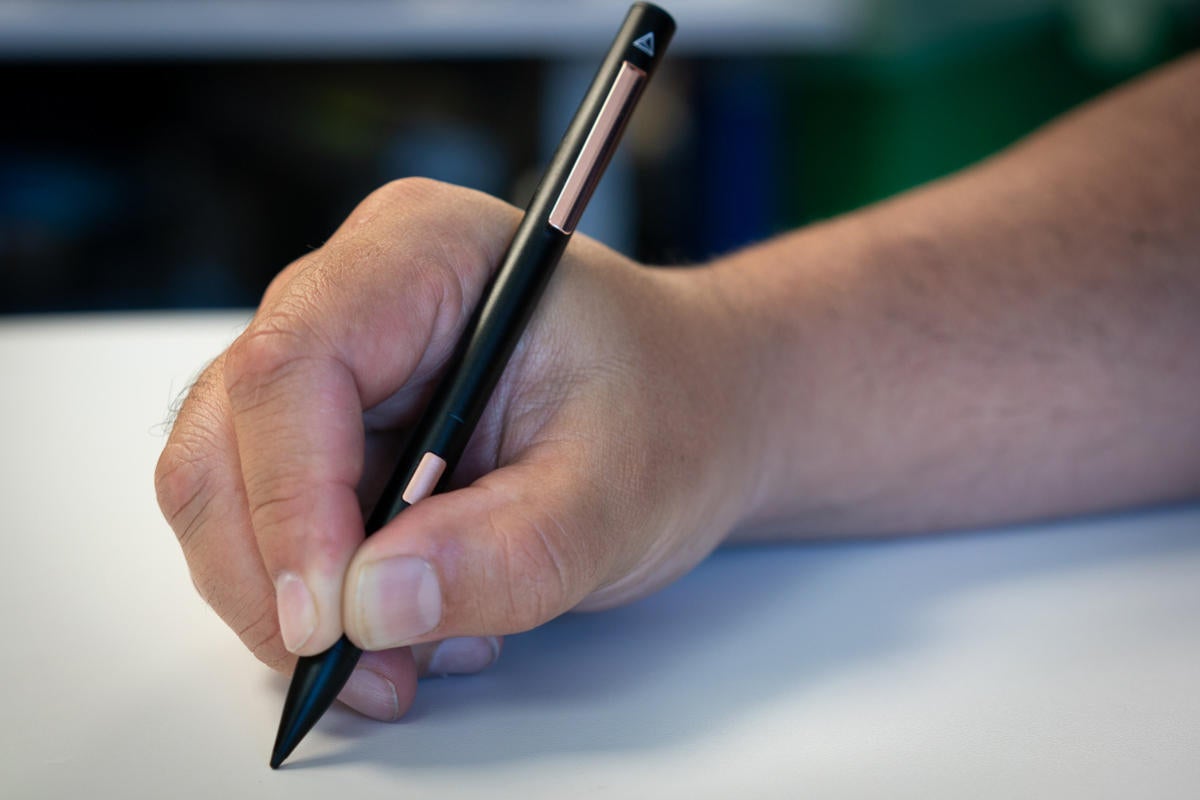 Maybe I would like the button more if it switched the output mode to erasing—much like double-taps do in the second-generation Apple Pencil—but nope, that's not an option. Rarely has a power button made me feel so powerless. On the bright side, it's got a light to the side that glows blue when the pen is on and that switched to red when it needs a recharge.
The Note boasts a decently long battery life—provided you remember to switch off that power button, which may happen accidentally anyway—as Adonit claims it will keep chugging for around four days. If you need to charge it, the included Micro USB cable reportedly delivers an hour's worth of juice in just four minutes. You'll have to be careful not to lose the tip, though, as you'll have to pay $15 to get a pack of three new ones from Adonit's site.
Bottom line
The Adonit Note is a good pen, but I wish it were better. Its price, design, and balance all make this stylus more suited for a workday carry than Apple's own $99 to $129 options. But every time I think I've adjusted to the position of the power button, I eventually end up tapping the screen again in confusion and then realizing it's switched off again. That one issue compromises an otherwise impressive product. Were it positioned just a few centimeters up or on the opposite side of the barrel from the pen click, it could have been a must-buy for the office professional.