At a Glance
Expert's Rating
Pros
Excellent sound quality
Charging case keeps them ready to go
Can act as phone earpiece and access Siri and Google Assistant
Relatively inexpensive
Cons
O-hooks can prevent a good fit
Largest included eartips are not large enough
I had to crank the volume setting to almost maximum to get a satisfying level
Our Verdict
At right around $100, the 1More Stylish offers great sound quality for the price.
Best Prices Today: Stylish True Wireless Earbuds
True wireless in-ear headphones are gaining in popularity, and for good reason. They offer the potential for high-fidelity sound without tangle-prone wires. Many believe that Bluetooth wireless technology can't match the quality of a wired connection, which was true in the early days, but that disparity is quickly dwindling as Bluetooth continues to improve.
1More is well known for its wired in-ear and over-ear headphones. But the company also makes a true wireless model, the Stylish. Once I found the right eartips, they sounded superb.
Features
Like all true wireless in-ear headphones, the 1More Stylish uses no wires to the source device or between the two earpieces. All communication is conducted via Bluetooth, and they are compatible with the high-quality aptX, AAC, and SBC codecs as well as the HPF, A2DP, and AVRCP protocols. These technologies represent the highest audio quality that Bluetooth can provide.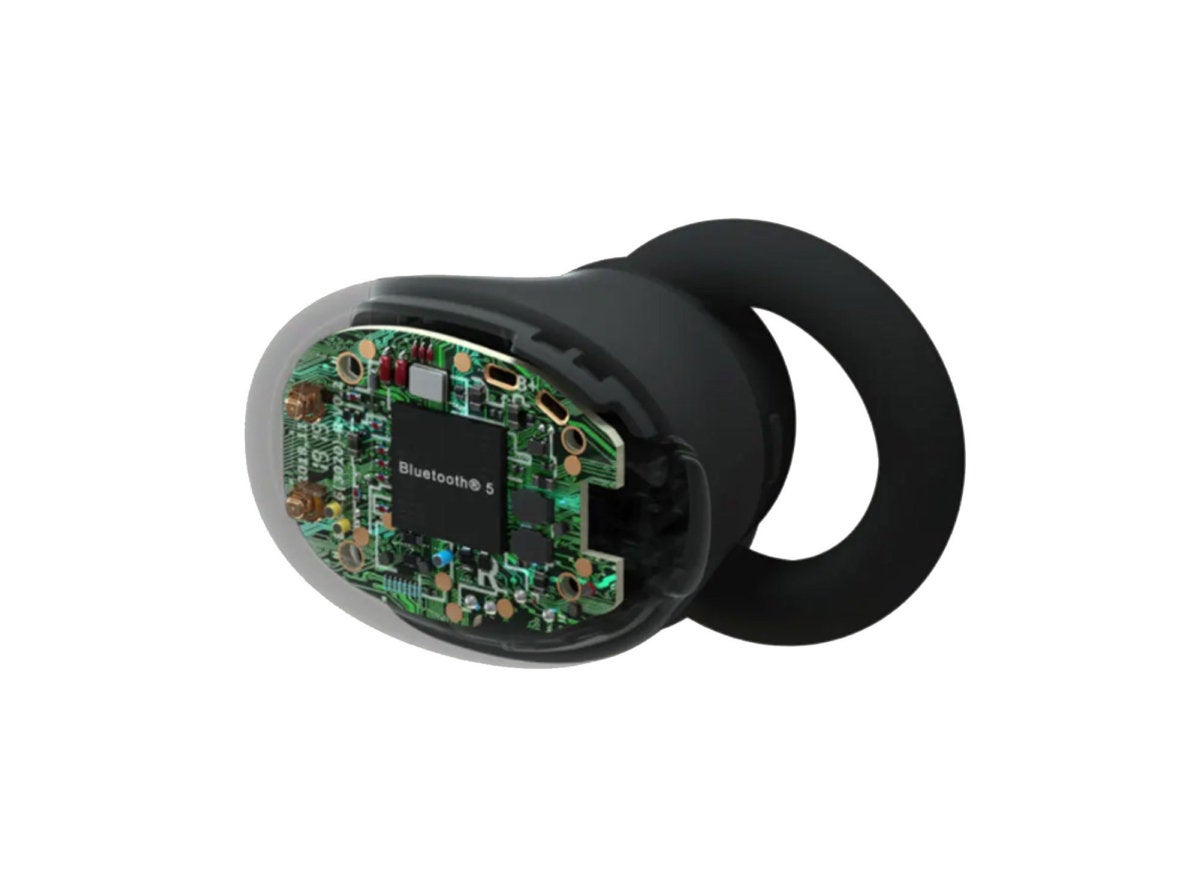 Thanks to its Qualcomm chipset and laser-shaped antenna, the Bluetooth connection is stable with strong interference rejection and a range of up to 10 meters. High-speed signal transmission assures low latency, as well.
1More say that its 7mm dynamic driver with titanium-composite diaphragm reproduces frequencies from 20Hz to 20kHz with very low distortion. In addition, the Stylish was tuned by Grammy-winning sound engineer Luca Bignardi.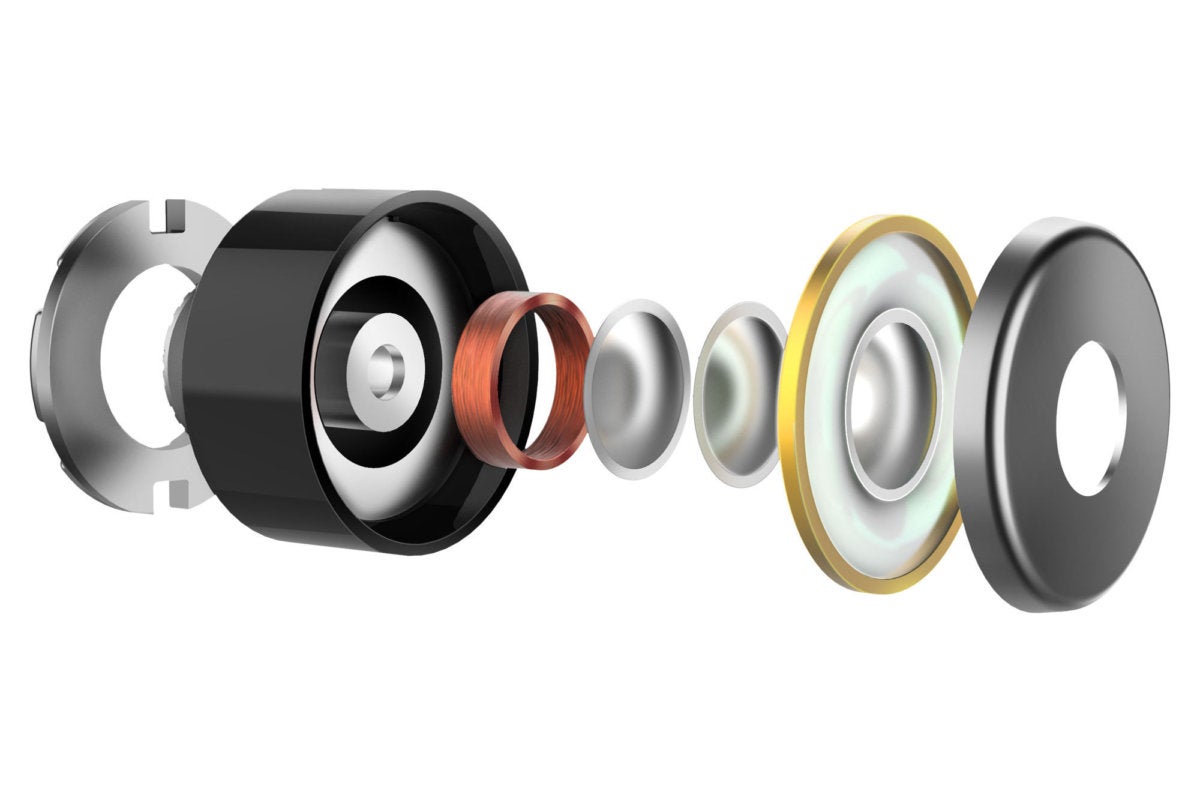 That's all well and good, but the sound quality you hear depends greatly on how well your ear canal is sealed by the earpiece. To achieve the best seal, 1More includes four pairs of silicone eartips of different sizes, allowing you to select the size that works best for you. In addition, you get three pairs of different-sized O-hooks that fit into the ear's concha, which is the bowl-shaped area directly behind the opening to the ear canal. This is meant to help secure the earpiece in place.
The 1More Stylish comes with a charging case that connects to a USB power source to charge the headphones. The case includes its own battery, which keeps the earpieces charged whenever they are placed inside. Each earpiece has a battery capacity of 55 mAh, allowing them to operate for 6.5 hours at 50% volume. By contrast, the case's battery capacity is 410 mAh, providing a total of 24 hours of play time with periodic recharging in the case. Even better, a quick 15 minutes of charging provides three hours of use. A full charge of the case and earpieces requires 85 minutes.
Microphones in each earpiece let you place and take phone calls. Thanks to the microphone design and DSP-based noise cancellation, your voice can be heard even in noisy environments. The microphones also enable the Stylish to activate Google Assistant or Apple's Siri voice-controlled digital assistants if they are available on the connected device.
After charging the earpieces for the first time and removing them from the case, they go into Bluetooth pairing mode. Once paired with a source device, they automatically pair with that device thereafter (unless you pair them with another device later). In addition to standard stereo pairing, you can pair only one to act as a phone earpiece, and you can pair both in mono mode to share your music with someone else.
User Interface
Each earpiece provides a multifunction button that performs several different tasks. Hold both buttons for two seconds to power the earpieces on and four seconds to power them off. (They automatically power on when you remove them from their case and power off when you place them in the case.)
Click the left earpiece's button to answer and hang up a phone call, and hold that button to decline a call. Play and pause the music by clicking on the right button; skip to the next track by double-clicking the right button, and skip to the previous track by triple-clicking that button. Wake up Siri or Google Assistant by double-clicking the left button. It takes a while to remember these procedures, but I got used to it.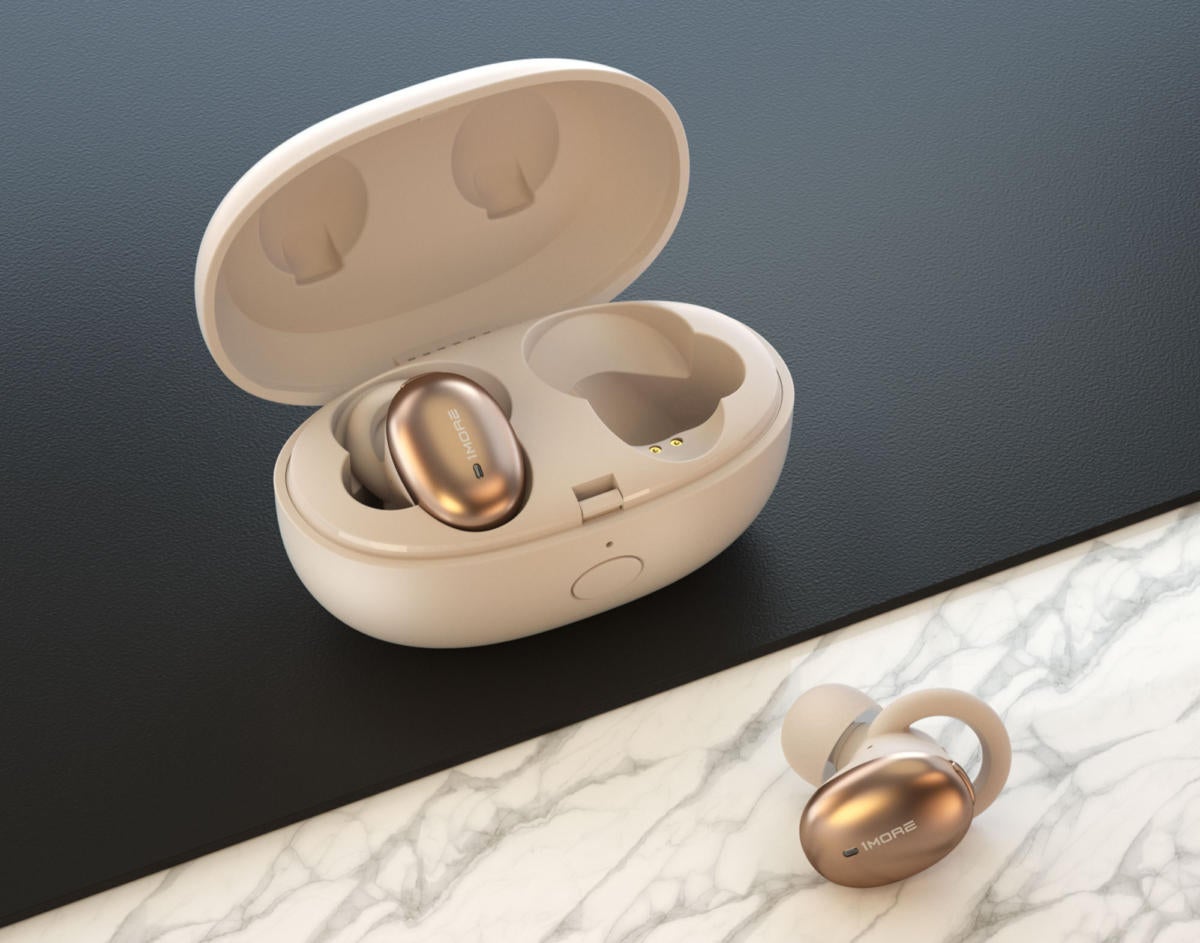 However, I quickly discovered that play, pause, and track skipping can be controlled by either button if you're not on a phone call. Also, accessing Siri or Google Assistant can only happen when there is no music playing, and it can be initiated from either button.
Setup & Performance
As I mentioned earlier, achieving a good seal in your ear canals is critical for best performance. In my case, that normally means using the largest available eartip. I tried the largest eartip that comes with the Stylish, but it wasn't large enough. Fortunately, 1More sent me a wider assortment of silicone and memory-foam eartips, and the largest silicone tips worked beautifully for me. They measure 14.5mm in diameter, while the largest included tips measure 13mm; what a difference 1.5mm makes!
If none of the included eartips work for you, you can purchase a wide variety of memory-foam tips from Comply. Unfortunately, memory-foam tips do not work well for me; I much prefer silicone.
Regarding the O-hooks, I found that the smallest ones worked best for me, but they still prevented a complete seal by holding the earpieces at a less-than-optimal angle. Removing the O-hooks entirely solved that problem, and they didn't feel insecure at all. However, the labels identifying the left and right earpieces are on the O-hooks, so removing them makes it a bit difficult to know which is which at first.
I began my listening with "Kid Charlemagne" from Steely Dan's album The Royal Scam. The overall sound was very well balanced, with deep bass, clean vocals, and crisp guitar and drums. Also, the imaging was excellent; I could hear well into the mix and distinguish each instrument.
"Fight of the Cosmic Hippo" from the album of the same name by Bela Fleck and the Flecktones is a wonderful low-frequency test. Bassist Victor Wooten is featured on this track, and he really plumbs the depths of his instrument. It sounded rich and deep on the 1More Stylish, which also reproduced the banjo, piano, drums, and harmonica beautifully.
Turning to classical music, I listened to Bach's "Toccata and Fugue in D minor" as arranged for and performed by the Canadian Brass on their album The Essential Canadian Brass. This standard brass quintet includes two trumpets, French horn, trombone, and tuba, and all of them were rendered faithfully with superb delineation of their timbres. Also, the dynamic range was excellent, from the quietest passages to the thundering climax.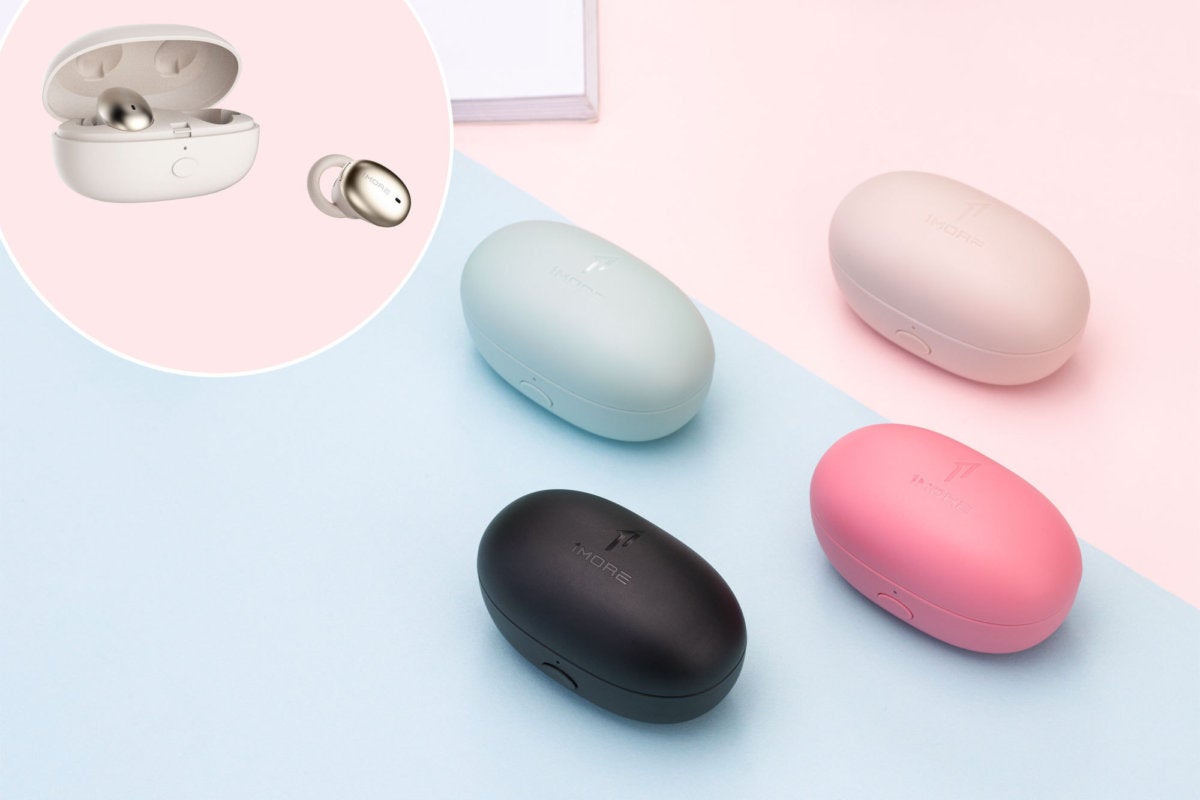 Ferde Grofe's wind-ensemble arrangement of Gershwin's "Rhapsody in Blue" is wonderful as performed by the Cincinnati Wind Symphony under the direction of Eugene Migliaro Corporon on their album Soundings. Listening on the 1More Stylish, the piano sounded rich and natural, and I could hear deep into the mix thanks to excellent imaging with a cohesive soundstage.
Jeff Rona's outstanding score for the movie White Squall includes a track entitled "The Journey Begins," on which I played sea-shell trumpets. It also has synthesizers, percussion, and various flutes. On the Stylish, the sound was nice and rich with good imaging and dynamic range.
I listened to some of the same tracks on my current favorite wired in-ear monitor, the RevoNext QT5, which I reviewed for Macworld's sibling site TechHive. Its sound is a bit richer and more present than the 1More Stylish, but not by a lot. Plus, it requires a lower volume setting to sound the same in level; in fact, I had to crank the volume almost to its maximum to get a satisfying level from the Stylish.
During my listening, I had my wife call me. She reports that my voice sounded clearer than any other such test we've performed in the past. Her voice sounded great as well.
Bottom line
The 1More Stylish is a fine true wireless in-ear headphone. As long as you use the right eartips—and ditch the O-hooks if necessary—it sounds excellent, with great imaging and dynamic range as well as accurate, natural reproduction of solo instruments and ensembles. Plus, it offers access to Siri and Google Assistant as well as the ability to serve as a phone earpiece.
I have to say that the RevoNext QT5s sound a bit better, possibly due to the fact that they're wired. But the Stylish certainly narrows the gap with true wireless in-ear monitors, thanks to its excellent Bluetooth connection with aptX and AAC and quality drivers. Also, the QT5s cost less than $30, but it offers none of the extra features, and it's wired, which will dissuade many shoppers.
If you're looking for a true wireless in-ear headphone, I heartily recommend the 1More Stylish. Even better, at just under $100, they are relatively inexpensive compared with other high-performance models on the market today.
Best Prices Today: Stylish True Wireless Earbuds