At a Glance
Expert's Rating
Pros
Easy-to-use app
Automatically scans USB drives
Real-time protection
Cons
No recent independent testing results
Not feature rich
Our Verdict
ClamXav is a popular choice for many longtime Mac fans, and overall the app seems good. It's simple to use, offers basic protection for your Mac and stays out of your way. But the app is a little slow at times, and while it seems to do a fairly good job, there just aren't enough third-party testing results to give this security app an unqualified thumbs up.
Best Prices Today: ClamXav 3
After changing from a free app to paid four years ago, ClamXav continues to be a popular choice for protecting Macs. You don't get a lot of frills with ClamXav, but the price is right and protection is good.
Canimaan Software Ltd., the company behind the popular anti-virus solution, released the latest version of the app, ClamXav 3, in August 2018. The update offers a mild redesign with a more streamlined interface making it easier to use.
ClamXav 3 relies on the open source detection engine ClamAV, which is maintained by Cisco Talos. Overall, protection appears to be good; however, none of the testing houses have released a recent report on ClamAV or ClamXav 3, leaving it up to us to see how it fared.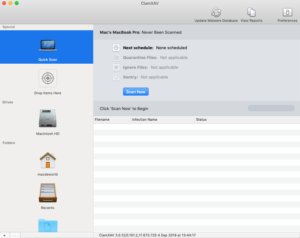 Using the Objective See malware database, ClamXav 3 had no trouble detecting any malware we tried. Our tests were by no means exhaustive, but we increased the number of tests we usually do. Once we unzipped the file containing malware, ClamXav 3 immediately quarantined it, protecting the computer. Unfortunately, these tests have limits as they do not account for the most recent threats to macOS that would be covered by a testing house such as AV-Test or AV Comparatives.
ClamXav also stood up well against the Wicar test database, blocking a virus that Firefox didn't red-flag. ClamXav itself doesn't have any protection for online threats, but if a malicious file hits your Mac the suite should detect it.
Interface and features
ClamXav continues to offer a very simple and straightforward interface. The basic layout is similar to previous versions. You have a left hand navigation pane, and then a primary area where you can activate a scan and view the results.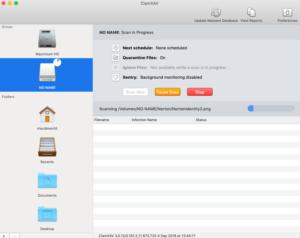 The left-hand pane contains options to do a quick scan, scan the entire hard disk, the user folder, recent files, Documents, Desktop, or Downloads. There's also a section to drag-and-drop files. You can also add destinations to the navigation pane by clicking the "+" at the bottom.
ClamXav doesn't automatically schedule any scans, but to do so you can select the drive or folder you'd like to scan, click the clock icon in the main panel, and schedule a scan. You might, for example, decide to carry out a quick scan every week, and then do a full hard drive scan once a month.
ClamXav by default will automatically scan any USB drive you plug into your Mac. You can turn this off if you wish by going to Preferences > Advanced. Real-time protection, meanwhile, is handled by ClamXav Sentry. This version of Sentry watches your entire Mac by default, but you can tell it not to watch specific files or directories.
That's about it for features. ClamXav is a very simple program with nothing beyond real-time protection and scanning. One thing it does have in its favor, however, is its silence. In our opinion, the best A/V solutions don't bother you. They just get to work doing what they're supposed to and only alert you when there's been a security event. That's what ClamXav does. In our time with the app it just went about doing its job, and that's it.
Pricing
There was a time when ClamXav was free, but those days are no more.
Currently, ClamXav is priced at $30 per year for protecting up to three Macs, or you can pay $55 for two years of protection for the same number of devices. There's also a family pack that covers up to 9 Macs for $50 or $95 for two years. Those are very reasonable prices for antivirus when you consider most major antivirus vendors are covering up to 10 devices for about $100 per year.
Bottom line
ClamXav is very simple, very cheap, and appears to do a pretty good job. We may have given it a higher score if there'd been testing of ClamXav 3 from independent organizations. In our experience ClamXav 3 worked very well. That said, you can get protection that's very good for absolutely nothing with a suite such as Avira Free. But free commercial programs come with some downsides including periodic advertising from the vendor, and attempts to encourage you to upgrade to a paid version. Still, those little annoyances may be worth it for some, while others may prefer to support the development of this longtime antivirus solution for Mac.
Best Prices Today: ClamXav 3