Apple's Reminders app used to be a joke, and if you found yourself using it, it was probably because you'd asked Siri to remind you about something or, well, you didn't know any better. It was good for casual use, but in a professional setting, you'd have been better off sticking with a third-party app like Things 3.
With iOS 13, though, Reminders should rank among the new operating system's standout features. The changes are breathtaking. You can make groups with multiple lists, you can set morning notifications that give you a rundown of what you have to do for the day, and you can add checklists to reminders. It doesn't even take that long to make a reminder anymore because Apple lets you enter them with natural language commands instead of fiddling with multiple fields.
Better yet, since you can use the same data between the iPhone, iPad, Mac, and Apple Watch, there's no need to buy separate versions for each app as you might with a third-party alternative. It won't take long to master all the features below, and once you do, you may find the once-neglected app is suddenly one of the most-used apps on your phone.
At-a-glance tracking of all your reminders
When you first open the Reminders app, you'll see a grid at the top for Today, Scheduled, All, and Flagged. It's a handy way of seeing what's on your plate for today versus what you'll have to tackle tomorrow, and it sure beats having to look carefully at the dates in a pile of reminders.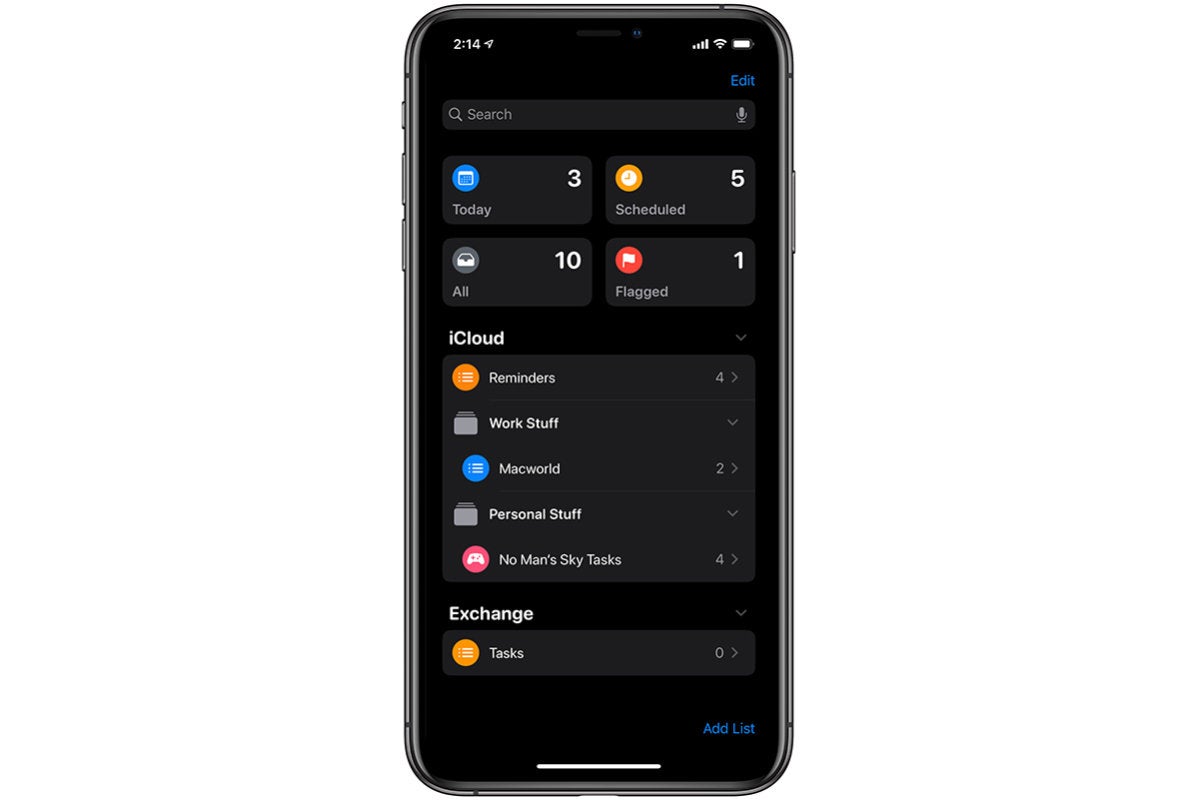 The Reminders app sorts these by itself, so long as you marked a specific reminder while setting it up (or added a flag for priority). This home screen is also just a good springboard for making new reminders. To add a new one, press the Today tab, the Flagged tab, or the Reminders tab, and you'll see the prompt for New Reminder in the lower left-hand corner.
Natural language input makes adding reminders easier
Adding reminders used to be a major hassle with Apple's native app because you had to waste time entering the time and date individually. A task that should have taken 10 seconds would sometimes end up taking what feels like ages.
Now, though, Reminders takes cues from popular third-party apps like Fantastical and lets you use natural language commands for adding entries. Let's say I want to remind myself to "Watch the Apple keynote on September 10 at 10:00." I could tap out that very phrase when making a new reminder, and the date and time would light up in blue. If I tap those blue phrases, Reminders automatically adds the time and date to the entry. That kind of thing can save hours. If you have your home or work set, you can type something like, "Remind me to charge my Apple Pencil when I get to work."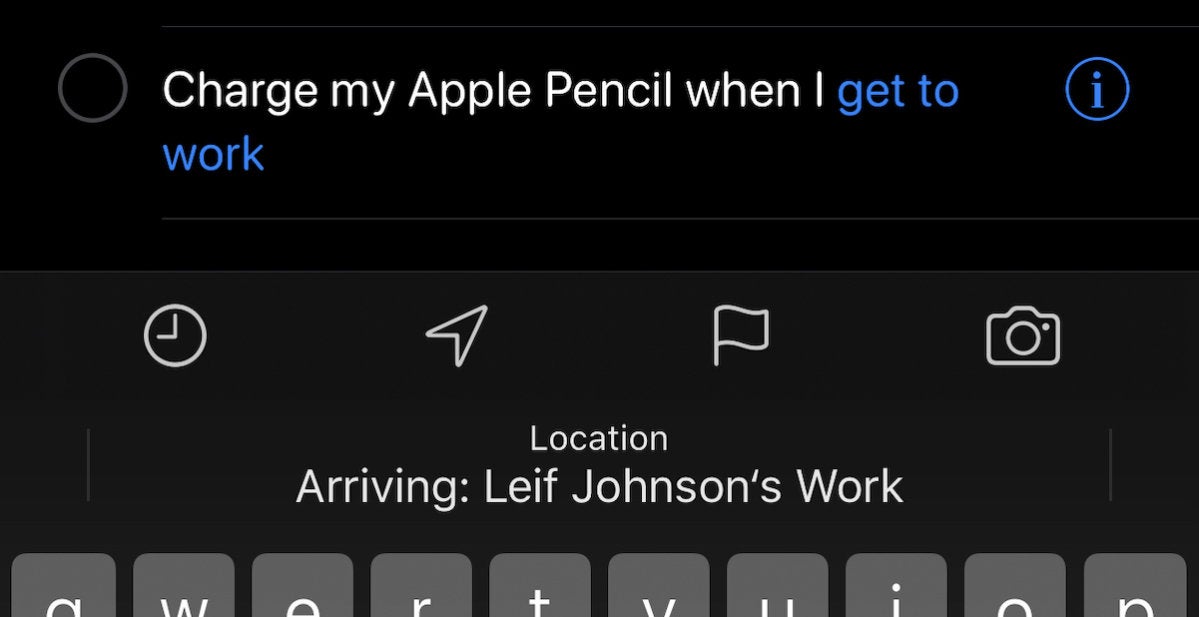 You can also use your voice to add these entries with Siri, and you won't even have to type anything so long as you use the "remind me" command. I can say, "Hey, Siri, remind me to watch the Apple keynote on September 10 at 10 o'clock" and it would add the entry to my Reminders. You can correct information or add new details with the handy Change icon that pops up at the bottom of the screen.
The Quick Toolbar lets you easily add attachments, locations, and more
When you start typing out a new reminder, you'll see a new Quick Toolbar floating above the keyboard that offers a number of handy abilities. Get the hang of these tools, and you could easily (and quickly) have access to all the information you need for a reminder when it pops up. From the left to the right, here's what you have to work with.
Set Time: Press this button (which looks like a clock), and you'll be able to set a reminder to trigger for Today, Tomorrow, or This Weekend. Over on the right, you can also press Custom for the full range of specifics the Reminders app offers.

Set Location: This icon allows you to set a trigger to remind you when you're Arriving Home, Arriving [at] Work, or Getting in Car. Press Custom on the far right to enter a custom address.

Set Flag: If you want to flag a reminder to emphasize its importance, press this icon. Easy peasy.

Add Attachment: This icon shows a camera, but pressing it shows it's a little more complicated than that. Press Take Photo to attach a photo of something you want to take right now. Press Photo Library to choose a photo you've already taken. Finally, press Scan Document to use iOS's built-in scanner so you can add documents.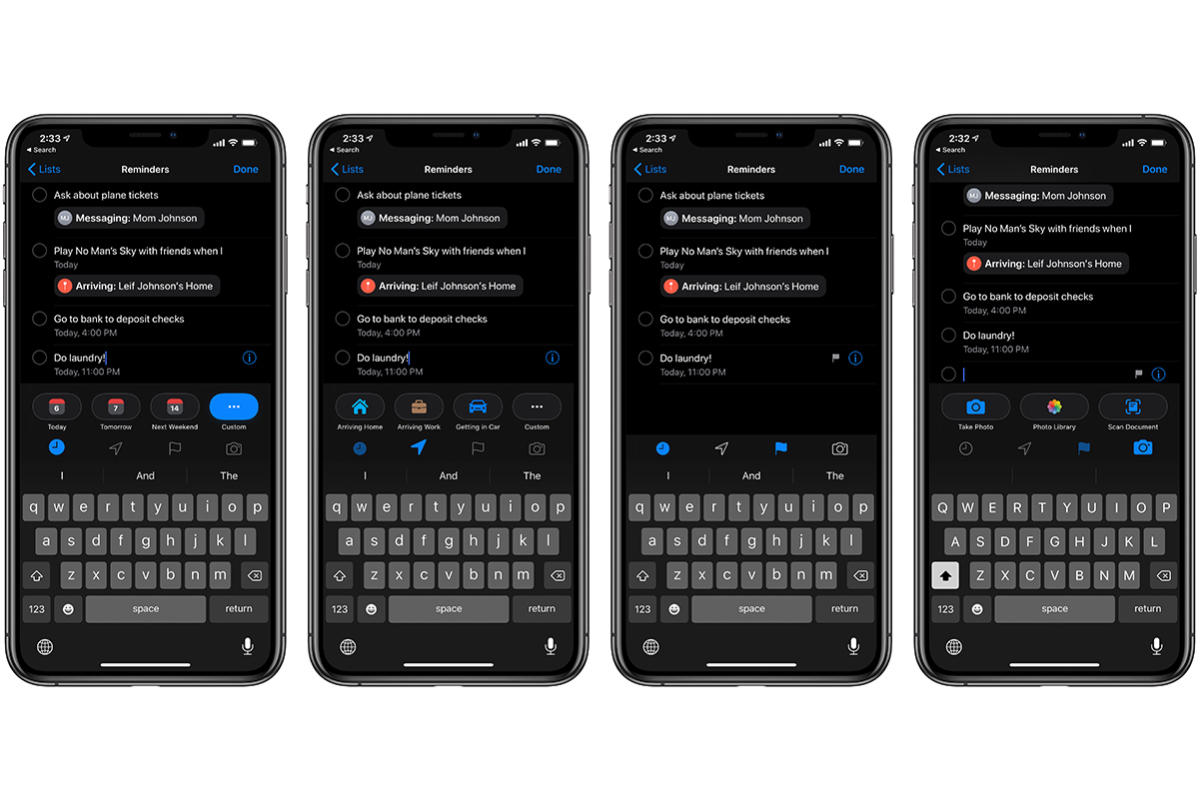 Subtasks lets you turn reminders into 'to-do' lists
If you make a reminder to go to the grocery store and then you'd like to have a checklist of reminders for everything you need to buy there, the new Reminders app lets you do that with Subtasks.
You can check off subtasks as you finish them, which allows individual reminders to function as to-do lists. Unfortunately, you'll have to do a little digging in order to add Subtasks.
First, make a new reminder. When you're done, press the blue "i" in the blue circle that appears to the right of the reminder for more options.
From there, scroll down Subtasks and press it. In the menu that pops up, press Add Reminder and add as many subtasks as you want. (Be sure to press Add Reminder again so it actually shows up—it's a little counterintuitive.) When you're done, press Details in the upper left, and then press Done in the upper right of the new menu.
To see your subtasks, just tap the title for the reminder you want to expand in the main interface. All of the associated subtasks should then appear, and you can mark them as completed from there.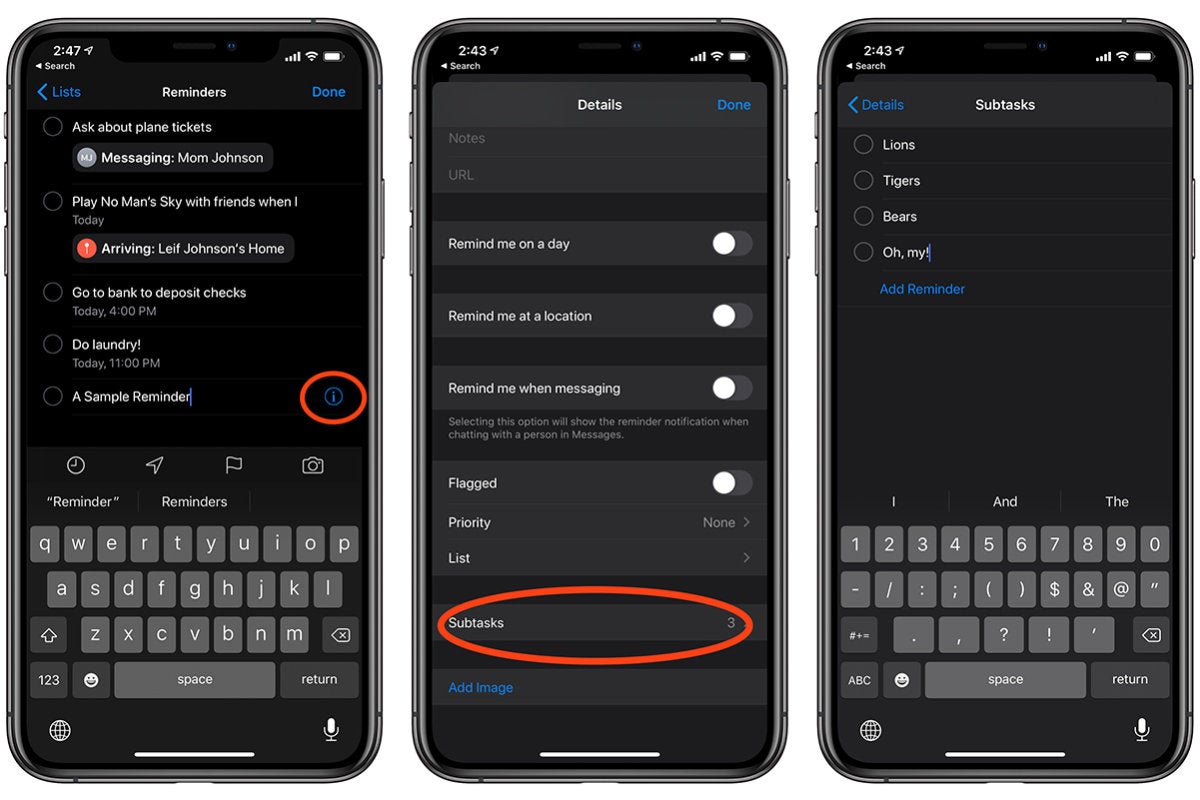 Nested Reminders
You can do something similar with existing reminders by making a nested reminder, and the process is a lot simpler. You simply drag one reminder to the reminder that you want to be the "parent," and it will appear in the drop-down menu like the subtasks when you press on the parent reminder later. Unlike a subtask, a nested reminder will have times, URLs, locations, and more—in short, anything you can add to a regular reminder.
Keep reminders organized in lists…
If you have multiple reminders related to a particular project, you can group them into a single list. Lists existed in previous versions of Reminders, but now they're easier to use and offer more customization options.
To make a new list, press Add List in the bottom right of the main Reminders interface. A menu will pop up that will let you set a name for the list and set a specific icon. You can choose from 60 different icons (including everything from umbrellas to game controllers), and you can choose one of 12 hues for an icon background color.
You can assign individual reminders to the list by creating them directly from the list interface or by pressing the blue "i" with a circle that appears beside a regular reminder. Press List in the menu that pops up, and you'll be able to choose the list from there.
…then add those lists to groups!
If that's not enough customization, you can also now make groups for these lists. To make a group, press the Edit button in the upper right when you're on the Reminders home screen and then press the Add Group prompt that pops up in the lower left. You can then select a name and press the Include button to select which lists you want.
Alternatively, when you're looking at a list of lists, you can hold down your finger on the name of a list and then drag the list's icon on top of the icon for another list that you'd like to pair it with. A New Group menu will pop up, and you can name the group from there. You can also add other lists by pressing Include beneath the prompt for the title.
And you can share those lists with colleagues, friends, or family
Lists may have been in Reminders for a while, but here's a cool new feature: You can now share lists with other iOS 13 users, and they'll see every change you make to it in real time. I like to think of this as the iOS version of scribbling out a grocery list and then giving it to the person who'll actually be going to the store, although with modern technology, you can add things to that list that didn't occur to you until later.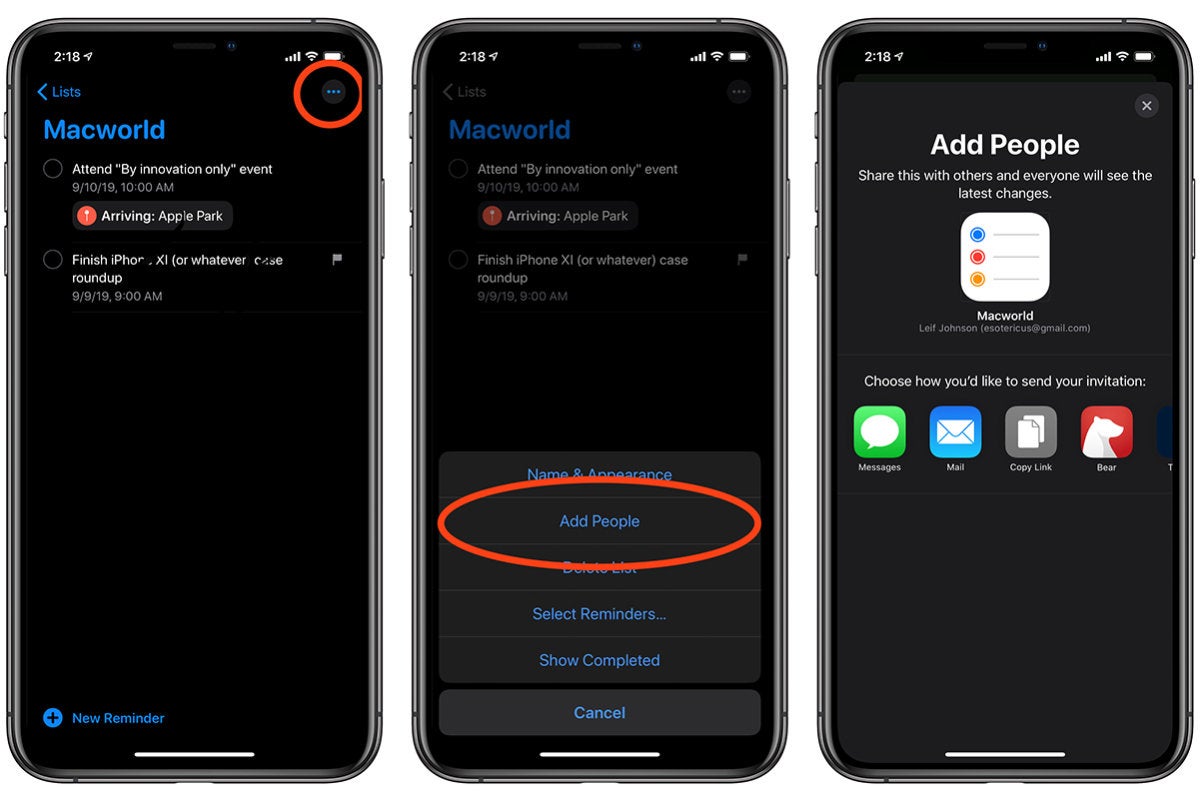 To share, press the three dots in the upper right whenever you're looking at one of your lists. After that, press Add People. You'll then be able send an invitation through Messages, Mail, or apps like Facebook Messenger. It'll also give you an option to copy the link for the invitation.
Start your day with a customized 'Today' notification
Here's one you have to turn on. If you'd like to start your day with a rundown of all your all-day reminders (i.e., those that aren't set to a specific time), Reminders will send you a handy notification in the morning. By default, it's set to push at 9 a.m.
To turn it on (and set a specific time), go to the Settings app, press Reminders, and toggle the Today Notification to green. To schedule this reminder for another time besides 9:00, press the blue time stamp under the toggle and configure the scroll wheel that pops up.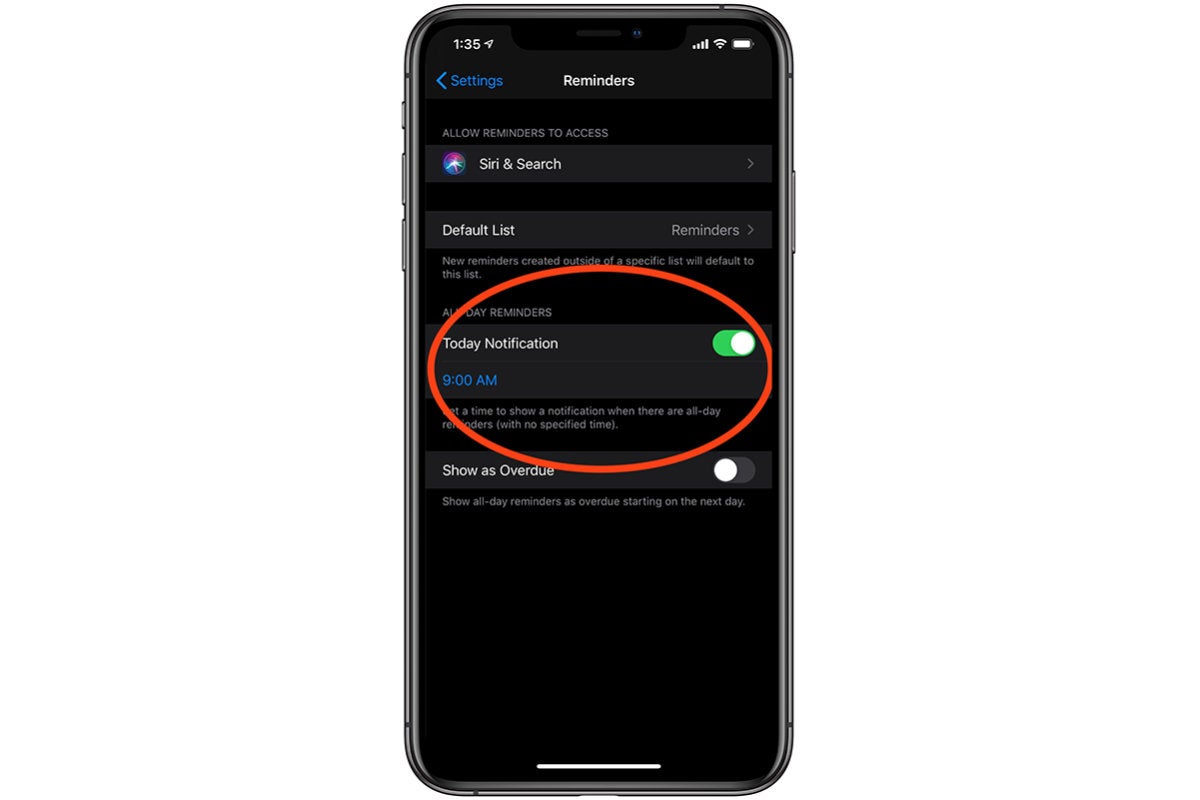 It reminds you about topics when you text someone in Messages
Ever wanted to tell someone something but wanted to wait until they text you in order to deliver the news? You can now set Reminders to trigger a notification that appears at the top of the screen when you chat with that person in the Messages app.
To set it up, start typing a reminder like you normally would. Once you're done, press the little "i" in the circle to the right of the reminder. A menu entitled Details will pop up. Around the middle of the Details page, flip the toggle beside Remind me when messaging to green. Underneath that prompt, you'll see a prompt for Choose Person. Press it.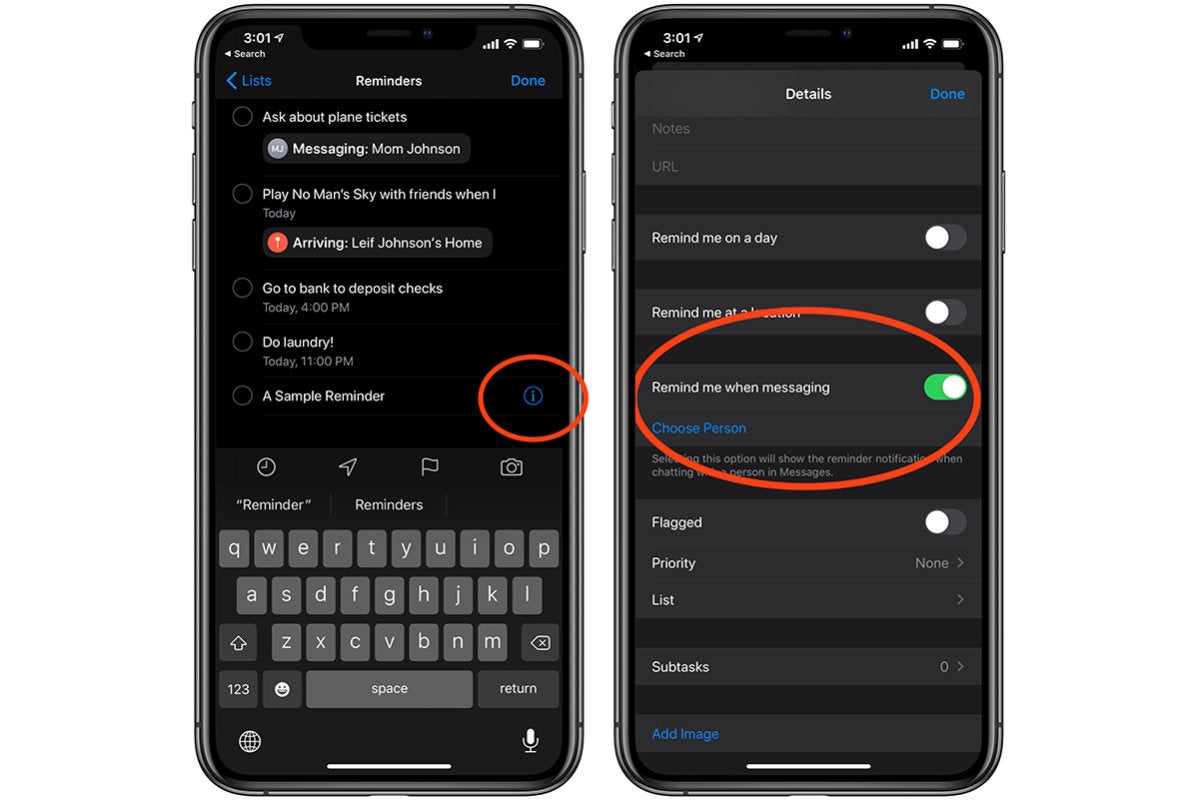 Your contacts list will pop up, and you can choose a specific person to associate with the reminder. (If you've made any groups, you can also select them by pressing Groups in the upper left.) Once you've made your selection, press Done.
You can also do this with Siri. Just say, "Remind me to ask about the agenda for December's event the next time I message John Doe." The next time you message John, the notification will pop up.
It works great with a Mac, too
I've focused on the iOS version here, but you can find most of the same feature over on macOS Catalina. For more complex reminders that require notes, URLs, and other information, I prefer entering the information on my Mac so it's ready to go at my fingertips when I only have my phone.