This week, Apple announced the seventh generation of its entry-level iPad, and it's a weird little beast. The screen is a little larger than last year's model, and you can now use a full-sized Smart Keyboard, but the processor remains the same and the overall design has only slightly changed. The changes are so few between last year's model and this one, in fact, that we basically covered them all in our announcement post.
Instead, let's compare the new kid on the block to this year's refreshed iPad Air, which has a 10.5-inch Retina display that's now very close in size to what you'd get on the 10.2-inch iPad. The bodies of both models now measure exactly 9.8 inches by 6.8 inches, although the Air has a tiny advantage in thinness. The Air costs more, but unless you're really just out to save money or you don't think you'll need more space, the iPad Air undoubtedly will be the smarter buy at this size. Here's why.
The iPad Air's display gives you a lot more besides extra room
If you're just using your tablet for watching videos or surfing the web, you're probably not going to notice the fraction-of-an-inch difference in the displays for the two models. For that matter, both models have a pixel density of 264 pixels per inch and can reach 500 nits of brightness.
You might notice the difference, though, if you're using your iPad for writing or drawing with the supported first-generation Apple Pencil. And that's also where you might appreciate the Air's many improvements over what the 10.2-inch iPad offers. For one, it supports Apple's TrueTone tech, which adjusts the colors on the screen to better fit the light around you for more comfortable reading. It's also got a laminated display—which means the glass sits closer to the actual display—as well as a P3 wide-color display and an anti-reflective coating. The laminated display in particular does a good job of helping the iPad mimic the feel of writing on on paper with a pen.
The iPad Air is a lot faster
The 10.2-inch iPad contains the same A10 Fusion chip we found in last year's 9.7-inch model, while the iPad Air has an A12 Bionic chip that includes Apple's second-gen Neural Engine for optimized machine learning. It's quite the jump.
Mind you, the A10 is a fine chip. Until recently, I used the 9.7-inch iPad every day and I never thought it let me down. But as you can see from our benchmarks from earlier this year, the A12 in the Air thumped the A10 soundly on iOS 12. If you're looking for a relatively future-proof device that's less likely to slow down with heavier-duty apps and OS upgrades in the coming years, go with the Air.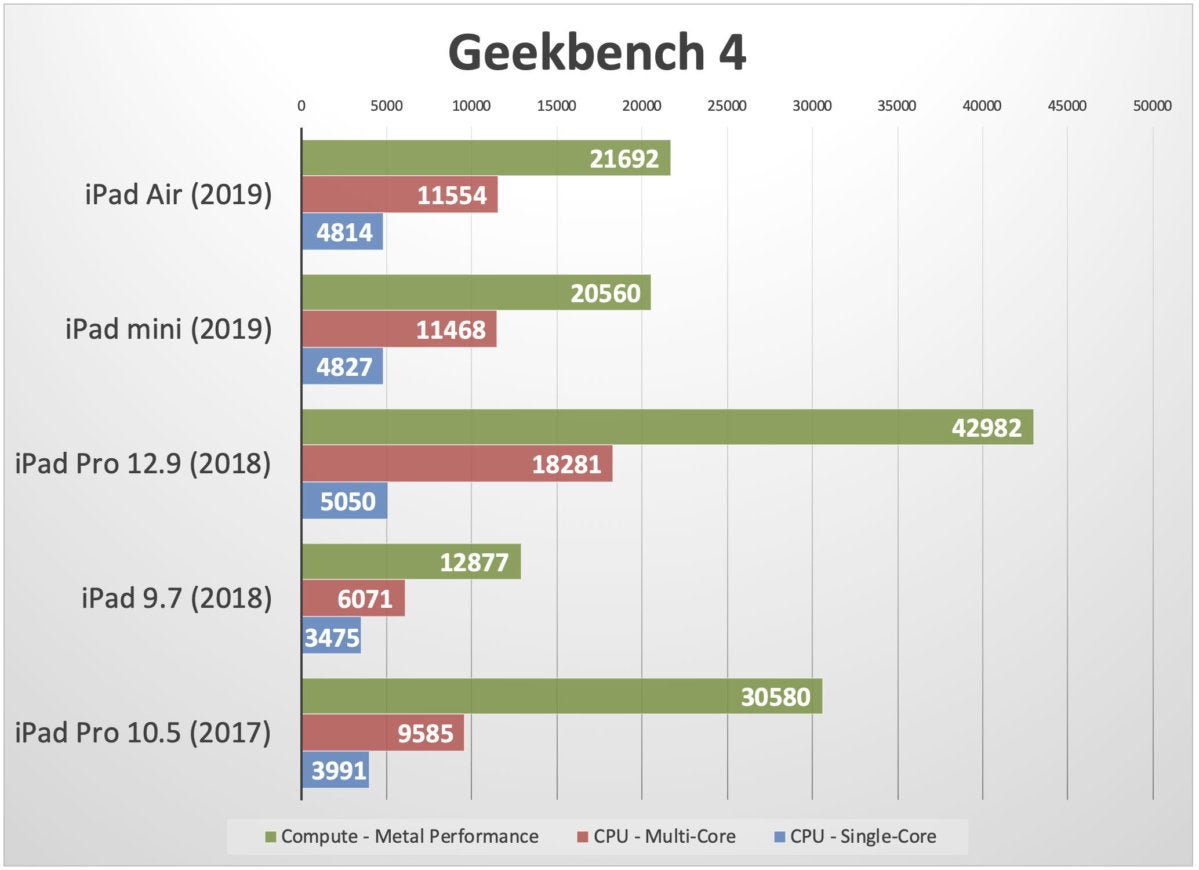 You get a lot more room with the iPad Air
This could be a biggie if you download a lot of movies or games to your iPad. The 10.2-inch iPad only comes in 32GB and 128GB configurations, while the iPad Air starts at 64GB and goes all the way up to 256GB.
Lately I find myself struggling with 64GB on my iPhone, so if you plan on using your iPad like a laptop with all the neat new features coming in iPadOS 13, go with the Air. Which reminds me…
The iPad Air is a better match for the Smart Keyboard
Yes, the new 10.2-inch iPad has a Smart Connector for use with Apple's full-sized (and expensive) Smart Keyboard, and I'm happy to see it.
But it's the same Smart Keyboard you can use with the iPad Air, and if you're willing to drop down $159 on a keyboard, go ahead and spendthe extra $170 to get the iPad Air as well. With its faster chip and more storage space, the Air can perform the "laptop alternative" role more easily than the seventh-generation iPad.
The iPad Air has a better FaceTime camera
If an iPad's rear camera is somehow a priority, you needn't worry. Both models have the same 8-megapixel rear camera that's limited to recording video in 1080p. As is typical for non-Pro iPad cameras, it's just enough to get the job done.
You're much more likely to use an iPad for FaceTime, though, and unfortunately the differences in this case are stark. The 10.2-inch iPad only has a puny 1.2-megapixel camera that records video in 720p, while the iPad Air has a 7-megapixel camera that can capture at 1080p. If you use FaceTime a lot, go with the Air.
The iPad Air weighs (slightly) less
Even with all the power and storage Apple has packed into it, the Wi-Fi-only iPad Air still weighs just a single pound. Meanwhile, the 10.2-inch iPad weighs 1.07 pounds. That's not a huge difference, but as a person with a nasty habit of overstuffing his backpack, I can attest that lighter is usually better.
The iPad Air's battery *may* last longer
Here's an iffy one. Like the 9.7-inch iPad before it, this year's 10.2-inch model has a 32.4-watt-hour battery, while the iPad Air has a 30.2-watt hour battery. In both cases, Apple says that will get you around 10 hours of browsing or watching videos.
But the Air might do you better, although we won't know for sure until we get our hands on a unit. When we did our benchmarks for this year's Air, though—importantly, while it was running iOS 12–the iPad Air performed the best out of all iPads, clocking in at eight hours and 19 minutes while the regular iPad ran for six hours and eight minutes.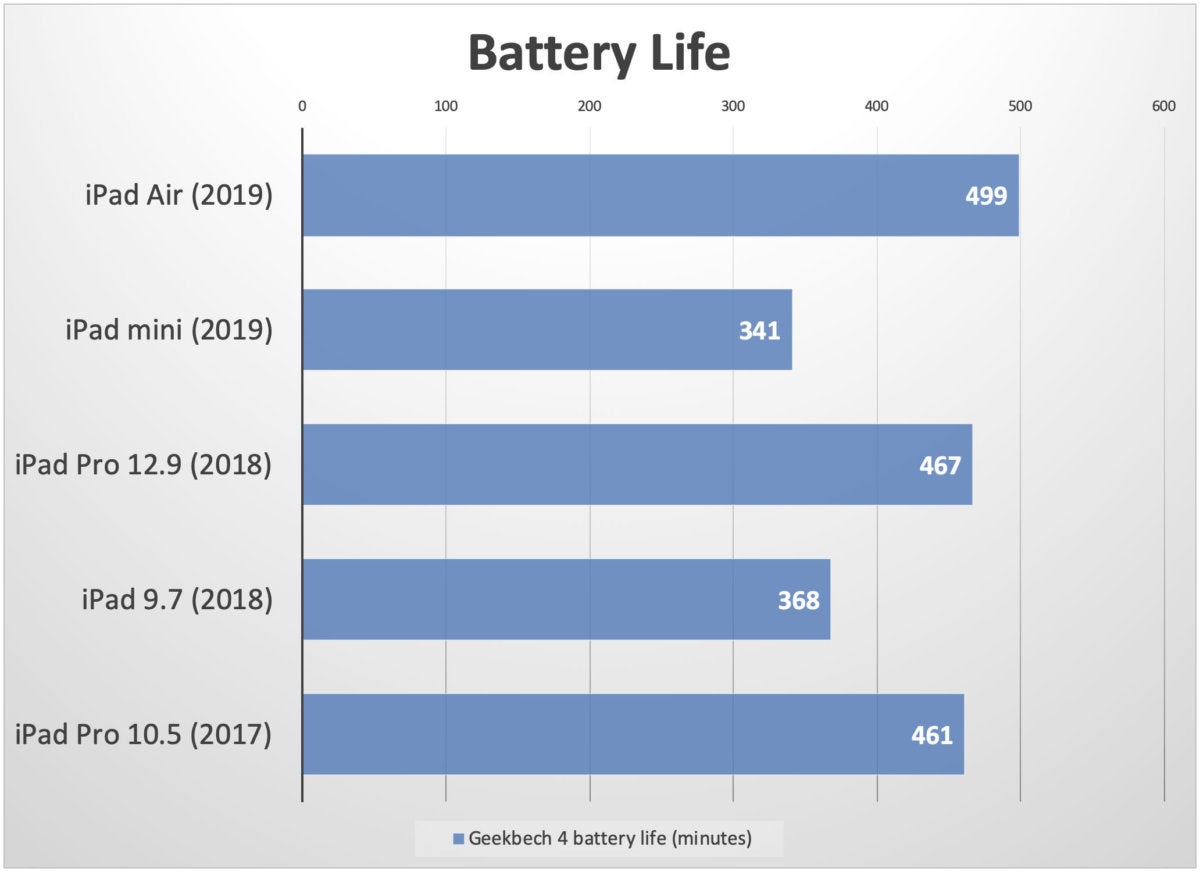 The iPad Air costs more, but…
You're getting a lot more for a device that's roughly the same physical size.
The seventh-generation iPad starts at $329, while the iPad Air starts at $499. If you just want an inexpensive tablet, the regular iPad will do fine—more than fine, in fact! But if you want a device that comes close to the speeds of some older iPad Pros, has more storage space, comes with a better FaceTime camera, and can tackle more intensive app apps, you'll want to spend that extra cash.
On the bright side, prices have already gone down a bit for the iPad Air now that it's been out for a while—you can typically find it selling for around $460 on Amazon. The regular iPad typically also sees discounts a couple of months after refreshes launch, but we likely won't see those for several weeks considering how new the 10.2-inch iPad is.