At a Glance
Expert's Rating
Pros
Convert, reduce size of PDF files (Pro only)
Group most-used tools into Favorites (Pro only)
Paid versions carry over from previous version
Cons
Only standard image files can be converted to PDF (Pro only)
Advanced editing tools now require annual subscription for new users
No one-time purchase option for Pro features
Our Verdict
PDF Expert makes it a snap to read, highlight, or annotate PDF documents, now with a streamlined user interface, stickers, and Pro subscription option with advanced editing and conversion tools.
Best Prices Today: PDF Expert 7
There was a time when buying software meant using it as long as you'd like — that is, assuming one could avert their gaze from the allure of upgrades with cool new features or OS compatibility fixes. However, modern developers have found in-app purchases and subscriptions to be a more sustainable form of revenue in the long run.
Although I prefer the old way of doing business, companies like Readdle have found a way to successfully evolve from paid apps to subscriptions without raising the ire of longtime users who helped get them this far.
Free is the new paid
After debuting on iPad in 2010, PDF Expert has lived up to its name as the premiere iOS app for working with PDF documents on the go. And there's absolutely no reason not to own it now, because version 7.0 of the app is free. That's right, no more up-front purchase, nor in-app upgrades.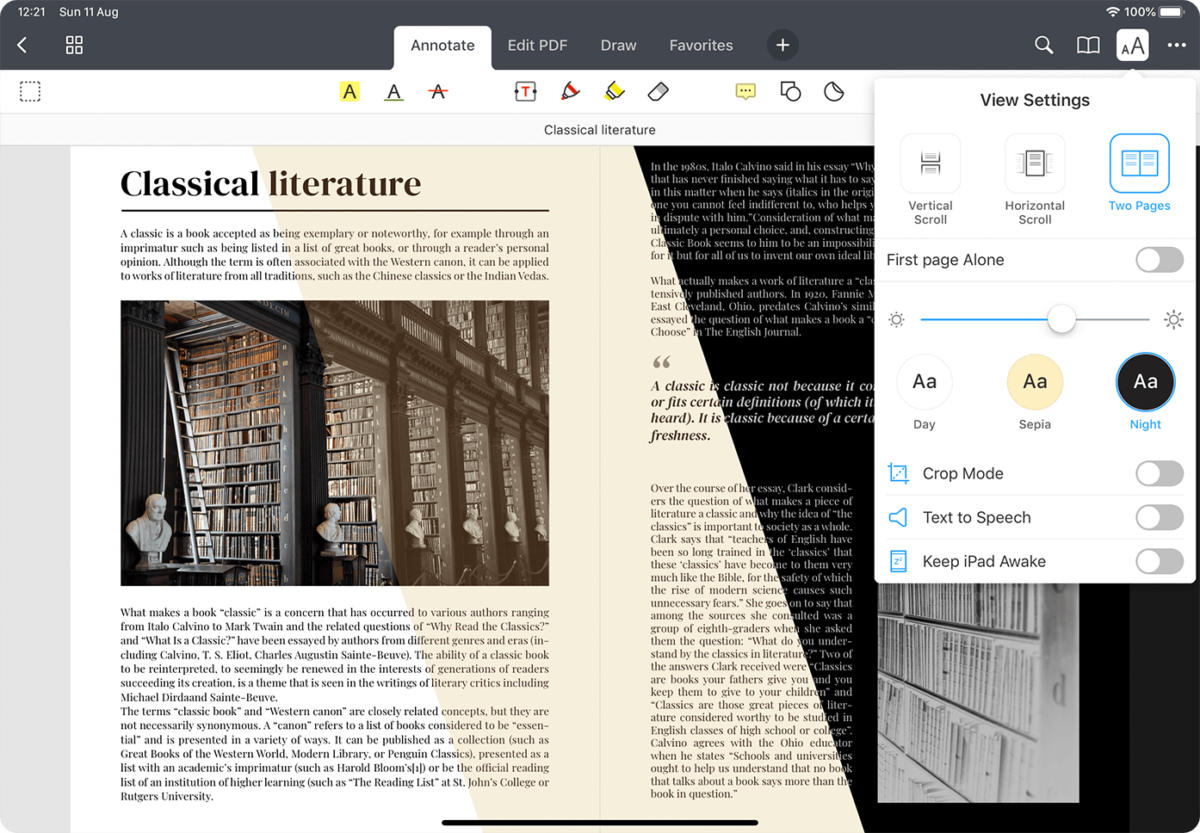 To be fair, PDF Expert 7's "free" isn't exactly the same as paying $10 for the previous app. You won't be able to sign, password protect, or merge documents, nor add, delete, and extract pages. That's because these features have been moved to a $50 per year Pro subscription, along with advanced editing features formerly available as a $20 in-app upgrade.
But that's where the bad news ends, because all PDF Expert 7 users get the same revamped user interface with a focus on minimalism. Case in point: Similar tools are now grouped into easy to find categories—Annotate, Draw, and Insert—but everything is more intuitive across the board.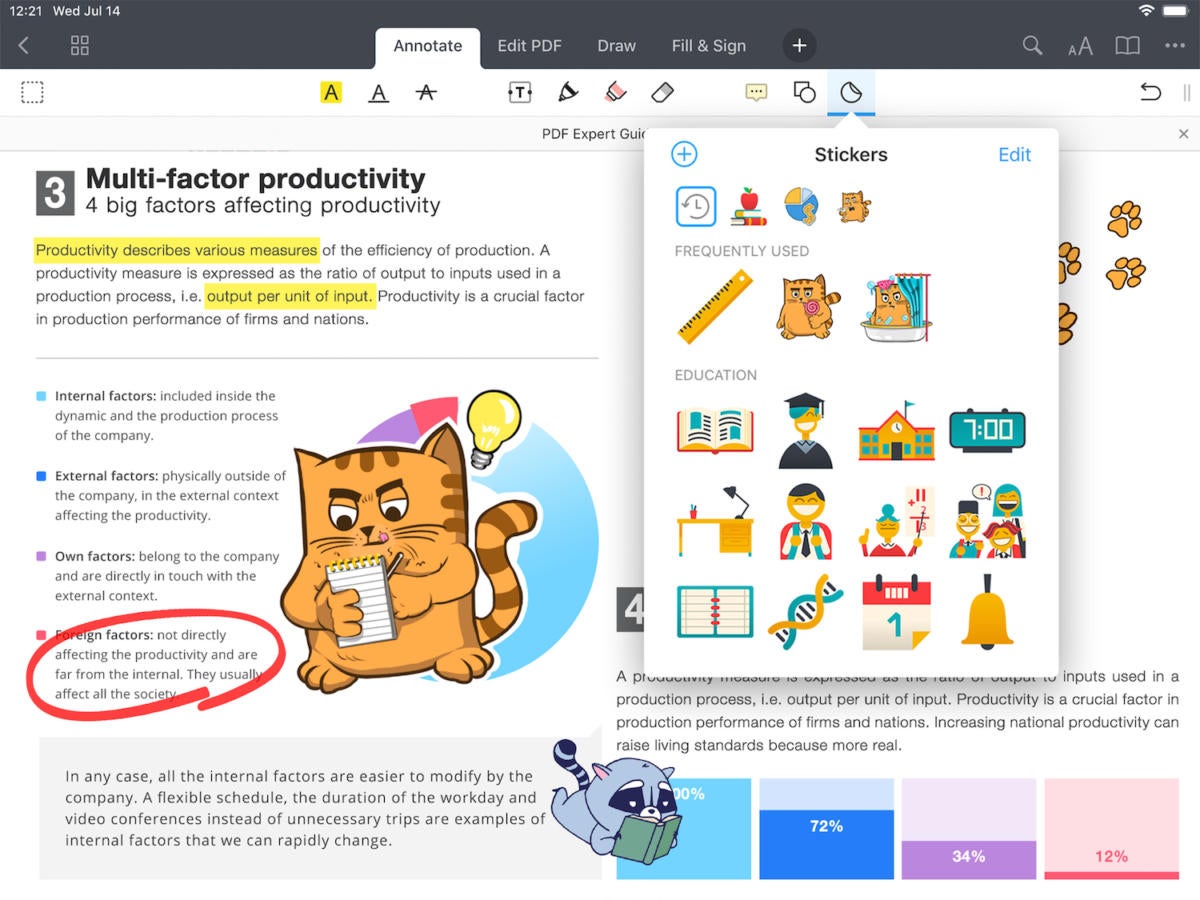 While the new features are almost exclusively for Pro subscribers, PDF Expert 7 does add something for everyone: Stickers. Yes, you can now dress up documents with cute graphics in one of seven categories (Raccoon, Cat, Dog, Education, Food, Weather, Calendar). There are more than 300 in all, each appropriately adorable if you're into this kind of virtual adornment.
Going pro
While existing users don't lose any paid features from the previous version, they'll need to subscribe if they want a trio of new Pro features debuting in PDF Expert 7. You can now convert Word, Excel, and PowerPoint (or Apple Pages, Sheets, and Slides) documents to PDF format. This is convenient but not exactly groundbreaking, considering those respective iOS apps can already perform the same trick. (Earlier versions of PDF Expert could also do the same by purchasing Readdle's PDF Converter app, which is no longer required.)
Images can also be converted into PDF documents, be they imported from a Photos library, local storage, or connected cloud service. This feature comes in handy for taking quick screenshots and inserting them into a document but does have its limitations: Layered Photoshop PSD and other less-common files aren't supported, for example.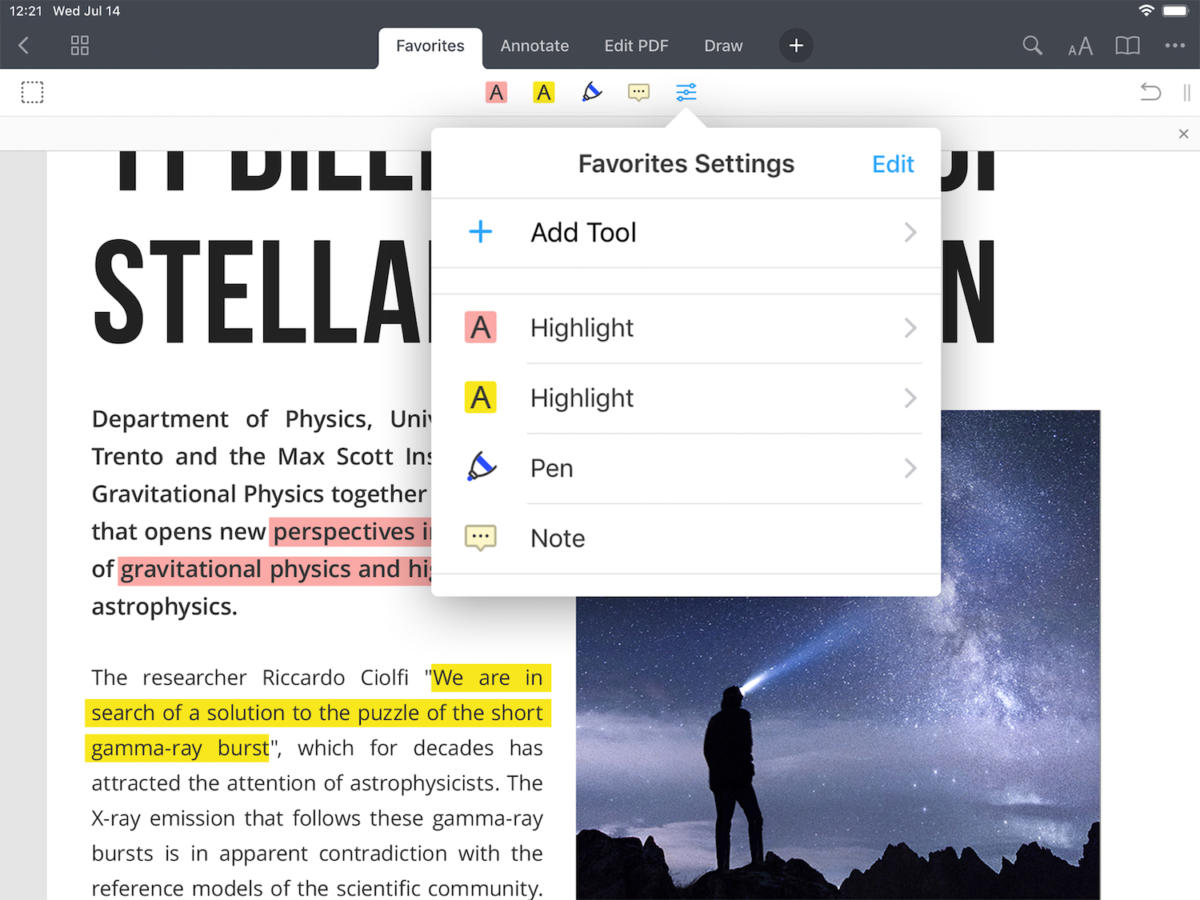 More compelling is Reduce File Size, which offers four quality settings (Lossless, High, Medium, or Low) to shrink larger PDF documents before sharing. The results vary based on document contents, with High or Medium offering the best balance of size versus quality. Tapping the desired setting calculates potential space savings beforehand, with text-heavy documents reduced by as much as 75 percent in many cases.
Last but certainly not least, a Pro subscription allows PDF Expert 7 users to customize which groups of tools are displayed in the toolbar across the top of the screen. For example, if you rarely fill or sign documents, that toolset can now be removed from the toolbar to keep the focus on daily drivers. There's also a Favorites group, which can be customized with most-used tools; iPad users also have the option of rearranging toolsets for even faster access.
Bottom line
As close to desktop class mobile productivity as you can get, PDF Expert 7 deserves to be installed on every iOS device you own, whether you just want a free app to read and annotate PDFs or subscribe for even more advanced tools.
Best Prices Today: PDF Expert 7