At a Glance
Expert's Rating
Pros
Support for DirectX 11, courtesy of Apple Metal
Faster launch of Microsoft Office applications under Windows
Share menu, image drag and drop, Coherence mode improvements
Cons
Host application launches a little slower than previous version
External physical disk as internal disk support requires Pro version
Many macOS Catalina improvements arriving in future update
Our Verdict
Parallels Desktop 15 makes it a snap to run macOS (including Catalina), Windows, or Linux virtual machines on your Mac, now with improved launch times, graphics improvements, and automatic monitoring of storage, CPU, RAM, and video memory.
Best Prices Today: Parallels Desktop 15 for Mac, 1-Year Subscription [Mac Online Code]
Every year there are events we look forward to—the changing of seasons, favorite holidays—and those which evoke a sense of dread—filing taxes, standing in line to buy the latest iPhone. The now-annual upgrades to Parallels Desktop fall squarely into the former camp.
That's because new releases of this magical application which allow Mac owners to run multiple operating systems at the same time are almost always a big improvement over previous versions. And wouldn't you know it, they've done it again this year, too.
Heavy metal
For those who spend as much time in a Windows virtual machine as they do native macOS, Parallels Desktop 15 for Mac is a godsend thanks to support for Apple's hardware-accelerated Metal graphics API, which replaces aging OpenGL. As a result, Parallels now supports Windows applications that rely on DirectX 11, while offering improved performance for DirectX 9 and DirectX 10 as well.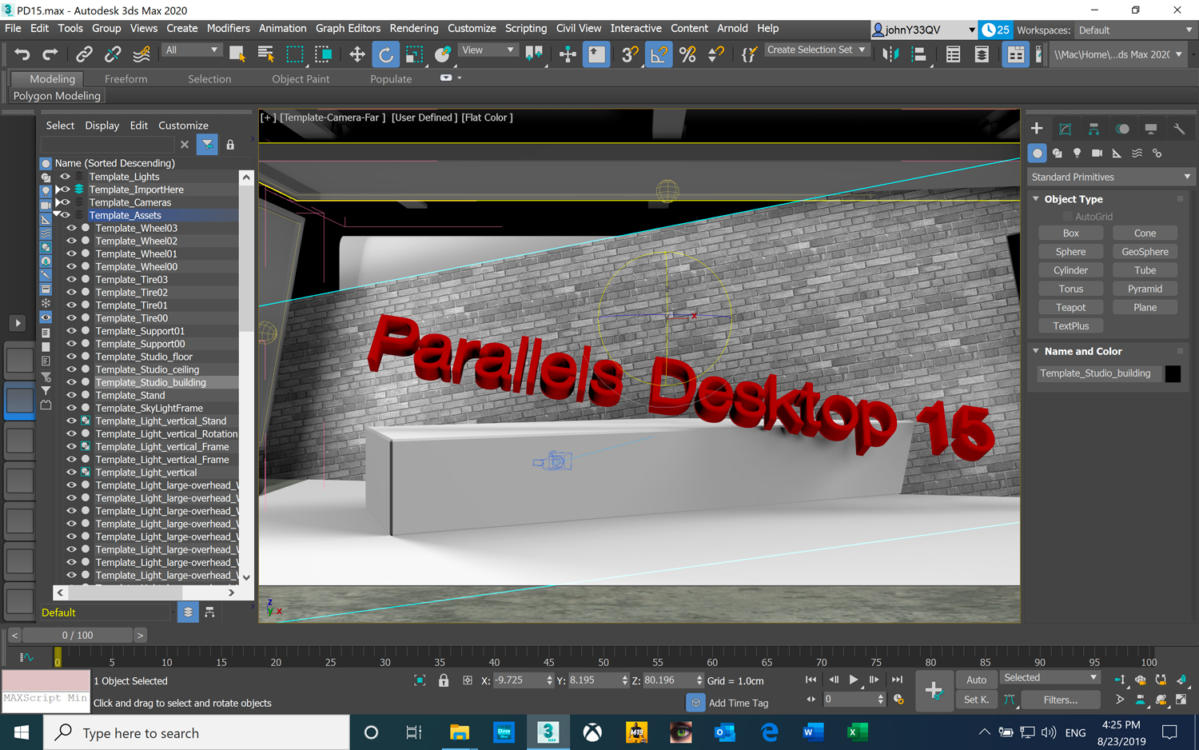 The adoption of Metal is noteworthy for PC gamers and CAD software users, for whom some applications performed poorly or wouldn't work at all in earlier versions of Parallels. Particularly for those running macOS Catalina on recent Macs, games like Age of Empires: Definitive Edition and Madden NFL 19 will now run nearly as well as they do on a real Windows PC.
Formerly incompatible 3D graphics software like Autodesk 3ds Max not only launches but runs surprisingly well considering how GPU-intensive it can be. Parallels is quick to note that DirectX 11 support relies heavily on the CPU and graphics in your Mac, so owners of newer hardware will benefit most.
The folks at Parallels have managed to eke out a little more performance for popular productivity software, too. Launching Microsoft Office apps in Windows now happens in the blink of an eye—in our tests, less than three seconds for Word and Excel. PD15 also boasts a "faster and more responsive" user interface, although launching the host application felt just a hair slower than last year.
Virtualized hardware
As usual, Parallels Desktop 15 for Mac remains in lock step with the latest macOS. Although public betas of Catalina mostly worked fine as a VM in PD14, an update to Parallels Desktop 15 arriving shortly after Cupertino pushes out the operating system in October will include further optimizations, plus additional support for new features like Sidecar, Sign in with Apple, and system extensions.
This year's release isn't just about software. There's one major improvement on the hardware side, too. PD15 now includes support for Bluetooth 4.0, which enables Android and Linux (kernel 3.13 and newer) VMs to take advantage of Low Energy Bluetooth devices for the first time, as well as adds support for many previously incompatible smart home appliances, accessories like IRISPen, and even Xbox controllers under Windows 10.
That last one will be of particular interest to gamers, who can now enjoy their favorite Xbox games in a VM the way they were meant to be played. I had no problem pairing an Xbox wireless controller and playing a variety of games streamed over wired gigabit connection from Xbox One S, which was fast and responsive even with the Very High quality setting.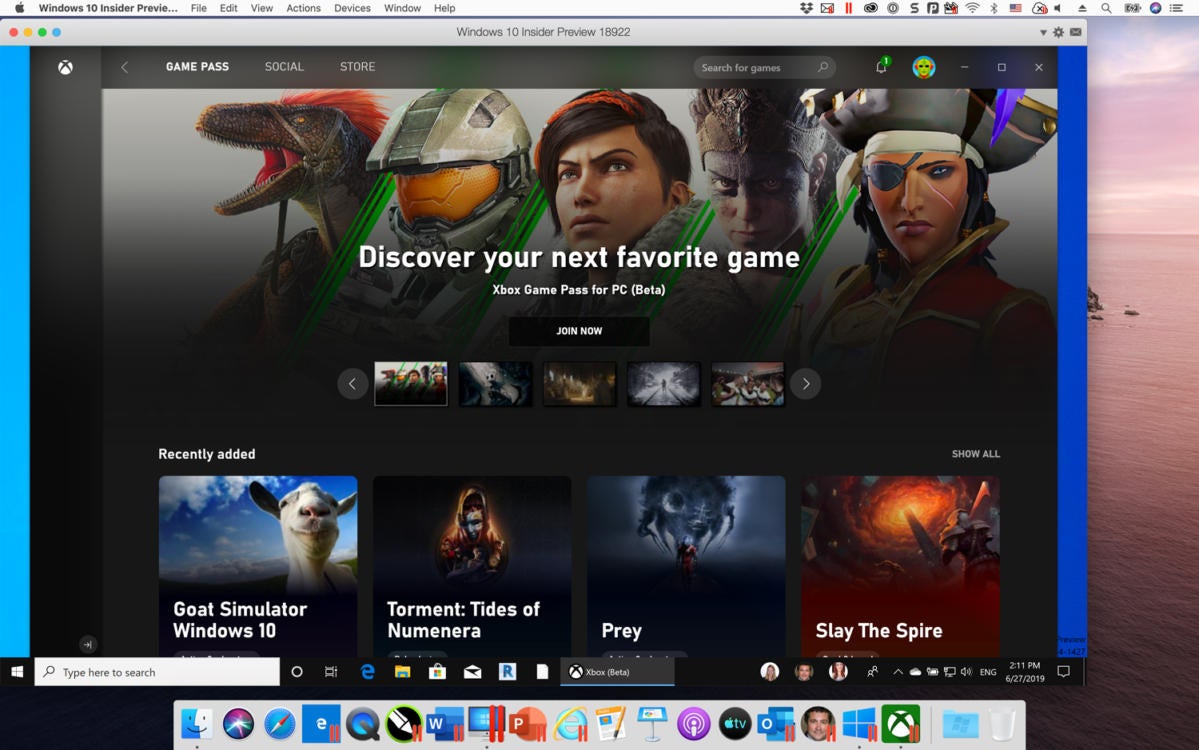 It's the little things
The remaining Parallels Desktop 15 for Mac additions seem modest by comparison but are sure to be appreciated in everyday use. If you prefer to send emails using Outlook or Mail in Windows 10, this task is easier than before thanks to share menu support. Simply select Send with Windows Email App from the macOS Finder contextual menu, which opens a new compose window in your preferred Windows email app with the attachment in place, ready to complete; click Send, and you're done.
If you've been frustrated by the inability to drag and drop Mojave screenshot previews into a Windows VM, I'm happy to report this feature has also been added and works as seamlessly as one might hope. That's not all: You can drag and drop images into Windows directly from Mac applications like Photos and Safari, too. There's also a new option in the Actions menu that makes it super-easy to upgrade older Windows VMs to the latest version in just a few clicks. (Goodbye, Windows XP!)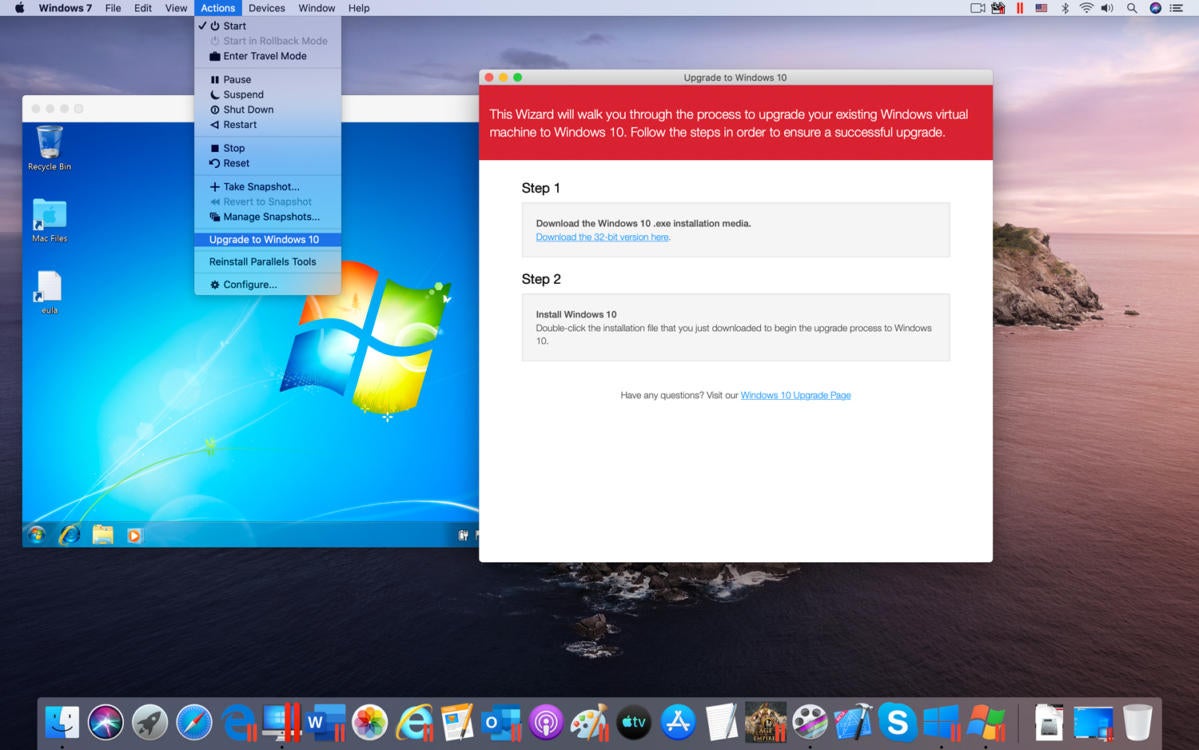 Parallels also attempts to eliminate any remaining confusion when users switch to Coherence mode. If you recall, that's the View menu option where Windows apps seamlessly coexist alongside native macOS apps in Finder, rather than inside a separate VM window. In PD15, whenever Coherence is summoned—on purpose or by accident (perhaps with the Control-Command-C shortcut, which I've done a time or three)—a mini-tutorial pops up explaining what the feature does and how to exit out of that mode. (If you're already comfortable using Coherence mode, click I Know to bypass this option in the future.)
Bottom line
Apple Metal and DirectX 11 support make Parallels Desktop 15 for Mac an absolute must for Windows gamers and those who rely on graphics-intensive software, but there's plenty here for everyone to love.
Best Prices Today: Parallels Desktop 15 for Mac, 1-Year Subscription [Mac Online Code]