If you've got an iPhone, September 19 is a big day. It marks the release of iOS 13, which brings with it a host of new features, improvements, and app updates. You'll be discovering new features for weeks to come, but these are ones you'll want to try out first.
First, should you even update?
There's a good chance you're reading this before downloading the iOS 13 update, trying to figure out if it's worth getting now or waiting for a bit.
There are always a few bugs here and there in new iOS releases, and they get ironed out in subsequent updates. For most users, the new features usually outweigh their inconvenience. And it could be weeks before a major revision…nobody wants to wait that long, right?
This year, Apple has already announced a release date for iOS 13.1, which brings a few of iOS 13's promised features that aren't in the initial release, and cleans up some known issues and bugs. It's coming just ten days after iOS 13, on September 30. That's also the day you'll get iPadOS 13 on your iPad.
Given its close proximity to iOS 13, and the fact that it both introduces a few new features and seems a bit more stable and bug-free (at least during the beta testing period), we wouldn't hold it against you if you just wanted to wait for iOS 13.1 on September 30.
If you decide you want iOS 13 and its new features as soon as possible (we can't blame you!), our iOS 13 guide will tell you how to update.
Update your apps
Once your phone has updated and restarted, you should take a trip to the App Store (which has a new design) and check for app updates.
Tap your profile picture in the upper right to get to your Account page. Pull it downward to refresh, and then scroll down to the Pending Updates section. Odds are you have a ton of app updates. A lot of apps will update just for better compatibility or to fix bugs with how they operate in iOS 13, but many more will add new features that are enabled by iOS 13's new developer tools.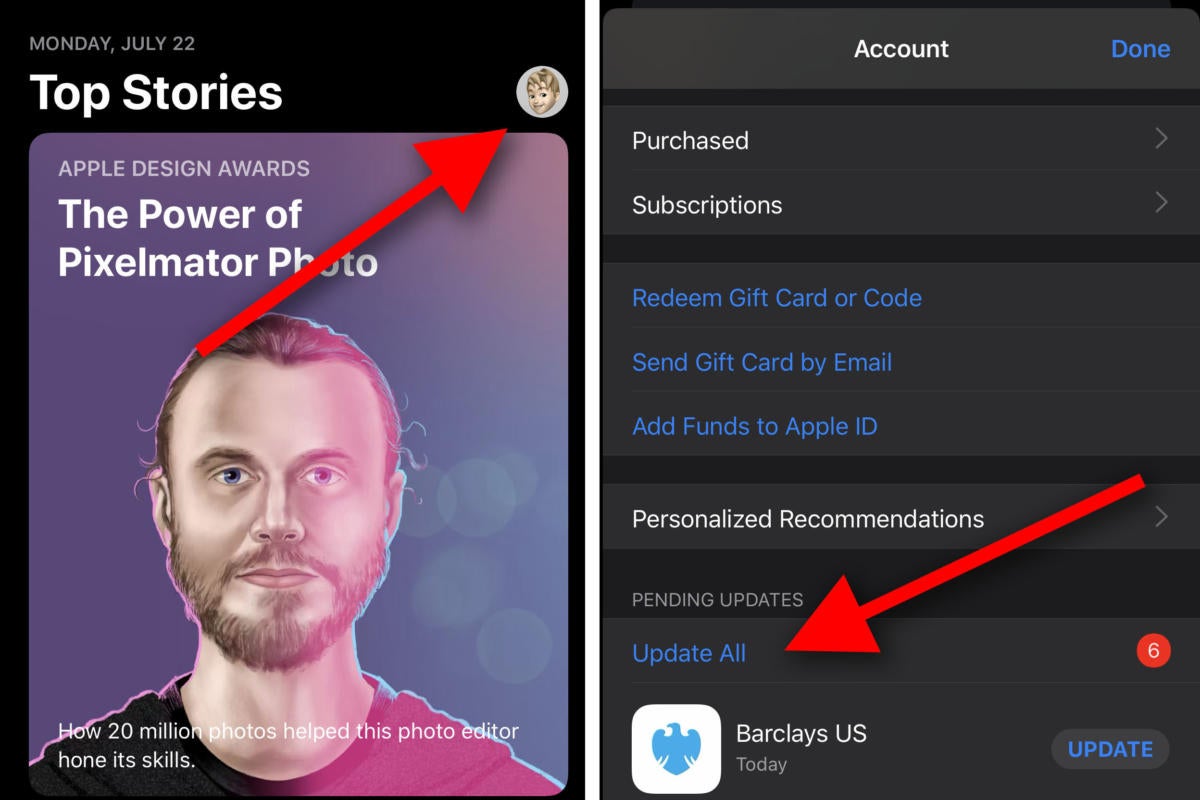 Enable Dark Mode
You will probably be asked if you want a Light or Dark appearance the first time you restart your phone after updating to iOS 13. But you'll probably want to know the different ways you can quickly change between Dark and Light appearance and might even want to set it to automatically enable Dark appearance at night and Light during the day.
We suggest living with Dark Mode for at least a couple days to get used to it, and see if you really prefer it to the Light appearance.
Make your iMessage profile
With iOS 13, you can set an image and name for others to see when they receive messages from you. You can use a photo or make one with a Memoji or Animoji, and since there are lots of new Memoji options in iOS 13, this is the perfect time to touch up yours.
Our guide will walk you through the steps to create your iMessage profile.
Give Apple Arcade a shot
Apple has a new game subscription service called Apple Arcade. It provides access to over 100 games for $4.99 per month. None of the games have any in-app purchases, ads, or any other way to try to extract more money from you. What's more, Family Sharing is fully supported, so up to five other family members get Apple Arcade as well for no additional charge.
We tried several dozen of the games and the overall quality level is surprisingly good! It's well worth $5 per month, and you get a month free to try it out.
Just hop over to the App Store and look for the Arcade tab on the bottom.
Take a tour of Apple Maps
We know, Apple Maps hasn't always been the best way to find what you're looking for or to get from here to there. But the new, vastly more detailed mapping data is quickly rolling out across the U.S., along with design and feature updates in the Maps app itself. It's worth taking another look. You may not feel like you need Google Maps anymore.
In particular, try the Look Around feature (you may have to navigate to a big city to find an area that supports it), and mark a few Favorite locations so you have quick access to them. This is also the perfect time to set your Home and Work addresses in your contact card, so they're always available in the Maps app.
Note that the ability to Share ETA is coming in the iOS 13.1 update on September 30.
Silence Unknown Calls
The spam calls have gotten completely out of control. Fortunately, iOS 13 has a handy feature to help mitigate how annoying they are.
Open the Settings app, scroll down and tap on Phone, then enable the toggle for Silence Unknown Callers.
If someone calls you from a number that is in your Contacts, Messages, or the Mail app, it will work just as it always has. Any other call will go straight to voicemail. Your phone won't even ring (not even a "silent ring").
It's a great setting to enable, but you'll want to remember to turn it off if you're expecting a call from another source. For example, if you reached out to a contractor on Yelp and expect them to call you, you'll want to either disable the feature or add their number to your Contacts.
Calls that are silenced will still show up in your Phone app's history and you'll still get a missed call notification. You just won't have to hear your phone ring.