At a Glance
Expert's Rating
Pros
Impressive sound
Solid active noise-cancelling abilities
Water-resistant design
Comfortable fit
Cons
Microphones pick up wind noise
Earbuds frequently get caught on the lid of the charging case
No aptX support
Our Verdict
The AU Stream ANC wireless earphones deliver impressive sound and effective active noise cancellation in a comfortable, water-resistant design.
Best Prices Today: AU Stream ANC
Active noise cancellation is still a rarity when it comes to true wireless earbuds, and it's generally an expensive feature, to boot. Enter the Ausounds AU Stream ANC earphones, a pair of relatively compact and comfortable Bluetooth earbuds that pack in impressive sound, a water-resistant design, and solid noise-cancellation abilities for a reasonable $150 price tag. We do have a few quibbles, however, including a so-so charging case, the lack of aptX support, and the fact that the microphones occasionally pick up wind noise.
Note: This review is part of our roundup of wireless and true wireless earbuds. Go there for details on competing products and our testing methods.
Design
Measuring about 1.7 inches long and weighing about 0.4 ounces (for the pair), the black AU Stream ANC earbuds are slightly longer and about twice the weight of a pair of Apple AirPods, although that's not to say that the earbuds (which are each equipped with 13mm titanium gold drivers) are anywhere near heavy.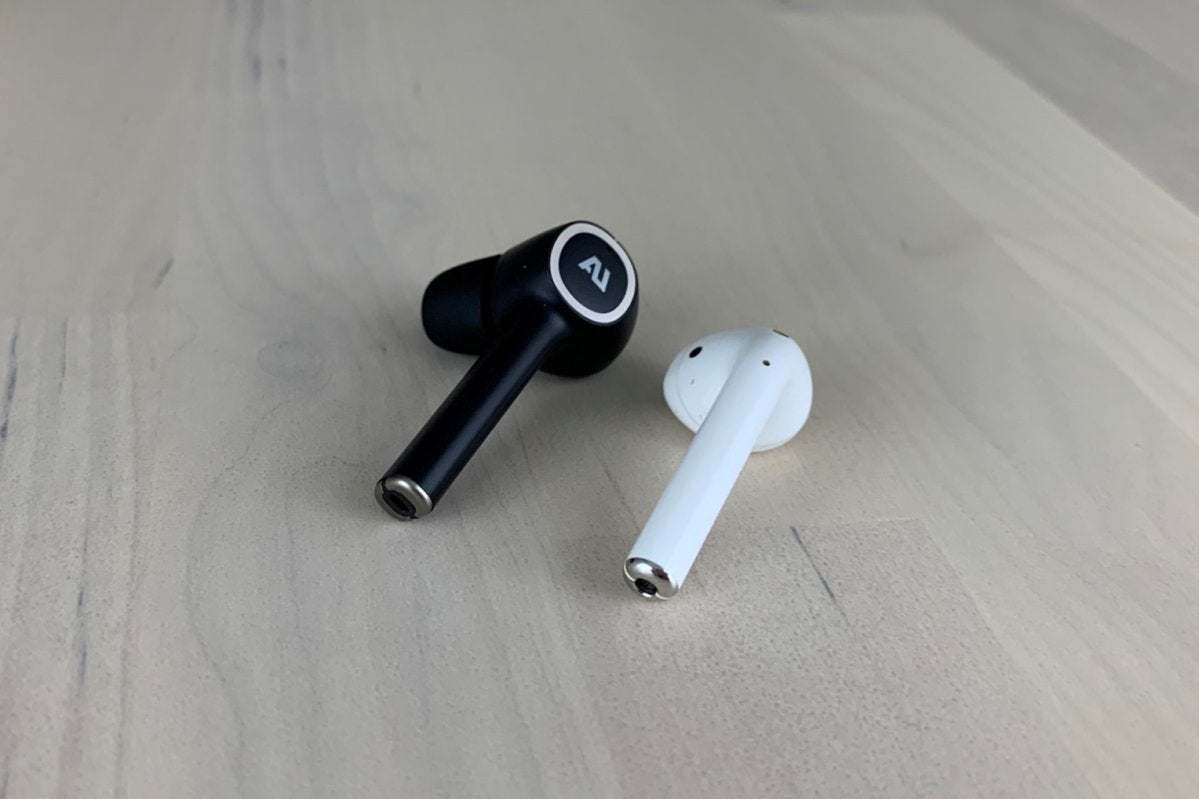 The earbuds fit securely and comfortably in my ears, providing a snug seal without feeling like they were jammed in my ear canals, and I was able to jog and shake my head vigorously without fear of them slipping out. The default eartips fit my ears just fine, but you can always try one of the three additional sets of eartips for a more comfortable fit. The AU Stream ANC earbuds come with an IPX5 waterproof rating, good for resisting rain, splashing, or even low-pressure water from a nozzle or faucet.
Measuring about 2.3 x 2.1 by 1.7 inches, the included charging case is roughly twice the size of the diminutive AirPods charging case, but at just 1.5 ounces (minus the earbuds), it's only a tiny bit heavier, which makes the case feel pleasingly light.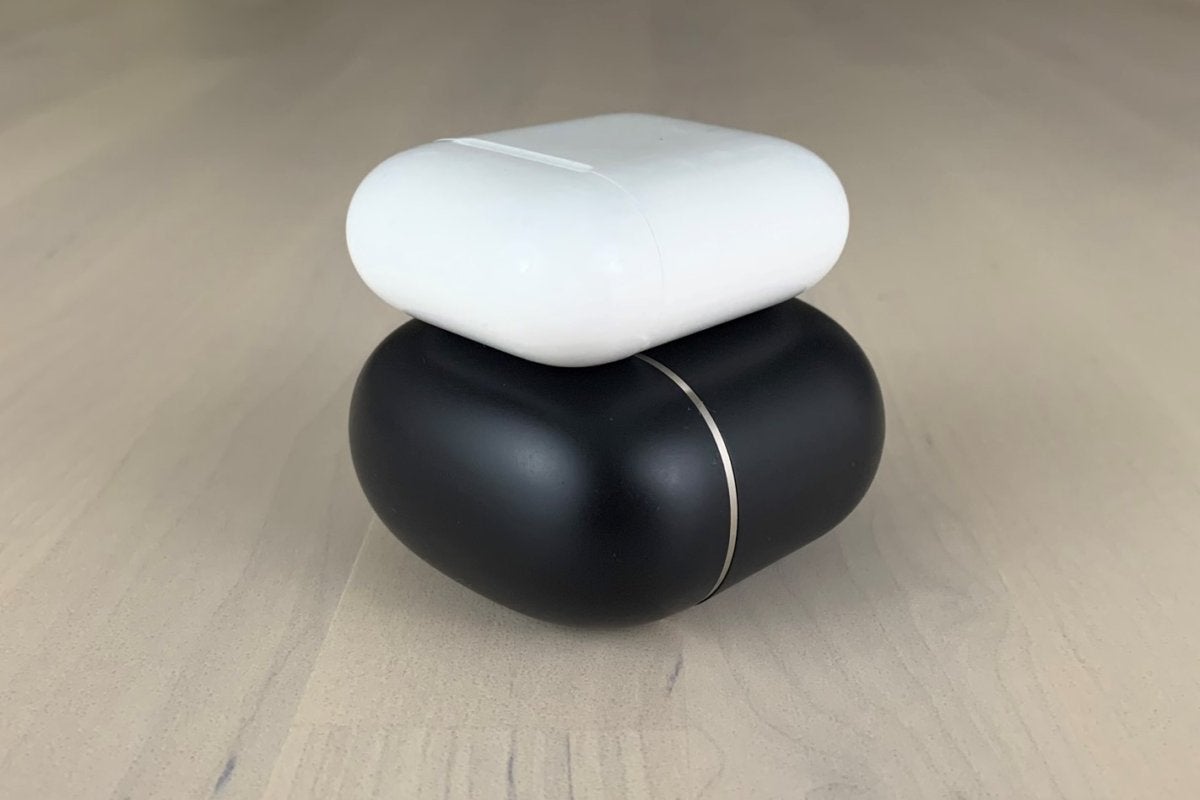 Open the case and you'll see a four-level LED indicator that shows you (depending on the situation) the remaining charge in the case's integrated battery, the charging status of the earbuds, or whether the earbuds are in pairing mode. A USB-C charging port sits on the bottom of the case, and a charging cable is included (no AC adapter, however).
While the AU Stream ANC earbuds fit snugly into the case's magnetized receptacles, the case's lid is a bit of a problem. Because the lid only opens so far, the eartips on the earbuds consistently caught on the lid when I pulled them out or put them back in. It's not a huge problem, but it'll be a bummer for anyone accustomed to the flawless operation of the AirPods case.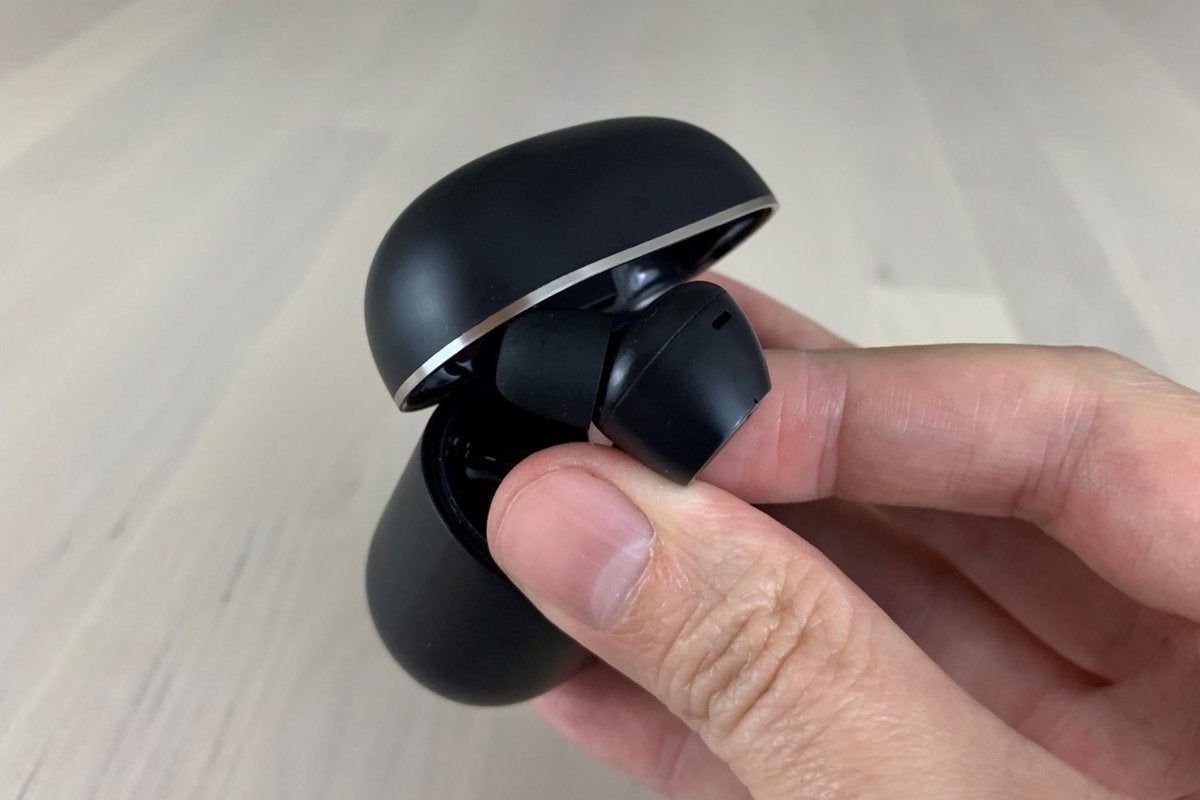 Features
The signature feature for the AU Stream ANC earbuds is right there in the name: yes, we're talking active noise cancellation, a feature we rarely see in "true" wireless earbuds. Indeed, one of the few examples wireless earbuds we've seen with active noise cancelling is the Sony WF-1000XM3 Remove non-product link, which (as of this writing) sells on Amazon for a cool $228.
To turn on noise cancelling, you just tap and hold the touch-sensitive button on one of the earbuds; a double-beep tells you that ANC is enabled, while a longer beep indicates that the feature is turned off. We'll get into the AU Stream ANC's actual noise-cancelling performance in a moment.
Besides their ANC abilities, the earbuds boast your standard call-handling abilities (tapping on an earbud lets you accept a call, while a long-press declines a call), and you can also play, pause, or skip music tracks through a combination of taps and double-taps. To summon Siri or Google Assistant on your iOS or Android device, you just triple-tap an earbud. Unfortunately, the earbuds can't detect if they're in your ears or not, so your tunes won't pause automatically when you take one out.
Designed to support a 20Hz-20kHz frequency range (which is pretty standard for earbuds in this price range), the AU Stream ANC earbuds support Bluetooth 5.0, along with the SBS and AAC audio codecs. Unfortunately, there's no support for aptX, a codec that allows for CD-like audio quality over Bluetooth.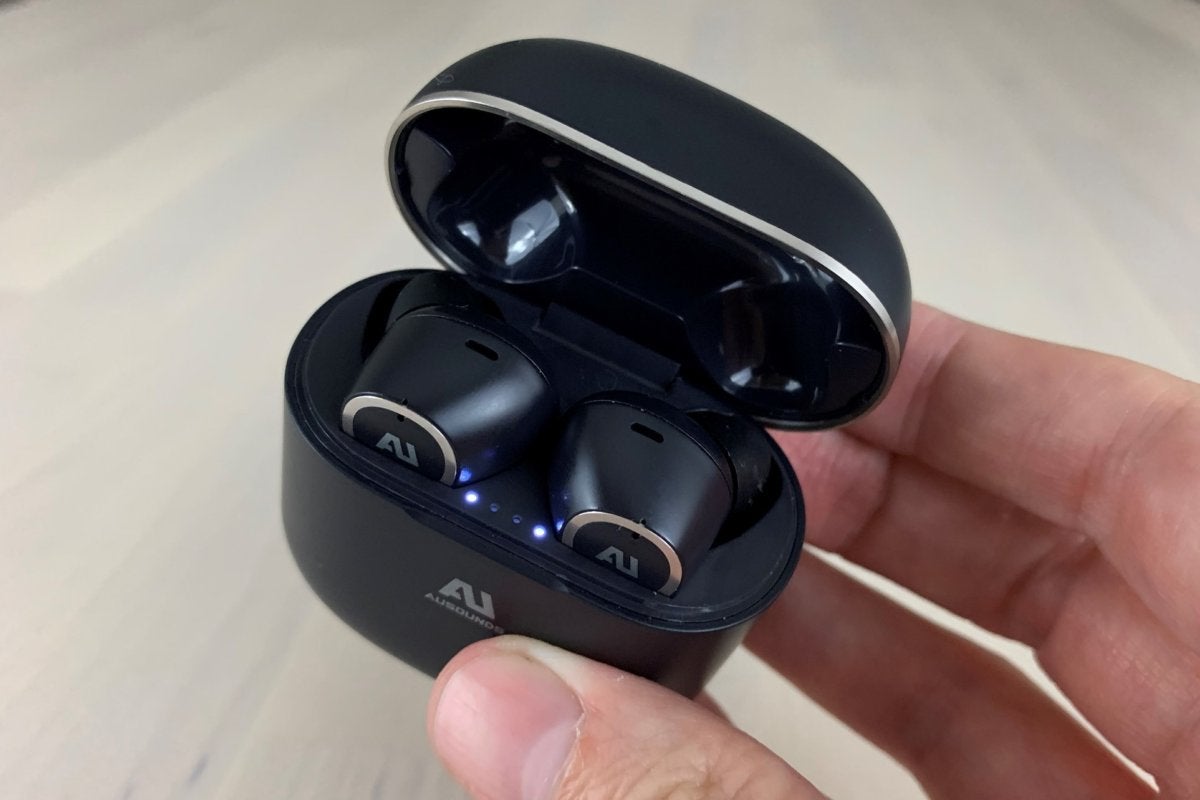 Pairing the AU Stream ANC earbuds to my iPhone XS was no problem; I just pressed and held the pairing button on the back of the charging case, and the earbuds paired up with my handset in just a few seconds.
Audio performance
While we've heard sharper, more detailed sound from pricier, audiophile-oriented "true" wireless earphones (such as the $300 Master & Dynamic MW07), the AU Stream ANC earbuds still sound impressive given their $150 price tag.
Queuing up the title track of Bruce Springsteen's The Ghost of Tom Joad, I could make out the finer details of The Boss's acoustic guitar performance, and I liked the warm, rising synthesizer tones and steady percussion. Next up was Vlado Perlemuter's rendition of Maurice Ravel's solo piano works on the Nimbus Records label. Solo piano can be tricky for budget and mid-range headsets, but the AU Stream ANC earbuds adroitly handled the Ravel performance, accurately reproducing the audio soundstage of the concert hall. Finally, the pulsing beats of Ciara's "Level Up" sounded deep without veering into an overbearing boominess.
The AU Stream ANC earbuds also did a nice job of screening out the low-frequency roars of (for example) car engines, air conditioners, and subway cars. Indeed, I was impressed by how well the earbuds managed to screen out the deafening roar of a New York City subway train as it rumbled into the station. I could still hear its squealing brakes, as well as the chatter of fellow straphangers (mind you, most active noise-cancelling headsets allow high-frequency sounds to get through), but it was a relief to be able to listen to a podcast without frequently missing something because a train was going by.
That said, the dual mics on the AU Stream ANC earbuds also picked up a fair amount of wind noise, which got to be fairly distracting as I walked down the street on a moderately breezy day.
Back on the plus side, the wireless earbuds never went out of sync during my testing. For a brief period during my tests, only one of the earbuds would connect to my iPhone, but the problem cleared itself up after I disconnected and reconnected the earbuds, and the glitch never recurred. Also, the range of the AU Stream ANC earbuds was excellent; I was able to walk more than 80 feet away from my iPhone before the earbuds disconnected, easily besting Ausounds's claim of a 33-foot range.
Ausounds promises six hours of talk time or music out of the AU Stream ANC's batteries, or five hours with active noise cancelling engaged, plus an additional 15 hours from the charging case. During my testing, I regularly listed to the earbuds for the better part of an afternoon and ended up with juice to spare.
Bottom line
The AU Stream ANC wireless earphones deliver impressive sound and effective active noise cancellation in a comfortable, water-resistant design. We wish the earbuds would slide into the charging case more smoothly, and we also wouldn't have minded aptX support for CD-like sound quality, but we're not complaining too much given the reasonably $150 price tag.
Best Prices Today: AU Stream ANC