The hot new feature on the Apple Watch Series 5 is one that you're going to use the most: the always on display. With every other generation of Apple Watch, the display turned black after you were done using it, but the Series 5 stays lit so you can quickly see the time without waiting a second for the display to light up.
But more important than the convenience it brings, the Always On feature fundamentally changes how your Apple Watch looks. Since the always-on display will be visible some 90 percent of the time, it's more like a regular watch than ever before, so you'll want to choose a face that looks good.
Apple Watch Series 5 Always On: Turn it on
The Always On display will be on by default when you pair your Apple Watch Series 5 for the first time, but if it's not working on your watch, here's how to activate it. Head over to the Settings app, then Display & Brightness, and Always On. On the next screen, tap the toggle to turn it green and you're good to go.
Apple Watch Series 5 Always On: Hide Sensitive data
Once you turn on the always-on display, you'll see a toggle below labeled Hide Sensitive Complications. Turn that green and your watch won't show mail messages, calendar appointments, or anything else that might be for your eyes only once the always-on display is active.
Apple Watch Series 5 Always On: Pick a face
Choosing a watch face on your Apple Watch Series 5 is the same as it was on Series 4. Tap and hold on the watch face until it gets smaller and a Customize button appears. You can swipe through your available faces to pick one or you can swipe all the way left until you see a plus sign with New above it. Tap it and you'll get a list of every available watch face. Select the one you want and it will appear in your main list. You won't be able to see what the always-on version looks like, however.
Apple Watch Series 5 Always On: Customize your watch face
When you're on the watch face selection screen, you can tap on the Customize button below each screen to change the color, look, and complications. Each one is different, but you'll swipe to change what your customizing and spin the crown to cycle through the options. Most faces have numerous colors and complications to choose from, so take time to discover each one.
Apple Watch Series 5 Always On: From worst to best
Now for the moment you've been waiting for. We tested every always-on face so you don't have to.
33. Toy Story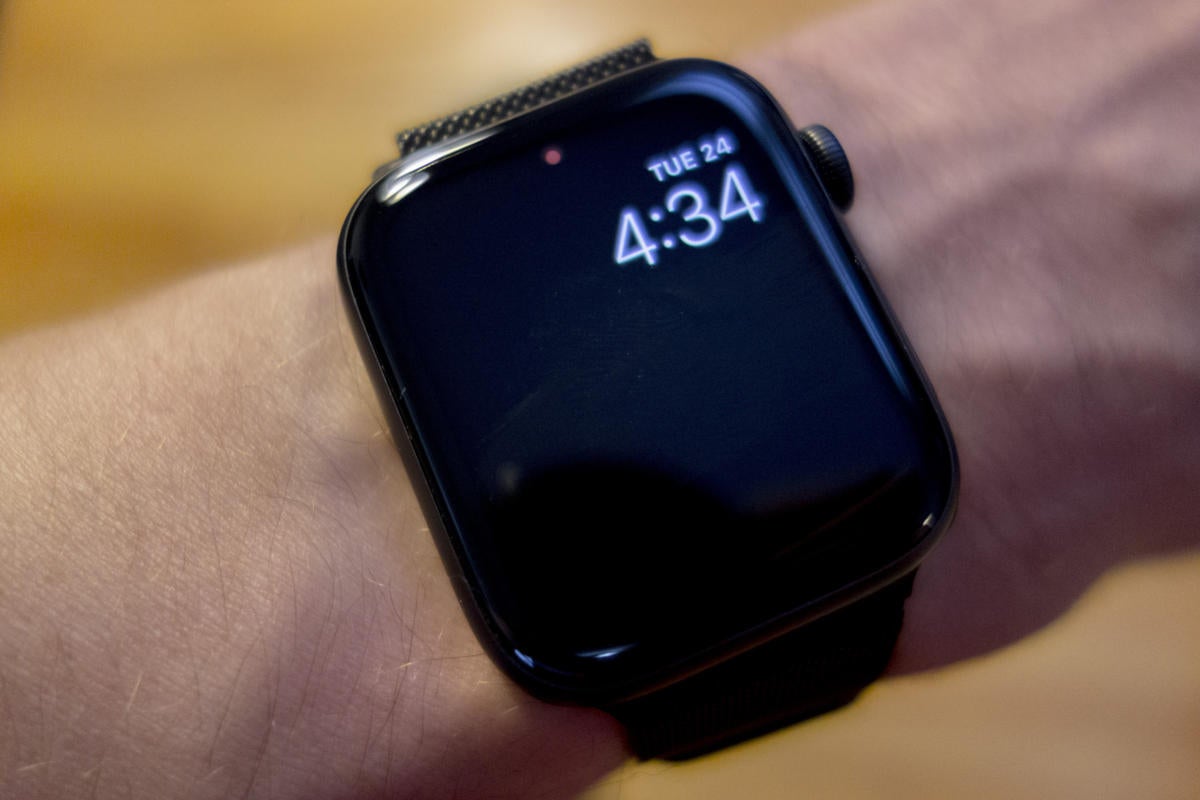 The Toy Story Always-On face is a real missed opportunity. As it stands, the picture goes away and all that remains is a white digital clock and up to two complications. But Apple could have had some fun with the colors and the background or played with the characters. Instead, we get nothing.
32. Kaleidoscope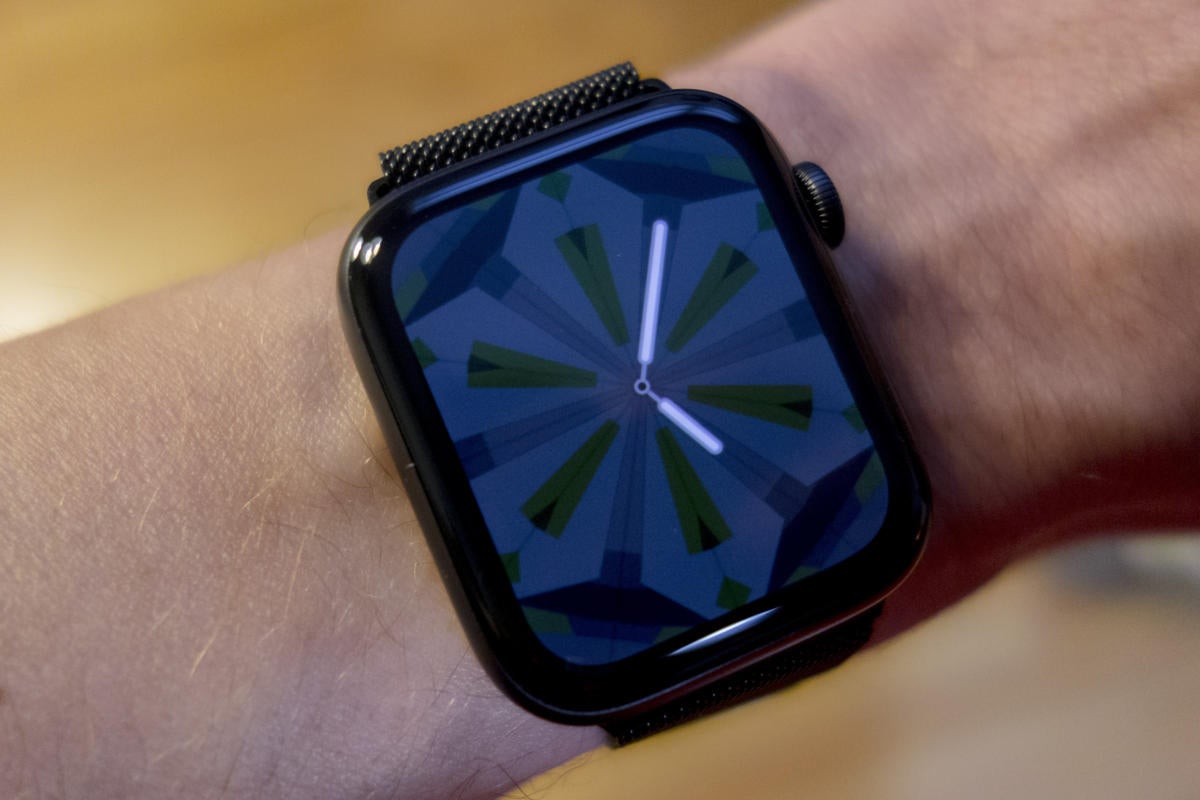 Apple's Kaleidoscope face is one of the coolest, but the always-on version leaves much to be desired. Like the main face, it randomly changes, but since it's only updated once a minute, the kaleidoscope effect is lost. And it's too dim to see from a distance
31. Timelapse
30. Motion
29. Fire and water
28. Liquid metal
27. Vapor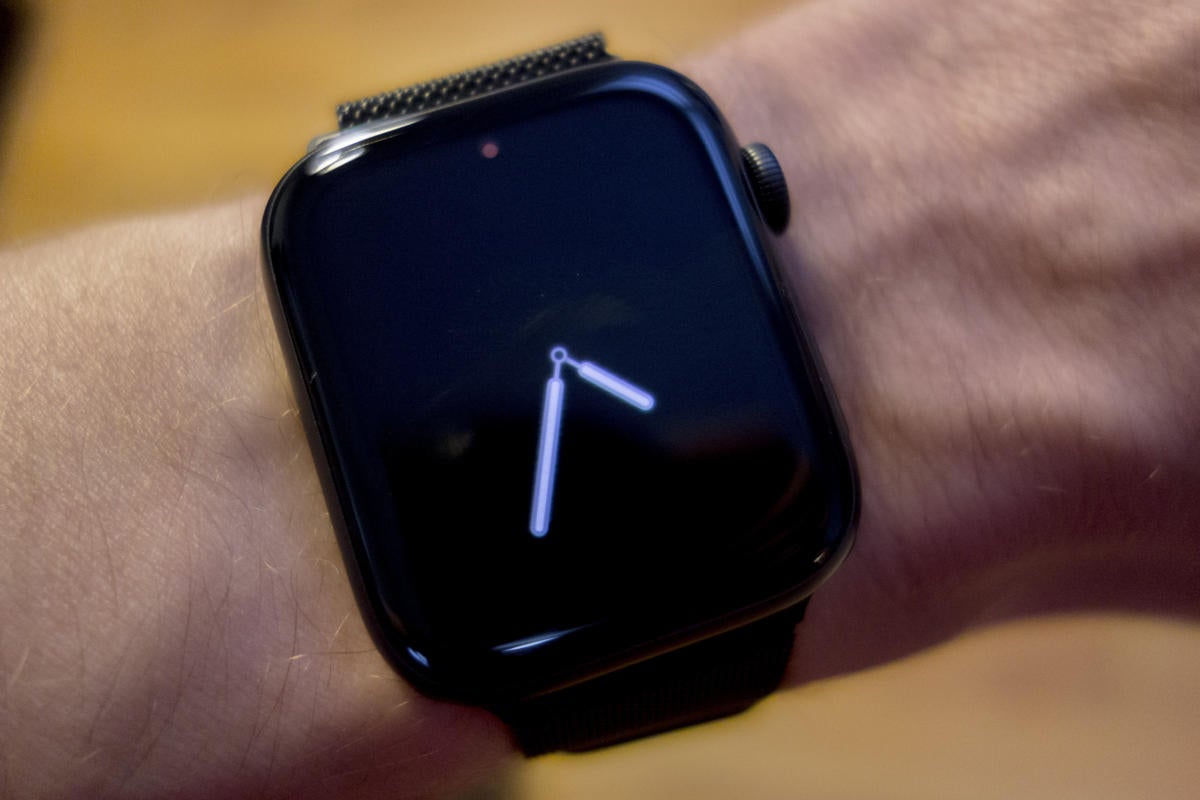 Apple's full-screen animated faces might look cool when they're filling up with fire and steam, but the always-on counterpart isn't nearly as creative. The animation goes away, as does the second hand, leaving a white hour and minute hand along with many complications you may have. Any complications you've added stick around, which is nice, but ultimately they're quite boring
26. Breathe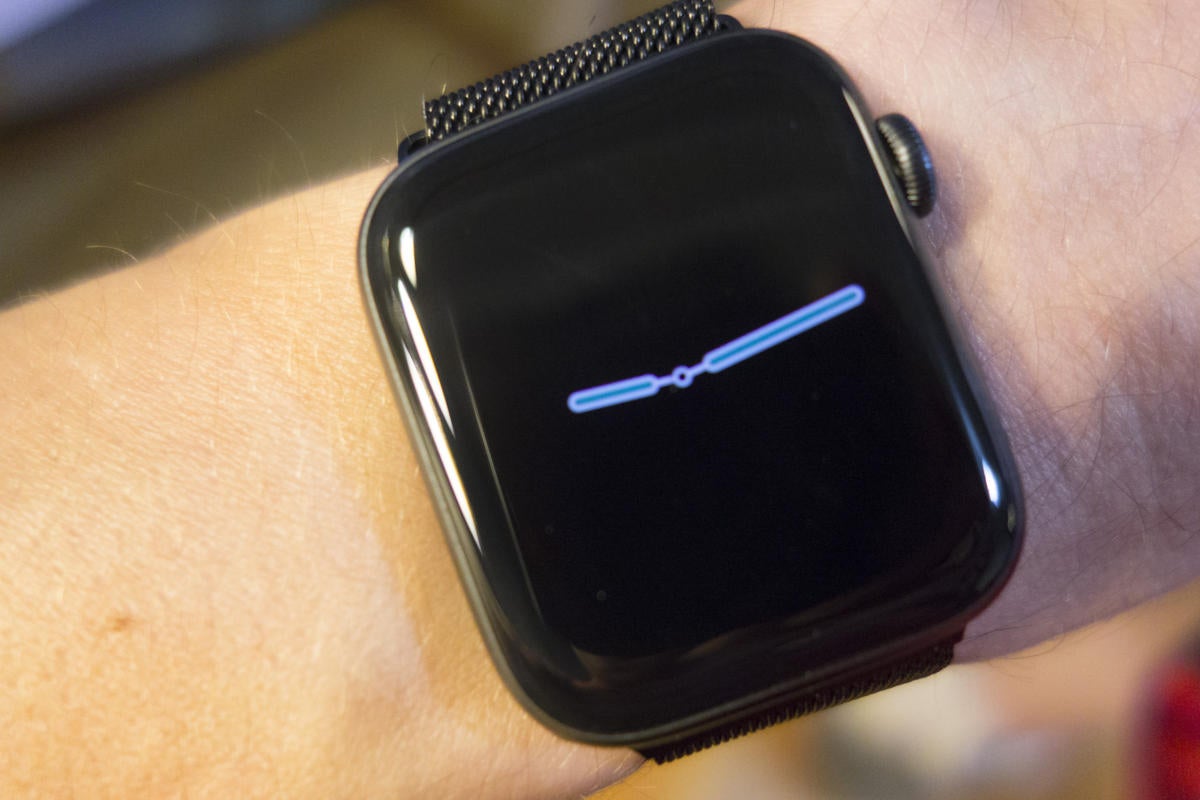 Like the other animated faces, the always-on Breathe face only has a set of hands and up to three complications. However, the hands keep their light blue hue, which is a nice touch.
25. Siri
24. Photos
23. Modular
22. Numerals
21. Activity Digital
20. Solar Graph
19. Infograph Modular
18. Astronomy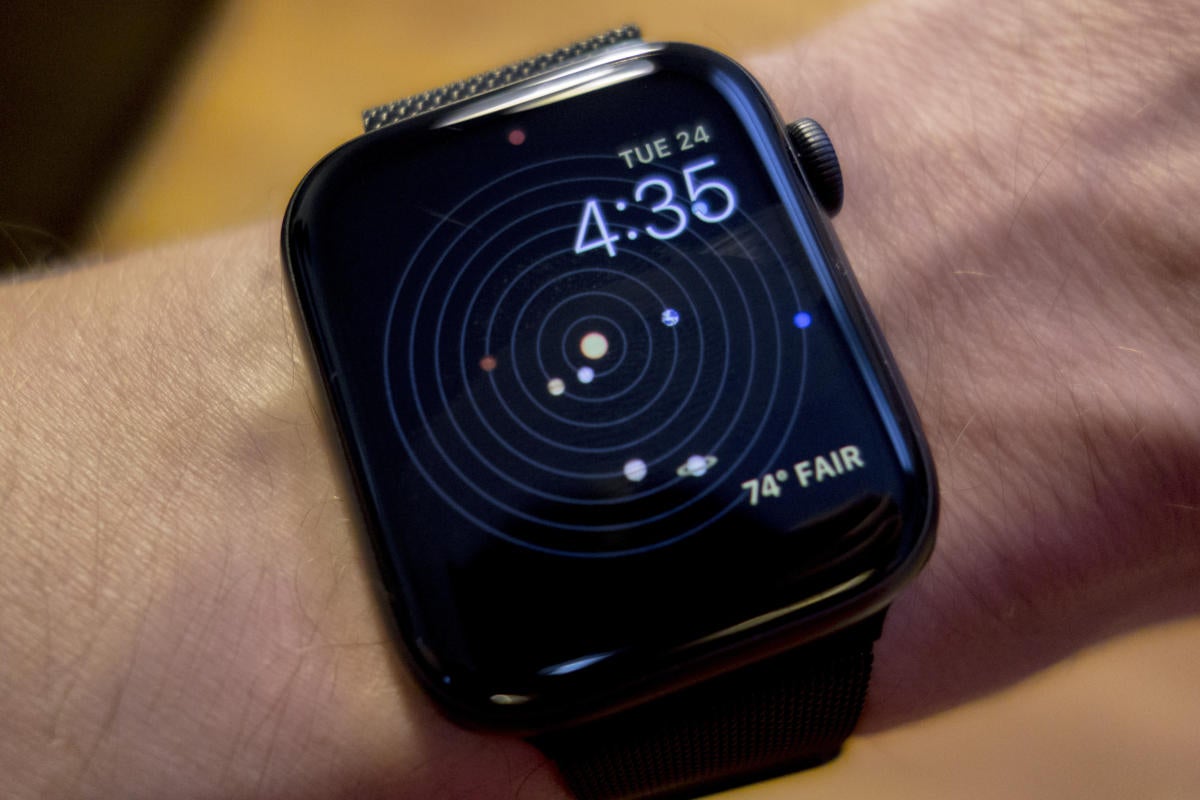 Faces 18 to 25 on this list merely dim (and lose their second hand, if applicable) when in always-on mode, which isn't a bad thing. Your chosen color stays, as do any complications you've chose. Also, since none of them are traditional-style faces, they're definitely unique. For the most part, if you like them as a face, you'll like their always-on option, too, though the Siri face isn't nearly as useful in a semi-static state.
17. Modular compact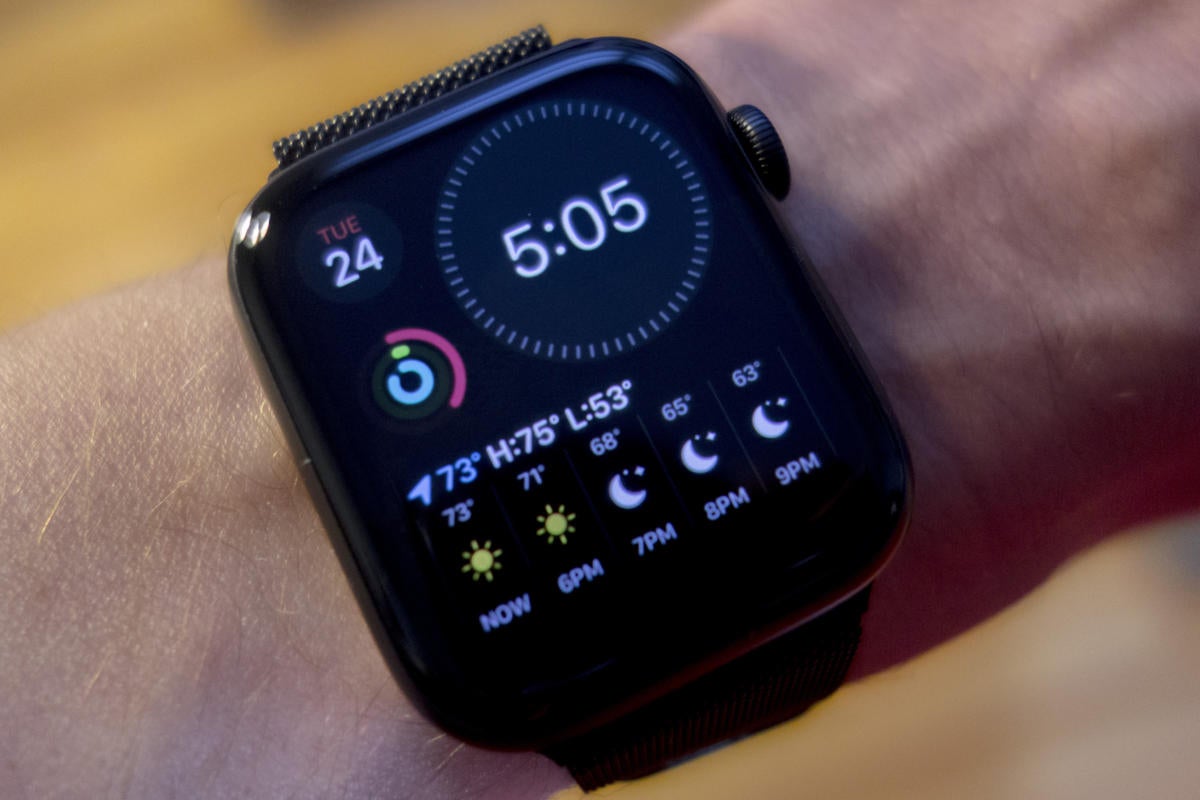 Just a tick above the last group is the Modular Compact face. Like the ones above, it dims and loses the second counter, but there's something about the clock turning from white to black that we particularly like.
16. Simple
15. Chronograph
14. Solar Dial
13. Utility
12. Activity analog
11. Infograph
10. Meridian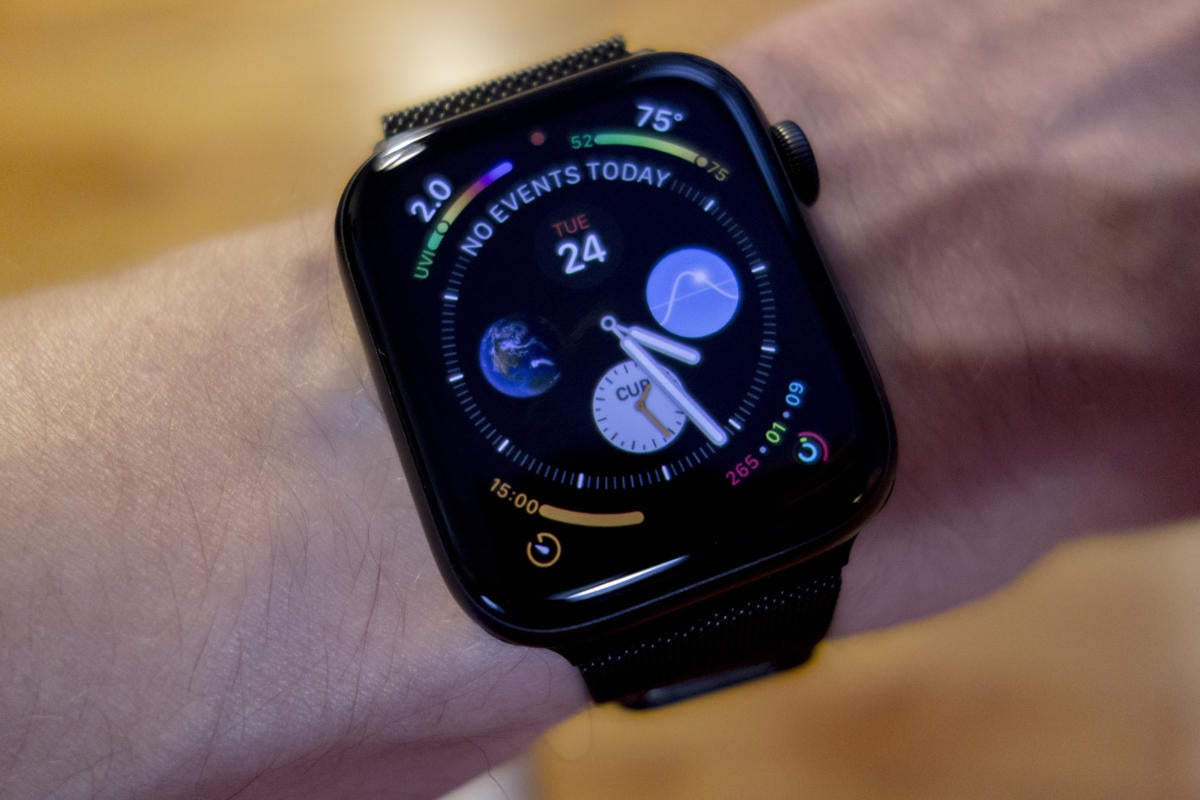 Like the previous group, all of these watch faces simply dim when they enter always-on mode. The Chronograph also loses its inside dials as well as its stopwatch arm, which takes away some of its character. But since they're all styled after classic watch-based faces, they will all look sharp on your wrist.
9. Pride Digital
8. Pride Analog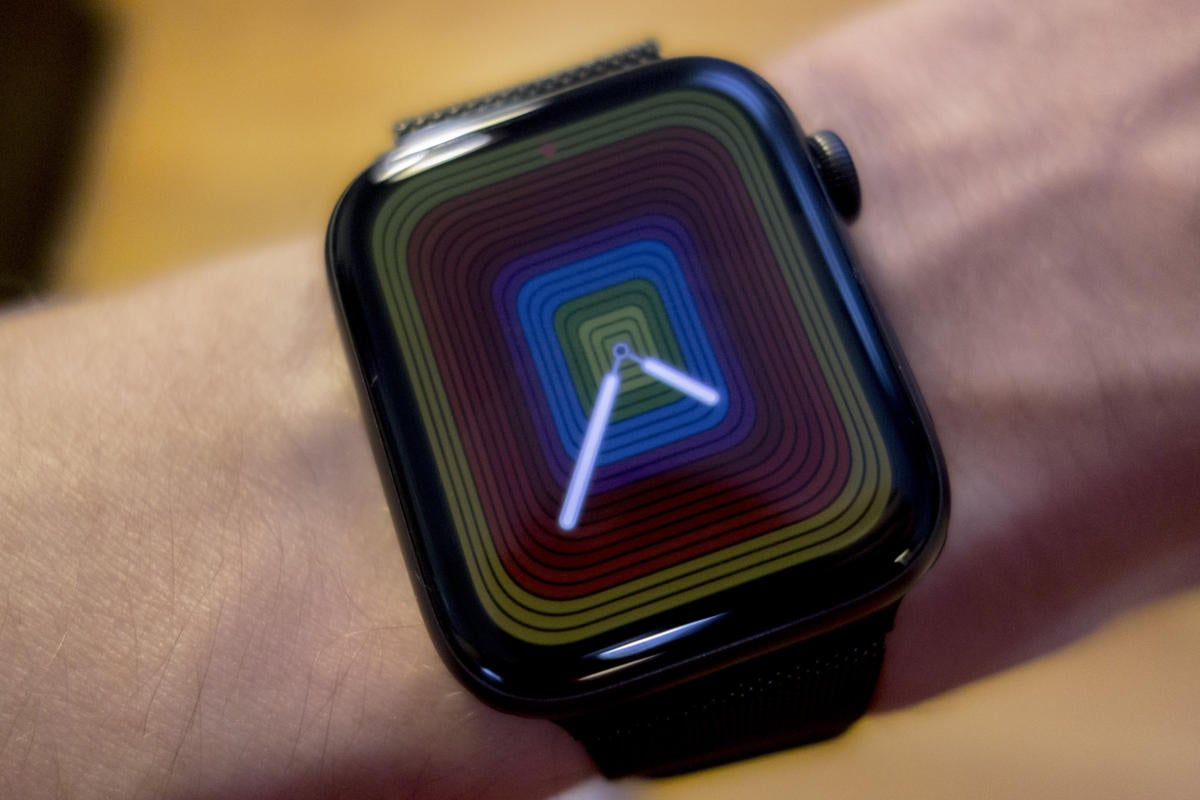 At first glance, Apple's Pride Digital and Pride Analog look like standard dimmable faces, but there's a subtle difference that makes them stand out: they change color as they dim. So the next time the screen lights up, it will have a different color pattern than the last.
7. Color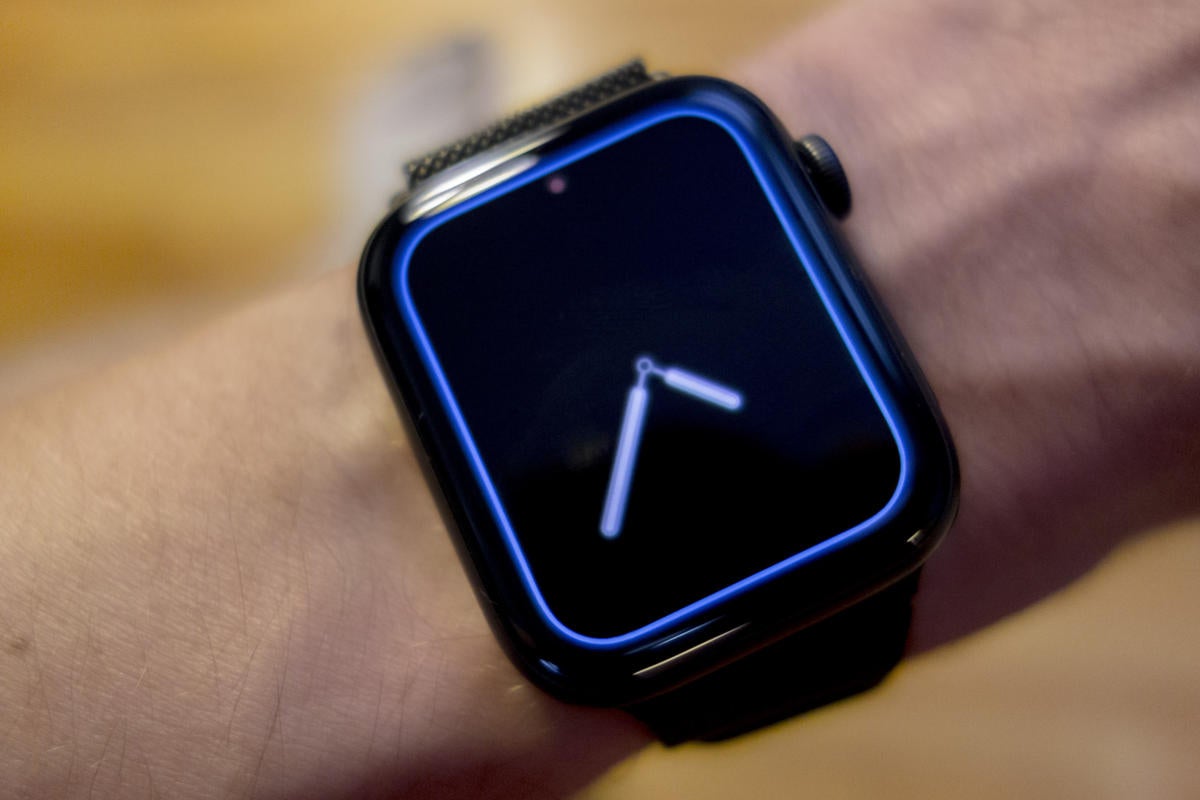 Apple's Color face is simple, but there's just something about it that we love. With the always-on display activated, the color disappears from the screen, but you'll see a thin colored outline around the clock (in circular mode) and the display (in full-screen mode) along with the white hands.
6. Mickey Mouse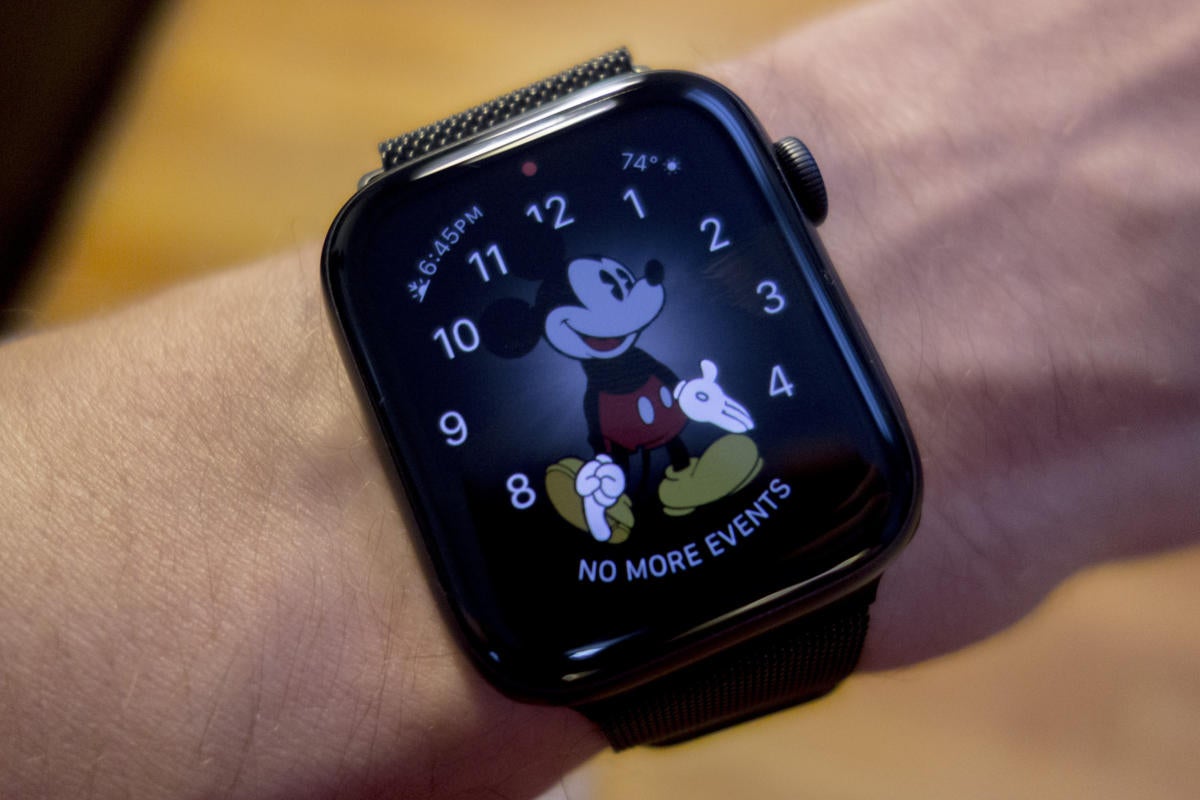 The always-on Mickey Mouse face makes the Toy Story face look even lamer. As expected, the always-on face dims and Mickey stops dancing, but there's a neat touch: The gloves on his hands stay brighter than the rest of the face, so you can see them at a distance.
5. Numerals Duo
4. Numerals Mono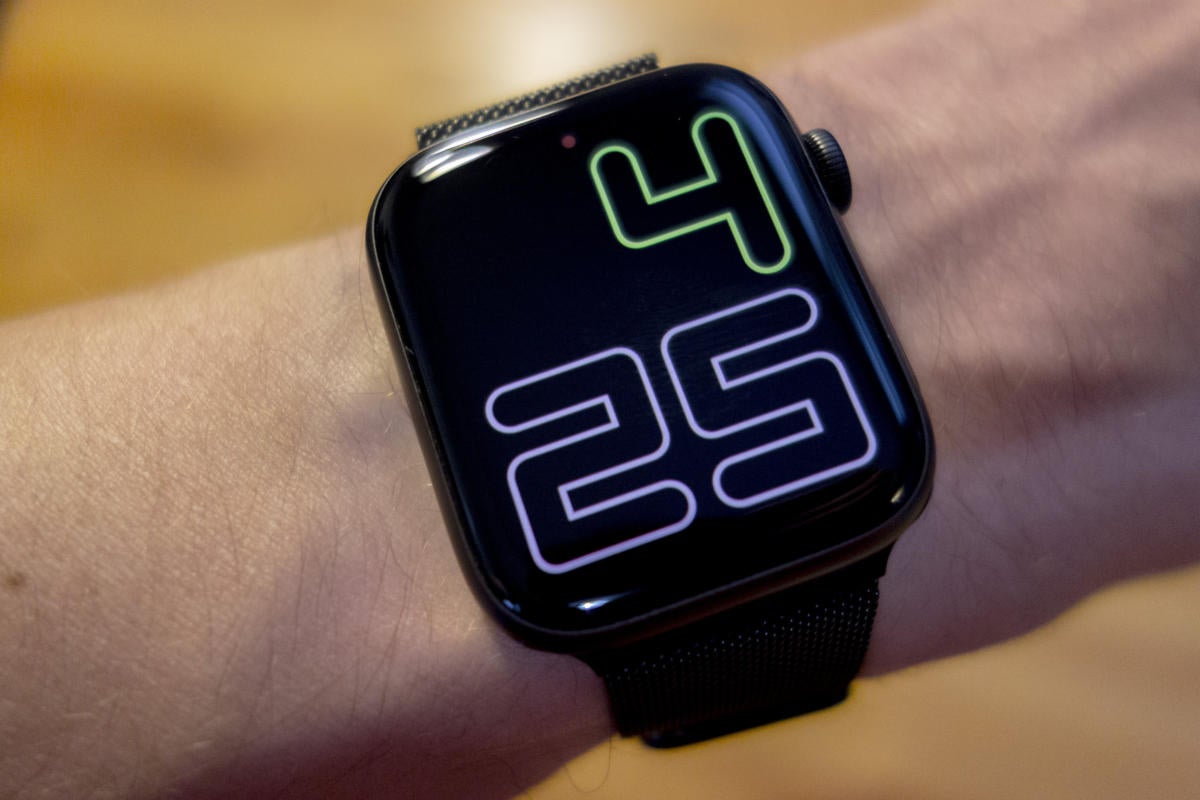 This was a surprise. When they were introduced as part of watchOS 6, we didn't pay much mind to the new Numerals faces, but we kinda dig them on the Apple Watch Series 5. The number are bold and colorful, and the always-on version features outlined numbers, even if you opt for the solid ones.
3. X-Large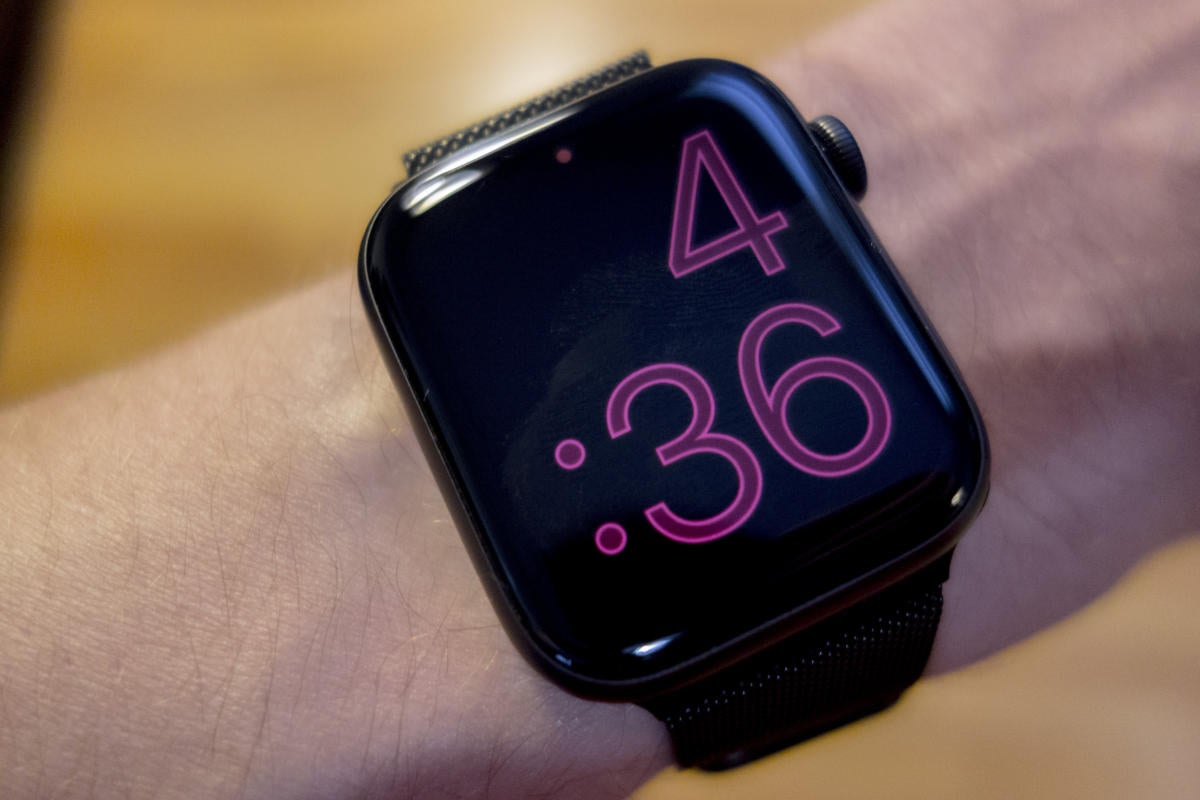 We'll admit that we never used the X-Large face before testing it for this article, so call this a pleasant surprise. While the face itself is very plain, it works very well as an always-on option. The giant numbers dim but keep your chosen color, and a thin outline makes them easy to read at a glance. And if you choose the giant complication with a smaller time, the always-on display will show that instead.
2. California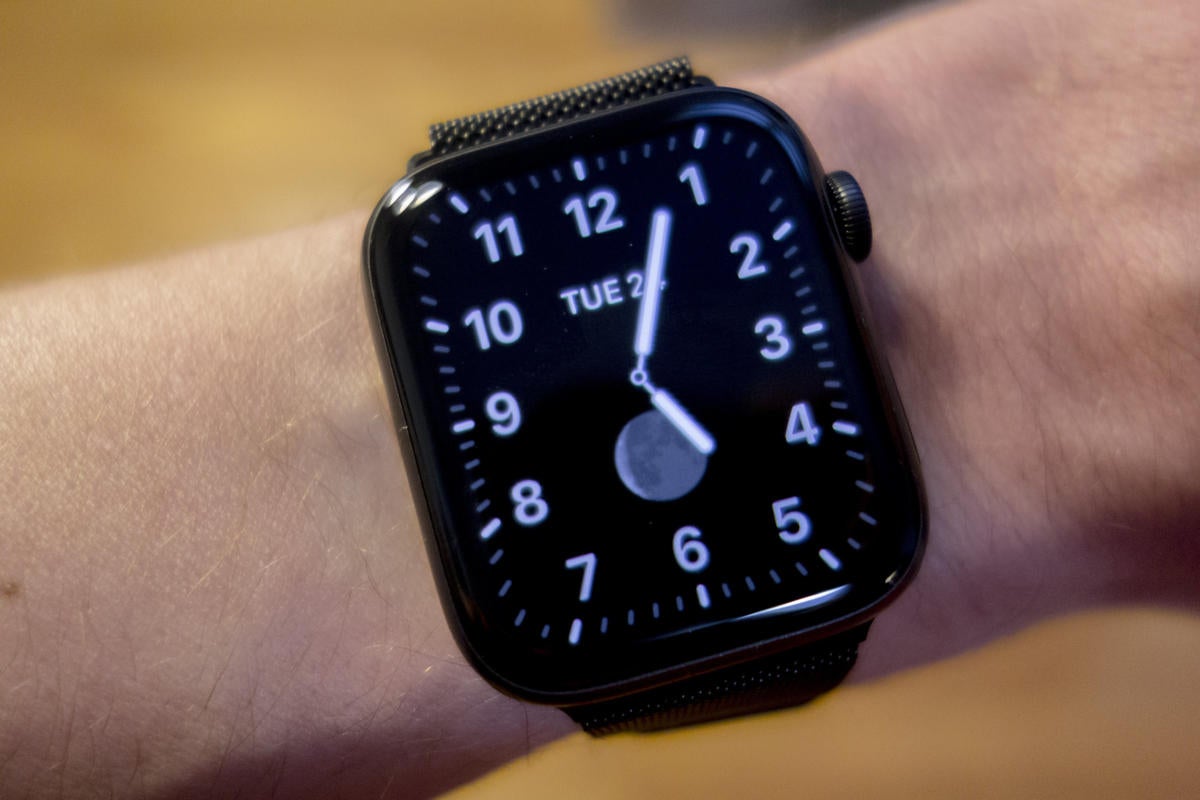 Apple's new California face is a winner both when it's on and always-on. There's nothing special about it—depending on your color combinations, the display dims or turns to black—but the California dial's half Roman-half Arabic numerals and inverted triangle look straight-up classy.
1. Gradient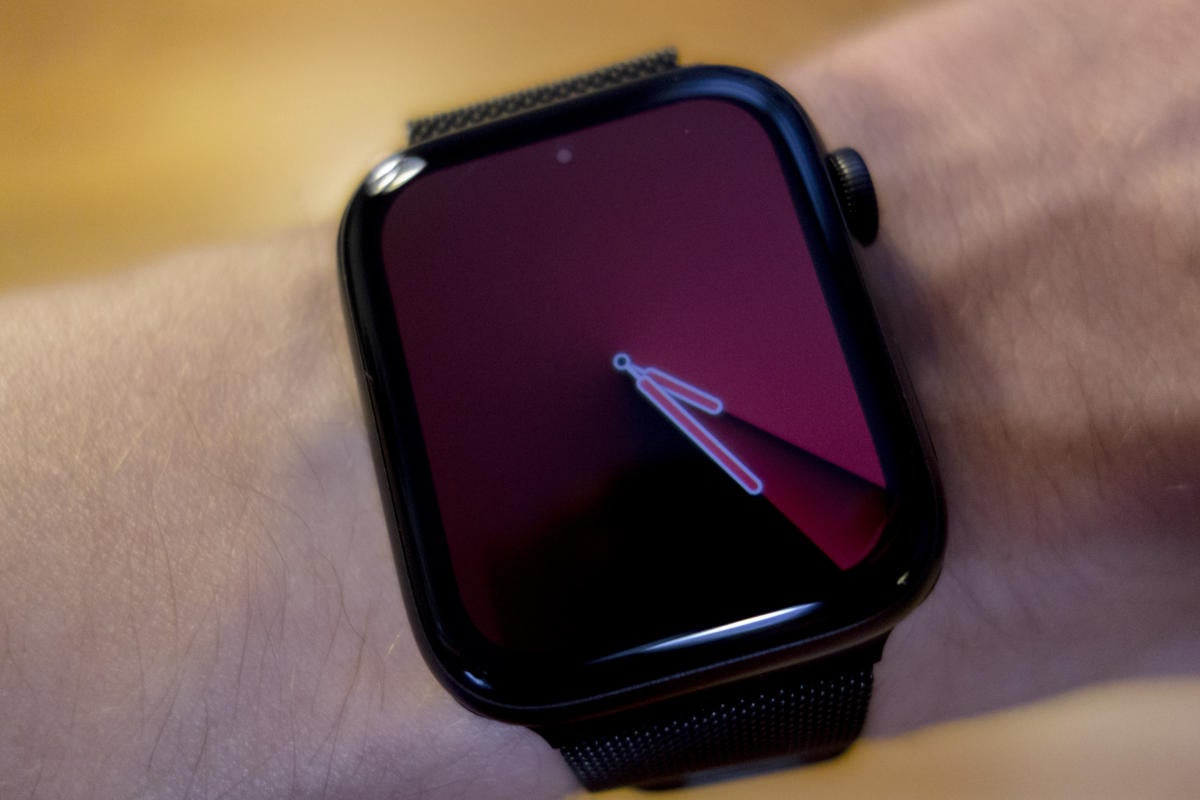 We might not have considered the Gradient face at all if not for the Series 5's always-on feature—but it's our favorite of the crop. But you need to pick the right style to take advantage of it. If you stick with the default option, which changes the shade as the hour, minute, and seconds hands rotate, the always-on version will be just as colorful. As with the other faces, the second hand goes away, but the hour and minute hands stick around (and keep their color) but the gradient they create gets darker and way cooler.