With Tuesday's release of iOS 13.1, Apple's included Shortcuts app takes a major step forward with the addition of automation triggers, features that let you control your iPhone, iPad, and HomeKit setup like never before. Of all the features added to Shortcuts in iOS 13, this one has the most potential. And for iPad users, Tuesday's release grants access to a major Shortcuts upgrade that will make it easier to create and edit automations on iPadOS.
First, the big update
iPadOS 13.1 is the entryway to all of the new features that arrived last week on the iPhone in iOS 13.0. This includes some great additions to Shortcuts, most notably a revamping of how each individual item in a shortcut accesses previous items.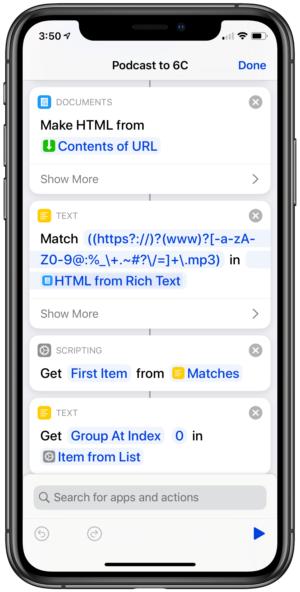 Shortcuts automations work like a flow chart, with items cascading downward, every lower item acting on the previous one. That simple view could be helpful, but it also made performing tasks that have to act on different kinds of information unwieldy. There was a lot of setting of variables and getting of variables in order to put the right information in the right place at the right time—and all those additional items made Shortcuts automations hard to read.
In iOS 13, items in a Shortcuts automation are like sentences, complete with subjects and objects, so it's always clear what data an item is acting upon. Single items end up containing phrases like "get contents of items from RSS feed"—a complete thought that makes it clear that it's the RSS feed that's being acted on. My Shortcuts automations are clearer and simpler because of it.
Another enormous step forward with iOS 13 is that individual apps can now choose how to pass information in and out of Shortcuts. In the past, app developers had invented clever workarounds to pass data, either involving putting that data on the clipboard or embedding it in a URL. Now there's an official, Apple-sanctioned method of moving around data and letting Shortcuts automations specify exactly what they want from an app. As apps update to support this new format, automations will become vastly more powerful.
Finally, Shortcuts can now be fully interactive via Siri. You can trigger a Shortcut automation with your voice, answer a few questions, and have the automation change how it behaves based on your answers.
Triggers change the game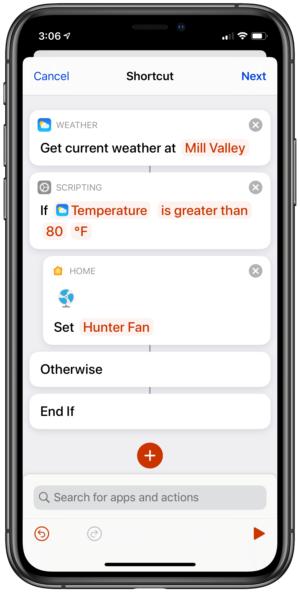 But as of Tuesday, the Shortcuts game has been changed even further thanks to the addition of the new Automation tab. This tab actually contains two different kinds of automations, Personal and Home.
Home automations aren't new—they're the kind of basic automations you've been able to create in the Home app for a while now. In iOS 12 these weren't particularly sophisticated, but it still allowed a decent level of complexity. For example, in iOS 12 I built a HomeKit automation that turned on a bunch of lights in my house when my smart lock detected a late-night arrival of a member of my household. It means I could pull into the driveway after coming home from a late-night flight, and my indoor and outdoor entryway lights would switch on.
In iOS 13, Home automations can still be that simple—in fact, you'll see all of those same automations in the Automation tab within Shortcuts. But they've been augmented by a new option, Convert To Shortcut. When you choose this option, you can move beyond changing the status of HomeKit items to performing other tasks using Shortcuts.

In a couple of minutes I created a Shortcut that turns off a bunch of my HomeKit devices at 4 p.m., but if the outdoor temperature is above 80, turns on the ceiling fan in my bedroom. These automations run even if you're not home, via whatever device you're using as a HomeKit hub—either an Apple TV or an iPad. As a result, you're limited in what you can do, but I could still build a home automation that queried one web service and then, depending on what it found, triggered a different web service. So there's still a lot of complexity possible.
Personal automation gets triggered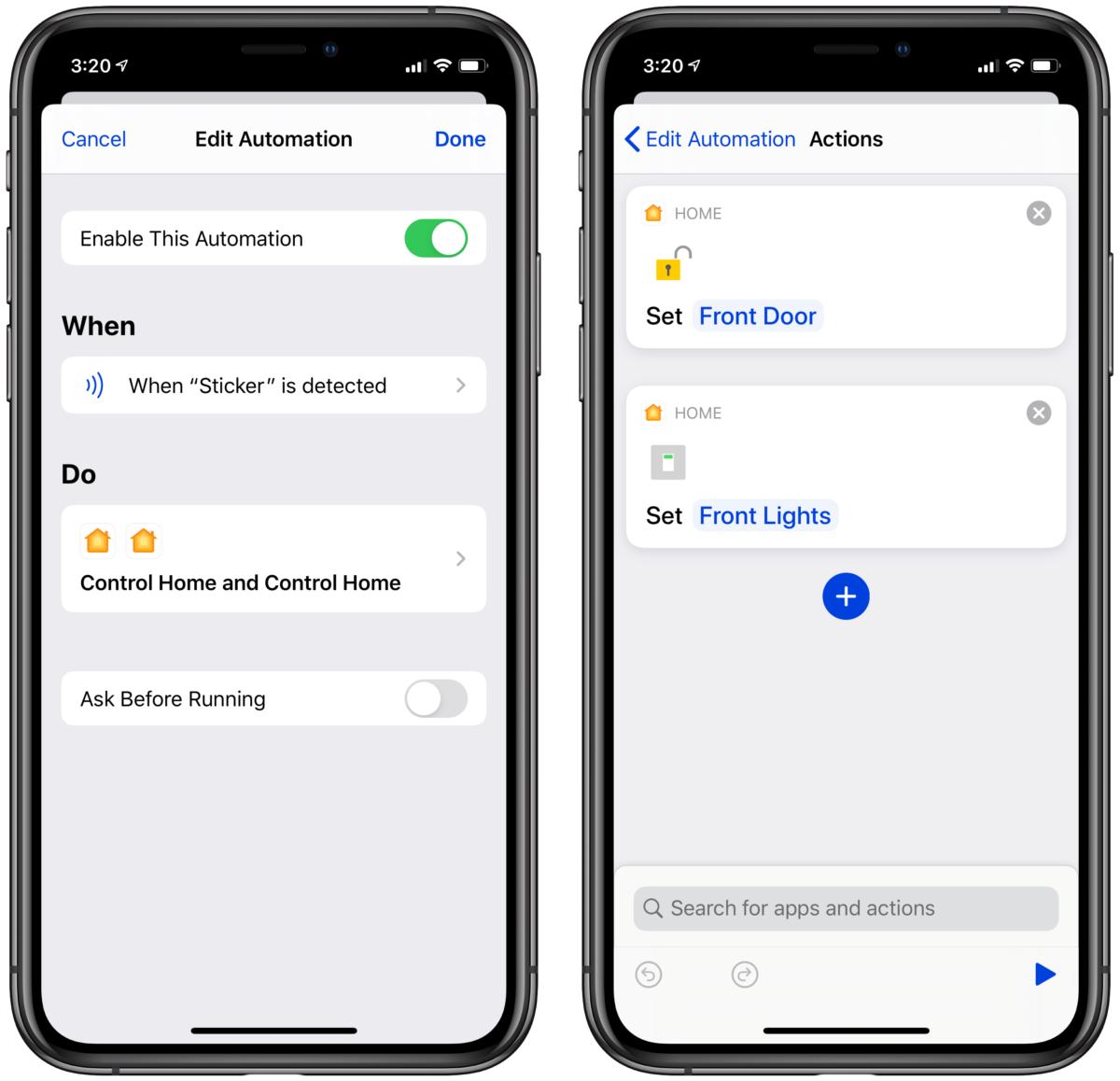 Then there's the big one: Personal automations, which run on your iPad or iPhone and have all the power of Shortcuts behind them. There are a lot of different ways to trigger a personal automation. The simplest ones involve the time of day, when you interact with an alarm from the Clock app, or when you start a workout on your Apple Watch. You can also hook into your device's location services to run automations when you leave or arrive at a particular location or when you connect to CarPlay.
There are also settings-based triggers, so you can now build Shortcuts that run when Airplane Mode, Low Power Mode, or Do Not Disturb are turned on or off; or when you join a particular Wi-Fi network or connect to a Bluetooth device.
There are two more trigger types, and they're amazing. The Open App trigger will run an automation whenever you open a particular app. I know a few people who are planning on building automations that automatically begin logging in a time-tracking app the moment they open specific work-related apps.
Then there's the NFC trigger. This one will run a Shortcut whenever you tap your phone on a wireless tag. This uses the same near-field communication technology your phone uses to sense that it's next to an Apple Pay reader, but this automation works with passive devices that have unique IDs attached to them. NFC stickers and plastic tags are fairly easy to find online, and you can even use some children's toys with NFC tags, such as Nintendo Amiibo.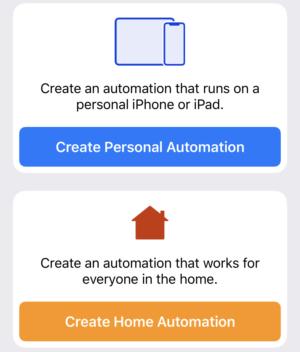 Here's an example of how this might work: You unlock your phone as you enter a conference room, scan the NFC sticker on the door, and your iPhone automatically connects to the room's Wi-Fi and a Bluetooth conference phone and begins AirPlaying to an Apple TV.
It's important to note how Apple has addressed security with this feature: By default it only runs after you confirm that you've scanned a tag, though you can turn this option off. It also only runs when your phone is unlocked, so NFC tags can't trigger actions you're not expecting. And finally, while NFC tags can be used by anyone with this feature, all Apple is doing is reading the unique identifier of the tag and then running an automation on your device—there's no data being passed to your phone by the tag, and your automation can't be run by anyone else who scans that tag.
Now that iOS 13.1 is in the wild, the gates are open for all sort of new possibilities for iOS automation. As apps are updated to take advantage of these new Shortcuts features, things will become even more interesting. iOS automation is going to be bigger and better than ever.