At a Glance
Expert's Rating
Pros
Uncluttered interface
Powerful tools for composing rich email for professionals and home users
Canned, fill-in response email templates
Prefab HTML components for designing messages and layouts
Quick forward option to pass messages to accounts such as Evernote, Slack, and Zapier
Cons
Annual subscription too high for long-term home users
Managing, inserting, and resizing photos is awkward
Our Verdict
Postbox 7 checks all the boxes for a mail program, with a clean interface that won't frustrate an average person, but plenty of extra features for business professionals and advanced needs under the hood.
Best Prices Today: Postbox 7
Many of us spend more time every day in our email client than in any other piece of software. If you're in sales, marketing, design, HR, PR, or other professional fields with an "R" in the name, you may have to compose and reply to hundreds of messages a day, customizing many to each recipient and creating attractive or well-formatted messages for mass distribution. Postbox 7 is tailored for people who swim in email and deal with customers, clients, and leads.
That's not to say there's not a lot for the rest of us. Even as a writer, I also often handle hundreds of emails a day, and Postbox meets my needs as an advanced alternative to Apple Mail, but one that hides its power through solid, attractive interface design. Postbox looks mild-mannered, but there's a Supermail waiting to break out as you need it.
Postbox largely focuses on receiving email and presenting it in a straightforward manner. That's a relief, because many apps and web-based mailers try either or both to be a Swiss Army knife and organize email how it thinks you should see it. With Postbox's focus, its intent is to make the process as easy as possible to retrieve and reply to mail, compose new messages, and search your archives. And it does all of this well. (Postbox lets you set up RSS feeds and old-style newsgroups as mailboxes and posts appears as messages.)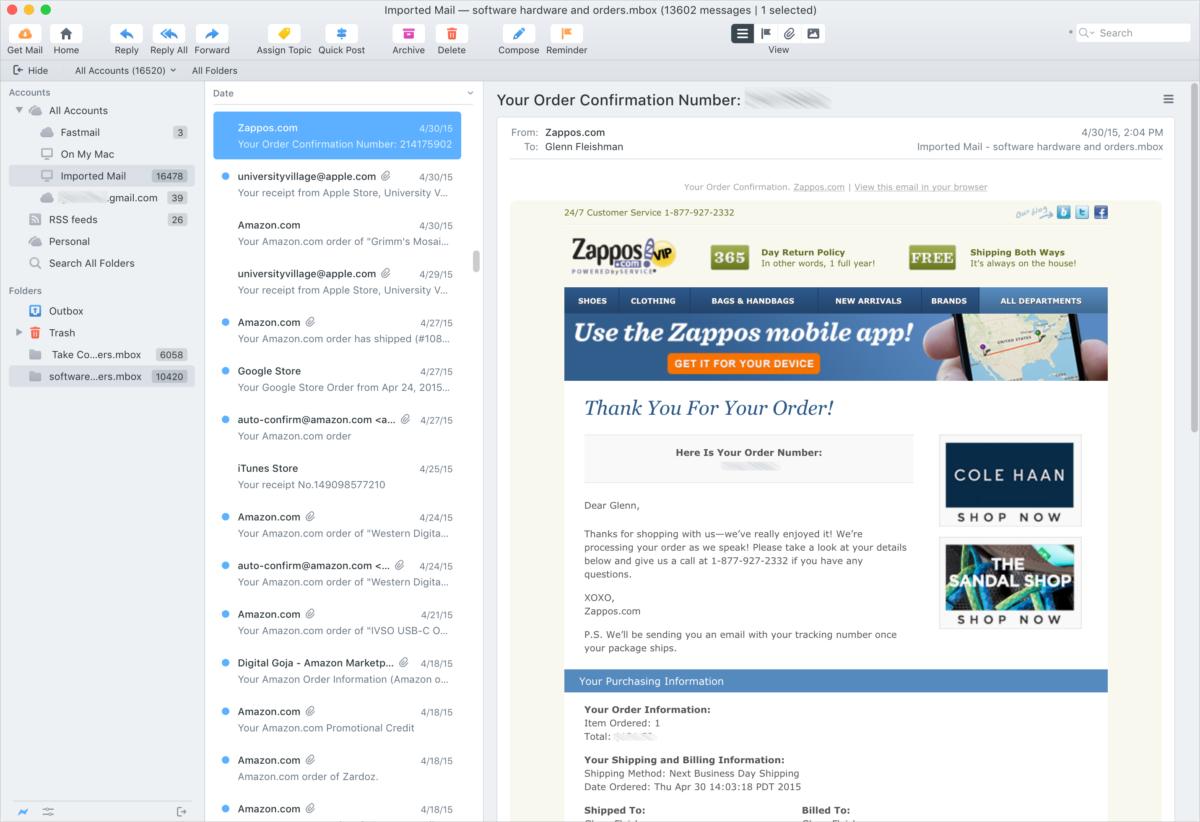 When you first launch Postbox, it prompts you to sign into an email account. As with Apple Mail and other apps, Postbox knows a lot about popular mail hosts and online services. It can also probe automatically to get details from the rest. With my lesser-known third-party mail host, I didn't have to look up a single piece of obscure IMAP or SMTP information.
I had trouble with Gmail logins, as I have second-factor authentication turned on with my accounts. This includes the option to use either security token or the Google app in iOS to confirm a login. I contacted Postbox, and it was able to determine Google had made a minor change in verification that came up only when app-based authentication was enabled. The company quickly released an updated version that solved my edge-case problem.
After setting up the first account, you can add additional ones through preferences. Postbox also supports profiles, allowing you to create unique sets of email accounts and messages that you can select at launch. This is useful to separate work and personal email or for multiple people who might share a single macOS account. (Profiles aren't password protected and email isn't encrypted at rest, however.)
Clean and crisp for managing email
In a review of Postbox 5 in 2016, Macworld said that its "appealing interface squeezes a lot of powerful features—perhaps a few too many—into a single window." Postbox appears to have changed its preferences by version 7, letting the default view breathe. A simple display puts mailboxes at left, a summary of the selected mailbox or category in the middle, and a preview of the message as the largest area at right.
Part of the heavy lifting of any email client is managing the flood of messages coming in and dealing with archives. Postbox offers plenty here, though it doesn't stand out significantly compared to other apps. You can create custom filters with complex sets of conditions to match and actions that occur that can be triggered as email comes in or run later. Single-key keystrokes can trigger actions, such as "j" for marking as junk. The app also has its own spam-filtering algorithm.
Postbox wisely doesn't come out of the box set to load images automatically in email. A variety of issues surround this, including bandwidth, the potential for auto-loaded images to make a more convincing phishing email, and alerting senders you've received the message. In that last case, Postbox also specifically calls out when it's identified invisible, tiny tracking images exclusively used for check for opens. You can click to load images on messages you trust.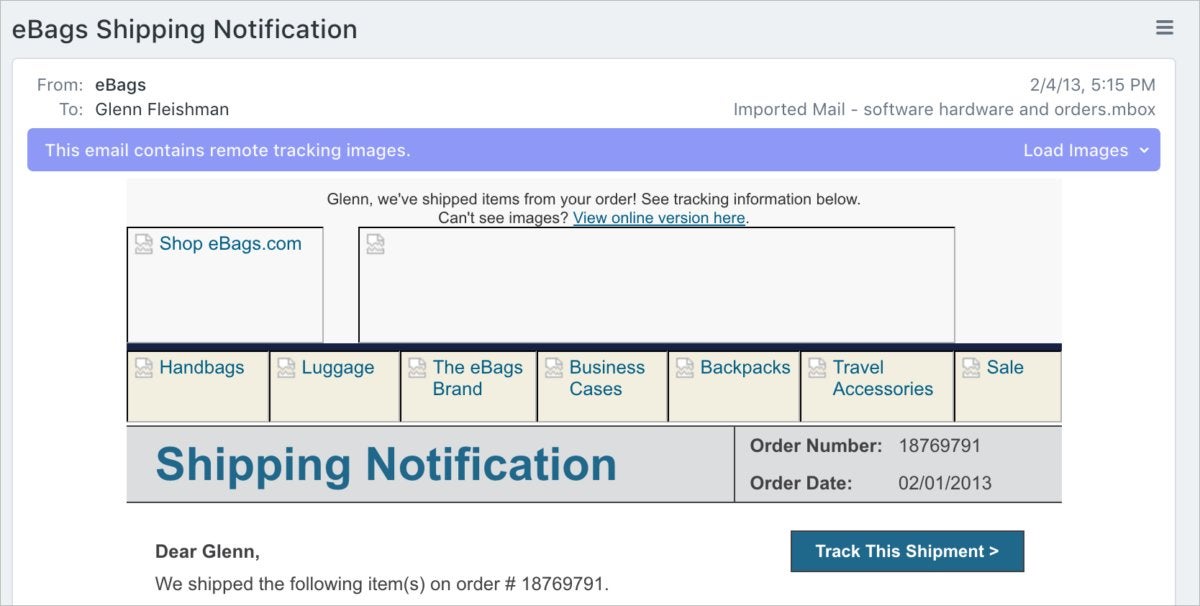 If the main mail view doesn't offer you enough options to sort and view, you can add columns. A Focus view, for example, offers a variety of ways to slice and dice email. That includes by attributes, such as "Has Attachment," and by topics you can assign to email. Topics are a powerful way to create your own cross-mailbox and cross-mail account organization of messages, similar to tags in the Finder. Postbox also lets you create Smart Folders that can span accounts and search messages stored online and locally.
I'm always obsessed in email by the twin issues of handling massive archives of messages and searching them rapidly. I imported over 16,000 emails in two batches so quickly that I thought Postbox had skipped it. No, they were all there. The app doesn't slow down a bit, even in a folder with 10,000 messages.
Searching across the messages is nearly instantaneous, too. You can use a simple search, click for more filters (like the sender address), and bring up an advanced find dialog that lets you set detailed conditions, similar to Postbox's smart folder.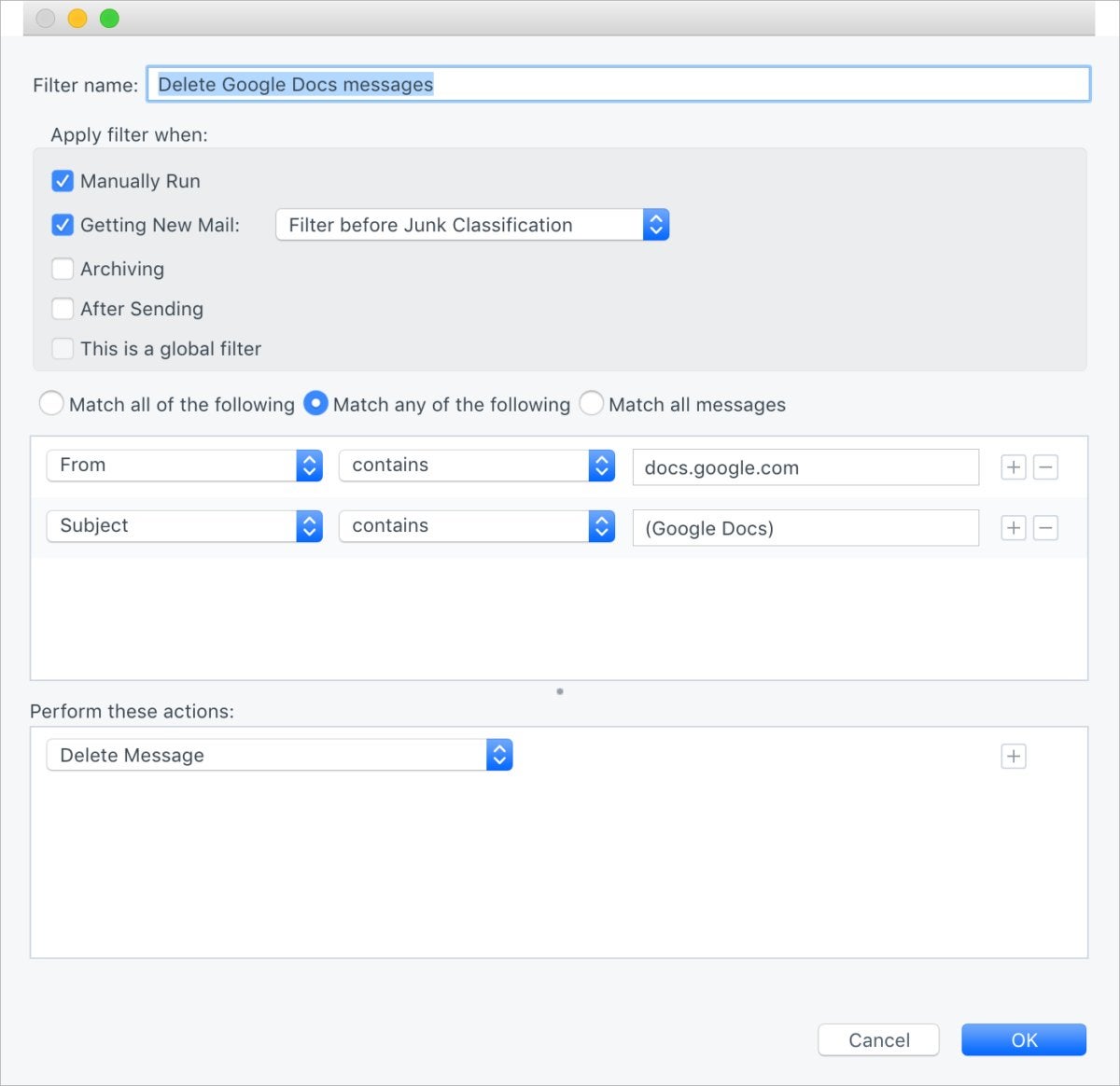 Composition and more
The other critical part of an email program is, of course, composing messages from scratch or as replies. Postbox packs a lot into its writing environment. It offers a straightforward compose window that includes typical formatting and attachment options, including robust support for HTML.
But for those of you in fields that require sending tailored messages, either from scratch or as replies, Postbox includes what it calls Responses. These prefab fill-in messages mostly focus on sales, marketing, and hiring, and let you customize and extend them. You can also create your own. When it's time to use one, Postbox prompts you to fill in the blanks.
You can also drop in prepared chunks of HTML, called Clips, new in this release. Again, to avoid overwhelming its users, Clips doesn't appear in the stock app. You have to add it by customizing the toolbar (View > Customize Toolbar). You can choose among pull quotes, bullet list styles, multi-column layouts, and tables, and then either add them to your personal list or customize them. As with Responses, you can create your own Clips, too.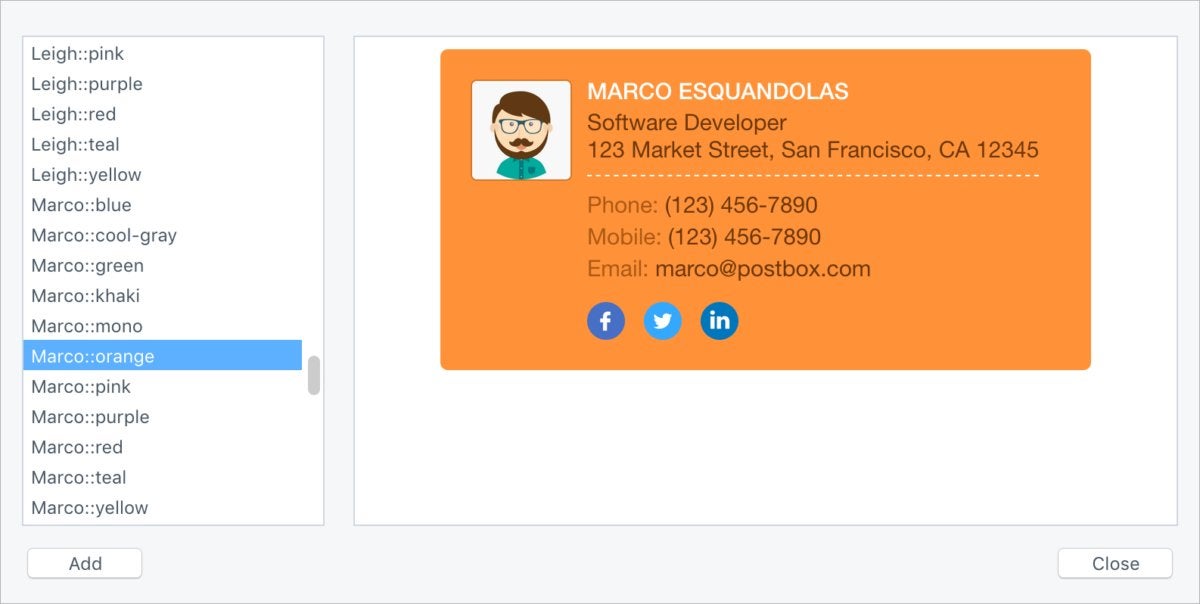 Those creating rich HTML emails for fun or profit, from inserting photos in messages to friends to building newsletters sent to large audiences, will find Postbox's tools handy and flexible. I was able to copy and paste a rich email newsletter from a web browser into a Postbox message without any loss of formatting. You can toggle between an HTML preview and the underlying code, too, to edit the details.
While Postbox lets you insert images from Photos through the Open dialog's Media tab, the process could be better. You have to choose Insert > Image, click Choose File, click Photos under the Media section, browse to pick an image, click Open, and then are presented with the path to the file in a URL field. (You can also paste in a URL directly here.) You then click OK to insert it. While you can resize images, a nice option in an email HTML editor, the iPhone images I tested were so huge I couldn't easily grab drag handle—Postbox doesn't autosize to fit the compose window's width. However, I could click an Image Size button to reduce it and then resize it further manually.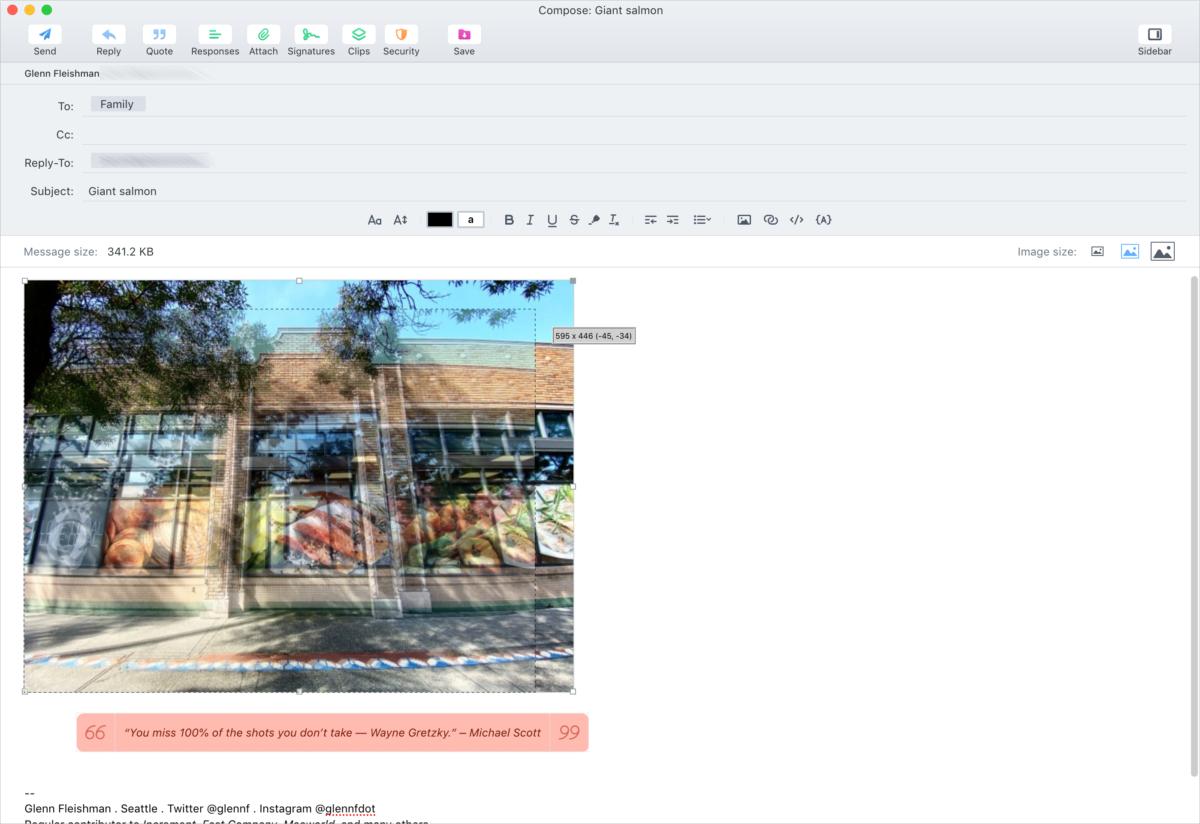 As with many mature products, Postbox 7 builds on a huge set of features too extensive to discuss at length individually, although they add up to a powerful whole. Version 7 specifically adds Clips (discussed above), color themes that go beyond light and dark modes, a way to test experimental features before they're rolled into the main product release, and new swipe gestures for macOS.
Bottom line
Postbox has switched to a yearly subscription model. At $30 a year, it's not expensive for business professionals and it's worth the price. (Those who purchased an earlier version of Postbox that came with lifetime updates get this and future versions at no cost.) For home users, however, the long-term cost might be too high relative to the value they get if they don't rely on Postbox's more advanced features.
Best Prices Today: Postbox 7