At a Glance
Expert's Rating
Pros
Larger display size allows for easier multitasking, writing, and interaction
Smart Connector allows use of Smart Keyboard (and theoretically other accessories)
1GB RAM boost over last year's model
Excellent combination of price and features
Cons
Same A10 chip as last year's model
Few Smart Connector accessories
Our Verdict
Apple's least expensive iPad now has a slightly larger screen and a Smart Connector.
When I first saw the new 7th-generation iPad, I wondered why Apple even bothered to release an updated model this year. Sure, the 10.2-inch display reveals a slight boost in size over last year's 9.7-inch iPad, and the latest model finally has a Smart Connector, but for all that, this iPad has the same cameras and A10 processor as last year's model, the form factor hasn't changed significantly, and it's even ever-so-slightly heavier. Both models still only come in 32GB and 128GB configurations, and both deliver around 10 hours of battery life. Let's get this out of the way now: If you have last year's 9.7-inch iPad, I see no reason to "upgrade" to this one.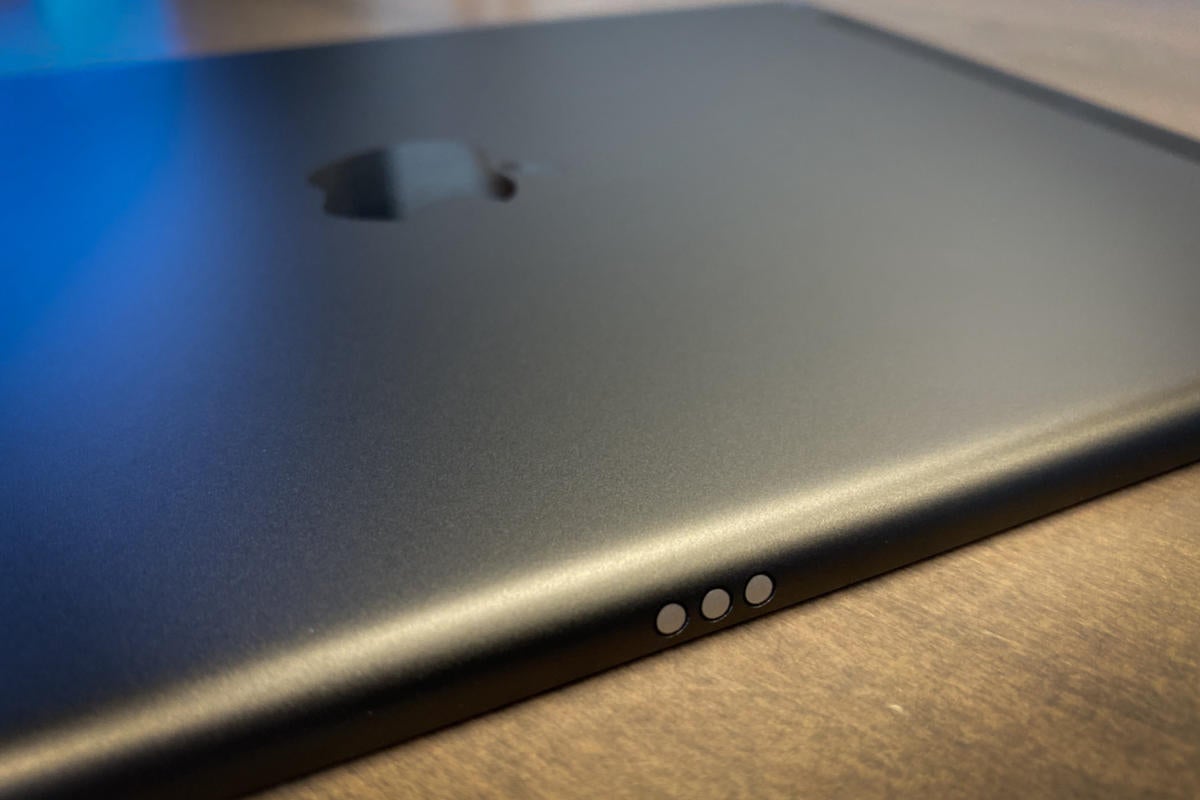 But after a few days with the new iPad, I think I get Apple's line of thinking. The agreeable $329 starting price, the extra viewing room, the theoretical options afforded by the Smart Connector, and the general excellence of everything under the hood combines to make this the best and most approachable entry-level Apple device. This was also true of the older baseline iPad models, but by including the Smart Connector, Apple ensures that this comfortably-sized tablet comes with virtually every external hardware feature you can expect from its pricier models. It hits shelves with iPadOS 13, which greatly expands the productivity possibilities for Apple's tablets.
With the success of Apple Arcade and hopefully of Apple TV+, people outside the ecosystem are suddenly looking for affordable, low-commitment devices for enjoying the Cupertino company's new services, and this device gives these potential newcomers little to complain about and much to fall in love with. With the 10.2-inch iPad, "entry-level Apple" now looks more appealing than it has in a long time.
Wider horizons
The biggest outward difference in the two models is that this year's iPad is simply larger than last year's. At 6.8 by 9.8 inches, the new model sits directly on top of last year's refreshed iPad Air with only an extremely minimal thinness advantage in the Air's favor to distinguish them. (Last year's iPad measured 6.6 by 9.4 inches.) They look so similar, in fact, that I kept accidentally picking up the iPad Air while preparing this review.
That, in turn, translates into a boost in the size of the display size for the new iPad, as the unlaminated LED display comes with a resolution of 2160 by 1620 pixels compared to last year's 2048 by 1536 pixels, although both have a pixel density of 264ppi. (The iPad Air's 2224 by 1668 display is a tad larger than both.)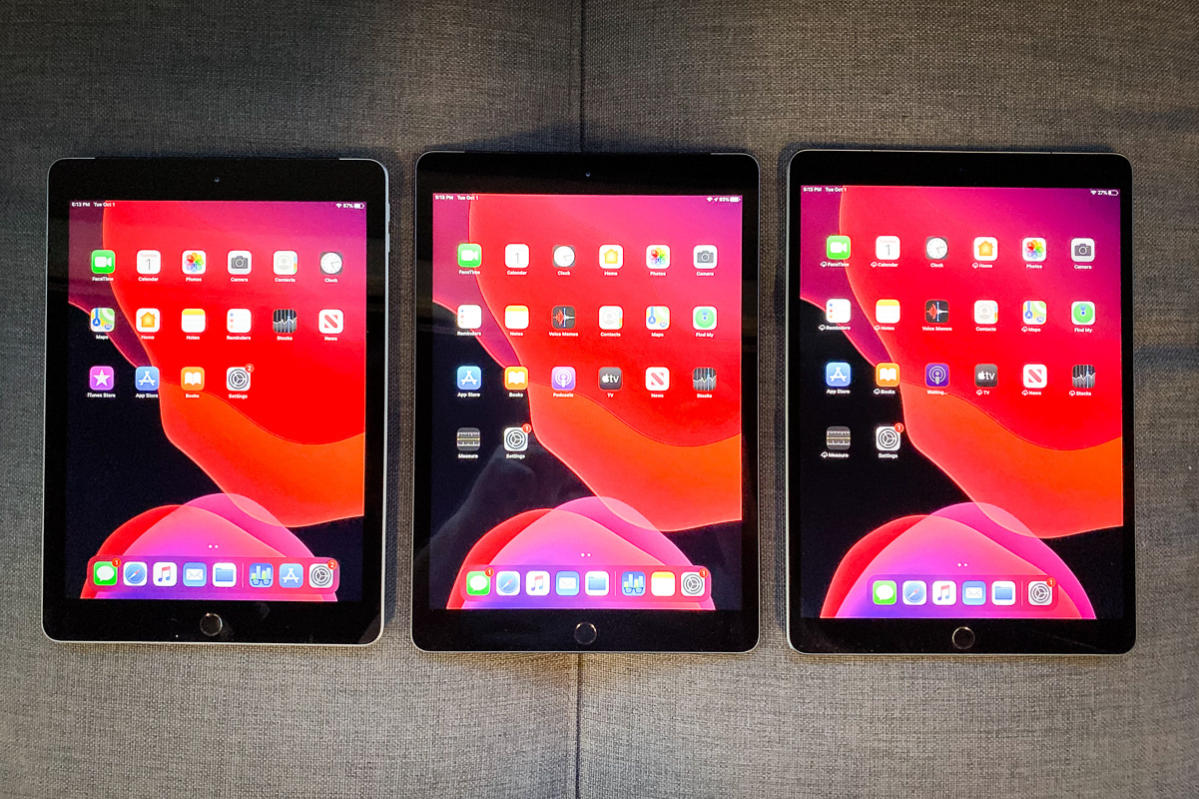 That's a tiny difference on paper but you'll feel it if you're using the first-generation Apple Pencil to highlight text or scribble notes or draw in an app like Procreate. Think of it this way—technically the iPhone 11 Pro Max isn't terribly bigger than the iPhone 11 Pro, but you'll notice the size difference in your hands. The extra room means also you have more room for enjoying iPadOS 13's improved multitasking features, and more room enjoying Apple Arcade games or basking in the visuals from your favorite shows.
I do wish Apple would have been able to deliver even more display space by embracing the near edge-to-edge design of the 2018 iPad Pros, but Apple likely wouldn't have managed to keep the price so low if it had gone that route. Those models use Face ID and associated True Depth sensors—which greatly simplifies unlocking your device and logging into sites—but currently seems to command a higher price. For now, with this model, we're stuck with Touch ID and the thick-bezel look of the older iPads. It still works fine, but it increasingly looks outdated in this age of razor-thin bezels.
A Smart Connector without many connections
Now that the new iPad has a Smart Connector, you also also hook up the iPad Air's Smart Keyboard (which also works with the 10.5-inch iPad Pro). The "origami" design takes a little getting used to and it only allows for one tilt angle while typing, but it's pleasantly thin in a way most third-party keyboards are not. I also prefer keys with a little more key travel, but the chiclet design makes for easy typing and I admire how the canvas-like coating keeps crumbs, grains of sand, and similar objects from working their way under the keys.
Unfortunately, the Smart Connector isn't as useful as it could be. Four years on, Apple's Smart Keyboards are the only accessories they're really good for, and we've yet to see the flood of compatible accessories Apple suggested we'd see.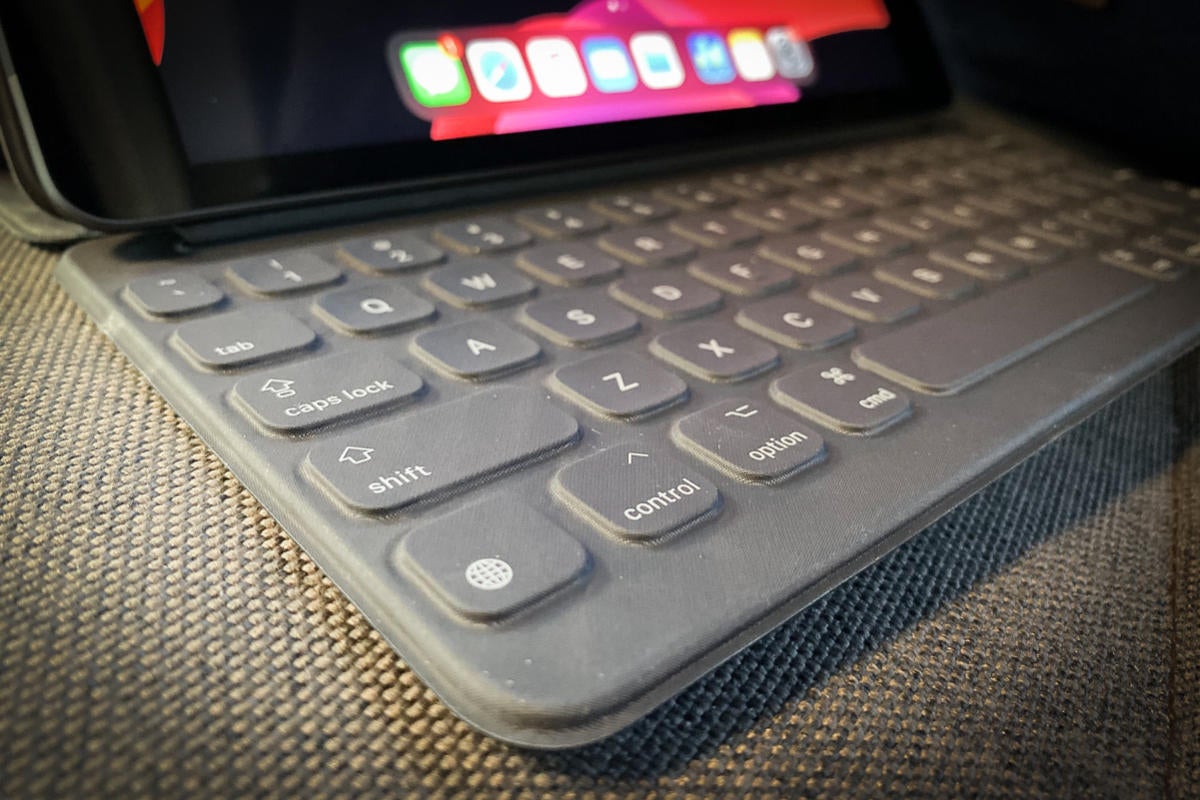 You may still want a third-party Bluetooth keyboard case from a company like Zagg (once they start appearing) because the Smart Keyboard costs a whopping $159. Once you combine that with the 32GB starter model, you're looking at a $488 price tag—$587 if you get the Apple Pencil. You're getting into laptop prices at this point. Heck, you'll end up paying $717 for all that if you get the 32GB Wi-Fi and Cellular model.
With iPadOS 13, fortunately, that's a little more palatable than it used to be. When I reviewed the 12.9-inch iPad Pro, I was disappointed that I still didn't feel like it was a true "laptop alternative" even with all its power. With Apple's new operating system, though, you can freely plug external drives into your iPad and arrange files and folders with an improved Files app. You have access to a Today panel on the home screen that allows for widgets with important information at a glance, and the icons aren't so spread far apart. When Catalina rolls out, you'll be able to use this iPad as a secondary display for your Mac. The implementation is wonky, but you can even use a mouse.
The iPad still isn't as versatile as a Mac, but iPadOS makes it easier to interpret the iPad as Apple's "low-cost laptop line," which I get the impression Apple has been wanting us to do for a while. All the better reason to release a device like this at this point in Apple's history.
Petrified performance
Normally, the processor performance would get more attention in a review like this, but there's not a lot to say here. It still supports the A10 processor, and as you can see from the benchmarks, it still performs about the same on iPadOS 13.1.1. On the charts, they're virtually identical, and in fact, by sheer numbers the 9.7-inch had a (minuscule) edge in both single-core and graphical performance, which I'm tempted to attribute to its smaller screen size.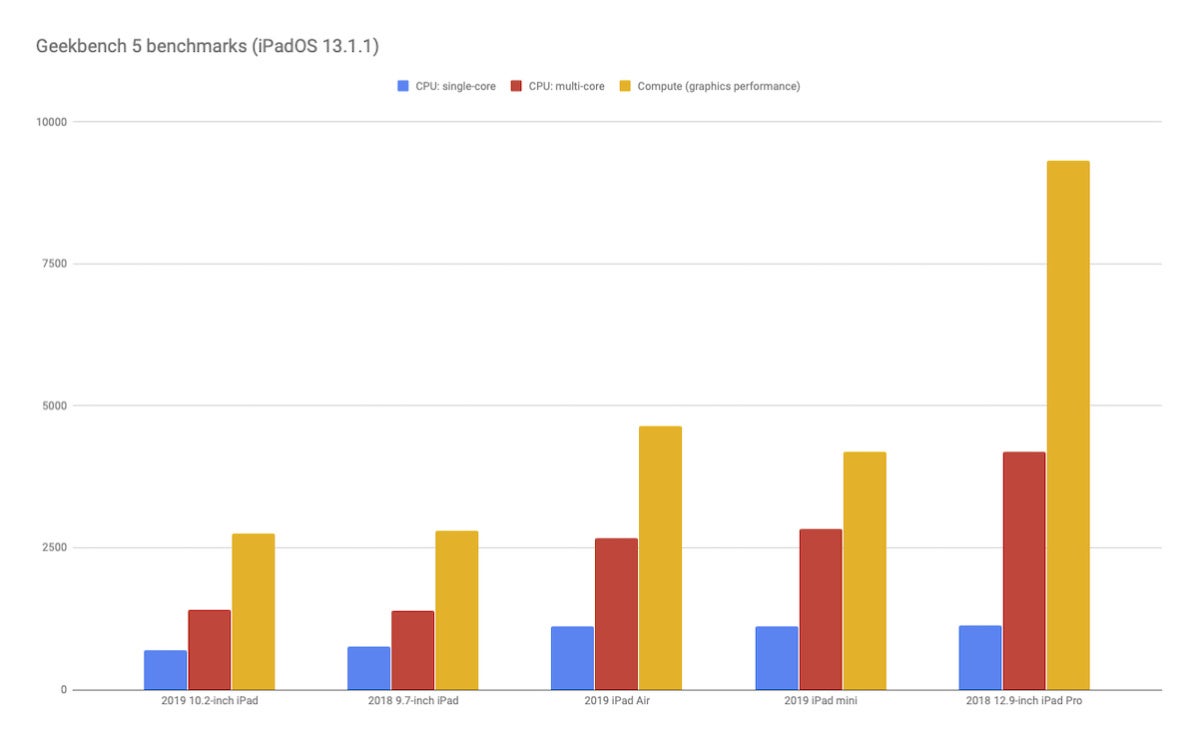 If you're going for raw power (and future-proofing), the A12 Bionic chips in both the new iPad Air and iPad mini will serve you better and for longer. That's not to say the 10.2-inch iPad is a clunker: I played several graphically intensive Apple Arcade games on the new model (such as Sayonara Wild Hearts) and never noticed a dip in performance. I don't think an iPad like this will be adept at handling the full iPad version of Adobe Photoshop—if it ever comes out—but for almost every app it should serve you fine for a few more years to come.
A recent iFixit teardown showed that Apple increased the RAM from 2GB to 3GB, but as you can see from the benchmarks, I can't see where that translated into a noticeable spike in performance. On the other hand, the iPad Air also only has 3GB of RAM, so this technically narrows the gap in performance between the two models.
There's also no real need to worry about changes in battery life with this model. As you can see with our Geekbench 4 test, it managed to last for 6.6 straight hours with the brightness set at 200 nits on a white screen. That's roughly the same performance we saw from last year's model, and I see no reason to dispute Apple's claim that this device will reach 10 hours of battery life through normal use. Using the tablet as I normally would, I'd end the day with plenty of battery life left over.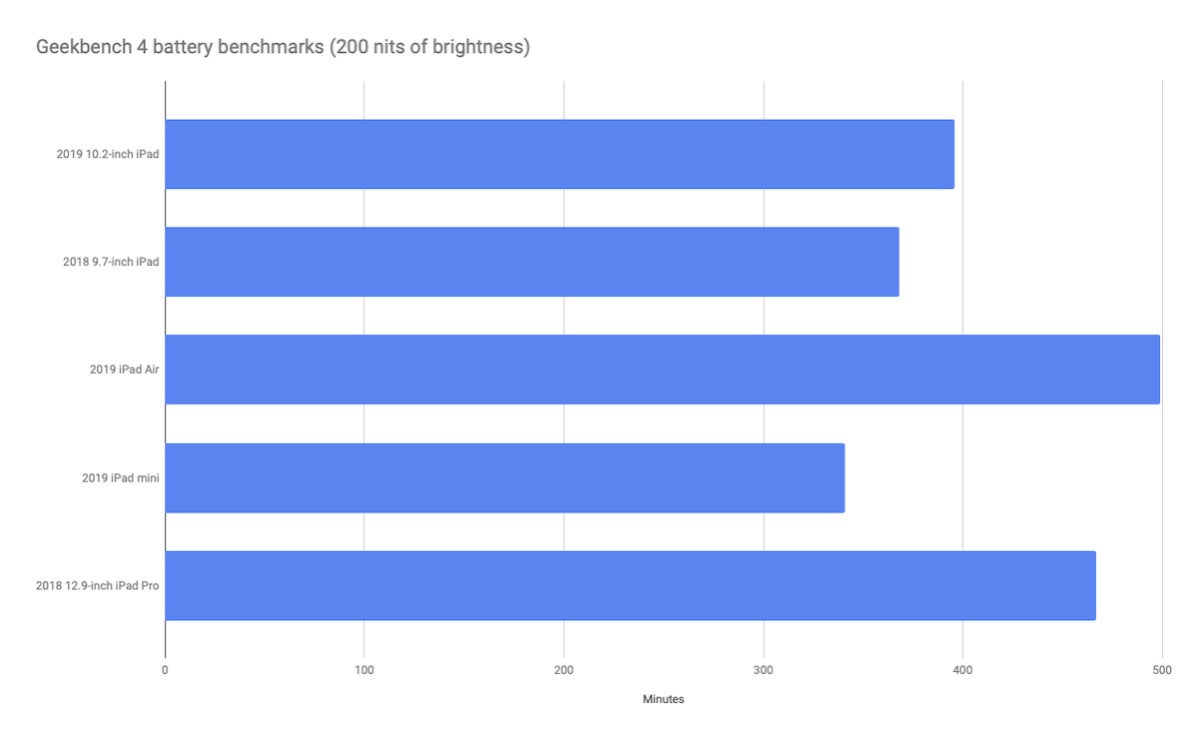 As for everything else, little has changed. You'll still find two speakers along the bottom, a 3.5mm headphone jack along the top, a Lightning port, and 802.11ac Wi-Fi. You'll also still find the pitiful 1.2 megapixel FaceTime camera and a decent 8 megapixel rear camera—just enough to have a video chat with mom or scan some documents and little else. The cameras in particular serve as one of the few remaining reminders that this isn't a "Pro" device.
The most enticing regular iPad yet
All of which brings us to the question: Just who is this iPad for? It's certainly not for people who bought last year's iPad, which I said was "pro enough for many of us"—and I still think that. This model performs about the same, the previous version has more established keyboard case support, and its smaller size even makes it slightly more portable. If you're new to the iPad and you just want to play Apple Arcade games, browse the web, or watch videos, I'll even go so far as to say you should get that model instead. It's not that uncommon to see it selling for as low as $250 on Amazon these days, at least when you can find it in stock.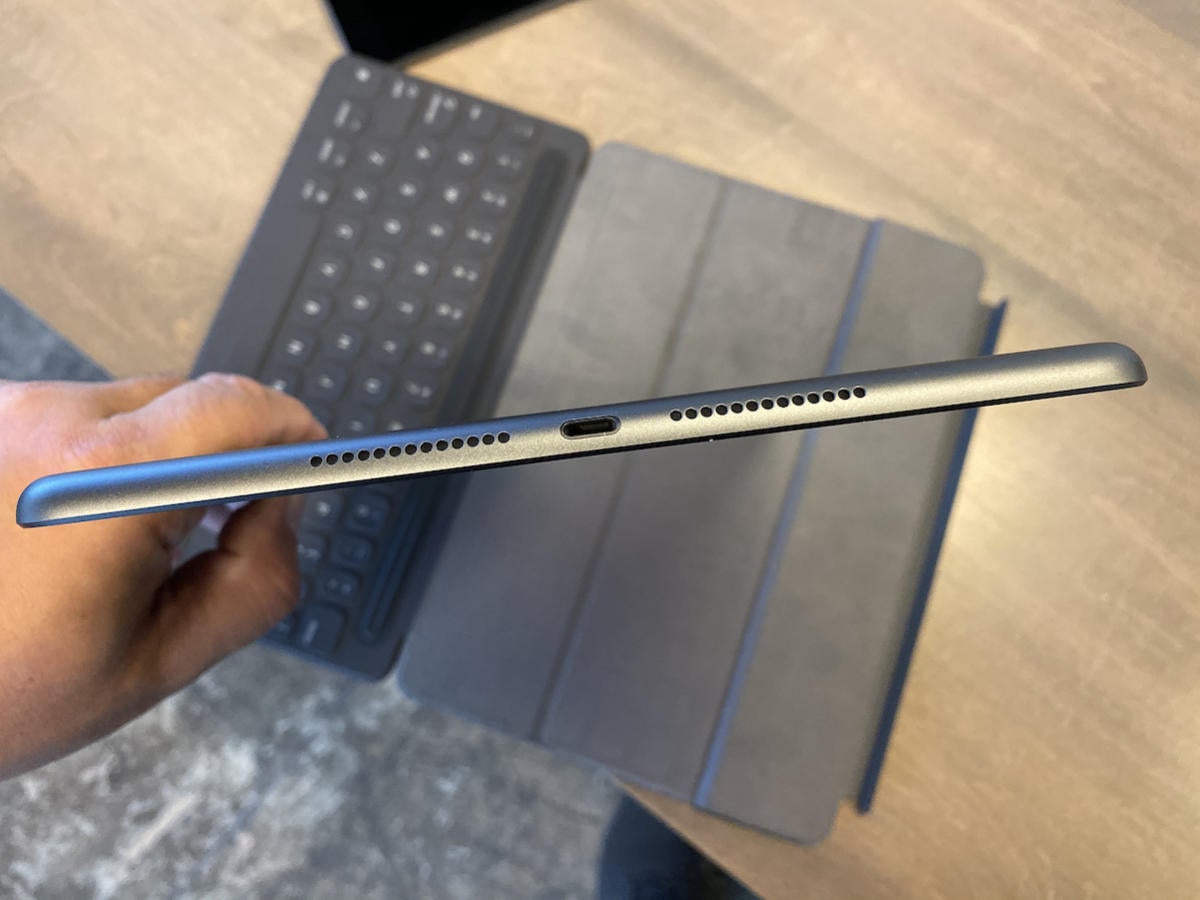 Even so, for first-time buyers, I see this model as a powerful statement from Apple, and we've been building to this moment for a while now. Apart from goodies like a laminated display and the Pros' ProMotion 120Hz refresh rate, the lowest-priced iPad now has many of the features you'd want from one of the company's sexier tablets. Apple kicked this trend in motion by bringing Apple Pencil support to all its current tablet models last year, and it topped it off this year by bringing a ton of interface and productivity improvements to all iPads with iPadOS.
And that first-time buyer market may be about to get a bit larger. Ever since Apple Arcade launched, I've seen dozens of folks asking of people asking on Twitter what the "best and cheapest" Apple device they should get for the service is, and I believe this device fits that description nicely. By including options such as the Smart Connector and improving the screen size, Apple has made the iPad as appealing as it probably can without changing the price, and as such, as I see this as a quiet and rare push to bring people to into Apple's wider ecosystem by making an extremely attractive entry-level device. It's also a relatively affordable Apple device to buy if you'd like to take advantage of Apple's offer of a free year of Apple TV+ for buying a new Apple device. And once the price drops at third-party retailers—and it inevitably will within the next few months—it'll be even more appealing.