If you're a regular user of the Personal Hotspot feature for iPhones and cellular-equipped iPads, you might wondered where the "off" setting went in iOS 13.1 and iPadOS 13.1. The switch is gone, but it's not a bug and you're not just unable to find it.
Apple in that dot release—not in iOS 13.0, but the 13.1 update for both platforms—rethought how it expresses Personal Hotspot's use philosophically. In previous releases, you had the on-demand Personal Hotspot that could be turned on, put on standby, or turned off. There was also an Instant Hotspot feature, which allowed any of your iCloud-connected devices to select the Personal Hotspot even if it were set to Off or Off, But Discoverable.
That was rather confusing. If it's off, how can it be available for use? Shouldn't it need to be turned on?
So in 13.1, Apple resolved this logical paradox by redefining the state of Personal Hotspot to reflect how it lets it be used. It also extended use to Family Sharing groups as an option.
First, Personal Hotspot is always on for all devices logged in to the same iCloud account, regardless of what the label in Settings says. It cannot be disabled among your devices. The only way to turn it off is to disable cellular networking or turn on Airplane Mode. The term Instant Hotspot appears to be banished. If you select your Personal Hotspot from another of your devices, the label now reads "On" in Settings next to the Personal Hotspot label.
Second, the feature's on/off switch has been replaced with an Allow Others To Join switch. When this is off, only iCloud-connected devices can connect and approved Family Sharing group members may use it, if any. When it's on, the hotspot Wi-Fi network can be joined by anyone who has the password, and the device can be used via Bluetooth or USB by anyone who can pair (for Bluetooth) or plug into it (via USB).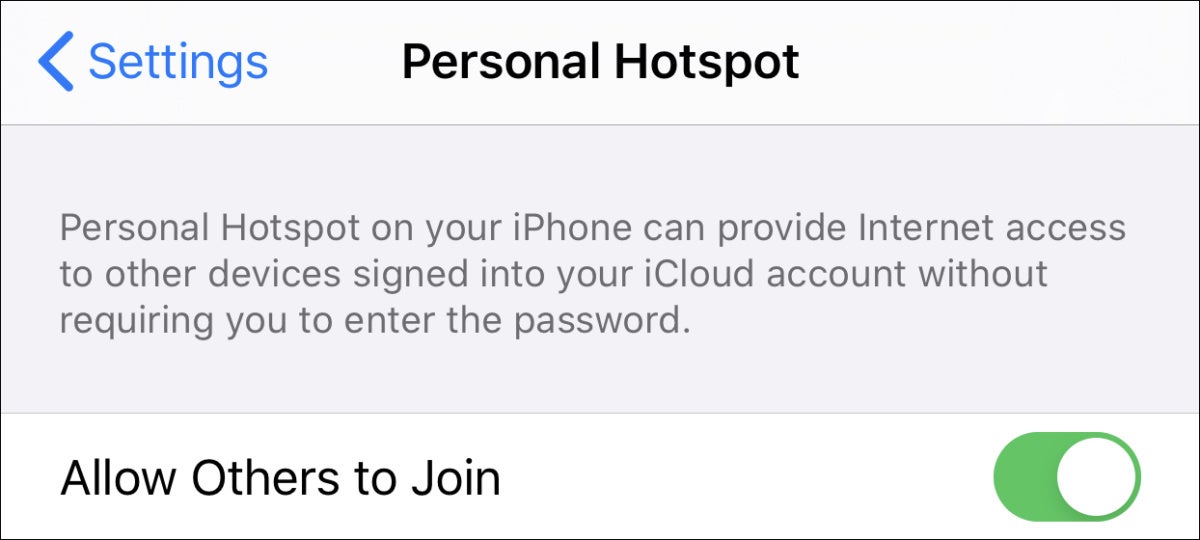 Because of the security feature added late in iOS 11 to prevent unwanted USB devices from having the potential to crack an iPhone or iPad's passcode, USB tethering remains subject to the choice made in Settings > Touch ID/Face ID & Passcode > USB Accessories. When turned off, you must unlock the device within the previous hour before its Lightning port can be used for any USB data interactions. (I wouldn't suggesting setting it to on, as then anyone can access its port at any time.)
Third, if you're in a Family Sharing group, a new option appears in Settings > Personal Hotspot: Family Sharing. Tap it and you can allow anyone in your family group to either automatically have access to the Personal Hotspot or to tap to join and require your permission each time to use.
The labeling in Settings for the top-level Personal Hotspot shakes out like this:
Off: While the label read Off, it isn't actually "off," but usually means that Allow Others To Join is disabled. iCloud and Family Sharing connections work. However, if Airplane Mode or Cellular is disabled, Off does mean Off!

On: Whenever any device has connected to the Personal Hotspot, it's labeled On. The operating system turns the status bar blue, too, to remind you that it's being used in this fashion.
And in the Control Center, two other labels appear. Hold down on the network card to reveal a set of six network buttons, including Personal Hotspot, all of which have text labels beneath them. Personal Hotspot will read either:
Not Discoverable: If Allow Others To Join is disabled in Settings > Personal Hotspot, this is what you'll see.

On and Discoverable: This appears if that switch is turned on.
This may still seem like a confusing overlap of states, but it's surprisingly somewhat better than in the previous release.
Ask Mac 911
We've compiled a list of the questions we get asked most frequently along with answers and links to columns: read our super FAQ to see if your question is covered. If not, we're always looking for new problems to solve! Email yours to mac911@macworld.com including screen captures as appropriate, and whether you want your full name used. Not every question will be answered, we don't reply to email, and we cannot provide direct troubleshooting advice.