At a Glance
Expert's Rating
Pros
Ultra wide for more horizontal work- or game-space
Far more accurate color than the average display
Doubles as a Thunderbolt dock
Can display images from two inputs
Cons
Grayish blacks due to LCD leakage
Relatively weak contrast
Our Verdict
If you're looking for that ultra wide (21:9) wraparound (curved) experience, you'll get it with the J791. It also has extremely accurate color compared to most displays due to the use of quantum dots and doubles as a Thunderbolt hub. DPI is a bit lower than with Apple displays and LCD leakage makes for weak blacks, but the over all image is fine for everyday chores. It's not the display for movies, but for productivity and gaming the extra screen real estate makes up.
Apple makes some darn fine displays, but the company doesn't offer an ultra-wide model. If you want extra horizontal screen space for productivity or gaming, or just a panoramic viewing experience, you need something like Samsung's $800, curved, ultra-wide CJ791. Quantum dots make colors super-accurate, and it has enough ports to functions nicely as docking station.
Design and features
With a resolution of 3440 by 1440 spread over 34-inches of width and approximately 14.5-inches of height (21:9 ratio), the CJ791 doesn't offer quite the pixel density of most Apple displays, but it's close enough that you likely won't care. Put another way, it's not quite Retina—you can see the pixels if you sit too close, but it didn't take long to get over than and appreciate the extra width.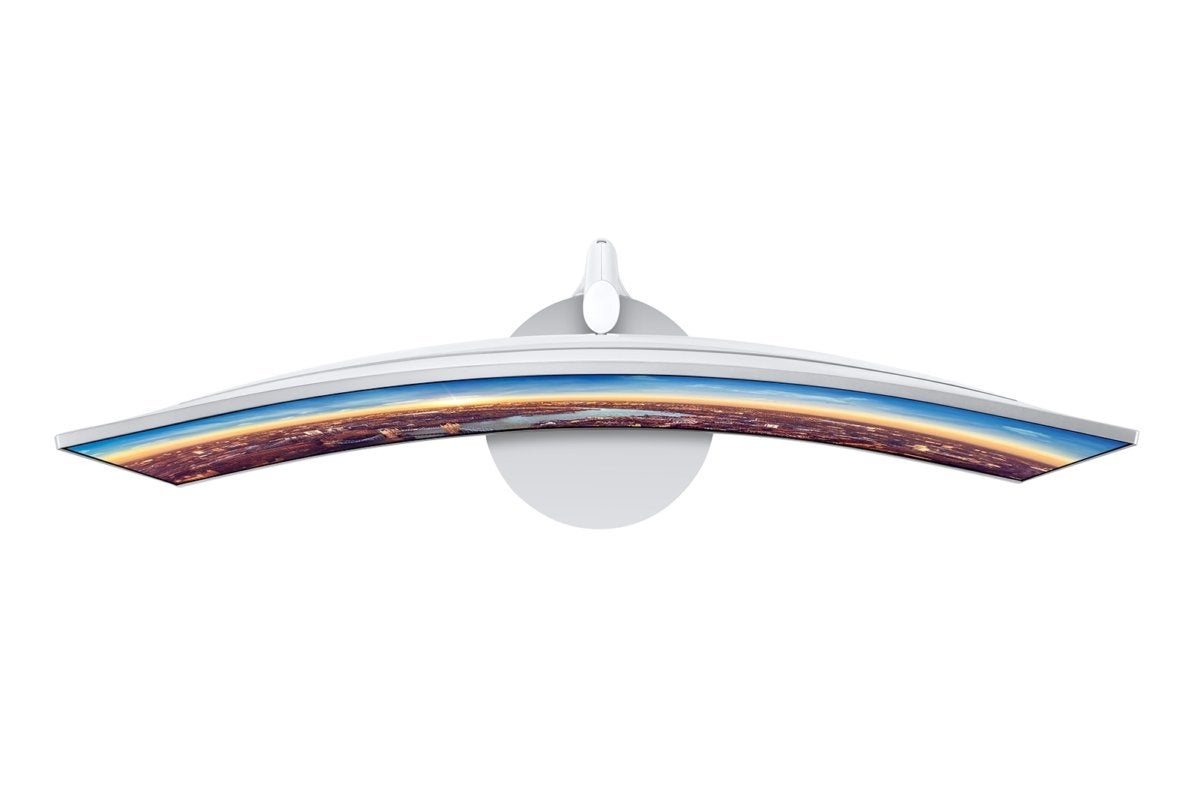 The 21:9 ratio resolution is also known as Ultra Wide Quad High Definition (UWQHD), or the wide brother of the 2560 by 1440 QHD that was at the top of the HD food chain for several years before 4K UHD (3840 by 2160), 4K (4098 by 2160), and Apple's 16:9 4K (4098 by 2304) showed up. Now you also have Apple's 5K display on the iMac (16:9, 5120 by 2880) and upcoming 6K Pro Display XDR (16:9, 6016 by 3384—if you have a 5K iMac or plan to get the Pro Display XDR, you're not really in the market for a CJ791. If you're using a MacBook or Mac mini, then it's a worthy option.
The CJ791 is a 10-bit panel which means it's theoretically capable of just over a billion colors, and is touted as covering 125 percent of sRGB. That's a very good color gamut compared to most displays, but there are a lot of color spaces, and sRGB is hardly the widest. There are others that encompass more of the total visible spectrum such as Adobe RGB, DCI-P3, bt.2020, etc. The display does use quantum dots so its color is far more accurate than the typical LED-backlit LCD computer monitor.
The CJ791 is rated for 300 nits brightness, which is quite a bit lower than most Apple displays, but it offers a decent 4 millisecond response time with support for FreeSync gaming. With FreeSync, the display will match its refresh rate to the frame rates being delivered to it by the GPU. This can reduce lag and eliminates screen tearing, where the display starts rendering a new frame before it's finished with the old one. The only requirement is that you limit your game to 100 frames per second so it doesn't exceed the CJ791's 100Hz refresh rate.
Samsung provides two Thunderbolt 3/USB Type C ports, which means it's easy to hook up to newer Macs and PCs, and the inclusion of a DisplayPort 1.2 port and HDMI 2.0 will keep the rest of the Mac world happy (assuming a relatively modern computer, that is). Two Type-A USB ports for connecting peripherals are also included.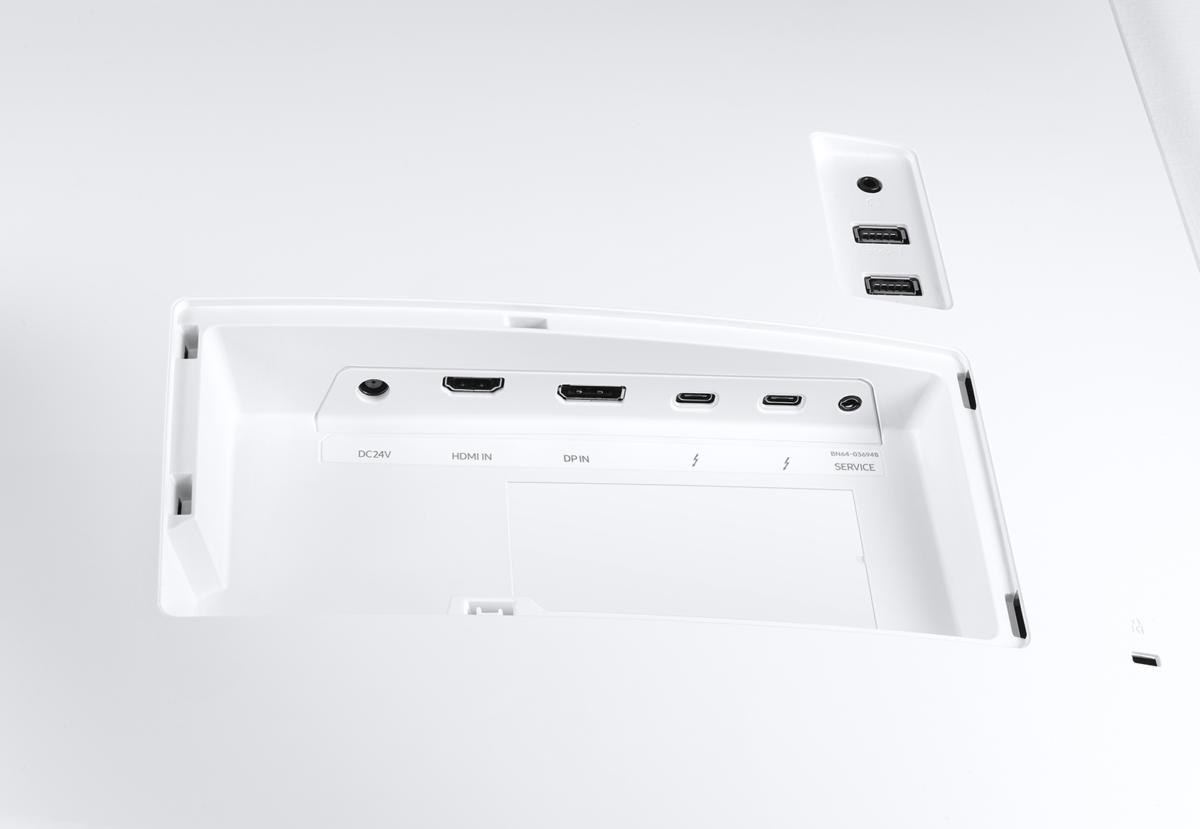 You can also leverage more than one input at a time with the display's Picture-by-Picture (PbP, 1720 by 1440) and Picture-in-Picture (PiP, 720 by 480 up to 1720 by 720) abilities. With PbP you can halve the display between two sources, or with PiP devote one quadrant to a second source.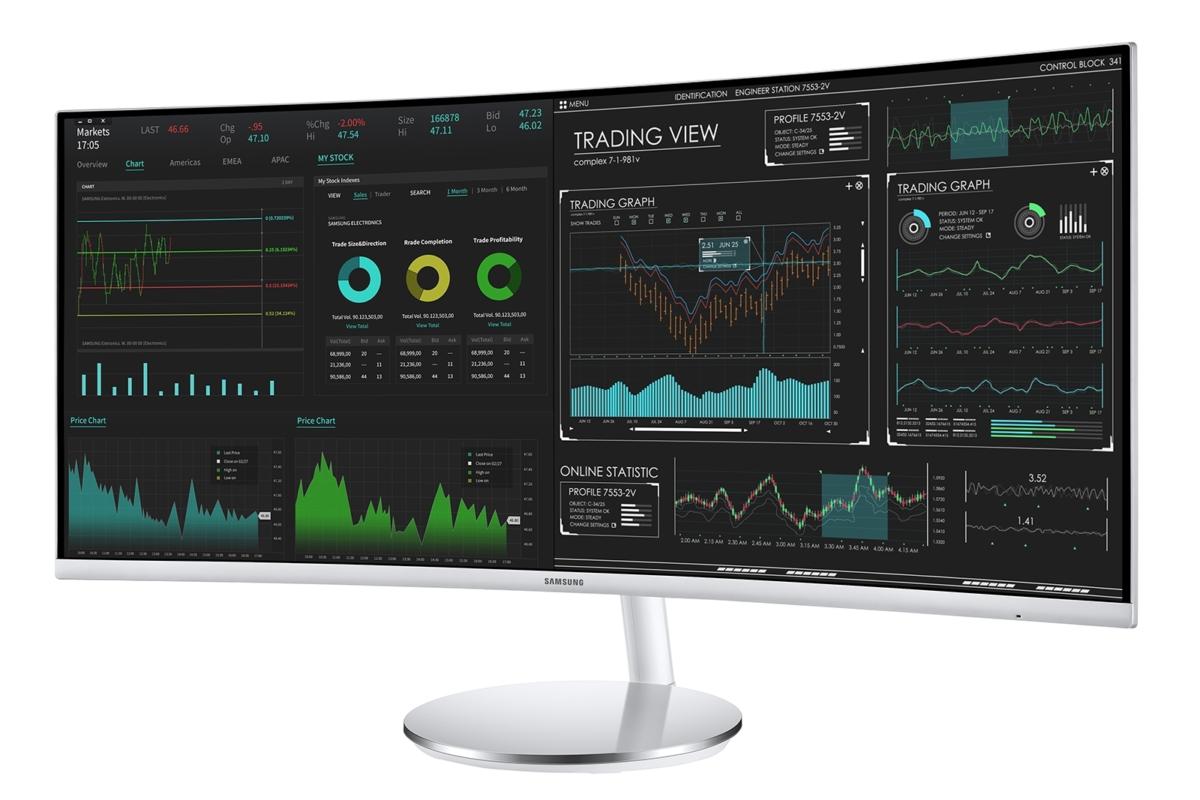 The plastic bezel and stand are silver, while the back of the unit is glossy white. The overall appearance, comparatively, is just a tad, shall I say, less expensive than Apple with its metal casing. You can also say that about just about every piece of non-Apple equipment, though. Samsung includes a VESA mount adapter with the CJ791, but the display ships with a round stand.
The external 24-volt power supply supplies 85 watts to the various ports, and indeed, the 2017 MacBook Pro used for some of the testing said it was charging while plugged in. My phone charged on the USB port and there were also no issues with any of the input or storage peripherals I attached.
There are two speakers on board, which is convenient for everyday work but not serious listening. There's simply not enough air available for them to reproduce the entire audio spectrum—there's no bass response.
Quantum dots
An interesting thing happened to displays about ten years ago. When vendors switched from CFL to LED backlighting, the color spectrum produced by most displays (OLED excepted) skewed heavily to blue—the color temperature got very cold and colors commensurately inaccurate.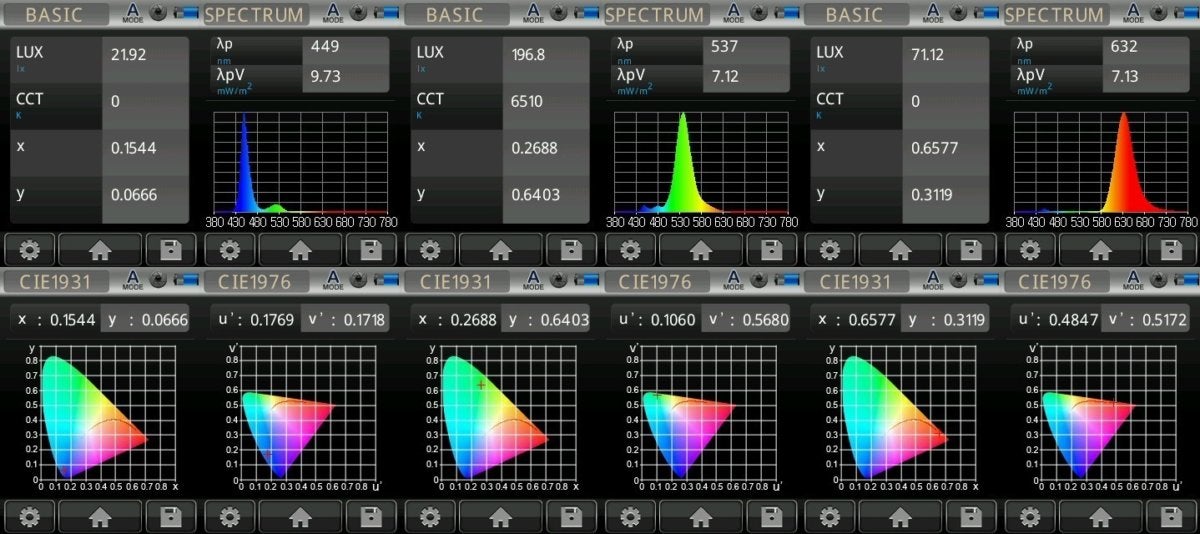 LED backlit LCD displays have fought this phenomenon through various means, but by far the most effective has been the quantum dots like those used by the CJ791. Quantum dots re-emit any light that shines on them (lower than their resonant frequency) in a very narrow range in strict accordance with their size (20 nm to 100 nm). That means that sized properly, nearly pure blue, green, and red are produced, which can then be combined to produce other pure colors. Quantum dots are the Q in QLED, and they make a big difference.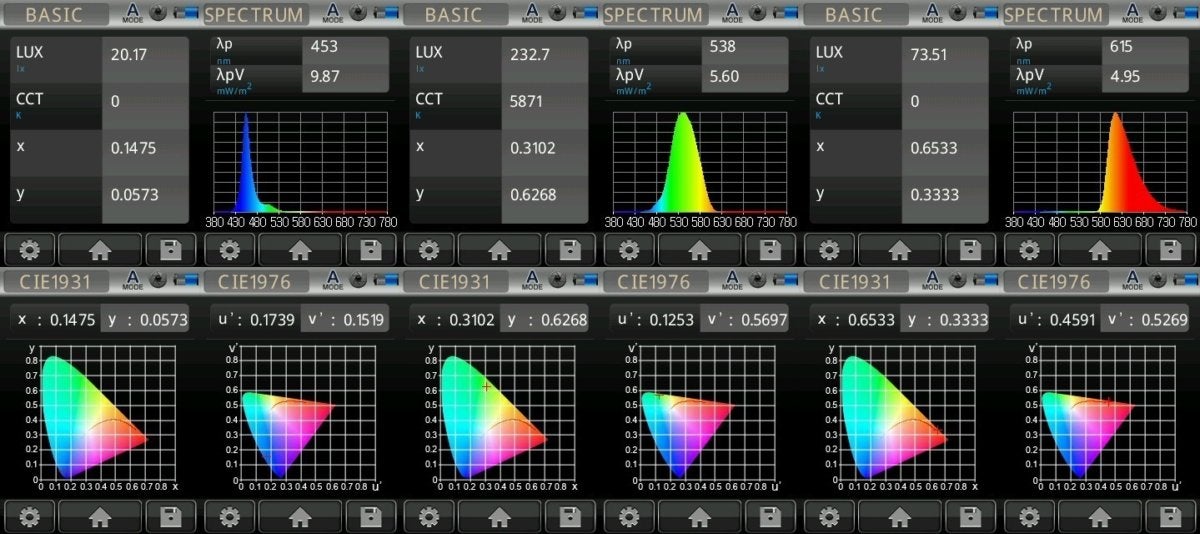 Performance
With the CJ791, light bleed is a bit of an issue with dark backgrounds, and the contrast isn't particularly good. With a full-screen black image, you will see more of a dark gray. Thankfully, there's never really a reason to have a full-screen black image.
The CJ791 uses a matte, anti-glare screen coating that is less impressive at first glance that the glassy gloss of Apple's displays, but it can be a real eye-saver in the long run. At the very least, it means you don't have to be as careful as you do with Apple's glossy displays about how you orient the CJ791 in glare-prone environments.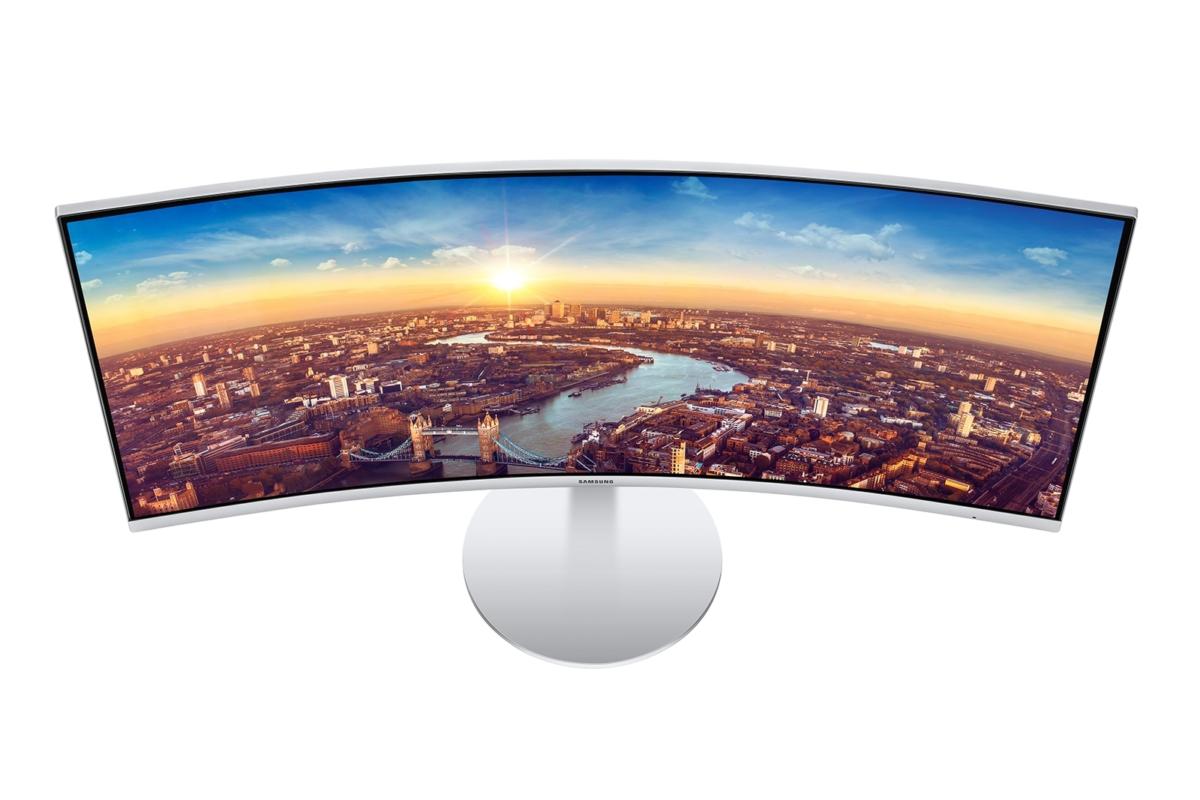 The peak brightness measured right around 300 nits. That's a full 200 less than with many of Apple's displays, though the contrast is adequate for most purposes. But between the LCD leakage and low peak brightness, you don't get a particularly dramatic picture. Watching video and movies will be a ho-hum experience if you measure things purely by the display's contribution.
Bottom line
The CJ791's panoramic experience and accurate color are enticing, as well as its ability to act as a full functional docking station and imitate a dual-display. Aside from the less than optimal contrast, the CJ791 is a very nice effort from Samsung. Definitely worth a look-see if you're on the prowl.