One of the best things about Apple's annual developers conference is the chance to meet up with software makers doing interesting things on the Mac and iOS platforms. We talk with one of those developers, Jochem Wijnands, in this episode of the Macworld Podcast.
Wijnands is the co-founding publisher of TRVL, an iPad-only travel magazine that's grown impressively since its debut on the App Store in 2010. In this interview recorded during the Worldwide Developers Conference earlier this month, Wijnands talks about the approach that he and co-publisher Michel Elings took in developing their magazine and what the iPad means for the future of digital publishing.
Listen to episode 308
Show notes
TRVL is a free download from the App Store, and you can download any one of the app's 60-or-so issues for free. (The app does offer a $1-a-month subscription, but only so that it can be included in iOS's Newsstand feature.) The magazine publishes a new issue every week that focuses on a specific destination. You can find out more about TRVL in this profile of the app that I wrote for TechHive.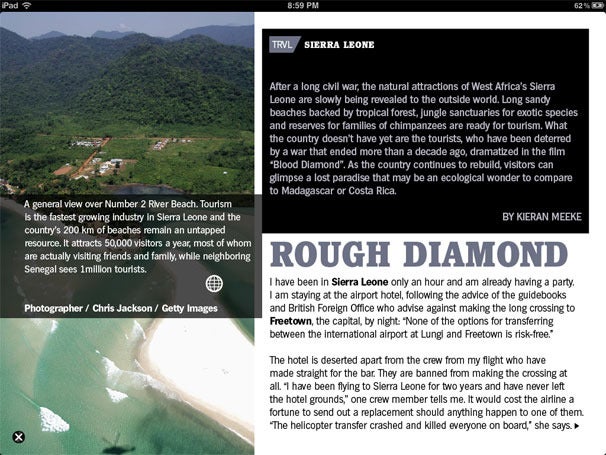 If you happened to catch Apple's WWDC keynote, you'll know that TRVL was among the apps mentioned during a promotional video shown by Apple to illustrate the depth of apps available through the App Store. And if you didn't happen to catch the keynote, you can watch it on Apple's website. The promotional video starts at the 7:30 mark; TRVL's mention comes at 14:28.
I'm on vacation this week—sadly, not in one of the interesting locales profiled in TRVL—so my colleague Christopher Breen generously steps in to introduce this podcast. Before my interview with Jochem Wijnands, Chris offers some commentary on Apple and the changing nature of computing.
To subscribe to the Macworld Podcast simply click here. Or you can point your favorite podcast-savvy RSS reader at: http://rss.macworld.com/macworld/weblogs/mwpodcast/
You can find previous episodes of our audio podcasts at Macworld's podcasting page.
Have any feedback on this podcast? Send regular podcast host Christopher Breen an email; audio comments in the form of an AAC or MP3 file are particularly welcome. You can also leave us a message at 415/967-3622 if you'd like to have your comments included in a future podcast.