Earlier this month, Microsoft introduced the Surface Neo, a strange device that looks like two iPads stuck together, or alternately, a laptop in which the keyboard has been replaced with a second touchscreen. Upon first seeing the Surface Neo, I immediately wondered: Would Apple make a product like this? And if not, why not?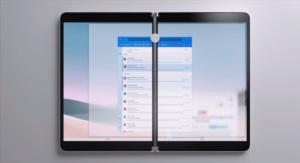 Let's start by noting that the Surface Neo doesn't really exist. People at Microsoft's event weren't allowed to use it, the company admitted some of its hardware specs were yet to be decided, and it's been announced for a "holiday 2020" release. In other words, what was announced earlier this month was Microsoft's intention to ship this product more than a year from now.
But still: Two iPads hinged together to make a laptop sandwich! Imagine the possibilities. Given the clear distinction Apple has made between laptop shapes (which run macOS), and tablet shapes (which run iPadOS), one would think not. Then again…
MacBook Neo
If you consider longstanding trends in Apple product design, there's a strong argument to be made that Apple dreams of making a laptop keyboard without any moving parts. The low-travel butterfly keyboard in all current MacBooks was one step in that direction—but it backfired. All the rumors suggest that Apple is ditching the butterfly keyboard on MacBooks, with new models due to be introduced starting this fall and throughout 2020.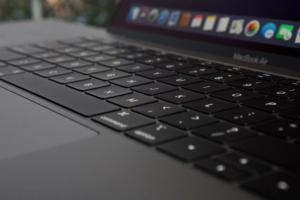 Has Apple learned its lesson, and will never again attempt to reinvent the computer keyboard? It's possible, I suppose. But isn't the unreliability of the butterfly keyboard due to ingress of tiny specks of dust, crumbs, and other detritus also evidence that Apple's desire to get rid of moving parts is correct? You can't get crumbs caught in a touchscreen.
I'm sure that in its labs, Apple has toyed with extending the Touch Bar so that it's a virtual keyboard and trackpad, a control surface that can be retasked to be pretty much anything you want it to be. (Is this not the ultimate lesson of the original iPhone?)
The problem with this scenario is that it crashes against the fact that Apple has not yet made any efforts to adapt the Mac interface to support touch. Unless it does so, what does this product look like? Is there an entirely separate interface on the bottom surface, separate from the Mac, like the Touch Bar? It seems like a waste of the space if macOS can't use that screen as a second display—but without a touch-friendly interface, it seems like a waste of time.
iPad Neo
Let's turn to the iPad, where Apple has shown that it's more open-minded about extending the way the device works with alternate input methods. Apple has embraced keyboard input on the iPad with the Smart Keyboard, and even added a dollop of mouse support in iPadOS 13.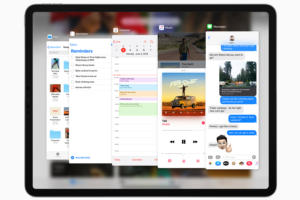 Perhaps more importantly, iPadOS 13's addition of multi-window support might be about more than just different ways of multitasking. Once iPadOS and all of its apps understand the idea of running in multiple windows, the door is also open to running those apps across multiple displays—as in a two-screened device like an iPad Neo.
Still, the Surface Neo is shaped like a laptop—the hinge is a pretty powerful defining hardware characteristic. Thus far, Apple has struck a pretty hard line when it comes to device shapes: if it's got a hinge, it's a laptop, and laptops run macOS. If it's a single slab of touchscreen, it's a tablet, and tablets run iPadOS. That wouldn't stop Apple from making a device like this and putting iPadOS on it, but it would certainly require a shift in attitude.
Another one against the wall
The best bet is that Apple just won't ever make a device like this. While Apple has built a reputation as an innovative company over the years, it's remarkably conservative when it comes to product launches. This is not a company that throws a bunch of different product choices against the wall and sees what sticks. (Not in public, anyway. I'm sure Apple makes all sorts of stuff like this in secret, and then is absolutely ruthless about killing products that don't measure up to its standards.)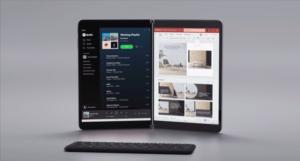 The real question is, does Apple think the future of computing—most especially laptop computing—includes a device with two screens? If it does, is that device an expanded iPad or a MacBook? The Mac is probably the better choice here—except that Apple has steadfastly kept the Mac interface away from being touchscreen friendly.
Who knows—maybe Apple has a product in the lab, ready to go, that we haven't even heard a rumor about yet. Maybe it's in the planning for an announcement at a fall event next year, in which case it would end up beating the Surface Neo to market. Wouldn't that be something?