Internet radio was a wonderful idea decades ago when radio stations first tentatively entered the online world and offered often quite low-bandwidth streaming versions of their broadcasts. It also provided a way for those without a radio transmitter to set up an online station with which they could reach people with words, original music, and recorded songs.
Apple included an Internet Radio option in iTunes for nearly two decades. A directory of streaming options, broadcast and otherwise, it persisted until macOS 10.15 Catalina. The new Music app omits the Internet Radio directory, although it can still play online streams—and import playlists that contain streaming URLs from previous versions of iTunes.
(If you don't see Internet Radio as an option in iTunes, select Music from the pop-up menu, click the Library button, and then hover over the label that reads Library at the top of the sidebar. An Edit button appear. Click it and then check the box next to Internet Radio and click Done.)
If you're an internet radio aficionado, make sure you preserve your choices in Mojave (or an earlier macOS release) before upgrading to Catalina.
In iTunes in Mojave or earlier, add to a playlist any stations you listen to.

Navigate to that playlist.

Choose File > Library > Export Playlist.

From the Format pop-up menu in the lower-left corner of the Save As dialog box, select XML.

Choose a location to save the playlist export.

Click Save.

In macOS Catalina, open Music and choose File > Library > Import Playlist.

Navigate to your export radio playlist XML file and click Open.

A new playlist now appears in the Music sidebar.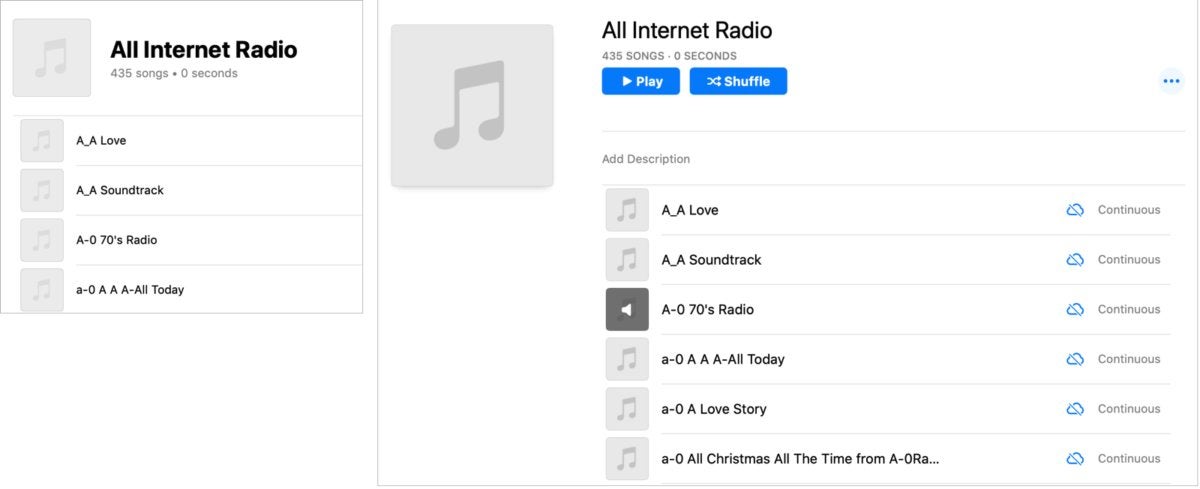 You'd think this playlist might simply be synced between iTunes and Music if you're using iCloud Music Library. However, Apple puts a cloud with a slash through it next to the playlist to let you know that because it's not just a link to music files, it can't be synced.

If you'd like to preserve the entire current state of the Internet Radio directory, you can do that, too. In the Internet Radio view, select any items or even Edit > Select All, and then follow steps 3 to 9 above.
The full select and export isn't broken out into categories, so you might want to take a moment to select categories and export them as individual playlists.
Music also lets you add streaming URLs directly by choosing New > Open Stream URL.
This Mac 911 article is in response to a question submitted by Macworld reader Paul.
Ask Mac 911
We've compiled a list of the questions we get asked most frequently along with answers and links to columns: read our super FAQ to see if your question is covered. If not, we're always looking for new problems to solve! Email yours to mac911@macworld.comincluding screen captures as appropriate, and whether you want your full name used. Not every question will be answered, we don't reply to email, and we cannot provide direct troubleshooting advice.