At a Glance
Expert's Rating
Pros
Comprehensive home design for mobile devices
Enhanced iOS 13 support for augmented reality, iPad multi-document
Built-in library contains thousands of 3D objects, textures
Cons
Projects can only be renamed from Project Gallery
Augmented reality limited to recent iOS hardware
Limited landscaping options, tools
No telephone support
Our Verdict
Live Home 3D Pro is an interior design app for iPhone and iPad that makes it easy to create a home or office floor plan layout of any size and virtualize it in 2D and 3D, complete with virtual and augmented reality walkthroughs.
Best Prices Today: Live Home 3D (iOS/iPadOS)
Whether building a new home or designing a makeover for your current property, it's a good idea to visualize ideas before breaking out the sledgehammer and tearing down walls. But without an interior design background, that's easier said than done.
Thankfully, there's a great app called Live Home 3D that makes the process easy and fun to do. You can make a design right from the comfort of the living room couch (or most anywhere else) using a smartphone or tablet, complete with a virtual walkthrough of the new digs.
Eye for design
Live Home 3D Pro is a full-featured home design app for iPhone and iPad that makes it a snap to design a floor plan and build a virtual home or office onto it in 3D space without a degree in architecture. Having prior experience with the excellent Mac version, it's pleasing to know that the developer hasn't skimped on porting to iOS devices.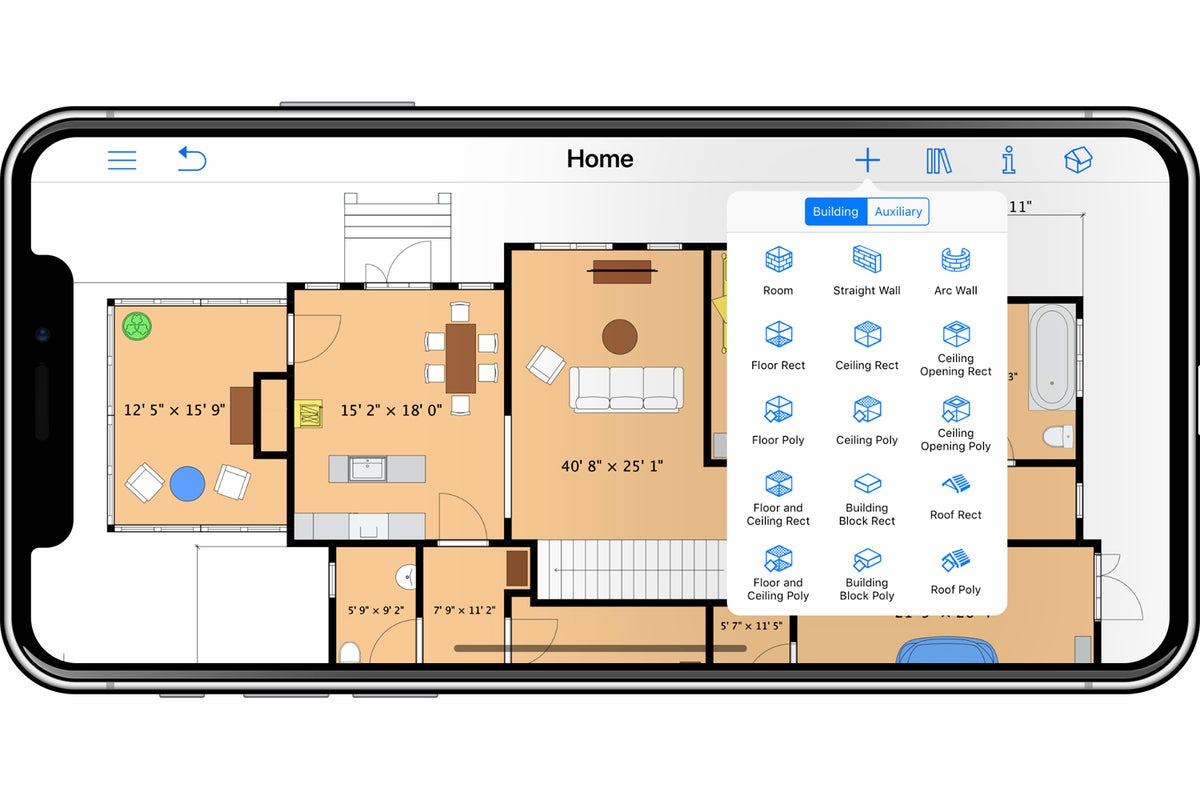 This is not some feature-limited companion app, but a true mobile powerhouse in every way. You can start from scratch or open existing designs started on the desktop to add finishing touches while on the go, and vice versa. iOS 13 improves the experience by using Apple's latest augmented reality technology (and devices with A12 or better chips) to incorporate real-world people alongside virtual objects in the same scene, and instantly share AR views on two or more devices. Dark Mode is supported, and iPad users can now work on multiple side-by-side projects.
Getting started isn't as daunting as one might think. I quickly imported an existing 2D floor plan, resized it using the Dimension tool for proper scale, then precisely traced walls, doors, and windows over the background. This works great with your finger, but Apple Pencil allows iPad owners to work more precisely.
If you're starting from scratch, there are plenty of sample rooms, houses, and apartments available. Once you have a room laid out, it's a piece of cake to add objects, then apply colors and textures to suit your tastes, no heavy lifting required.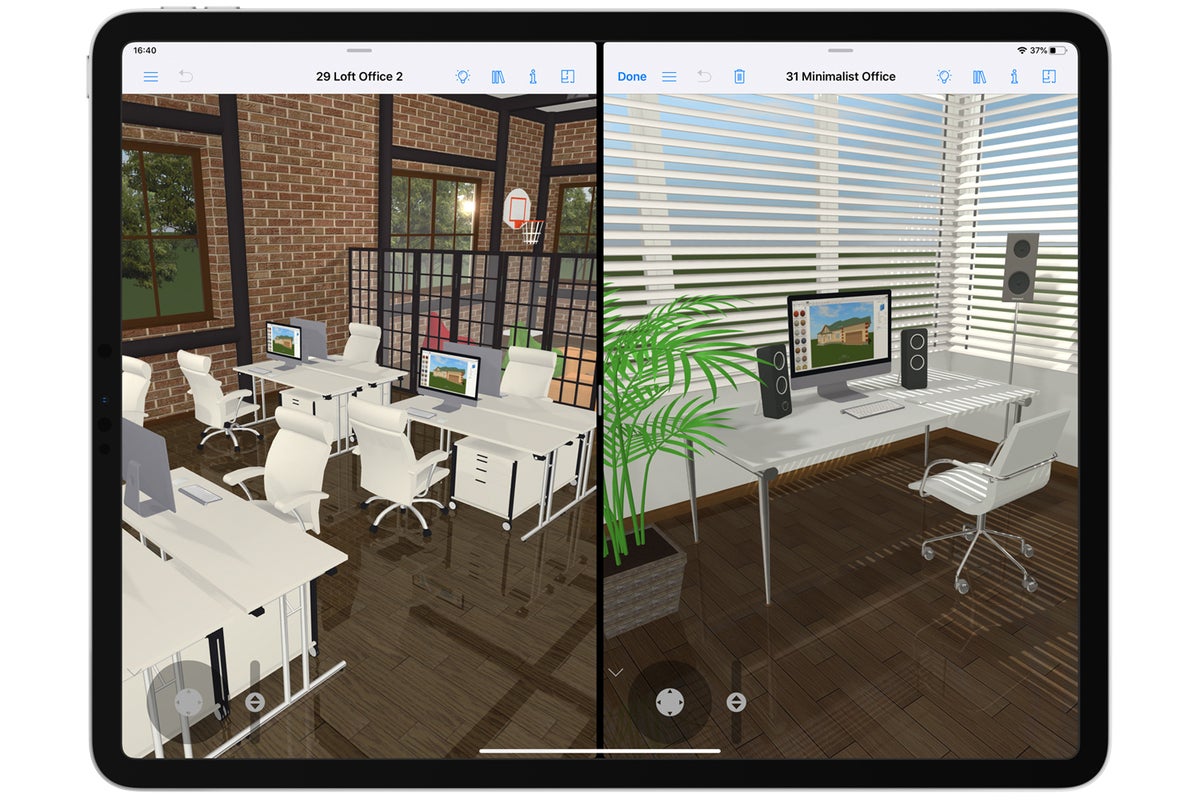 Finishing touches
Perhaps the most impressive aspect of Live Home 3D is how fluidly it all works. At the tap of a button, switch from a flat, 2D view to a detailed 3D model of your virtual home in real time, allowing you to pan, zoom, and explore the property from almost any angle. Views can be exported and shared as JPEG, TIFF, PNG, BMP, or 360-degree panorama files.
There's a rich, built-in library with thousands of materials, furniture, and other objects to decorate virtual homes, or import existing images and 3D objects to see how stuff you already own will look there. Others can be acquired via in-app purchase, but if that's still not enough, Live Home 3D integrates with Trimble 3D Warehouse, a popular online portal chock full of preexisting content.
The free version is limited to a single project; a Standard upgrade ($10) unlocks unlimited projects, but the Pro upgrade ($20, available standalone or in-app) is well worth the money. For starters, you'll be able to construct buildings higher than two stories, add custom light sources to objects, save images or videos in much higher quality (up to 4K resolution), and export 3D models for use in other software.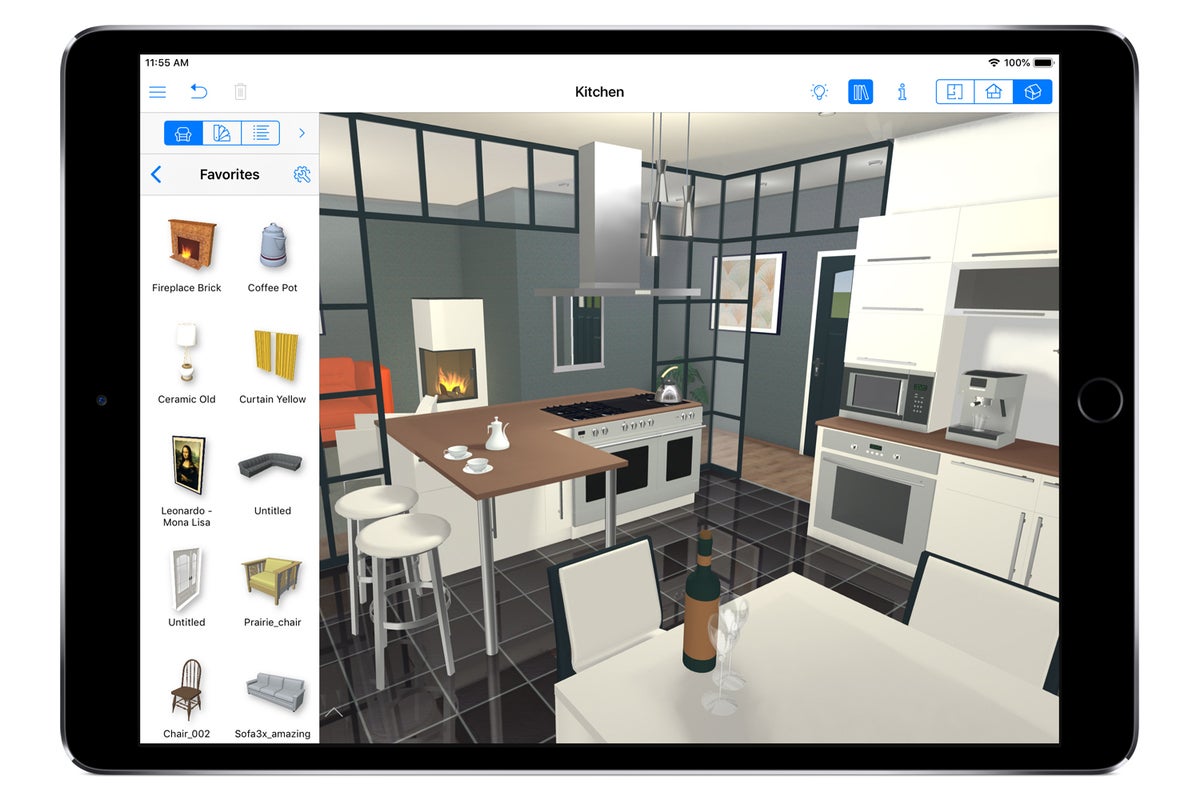 There are a few small improvements that the app could use. The app doesn't prompt for a custom name when creating new projects and renaming can only be done from the Project Gallery. Landscaping options remain limited without purchasing a $5 extras pack, and although tons of tutorial videos are available, support is limited to online only.
Bottom line
The same great home design app you know and love on Mac is even better on iOS, thanks to support for augmented reality.
Best Prices Today: Live Home 3D (iOS/iPadOS)